Why You Should Try Whitewater Rafting in Squamish
Posted on: February 5, 2021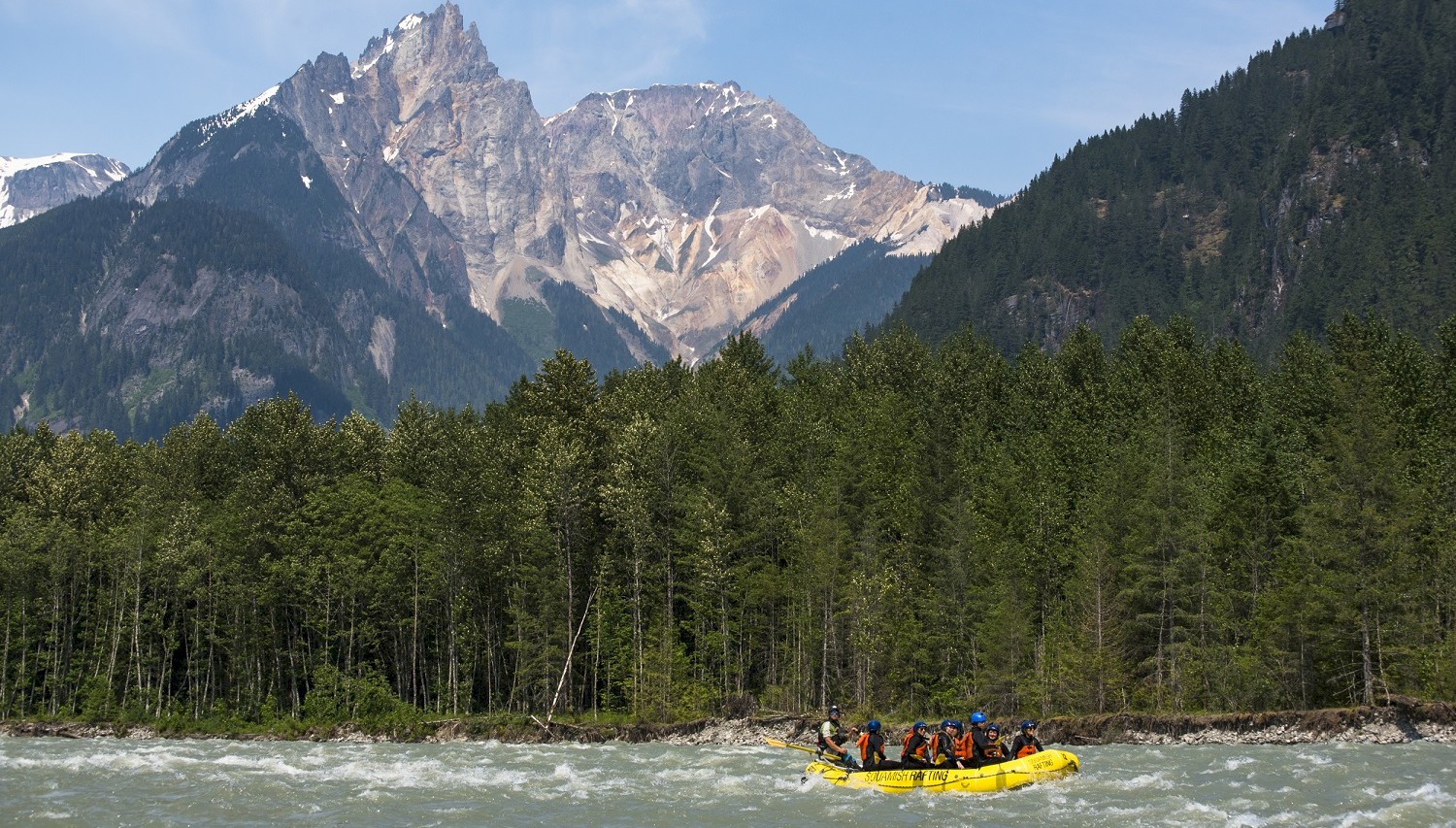 Why You Should Try Whitewater Rafting in Squamish
We spoke with the experts, and the decision was unanimous, everyone should try whitewater rafting at least once in their lifetime. Squamish rivers are full of rugged beauty, inspiring wildlife and undiscovered sights. Each turn will cast your attention on seldom-visited granite cliffs, lush rainforest and views of snowcapped peaks most people never get to see close up.
Reasons to Try Rafting
Expand your comfort zone: The team from Canadian Outback Rafting says everyone should try rafting to experience the full range of emotions you get paddling down a rapid. The joy of admiring remote wilderness scenery and the heart pumping thrill of striking a wave with full force.
The adrenaline rush: Whether you are facing a fear or chasing more adventure in your life, rafting is the perfect thrill to seek.
Share an amazing experience: Rafting bonds people together; your fellow rafters; friends, family members, guides and even your bus driver have all been part of your experience, and by the end of it you will feel closer than when you started.
It's unique: Breathing in the fresh mountain air and crashing through waves isn't your typical weekend outing. What makes Squamish even more special is rafting surrounded by views of waterfalls, glaciers, and lush old-growth rainforest- it's an otherworldly experience.
No person is left behind: Rafting is also something everyone can enjoy! Whether your travelling alone, taking the family on an adventure or celebrating a special day with friends, there are a range of experiences for all ages and ability levels.
Overview of the Experience
Photo: Canadian Outback Rafting

After check-in, you will be fitted for your gear and transported riverside for a safety briefing and rafting instructions. From there, it's off to the river! You will need both hands for paddling, so if you bring a camera, you'll want it to be waterproof and have a way to secure it to you.
Depending on your desired trip, your experience can include a BBQ lunch, cliff jump, snacks and more. Once the trip is complete, you will return to base camp to dry off and to view the photos from your great adventure.
Best Squamish Rafting Locations

The Weeping Wall
Towards the end of the Elaho-Squamish tour, you will float past a cliff wall with waterfalls all over it. It's a spectacular sight only visible from the water.
The Squamish Spit
Visible on the Scenic Twilight Float tour you will float through the Squamish Estuary and see the open view from the Spit with the Stawamus Chief, Shannon Falls, Mount Garibaldi and all the Squamish classic landmarks at sunset.
Devil's Elbow
The famous Devil's Elbow section at the beginning of the Elaho Whitewater Experience features exhilarating class IV rapids that will get your endorphins flowing. Squamish Rafting trips include the opportunity to cliff jump at this beautiful location – it's better than a cup of coffee in the morning.
Available Tours
Photo: Canadian Outback Rafting
​
Cheakamus River
The Cheakamus River offers Class I and II rapids (easy, moving water) which makes it a great option for family whitewater rafting adventures. Expect to see classic views of Mount Garibaldi and the southern slopes of the Tantalus Mountain Range as you float down the river. Family-trips down the Cheakamus River are about 7km in length and last about an hour to an hour and a half of time on the water.
Available through: Canadian Outback Rafting (call for availability)
Elaho-Squamish River
Along the more challenging Class III and IV fast-flowing rapids of the Elaho-Squamish River, prepare to witness the world's most glaciated mountain range at its latitude with 180-degree views of Mount Cayley and Mount Garibaldi along with old-growth forests, cliffs, waterfalls, and wildlife including mountain goats, eagles bears and deer. Trips down the Elaho-Squamish River range between two and a half to three hours of time on the water for a 20km trip.
Available through: Canadian Outback Rafting (call for availability)
Scenic Twilight Float
A truly unique trip where guests float down the lower Squamish River from Brackendale to the Spit at sunset with snacks and apple bubbly to take in the beauty of the landscape at twilight. It's also the perfect time to relax and let the guide row you down the river as they tell you about the area's history and geography. Make sure to bring your camera to capture photos from a completely different viewpoint on the river.
Available through: Canadian Outback Rafting (call for availability)
Overnight Elaho-Squamish River
Enjoy an exhilarating day of white-water rapids, world-class scenery, multi-course gourmet meals and a truly remote camping experience. You will fall asleep to the sounds of nature and wake up for a warm breakfast before floating back to basecamp. This trip is a fantastic opportunity for those looking for a weekend getaway or those curious about embarking on a backcountry adventure right here in Squamish.
Available through: Canadian Outback Rafting (call for availability)