Squamish is an English adaptation of the Indigenous word, Sḵwx̱wú7mesh.
Loosely translated, it means "Mother of the Wind" and "people of the sacred water". The Sḵwx̱wú7mesh Úxwumixw (Squamish Nation) have lived and thrived here for many thousands of years, forging a resilient culture and powerful connection to the lands and waters.
Where the Mountains Meet the Sea 
Located at the end of a dramatic fjord, Squamish is at the confluence of the vibrant turquoise waters of Howe Sound and the rugged Coast Mountain range. We're a 1.5-hour drive from Vancouver International Airport (YVR), nestled between Vancouver and Whistler along the stunning Sea to Sky Highway. 
Guarded by the gargantuan granite monolith, Stawamus Chief, our authentic West Coast community is rich with Indigenous culture and an eclectic settler history. Home to more than 23,000 souls, the town is dotted with award-winning craft breweries, a distillery, farm-to-table dining experiences, sidewalk cafés, and independent boutiques and galleries.
Adventure is never far away. 
A spectacular backdrop of rainforest, volcanic mountains, rivers, and ocean sets the stage for incredible year-round activities. Play in the elements in every season and connect with nature at your own pace, from gentle nature walks and peaceful paddles to heart-pumping activities like kiteboarding and mountain biking. It's no wonder why we've landed on the New York Times '52 Places to Go' list more than once.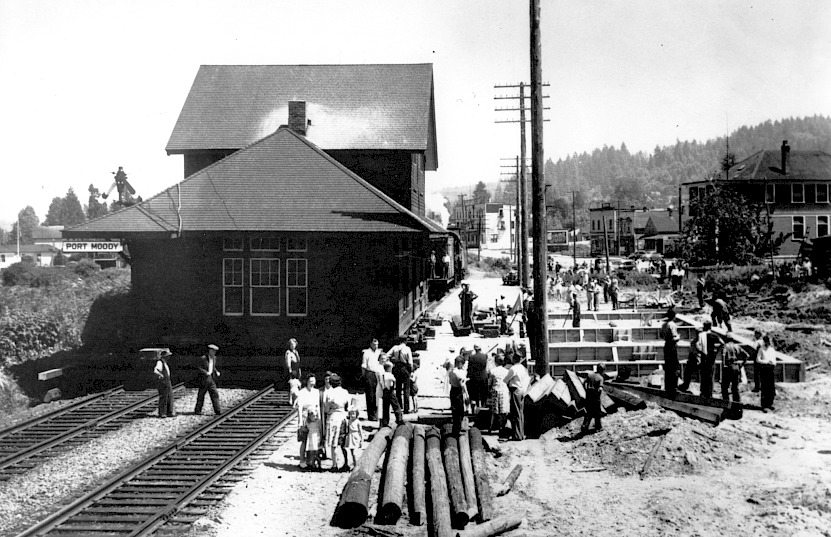 Explore Recent History
Over the last few hundred years, settlers have woven their own stories into the fabric of the community. Squamish roots run deep, from the arrival of the Pacific Great Eastern Railway to strong ties with logging, mining and farming.
Discover Our History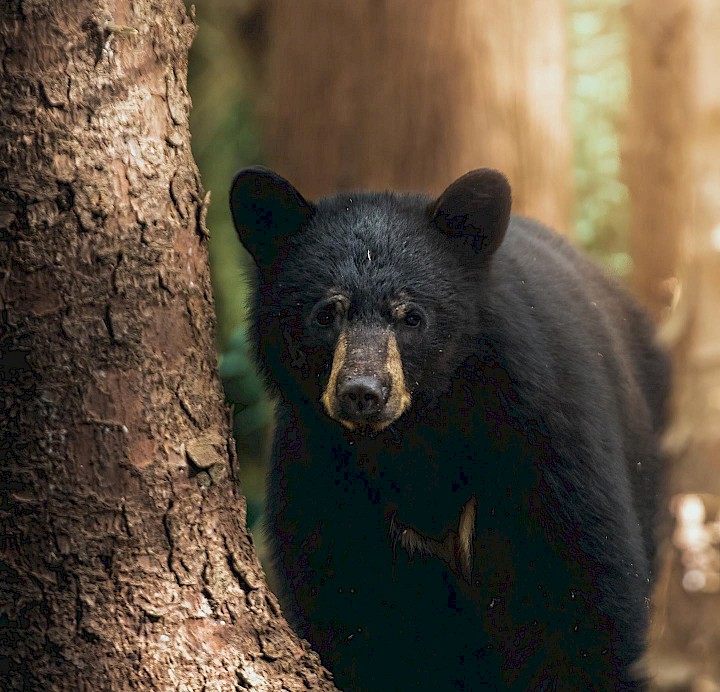 A UNESCO Biosphere Reserve
Squamish is located within the Átl'ka7tsem/Howe Sound Biosphere Region. The prestigious UNESCO designation is awarded to ecologically unique areas that are working to strike a balance for humans and nature to coexist in a sustainable way.
Learn More

about A UNESCO Biosphere Reserve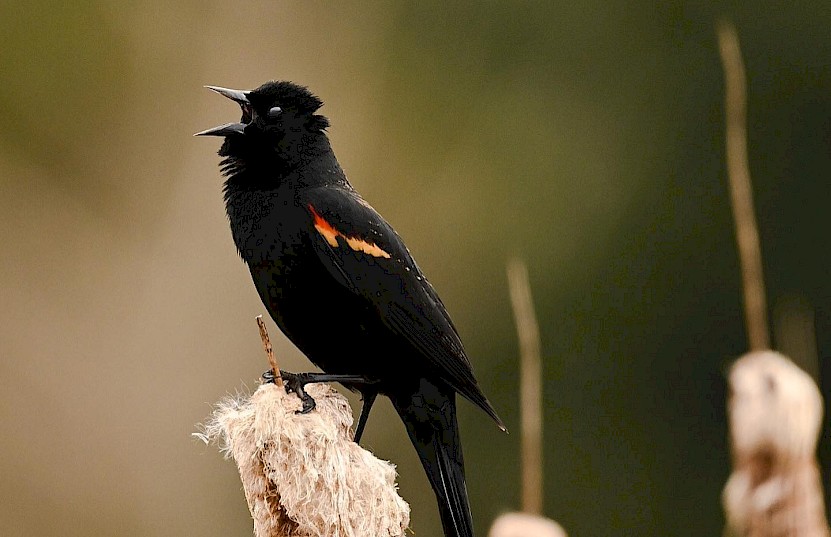 Bird Watchers Unite
Squamish has become a bird-watching paradise. With one of North America's largest congregations of eagles and more than 240 bird species, we are part of the Sea to Sky Bird Trail.
BC Bird Trail
Iconic Landmarks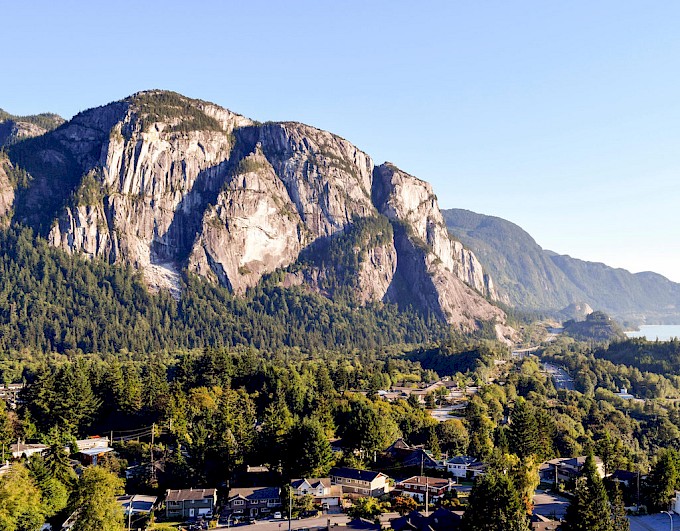 Carved in granodiorite that cooled beneath the ceiling of the early Coast Mountains, this 710-meter-high granite monolith is the second-largest in the world. Known as Siy'ám' Smánit to the Squamish Nation, legend has it that a two-headed sea serpent once scaled Stawamus long ago.
Known as Kwékwetxwm in the Squamish Nation language, Shannon Falls is 335 metres in height, making it BC's third tallest falls. For Indigenous people, this was a place for resource gathering and also where medicine people trained.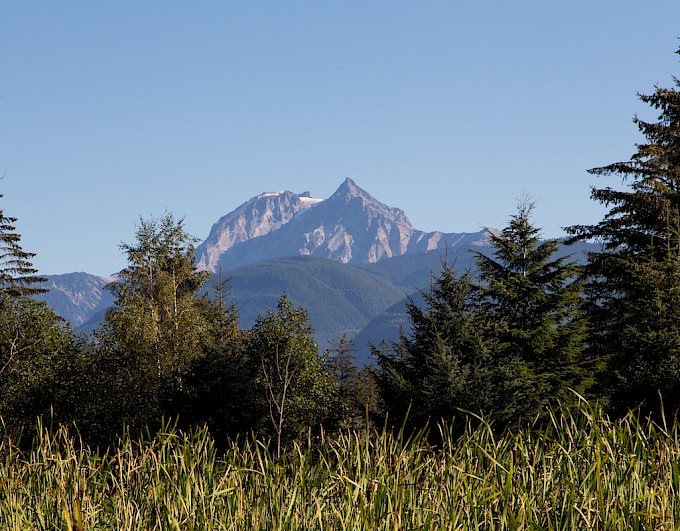 The pointed stratovolcano seen from all directions in Squamish is part of the Garibaldi mountain massif. Also known as Diamondhead by settlers and Nch'kay' in Squamish Nation language, this iconic landmark is featured in the Great Flood story.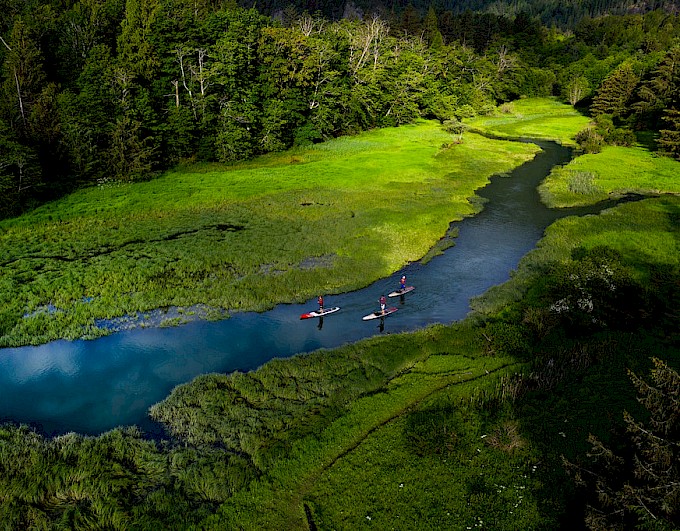 This peaceful wetland at the mouth of the Squamish River is a wildlife hotspot where birds, bears, wolves, sea lions and salmon can be spotted. The site where the river meets the sea was the seasonal village of Skwelwíl̓em for the Squamish Nation.