Top Early Season Mountain Bike Trails
Posted on: February 21, 2023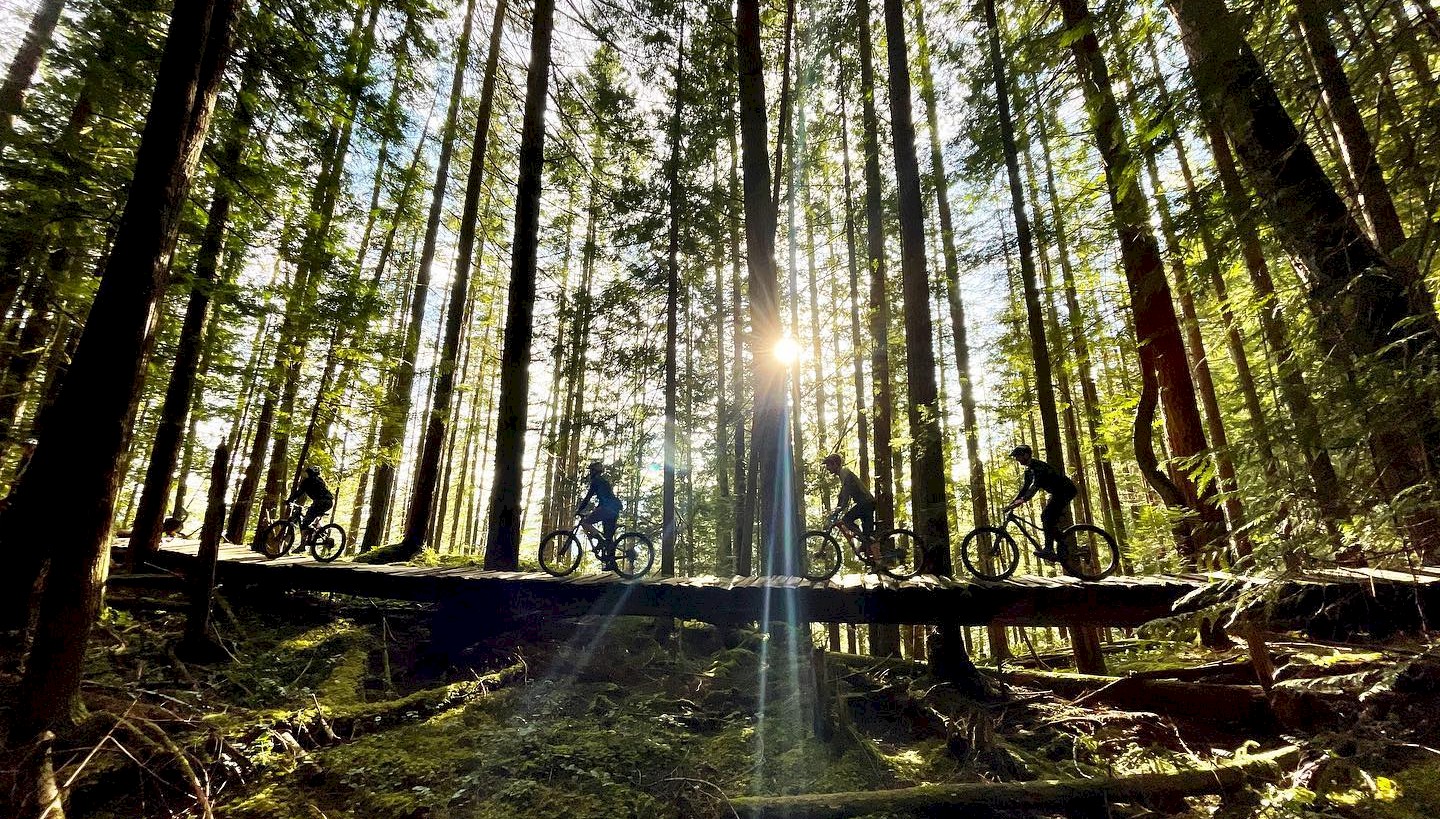 Top Early Season Mountain Bike Trails
The winter thaw is on and the time to hang up your skis and tune your mountain bike is here! Read on for some spring riding tips and our top early season trail suggestions.
Spring Riding Tips
Squamish trails come alive in the springtime, serving up grippy granite slabs, velcro-like dirt and rainforest views you can feast your eyes on. While many of the trails are almost ready for riding, some may have lingering snow, soggy from winter melt or little sun exposure.
Stay off muddy trails: Keep the trails happy by staying off muddy trails.
Pick the right trail: Choose rocky trails and trails on southern aspects to reduce your impact on the trail.
Get a spring tune-up: Give your bike some love with a spring tune and bike check at Corsa Cycles or RideHub.
Pick low elevation trails: The snow line is sitting fairly low in Squamish and shady forested trails may retain snow even lower.
Plan around the weather: Check for weather updates and plan accordingly!
Spring-Friendly Trail Suggestions
A flat, gravel trail ideally suited to new bikers or those looking for a gentle cruise. This trail features no major obstacles and can easily be ridden with kids in tow. Make sure to leave time to enjoy the views as you ride, there are many impressive viewpoints of Howe Sound and the Stawamus Chief.
The Ray Peters trail is a perfect early season trail for beginner mountain bikers hoping to ease into Squamish riding. The trail is a wide path with few roots to navigate through. Once you feel comfortable on two wheels you can head over to Live Wire or Rusty Bucket in the surrounding area to challenge your bike handling skills!
Wonderland: Green - Lesley's pick from Tourism Squamish
Intermediate riders will feel confident and have fun riding Wonderland trail. You can pedal in either direction which allows riders to continue as long as you feel comfortable and turn around and ride back. The trail includes small roots and wooden features that have ride around options. Please be advised some sections of the trail can accumulate water after rainfall, allow two days of sun before riding.
A popular trail in the Debecks Hill / Alice Lake area is Jacks trail. This multi-directional trail can be used as a climbing trail or can be ridden downhill for a mellow descent. Access begins from the end of Perth Road in the Garibaldi Highlands and leads into Alice Lake Provincial Park. Be sure to scout the trail as you climb up, there are a few steeper sections along the way to challenge your skills.
For early season, Sara from RideHub recommends warming up on a flowy trail like Pseudo-Tsuga. There are optional small jumps along the way and plenty of smooth turns. The trail was recently re-worked and is fast, flowy and fun so you can get a feel for your riding and your bike to start your season off right.
The trails in the Debecks Hill area are south west facing and see plenty of sun, as a result, they dry out quickly making for an ideal spring riding playground. Crouching Squirrel Hidden Monkey is a downhill mountain bike trail full of rocky features, roots and plenty of technical fun. Intermediate riders may prefer walking the more challenging features, but otherwise, the trail is very doable for intermediates.
Located in the Diamond Head area, Angry M is a go-to spring trail that can be combined with Pseudo-Tsuga for a fast and fun ride. The trail has a little bit of everything; it crosses drainages and has flowy sections and rooty sections to keep you on the edge of your seat. When the light hits the trees just right you may even find yourself biking through a forest littered with sunbeams!
Credit Line is known as one of the first trails to open up in spring, it is consistently voted one of the most popular trails in the Alice Lake area and it's easy to see why. The trail takes roughly 15-25 minutes to ride and contains a good mix of downhill and technical climbing. The trail includes some rock rollers and off-camber lines and finishes with some flow and gradual terrain. It also includes a spectacular viewpoint halfway down the trail–a must do in Squamish!
Cruisy riding on Wonderland, Photo: Tourism Squamish Photo: @lauren.gregg leaning into the endless berms on Pseudo Tsuga, Photo: @jonthorpe
Photo: @allygandy riding through a hallway of trees on Angry M, Photo: @jwrobson Photo: The stunning viewpoint on Credit Line Photo: @matthew__griffith
Earn Some Trail Karma
Countless hours of sweat, muscle and machinery go into maintaining the incredible network of single-track and multi-use trails in Squamish to ensure your rides are always too much fun! Be sure to become a Squamish Off-Road Cycling Association (SORCA) Member prior to riding local trails. You can also donate to SORCA here.
2023 Trip Planning Information
Year-round equipment rentals
Mountain bike tours and rentals are available year-round at Dialed-In Cycling, Corsa Cycles, Ride BC and RideHub. Most other tour and rental providers open for the season in April.
Bike Shuttle Services
The Squamish Shred Shuttle is currently running weekends only as part of their Spring operations. Later in the season more shuttles and areas will be added. They are also available for private bike shuttles, please contact them for details.
Plenty of Rental Options
It's easy to rent a bike in Squamish and drive or ride directly to the local trails. Local shops also rent bike racks for your car and offer a wide variety of sizes to find a perfect fit for you. Contact Dialed-In Cycling, Corsa Cycles, Flying Spirit Rentals, or RideHub to book your bikes and gear.
E-Bike Rentals
E-bike rental and tours are available at Blazing Saddles Adventures, Dialed-In Cycling, and RideHub.
Guided Rides and Lessons
Whether you are just starting out or looking to refine your skills, Squamish's local mountain bike guides have a reputation for building confidence and inspiring riders to succeed and have fun! No matter who you choose your guide will be a master of the Squamish trails and will take you on the very best right trails for your skillset and ability. Local guiding companies include Blazing Saddles Adventures, Dialed In Cycling, Ride BC, and RideHub.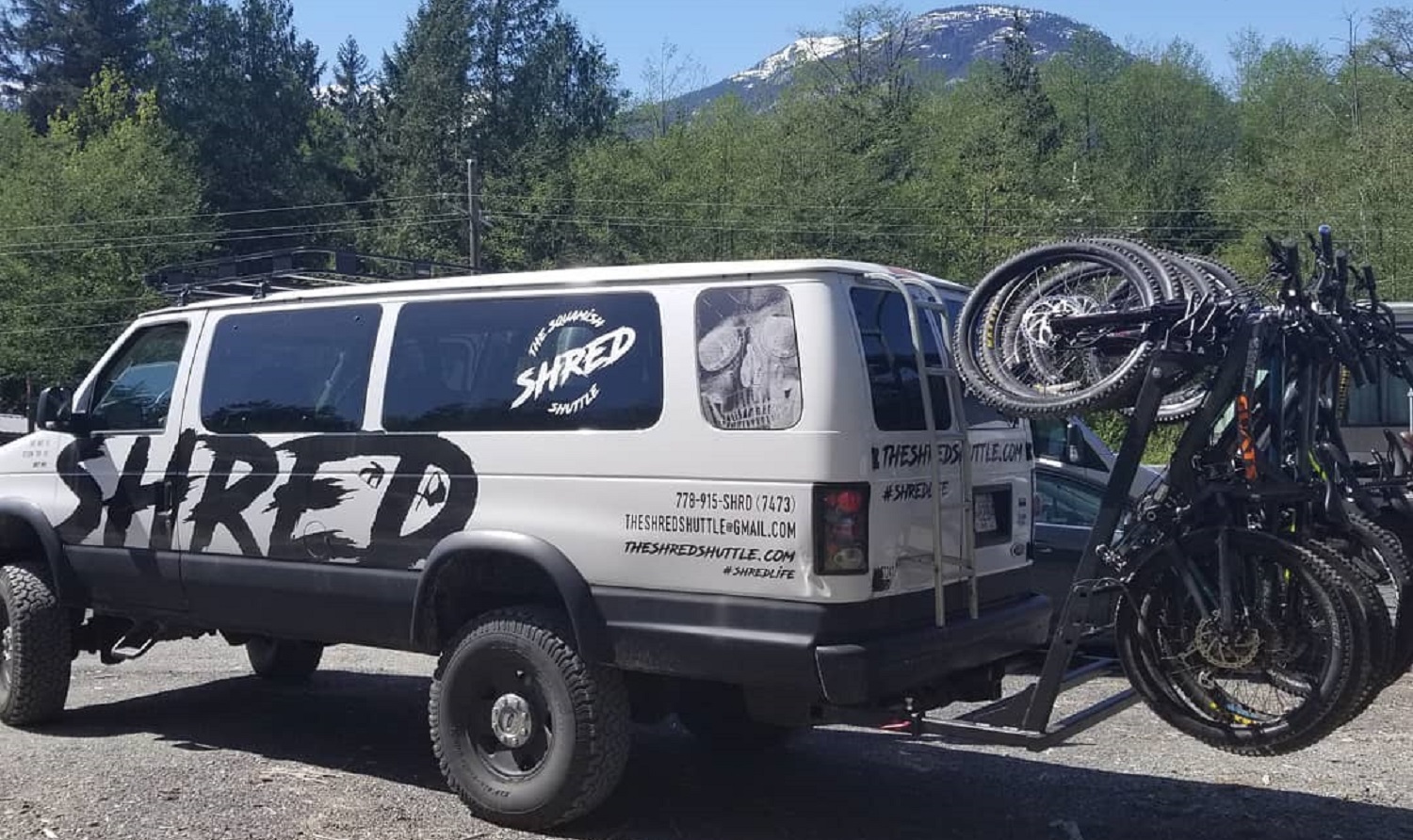 The Squamish Shred Shuttle, Photo: Squamish Shred Shuttle
Biking Resources
Trailforks: The Trailforks app gives you access to the most up to date Squamish trail maps complete with GPS positioning. Use the app offline by downloading trails you would like to ride in advance.
TrailMapps: We also recommend downloading the TrailMapps app for maps of popular trail networks.