Explore Squamish - October 21, 2019
Where to View the Squamish Eagles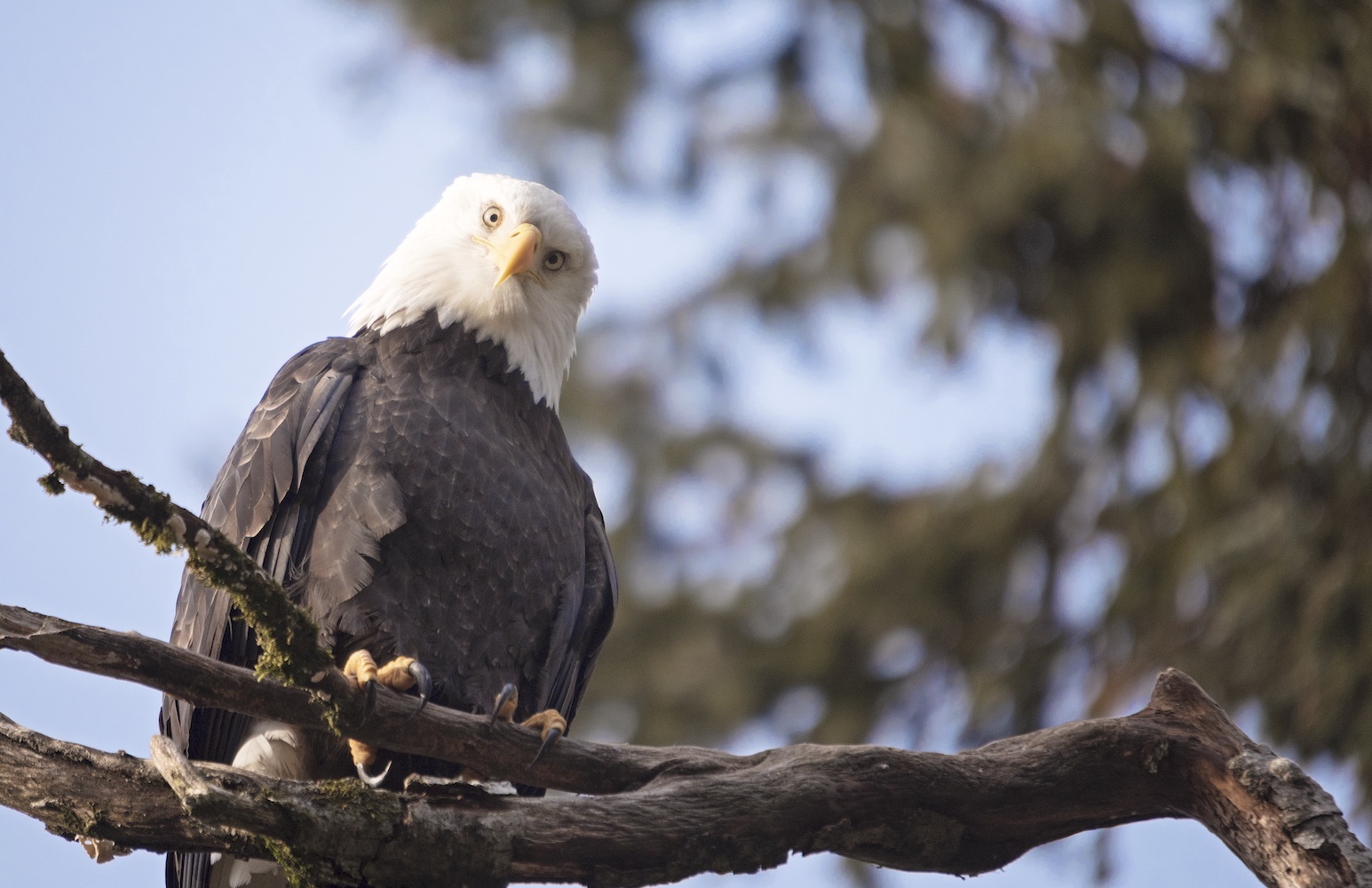 Photo: Squamish Rafting Company
Due to COVID-19, some tour providers may not be operating this season. Please check back often for updates. 
---
Where to View the Eagles
It's a bird; it's a plane–no you're right it was a bird! 
Eagles, AKA North America's feathered apex predators have landed in Squamish, and they're a sight to behold! Every fall, just when the salmon runs begin, Bald Eagles from around North America migrate to Squamish to take shelter for the cold winter months and hunt for their favourite dish. Peak eagle viewing season is mid-November to mid-January. To get the best views in town be sure to check out these top spots:
1. The shores of the Squamish River
Take a stroll along the dyke, and you'll notice a wide variety of birds; crows, seagulls, and wintering bald eagles eyeing down their next meal . Efforts are made by volunteers to shovel the snow on the ramp to access the dyke. Come wearing your winter gear and be sure to remember your camera!
Photo: Ian Robertson
Nestled along the dike in one of the most picturesque locations along the Squamish River is the Eagle Run Viewing Shelter.  The shelter includes interactive information boards, covered spaces to hide from the elements, and picnic tables.
November 8, 2020 Update: Please note that due to COVID-19 the EagleWatch Interpretive Program, located at the Eagle Run dike will not be operating this season. 
Spectacular mountain views and picturesque meadows and marshes characterize this site. Beautiful year-round the addition of wintering eagles only elevates this already stunning location. Eagles are known to perch in the leaf baren trees against the backdrop of the Stawamus Chief. Arrive camera in hand, you will not want to put it down.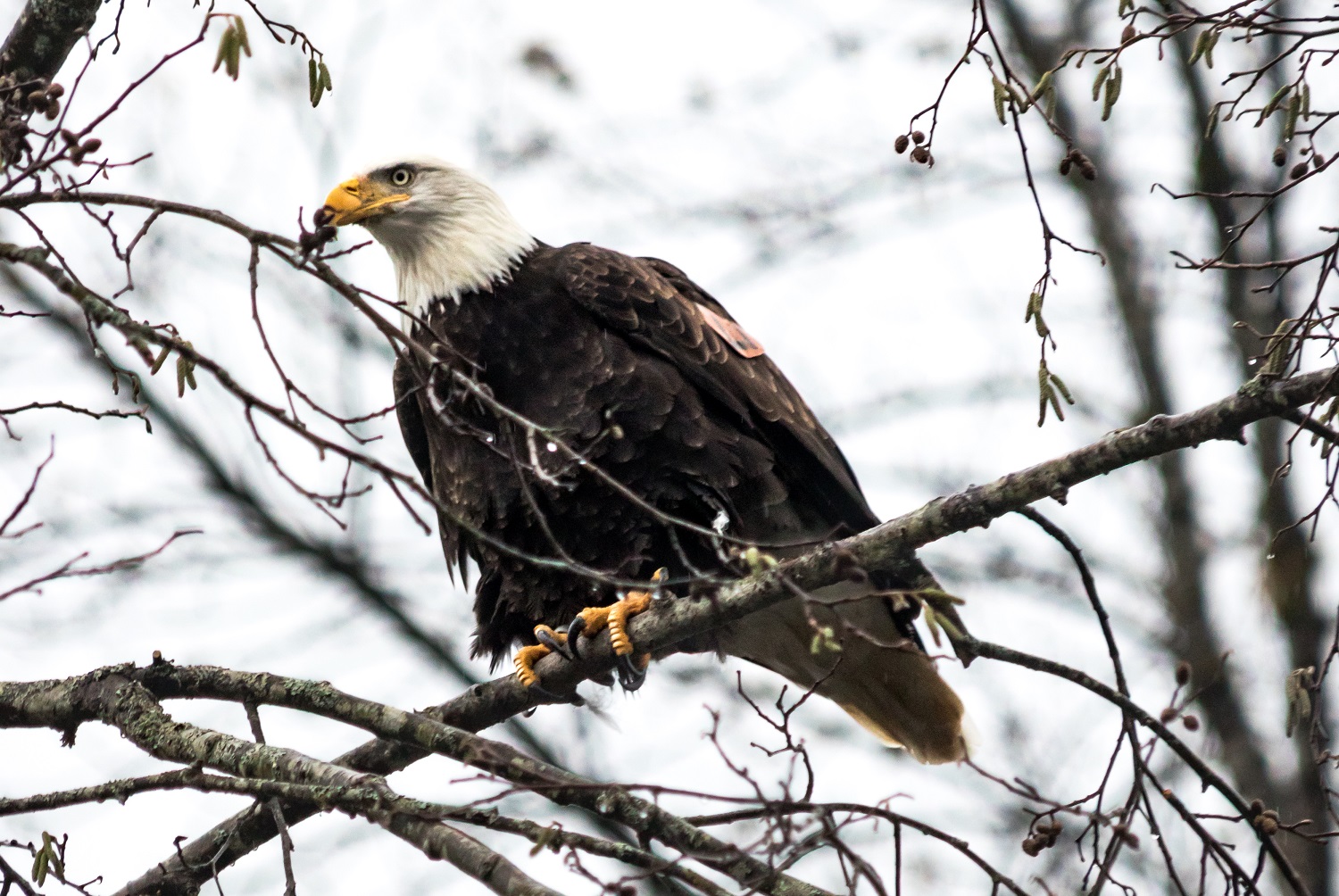 Photo: MJ Blanchet, Canadian Outback Rafting
A home for many spawning salmon, it's no surprise that hundreds of bald eagles can be spotted here year after year. The mellow forested trails skirting the Mamquam River make for a perfect location for photographers and nature enthusiasts to walk among the birds of prey who call Squamish home each winter.
To access the trails take the Mamquam Road exit from the Sea to Sky Highway and park your car in a small lot slightly past the Squamish Golf and Country Club. The trailhead begins a few metres west of the parking lot. You can view a map of the Mamquam River trails here. Please note the Mamquam spawning channels are located in very sensitive habitat. People should be very careful to not disturb the eagles, whether they are roosting or feeding. 
Photo: Squamish Rafting
Nowhere is the eagle population more amazing than seen from a raft, floating down the Cheakamus River. Eagle watching float tours run through to February and are suitable for people of all ages and abilities, it's a great way to get up close with one of the world's most magnificent birds of prey.
Tour operators: Canadian Outback Rafting Company  and Squamish Rafting Company 

Photo: Cheekye Ranch
Ride alongside one of the densest eagle habitation areas in all of Squamish to gain close up views of eagles perched high in the trees. The 1-hour trail ride takes place along the river where the eagles spend most of their time. Keep your cameras close to capture the magic!
Tour operator: Cheekye Ranch
Let a local guide lead you through an exclusive Squamish spot on a walking tour to spot bald eagles in their natural habitat. Your riverside walk features incredible views of the river and surrounding mountains and finishes off with a warm drink by the fire. 
Tour operator: Mountain Skills Academy
Eagle Viewing Ethics
Winter is a stressful time for eagles, please give them space
Early morning is an important feeding time for eagles. Never disturb them while they are feeding.
Use binoculars or telephoto lenses to get a closer look. Do not use drones!
Stay on the dikes and off gravels bars or private land. 
Keep dogs on leash. Do not let dogs chase or harass wildlife. 
Still not sure where to go?
You can download a map of popular eagle viewing sites here, or stop by the Squamish Adventure Centre and we'll give you a map and rundown of where to find the best viewing spots.