Explore Squamish - September 29, 2022
Where to Grab a Caesar in Squamish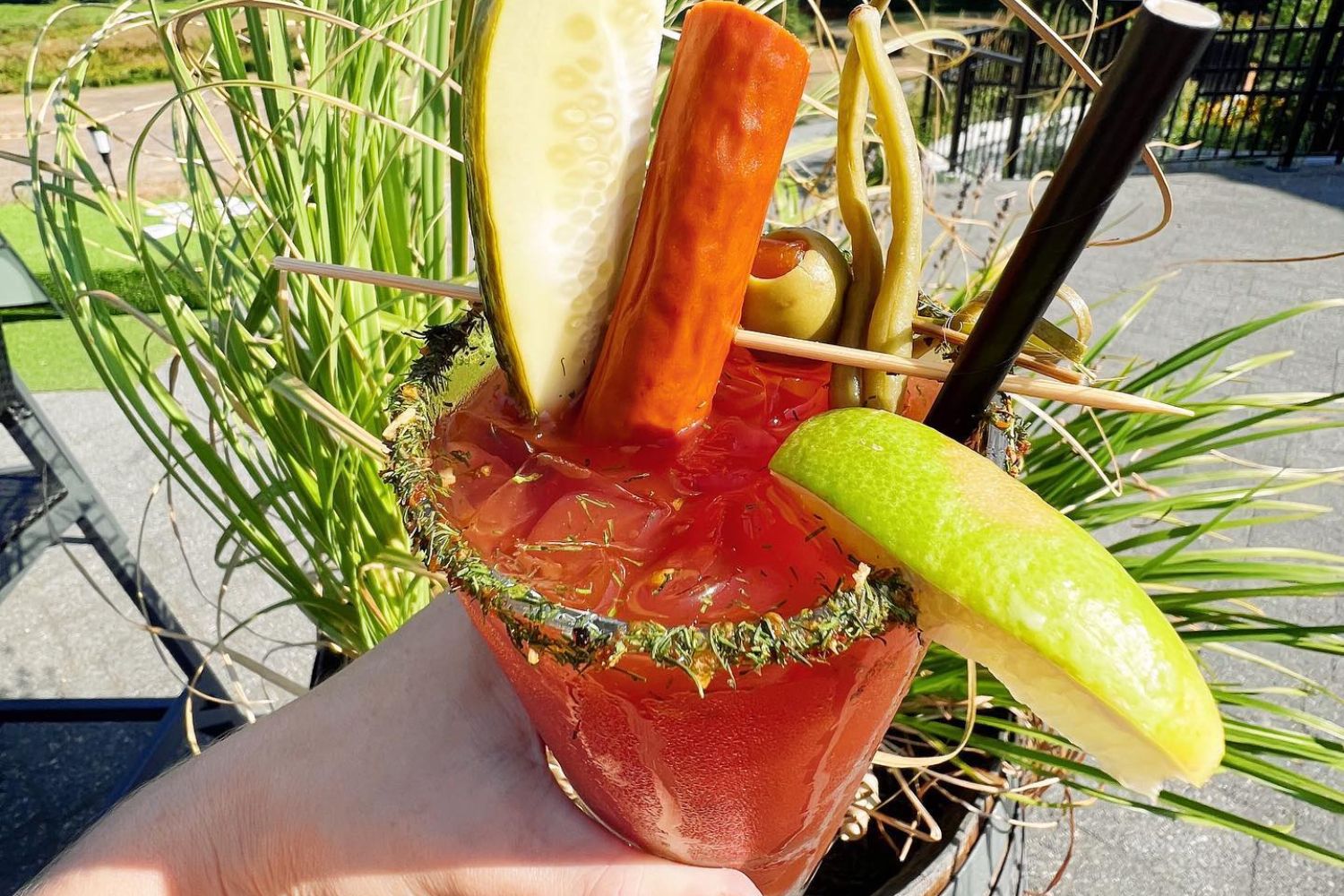 Photo: Norman Rudy's
When it comes to quintessentially Canadian drinks there are a few that come to mind: a smooth whiskey, a blue-collar beer, a personally perfected brew, or a dash of sweet ice wine perhaps. But nothing hits the spot better than a delicious – and often outrageously creative – Bloody Caesar. Let's check out each unique drink on offer here in Squamish.
Not to sound presumptuous but a BBQ joint is bound to go over the top with their Caesar, right? Nope! Call them purists but the folks over at the Copper Coil keep their Caesar scene clean. Order up one with all your favourite toppings including hot peppers, pickles, and celery, seasoned to your liking. But wait a moment… we stand corrected. They sometimes feature a special Caesar on Sundays called the 'Caesar Royale' and it's loaded with an Egg McMuffin, Smoked Wings, and deep-fried Cajun Pickles! 
If you're in central Squamish, you'll want to try out the Cork and Crafted Caesar. 2oz of vodka, made from scratch Clamato, rim, garnished with in-house pickled mushroom, pickles, olives AND topped with a piece of Two Rivers smoked and candied bacon. Delish!
Image: The Crabapple Café
Down in Brackendale at this popular local brunch hangout, a Caesar always pairs nicely with their food offerings. Mix yours with your choice of vodka, gin, tequila, and their house-made Caesar mix. We recommend a double. *wink*
Pros at whipping up this boozy breakfast drink of choice, the team at Fergie's Café offers a couple of options for your needs. The Classic Fergie's Caesar features your choice of vodka, gin or tequila with their special spice mix and a pickled bean. If you want to shake things up a bit you can order "The Moore Caesar" that's mixed with bourbon, smoked salt, bacon, and pickled hot pepper.
Known for their fresh, house-made menu items and drool-worthy brunch, it's no wonder that the Lil Chef Bistro makes the cut. Visit them at their tucked-away spot in Garibaldi Highlands and order up a crafted Caesar that will cure everything that ails you.
Ranking very high on the 'best-loved Caesar' list by locals, the Locavore Bar & Grill nails this traditional cocktail every time and has an airy and comfortable atmosphere to boot. So what is it that makes it such a hot spot for a Caesar? It's loaded with lots of pickled veggies including asparagus, onion and beans and pickles, a house-made rim, and they use high-end Walters Caesar mix. Grab one for just $6 on Sundays!
Not to make a big dill about it, but the Norman Rudy's Caesar is top in the running because of a few delicate additions. This one is made with Belvedere vodka, chipotle hot sauce, horse radish, a dash of pickle juice and Clamato. They top theirs with pepperoni and juicy dill pickle. 
Image: Sea to Sky Gondola
Nothing beats a Caesar with a view. The Summit restaurant at the Sea to Sky Gondola does serve this tasty beverage, so whether you earned it by hiking to the top or cheekily riding the Gondola up to get it, no one is judging. Topped with pickled beans, olives, and a pepperoni stick. Order away!
An honourable mention, this downtown Squamish cidery likes to dive into the weekend on occasion by offering a 'build your own Caesar bar' on Saturdays and Sundays. We recommend contacting them in advance to make sure it's happening, but if it is- game on! Create your masterpiece then sit back, sip and enjoy.
You can also grab Bloody Caesars at The Backyard,  The Cleveland Tavern, Cordelia's Locket, Howe Sound Brewing, Pepe's Chophouse, Peckinpah BBQ, Match Eatery, Saha Eatery, The Salted Vine , any anywhere with a full bar!