Where to Go Fishing in Squamish
Posted on: December 25, 2020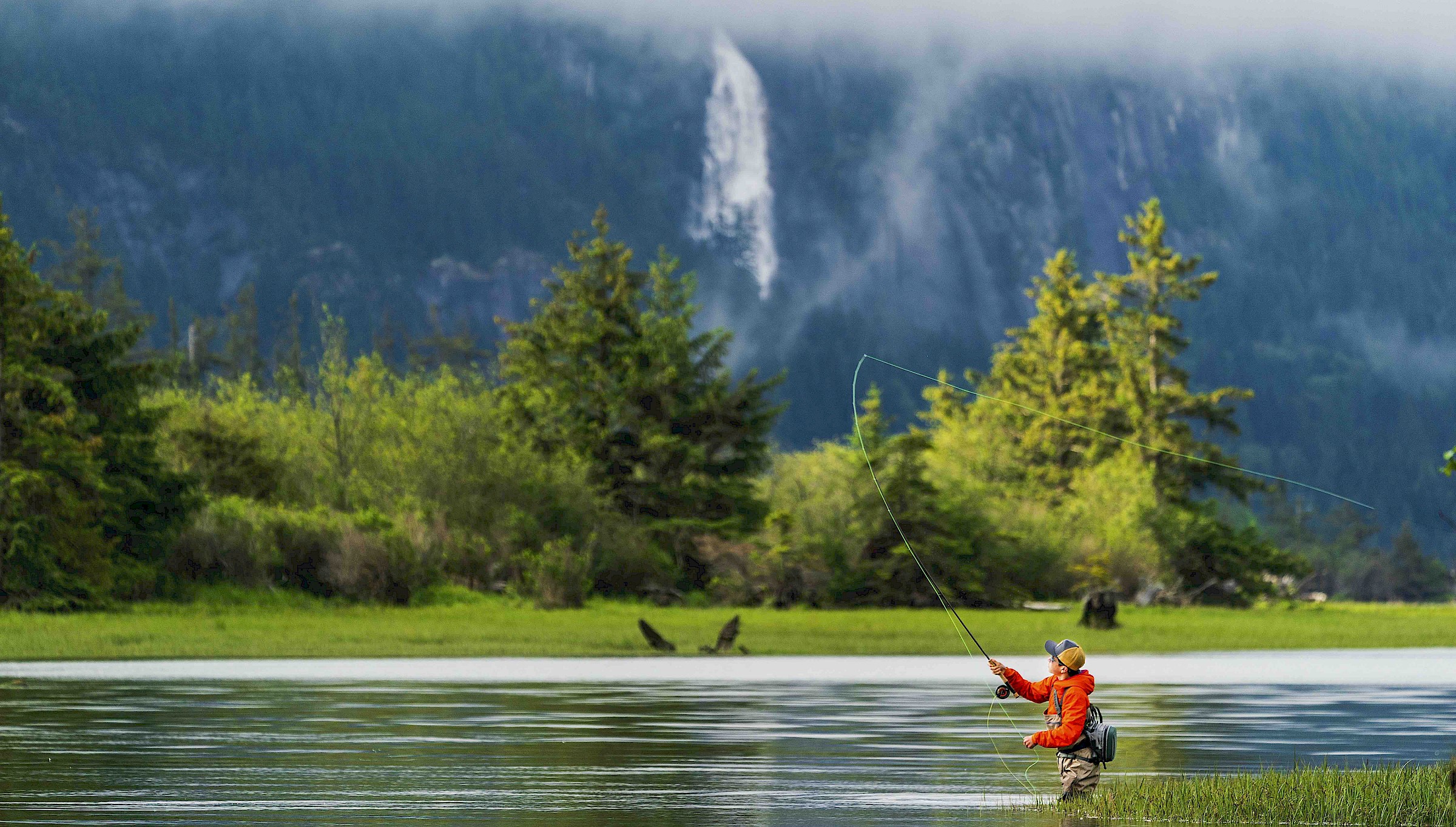 Where to Go Fishing in Squamish
Fishing is a year-round pastime here in the Sea to Sky; with the rivers become exceptionally clear with the cooler weather and the salmon arriving in fall, as well as plenty of opportunities for Bull, Cutthroat and Rainbow trout through the rest of the year.
Overview of the Experience
Photo: Trout Country Fishing Guides

Guided fishing excursions pick you up and transport you to an otherworldly location with the best fishing opportunities suited to your preference of species, experience level or desired view. Half and full day tours are available and include all necessary equipment. In addition to discovering pristine fishing locations, you will learn an array of tips and tricks to improve your next fishing trip.
Tips for New Anglers
Practice at home: Clint from Valley Fishing Guides encourages people to practice casting and knot tying before they head out fishing. Time on the water is best spent enjoying the day not fumbling.
Dress in layers: Fall weather can change quickly, Cortney from Trout Country Fishing Guides says fish don't like to be rushed, dress warmly and be prepared to hang out.
Use sharp barbless hooks: You don't want to miss hooking a fish you worked so hard to fool. Clint warns new fisherman to make sure their hooks are sharp, so you don't miss out on the catch.
Variation is the key to success: Salmon runs can be affected by all sorts of weather, Cortney recommends fishing at different times of day and bringing rigs for salmon and trout, if your luck seems to be low, try fishing for trout!

Favourite Squamish Fishing Locations
Photo: Valley Fishing Guides

Mamquam and Squamish River Confluence
The confluence of the Mamquam and Squamish Rivers is a favourite spot for fly fishers. On a sunny day, it is not uncommon to see several anglers in the area. It is also a hotspot for local wildlife, so be cautious and have your cameras close at hand.
Fishman's Park on the Squamish River
Located in beautiful Brackendale, Fisherman's Park is located just off of Judd Road. Park your car in the parking lot at the end of Judd Road and take the short trail towards the river. The white sand beach along the river's edge is perfect for wading into the water and offers breathtaking views of the surrounding mountains.
Want to Discover More Fishing Locations?
Fishermen never reveal their best fishing locations. To discover all of the Squamish sweet spots book a tour with Trout Country Fishing Guides or Valley Fishing Guides. Ocean fishing charters are available through Deep Coast Charters.

Local Tours
Photo: Trout Country Fishing Guides

Heli and Floatplane Fishing
For the truly adventurous anglers, Squamish offers customized helicopter tours to remote rivers and floatplane tours to stunning alpine lakes. Beautiful scenery and spectacular views will take your breath away while you enjoy a world-class day fishing for Dolly Varden, Cutthroat Trout, Rainbow Trout and Salmon.
Half-Day Trips
Spend a pleasant morning or afternoon at a location of your preference with a professional angling guide. Your trip includes all necessary gear and plenty of time for expert instruction from your guide.
Full-Day Trips
A full-day tour means there will be more opportunity to improve your techniques, learn more about Squamish fishing and of course catch and release more fish. Trips usually start between 6 - 8 am and end between 4 - 6 pm, departure and finish times are discussed to meet your needs.

Know Before You Go
Photo: Valley Fishing Guides

Respect all fish and treat them humanely
Avoid entering the water downstream of another angler who is already fishing, unless invited to do so
Leave adequate room between the downstream angler and yourself but do not remain stationary unless no one is following you
After catching a fish, step out of the line and return to the head of the pool, or start of the line
If you are not sure about the local etiquette, avoid any problems by first inquiring about the procedures from the anglers already on the water
All rivers have a bait ban therefore live, or artificially scented baits are prohibited. Lures and flies are permitted
Rivers are catch and release for Trout and Char
Fishing Licenses
Valid fishing licences are required for all types of fishing in Squamish. You are responsible for understanding the rules and regulations for fishing in BC. Read the BC Sport Fishing Guide and understand the rules. Freshwater Licences can be purchased online on the fishing.gov.bc.ca website here.