Explore Squamish - April 16, 2018
Where to Find Easter Eggs in Squamish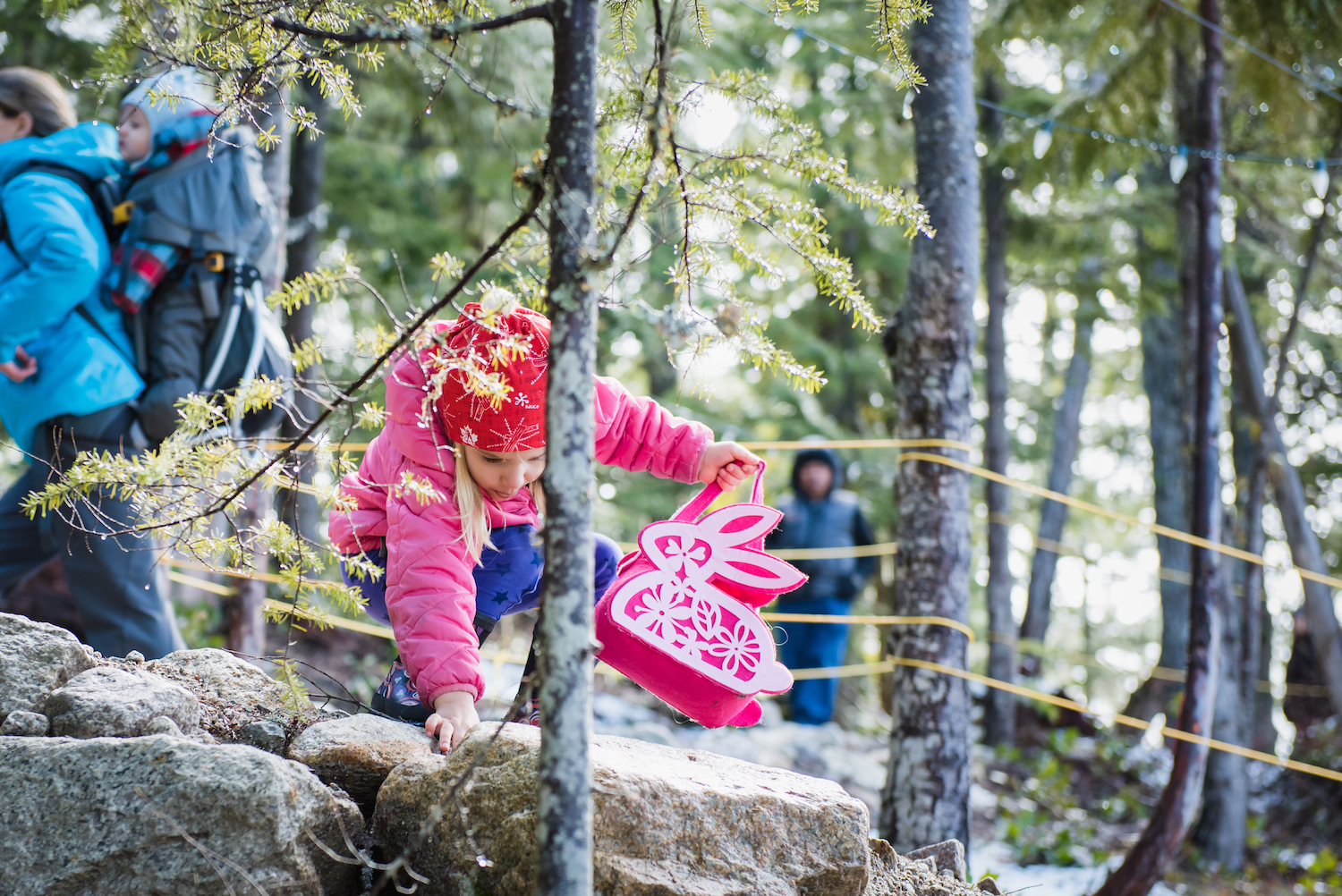 Photo: TaraOGradyPhoto.com, Sea to Sky Gondola
Where to Find Easter Eggs in Squamish
From family brunches and giant organized egg hunts to off-the-beaten-path hideaways where you can make your own egg hunt. Squamish is the place to be to make memories count this Easter. 
Organized Egg Hunts
Celebrate Easter with farm fresh eggs, kid's crafts, live music and a free pre-Easter, "egg hunt"! Kids can keep their eyes peeled for treats hidden around the booths as you shop. The market takes place from 10am-3pm at the corner of Cleveland Ave & Victoria Street in downtown Squamish.
When:  10 am - 3 pm
This year the Easter Bunny is making a special trip to the Sea to Sky Gondola to create an Easter egg hunt with the best view around. The hunt is complimentary with a valid day ticket or season's pass. Visit the forest woodland characters to collect your chocolate eggs at your own pace. 
When: 10 am to 12 pm
Britanniasaurus Rex will be returning this year to the Britannia Mine Museum for their annual candy-free dino egg hunt. Kids can hunt for gem-filled dinosaur eggs and bring them back to the mineral table to identify their treasures. 
When: 11 am and 1 pm
The Squamish Fire Rescue Services is putting on a community Easter Egg hunt at Brennan Park Recreation Centre. Families are invited to meet the Easter Bunny himself as he scatters eggs throughout Brennan Park Field. 
When: 10 am - 11 am
Where to have your own hunt
For a more intimate Easter experience visit one of Squamish's beautiful parks and explore nature hiding a few eggs as you go. Just remember to keep a list of your hiding spots and pack out what you bring in! 
Take your family to Alice Lake Provincial Park where you can hunt for eggs on the sandy beach, play on the children's playground and go for a mellow stroll around Alice Lake. Maximize your day by bringing a picnic lunch to enjoy after your hunt has come to an end. 
Take a quick walk around Browning Lake, or venture around the longer Murrin Park Loop Trail (1.8km) and hide eggs in the lush and whimsical forests around Browning Lake.
Full of shrubs, giant rocks to picnic on, and located beside one of the most picturesque lakes in Squamish, Brohm Lake is the perfect escape from it all venue for your family's Easter excursion. You need not go far to find a picnic spot to sprawl and hide treats, the lake's loop trail passes by countless places perfectly suited to lakeside lounging. 
The picnic area around Shannon Falls is a lovely spot for an Easter Egg hunt, offering seating for post-hunt snacks, breathtaking views of Shannon Falls and ultra-accessible roadside access it is an ideal spot for the whole family. 
Easter Brunch
No Easter is complete without a family brunch. Whether you choose to eat before or after your hunt, here is a list of signature Easter brunch venues taking place in Squamish. 
Special for Easter, Howe Sound Brew Pub is offering a buffet-style breakfast with all the fixings. The buffet will include an omelette station, crepe station, eggs benedict, french toast and more. There is a set cost of $26.95 per adult and $12.95 per child (ages 6-12). Reservations are recommended. 
Experience a memorable Easter Sunday with a brunch 885 metres above the Howe Sound. Brunch seatings are available by reservation only at 10 am and 12 pm, to reserve your spot call 604-892-2551.
The Salted Vine Kitchen + Bar's legendary Sunday brunch service returns this Easter Sunday, their gourmet brunch menu even includes a dessert section. The service runs from 10 am to 2 pm, reservations are recommended. 
Looking for more brunch options? Check out Spectacular Squamish Brunch Guide.