Explore Squamish - March 04, 2021
Where to Eat With Kids in Squamish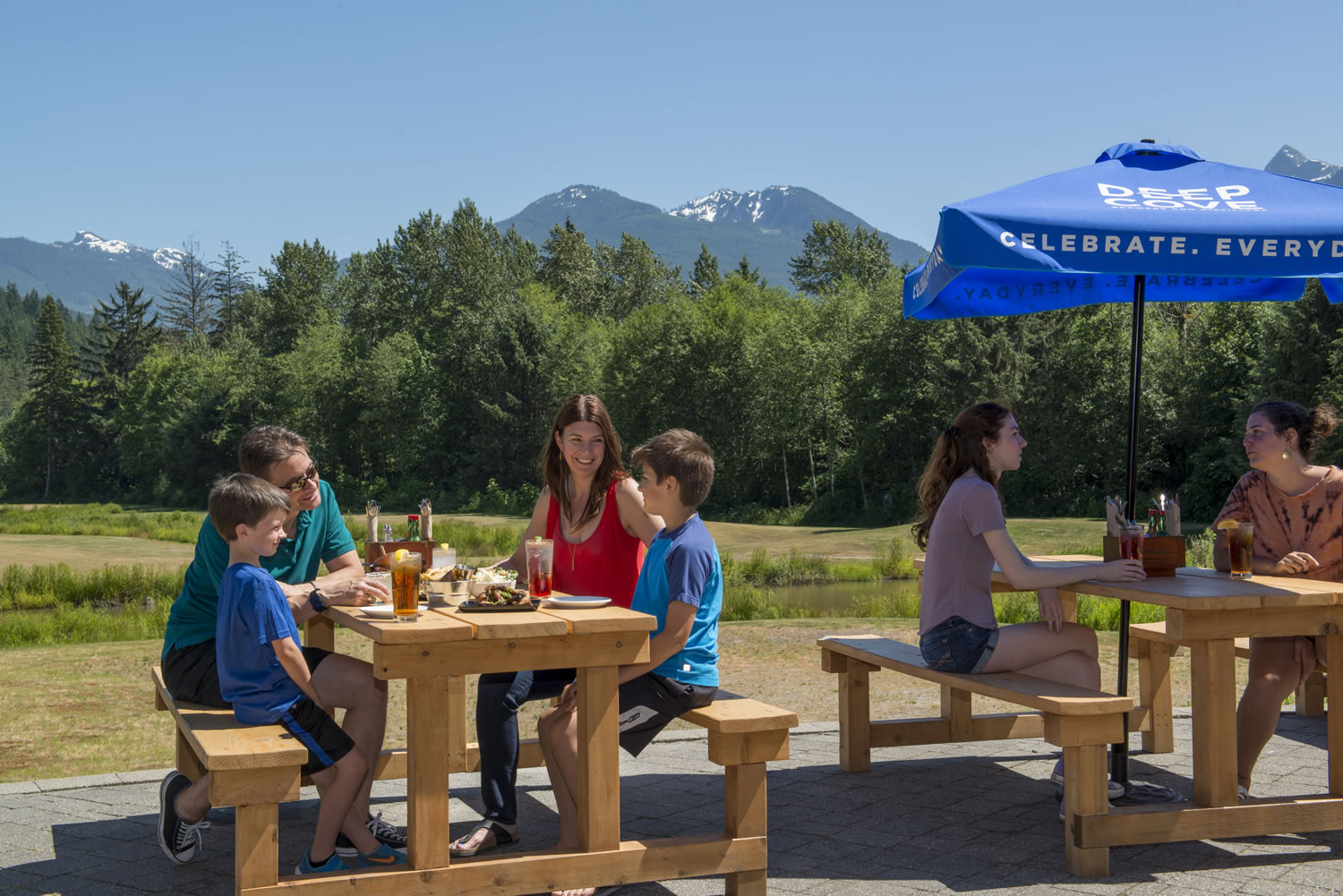 Photo: Norman Rudy's
Where to Eat With Kids in Squamish
Spring Break is on its way and since we've all been eating at home so much this past year, why not make it a treat to explore some of Squamish's kid-friendly restaurants for a dining adventure? Here's the inside scoop on the best kid menus to help fuel your next family adventure.
*Please note that as of March 30th, 2021, all indoor dining has been suspended until April 19th, 2021. The following restaurants all have patio dining that will be open during this time. Space is limited.
From farm to table, the Crabapple Cafe offers fresh, healthy food you can feel good about feeding to your kids. They have made a special effort to serve up healthier versions of the kinds of fun foods kids love. 
Kid's Menu
Kid's Burger
Poutine
Grilled Cheese
Veg Slices with Tzatziki Dip
Open from 8 am to 3 pm, Fergie's is a family go to for all your breakfast through lunch needs. Serving up some special fare for the little ones in the family, you can munch on adult favourites while the little ones chow down on some kid-sized classics.
Kid's Menu
French toast
Kid's plate: toast, scrambled eggs and avocado 
A family-friendly environment with a kid's menu your groms won't be able to get enough of. They even have a kids dessert menu because every kid deserves a special treat every once in a while.
Kid's Menu
Kids pizza (cheese, pepperoni and Hawaiian)
Veggies and dip
Fish and chips
Kid's burger
Grilled Cheese
Kid's dessert menu: brownie or ice cream
Bring your family and enjoy a meal together at Norman Rudy's. Offering plenty of kid-friendly options plus an adult menu that combines comfort kitchen with farm fresh ingredients, Norman Rudy's checks all the boxes for a successful family outing.
Kid's Menu
Fish and chips
Kid's burger
Crispy chicken
Grilled Cheese Sandwich
Green salad
Ceasar salad
Gelato
After the little ones finish their meal you can supervise from your table as the kids play on the grass outside the large clubhouse windows. Every Friday night is all-you-can-eat pasta night when adults eat for just $13.99 and kids pay according to their age up to age 12. (For example, a 4-year-old eats for $4.99). 
Kid Friendly Menu
Cheeseburger
Chicken fingers
Flatbreads 
Squamish's newest restaurant offering, the Cork & Craft Taphouse is located right off Highway 99 and has a large patio. Parents will enjoy their huge craft beer, spirits and wine selection. Everyone in the family will love their locally focused menu that features scratch to craft delicious food!
Kid's Menu
Kids Flatbread
Chicken Strips
Mac & Cheese
Spagetti Pomodoro
Craft Burger
Located in the heart of Downtown Squamish, the Zephyr Cafe offers creative, tasty and healthy dishes. They are a progressive cafe that encourages community growth and healthy eating.
Kid's Menu
Homemade Soup
Rice Bowls
Breakfast and Grab n' Go treats
Sweet Treats & Dessert