Explore Squamish - January 30, 2018
Where to Dine with your Valentine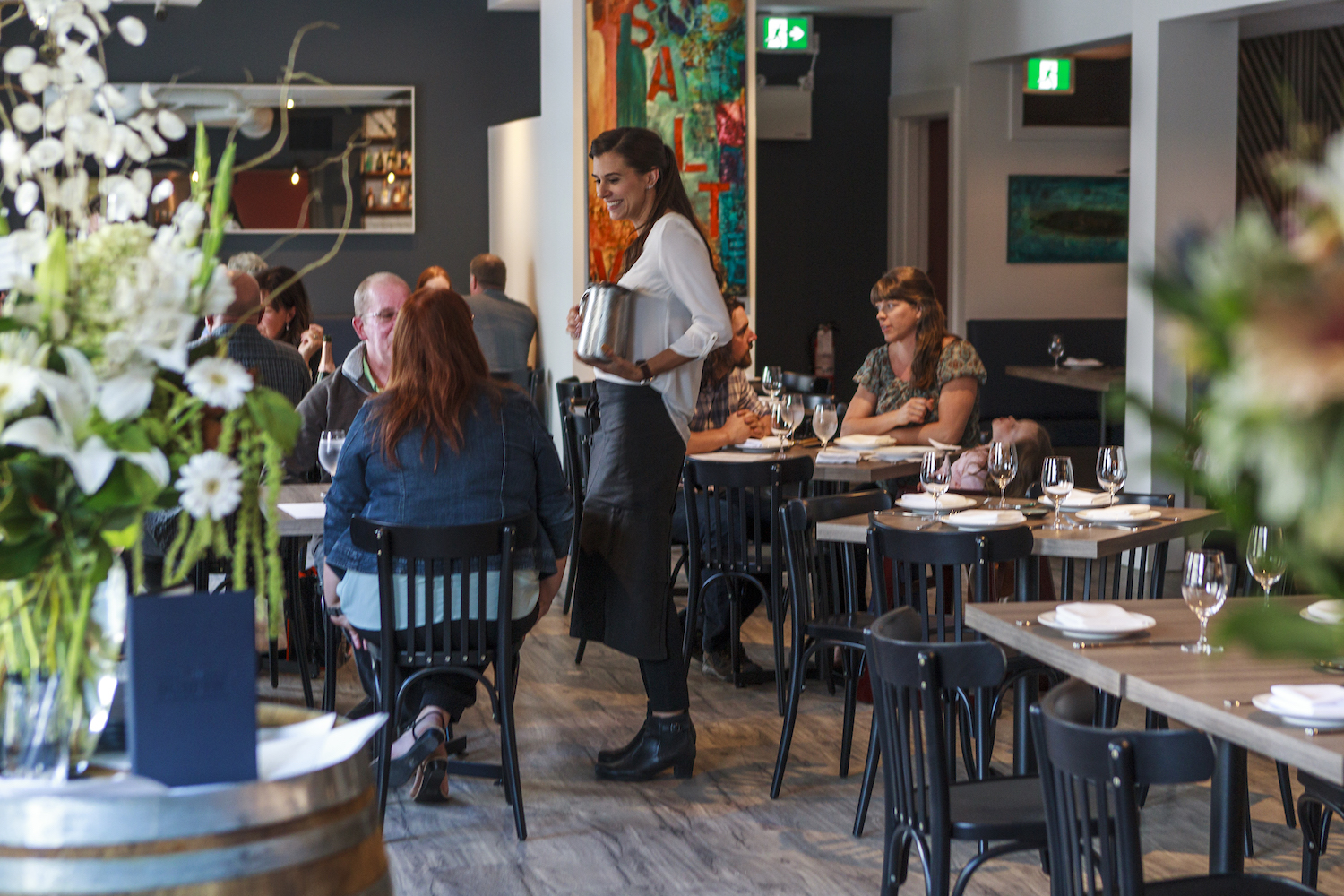 Photo: Joern Rohde, The Salted Vine
Where to Dine with your Valentine
Imagine a starlit evening with a backdrop of the Stawamus Chief and the Howe Sound. That's exactly what Squamish delivers, couple that with world class food and tasty craft beverages and we think you've set the mood just right.
Read on to start planning your Valentine's Day dinner in Squamish.
For the upscale connoisseur
The Salted Vine Kitchen + Bar will help guests raise a glass and make a toast to their true love this Valentine's Day by hosting a special dinner service on Wednesday, February 14. The four-course feast is available for $95 per couple plus tax and gratuity, with optional wine pairings selected by Sommelier/Co-Owner Pat Allan for an additional $39 per person.
Seating times: by reservation
Reservations: recommended, please call 604-390-1910
Menu items include: scallop crudo, ravioli, wagyu short rib and a chocolate tarte.
On one of the most romantic days of the year, the Sea to Sky Gondola is offering a special Valentine's experience. Start your visit with a breathtaking ride up the gondola, enjoy a peaceful walk in the heart of nature on the decorated Spirit Trail and catch a picturesque sunset before your dinner reservation in the beautiful Summit Lodge. 
Seating times: 5 pm (nearly sold out) and 7 pm (sold out)
Reservations: required, please call 604-892-2550
Menu items include: squash soup, arugula salad, venison tenderloin, assorted truffles and more. 
Squamish Valley Golf Clubhouse
An astounding 5-course dinner served up for $50 per person plus tax and gratuities. Enjoy soup, salad, your choice of appetizer, main and dessert. Reservations are required.
Seating times: 5:30 pm and 7:30 pm
Reservations: required, please call 604-898-9521
Menu items include: roasted tomato & vodka bisque, Thai prawns, Icelandic cod, and flourless chocolate cake.
For the relaxed foodies
Love is in the air at Match Eatery & Public House, and they're serving up a special three-course menu for the occasion. For $40 per person, you'll get your choice of appetizer, entree and dessert plus a glass of champagne and a chocolate covered strawberry. Complete with fireplaces and sweeping views of the Chief, Match Eatery will knock you off your feet. 
Seating times: hourly seating times from 5 - 9 pm
Reservations: recommended, please call 604-892-2946
Menu items include: French onion soup, cajun radiatori, soy ginger salmon, Yankee baseball striploin, four layer chocolate cake and more!
Step into freshness and eat local this Valentine's Day at The Crabapple Cafe. The set two-course menu is available for $32 per person, or you can upgrade to a three-course for $38. To celebrate your love The Crabapple will be also offering a 25% discount on bottles of wine. Can't make it out on Valentine's Day? The special set menu will be available Wednesday, February 14th through Sunday, February 19th. 

Seating times: anytime
Reservations: recommended, please call 604-898-1991
Menu items include: poached pacific prawns, roma tomato bocconcini, wild boar shank, seafood medley and chocolate mousse
For the casual, but fun
Bring your special someone or grab a few friends. Wednesday night trivia is on at Norman Rudy's, and for Valentine's Day they're shaking things up. Set to be a risque, one-day-only romance edition, Valentine's Night Trivia is destined to be a lively affair. No reservations required, come one come all, just be sure to leave room for dessert because the chef is whipping up a wild chocolate dessert for the occasion. 
Seating times: anytime
Reservations: no reservations required
Menu items include: regular menu
The full menu is available at the Howe Sound Brew Pub, and because it's Valentine's Day they also have a few extra tricks up their sleeve. There will be no reservations so if you accidentally leave your plans to the last minute rest assured, you're covered, and since it's 2 for 1 pizza night, they've got your taste buds covered too. 
Seating times: anytime
Reservations: no reservations
Menu items include: regular menu
For the busy parents
The joinery and Me and You Arts have teamed up so you can enjoy a three-course Chef's Menu (regular menu also available) while your kids are entertained next door at the Cloudburst Cafe. Kids reservations are required, and there is a charge of $15 per child which includes activities, grilled cheese or hot dog and supervision between 5 - 7 pm. Come and enjoy this no-babysitter-required evening while savouring some of the best eats in Squamish. 
Seating times: anytime between 5 - 7 pm
Reservations: required for childminding, recommended for dinner, please call 604-567-5646
Menu items include: arugula salad, ling cod, rack of lamb, and a caramelised white chocolate panna cotta for dessert
For the after-dinner drink
Come into the award-winning cocktail bar at Gillespie's Distillery with your sweetheart on Valentine's Day and get 15% off of all cocktails, spirits and cocktail accompaniments by Boozewitch. The two of you can snuggle up while sipping on a LOVELY cocktail from their new menu. 
Seating times: Valentine's day only
Reservations: n/a
Menu items include: regular menu