12 Things You Need to Do in Squamish This Fall
Posted on: August 7, 2023
What to Do in Squamish This Fall
Who said anything about slowing down? Mountain biking, hiking, rock climbing and fishing are all in season. Make the most of the beautiful fall weather with these great activities.
1. Mountain Bike Through the Rainforest
Fall can be one of the best times of the year to get out and ride. Tacky trail conditions, cooler weather, thin crowds, and fall colours. The shorter days also offer a fun way to mix up your rides, rise early for some sunny laps or get some lights and explore the trails at night! Whichever trail you choose you can count on excellent conditions and you may even have the area to yourself. You can view a list of Squamish mountain bike trails here.
Browse Popular Squamish Bike Zones
Alice Lake and Garibaldi Highlands Zone
Diamond Head Bike Zone
Valleycliffe Zone
Brackendale Zone
Guided tours & Coaching: Blazing Saddles Adventures, Dialed In Cycling, Ride BC, RideHub
2. Sip a Fall Craft Beverage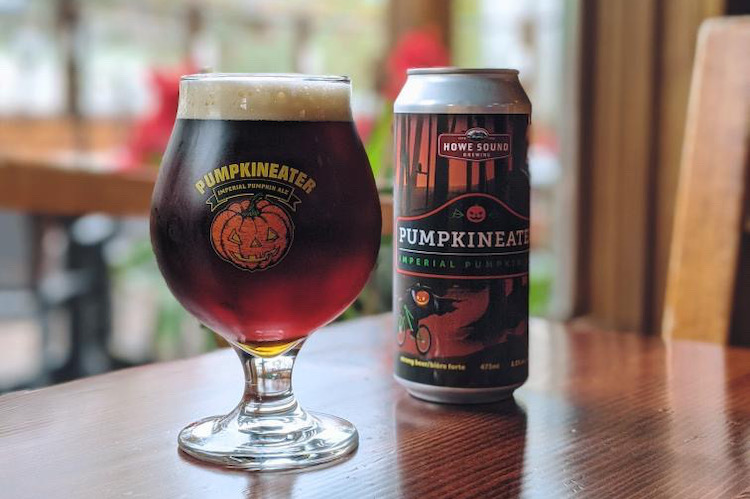 From Howe Sound Brewing's German-inspired Crumpit Woods Dunkel⁠ and Biergarten⁠ Bavarian Lager to their classic Pumpkineater Imperial Pumpkin Ale, or a slew of other fall-inspired brews from Backcountry Brewing or A-Frame Brewing, fall is the time to indulge in Squamish's brew-tiful craft beverages.
3. Climb the Granite
Rock climbing at Smoke Bluffs Park | Photo: @hannahvanwerkhoven

Cooler temperatures mean better friction and better friction means an easier day rock climbing up the granite faces of Squamish. Hire a guide and hang out on some of the most beautiful cliffs in Canada.
Guided tours: Altus Mountain Guides, Canada West Mountain School, and Mountain Skills Academy and Adventures.
4. Play a Round of Golf
Relax and enjoy one of Squamish's scenic golf courses during the most spectacular time of year. Furry Creek Golf Course and Squamish Valley Golf Course are dripping in colour; your tee time awaits.
5. Say 'PROST!' at Oktoberfest
Throw on your lederhosen and check out the local Oktoberfest celebrations. (2023 dates and locations TBA)
6. Learn to Fish
Photo: Chris Christie
Take your pick between saltwater, freshwater, lake or river – Squamish has it all and fall is one of the most popular times to reel in a good catch. The rivers become exceptionally clear with the cooler weather, the salmon arrive, and there are lots of opportunities for Bull, Cutthroat and Rainbow trout.
Guided tours: Trout Country Fishing, Valley Fishing Guides, Deep Coast Charters
7. Get a Bird's Eye View of Squamish
Fall flights offer the most exclusive views in the Sea to Sky Corridor. From way up in the air you will be greeted with ocean views, fall foliage and an up-close look at some of Squamish's most secluded alpine lakes rimmed with a dusting of snow.
Flight-seeing: Sea to Sky Air
Heli-seeing: Blackcomb Helicopters & Black Tusk Helicopters Inc
8. Glide on a SUP
Paddleboarding in the Mamquam Blind Channel

Don your layers and paddle through the calm waters of the Mamquam Blind Channel or one of Squamish's gorgeous lakes. Along the way enjoy the unique perspective of the fall foliage from the water.
Guided Tours: Norm Hann Expeditions & Squamish Watersports
9. Explore the Great Indoors
Hoping to hide from the elements? Stop in at Britannia Mine Museum where you can pan for gold and head underground to explore a real mining tunnel! Be sure to check out the BOOM! multi-sensory show and their newest exhibit, the TerraLab. On through Fall 2023 is their 100 year celebration exhibit of the iconic Mill No. 3.
10. Immerse Yourself in the Fall Colours on a Hike
Taking in the views at the Tantalus Lookout in the Brohm Lake Interpretive Forest

Fall in Squamish is a time of unparalleled beauty. The mixed forests of deciduous and coniferous trees come alive with strokes of red, yellow, orange and green. The whole scene is a patchwork of colours few visitors are lucky enough to see. Read our Best Places to See Fall Colours Blog here.
11. Savour the Sights of the Lakes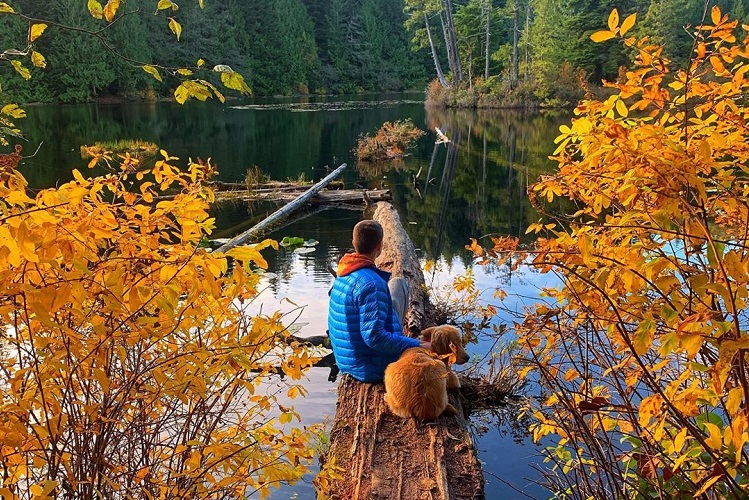 Enjoying the fall colours at Stump Lake | @stevno1970
The alpine opens it's doors for just a few months a year, and while the alpine lakes are lovely in the summer, they are most striking in the fall, set against the vibrant reds of the brush and the streaming rays of sunshine on a clear autumn day. Our favourite alpine lakes include Elfin Lakes and Garibaldi Lake. Other fall-tastic lakes in Squamish include Brohm Lake and Alice Lake.
Know before you go: Visitors to Garibaldi Provincial Park will need a BC Parks Day Pass to hike in the area. Reservations are available at 7AM one day in advance of your planned visit on discovercamping.ca.
12. Eat All the Pumpkin Spice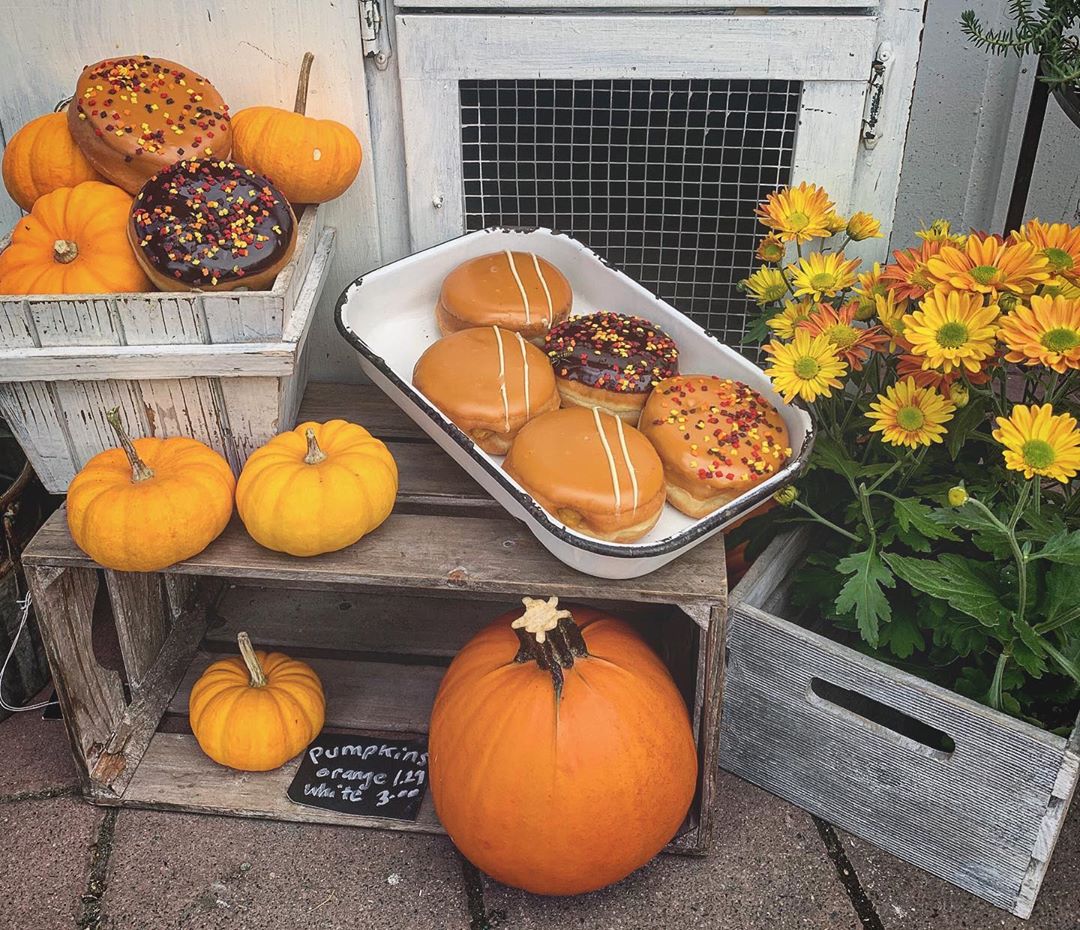 Delicious fall treats from @sunflowersquamish
Fall flavours include lots of pumpkin, apple cinnamon and maple and our local bakeries and restaurants aim to please. With the change in season comes the change of menu, with seasonal local ingredients like root vegetables, hearty grains, game meats, and of course the ever-popular pumpkin spice. It'd be a shame not to get out and taste them all.
Be sure to mark your calendar for the annual Sip N' Savour dine around event (2023 dates TBA). This is a multi-week experience showcasing Squamish's local chefs and craft makers. Choose from a selection of set-price menus featuring multi-course meals and tasting room specials showcasing the best flavours of Squamish.