Explore Squamish - February 09, 2018
Trail Feature: 6 snowshoe trails you've never heard of in Squamish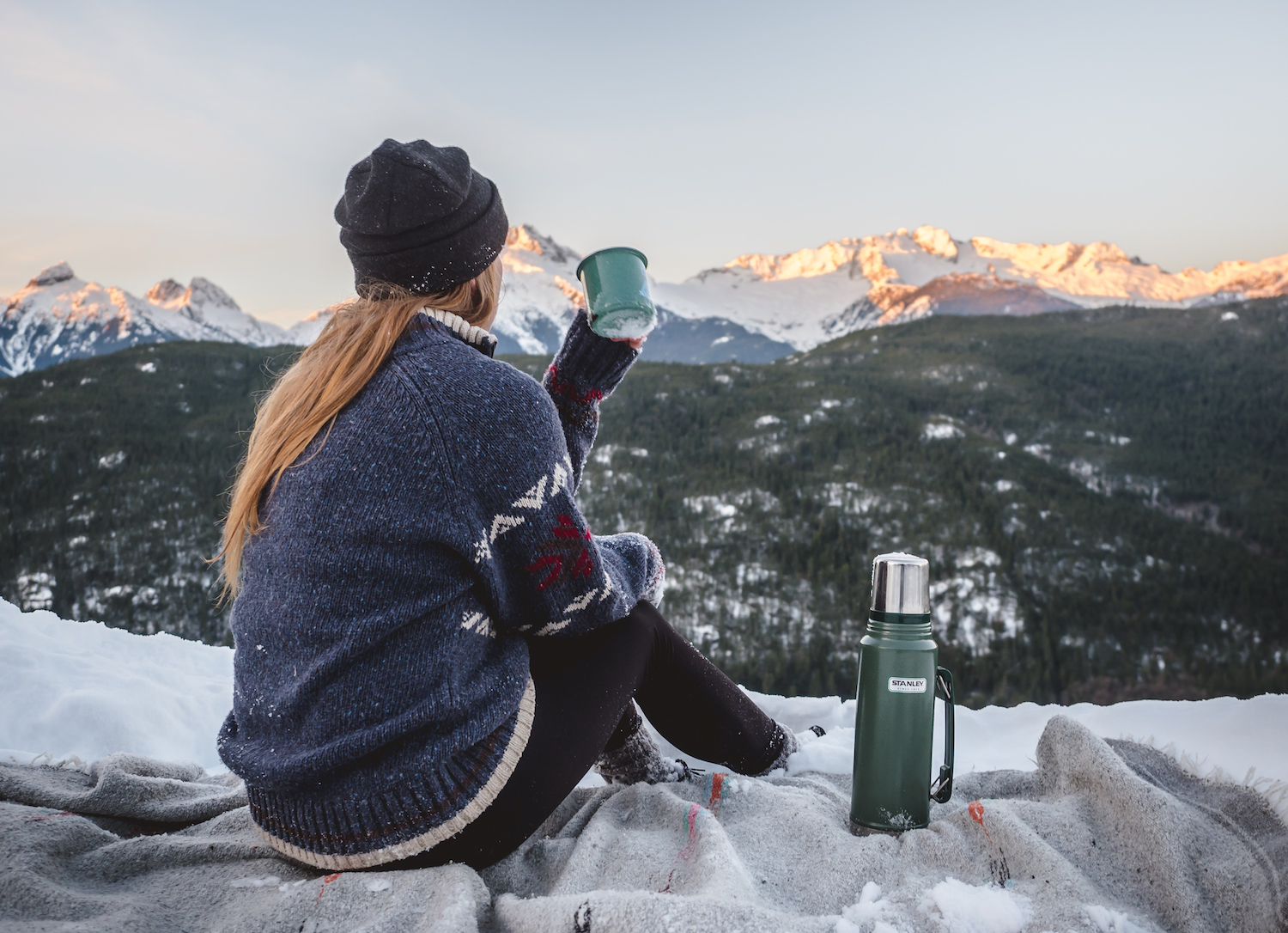 Photo: @westdigest
Snowshoeing around Squamish offers limitless possibilities of where to go. You can blast up to Elfin Lakes or even mosey around Smoke Bluffs.
But we've all heard of those trails, and while they're amazing in their own rights, we thought we'd freshen things up a little with these lesser known trails that are certain to capture your heart this winter.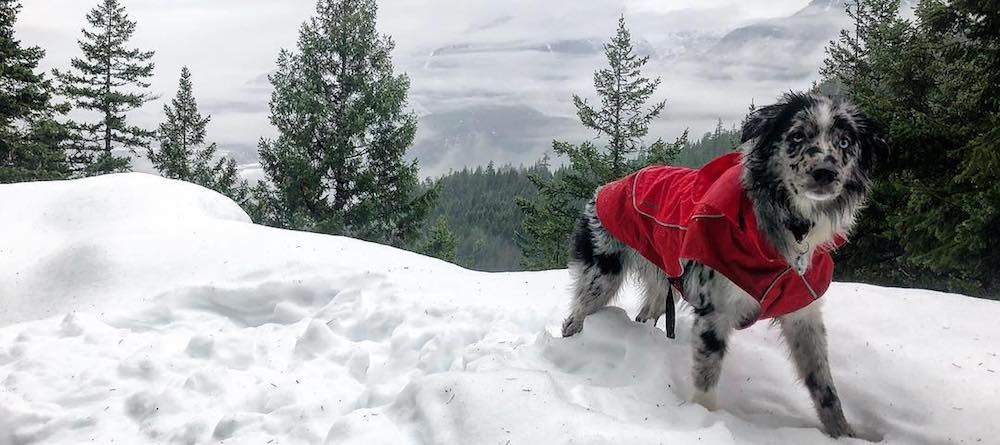 A year-round hiking trail that often receives enough snow for snowshoeing. Watch the weather carefully, if there are a few inches of snow sticking in Squamish the Four Lakes Trail becomes a snowshoers paradise of dust-covered rainforest terrain, an awe-inspiring view well worth the effort of the hike. The four lakes you'll pass by are Stump Lake, Fawn Lake, Edith Lake and lastly Alice Lake.
Dog-Friendly: Yes
Length: 6 km
Duration: 2 hours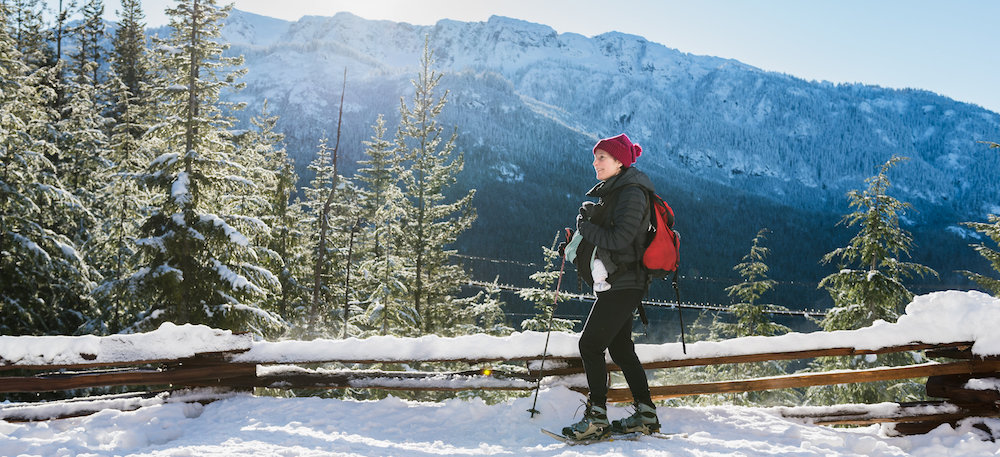 Beginning at the top of the Sea to Sky Gondola, the Panorama Trail is one of the most convenient ways to snowshoe without the grind of walking or driving uphill to reach the snowline. The lightly forested trail provides exceptional views of backcountry peaks, gullies and small meadows. Halfway through the path, you'll arrive at the Chief Overlook Viewing Platform (pictured above), an oh so Instagrammable photo spot and idyllic location for a well-deserved snack break. Due to the high elevation of the trailhead, the snowshoeing season starts early and ends late making it a perfect first outing to test out your snowshoeing legs.
Dog-Friendly: No
Length: 1.6 km
Duration: .45 - 1.5 hours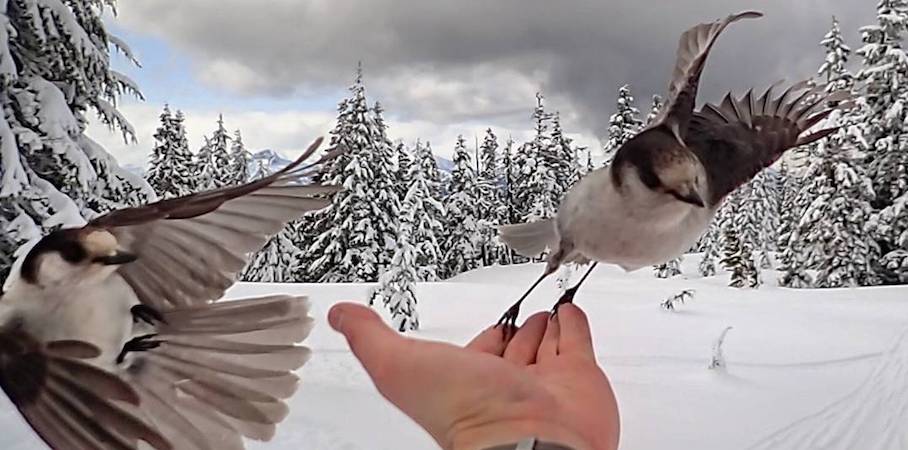 A very well marked snowshoe trail that ascends through a densely forested path. Located in Garibaldi Provincial Park, the Red Heather hut is the halfway point to Elfin Lakes and offers a propane heater and emergency only sleeping shelter. There are always plenty of Whiskey Jacks nearby and a plethora of hikers and backcountry skiers all seeking a snack at the hut. When you descend be mindful of passing skiers, make sure to leave enough space for them to cruise by.
Dog-Friendly: No
Length: 11 km
Duration: 3-5 hours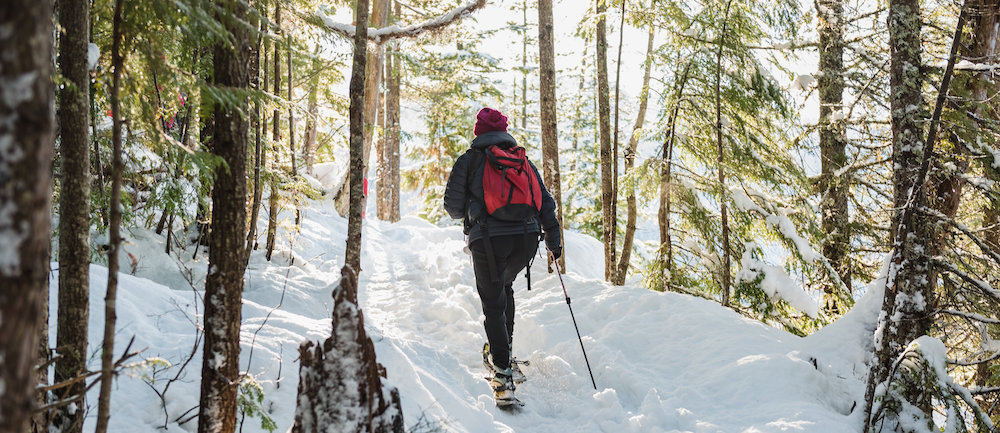 Starting at the top of the Sea to Sky Gondola this hike quickly drops down as it meanders along the backcountry access road to the Upper Sea to Summit Trail. Once you connect with the Sea to Summit Trail follow the signs to return to the Summit Lodge. You won't see distant mountain views on this path. Instead, you'll be transported deep into a winter wonderland of snow-covered forests.
Dog-Friendly: No
Length: 10 km
Duration: 2.5 - 4 hours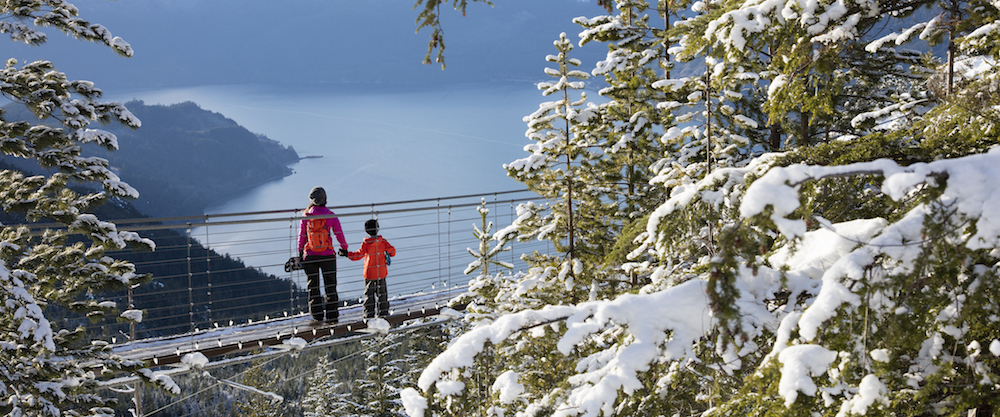 We've all heard of the Sea to Sky Gondola, but did you know you can hike to the top and savour the views all the way up? In snowy conditions this trail is not for the faint of heart, there are fixed ropes, some steep sections, and possibly some ice along the trail. It is recommended to carry microspikes and snowshoes with you. You can ride the Gondola back down for $15.
Dog-Friendly: Yes, dogs may only download the Sea to Sky Gondola.
Length: 7.5 km one way
Duration: 5 hours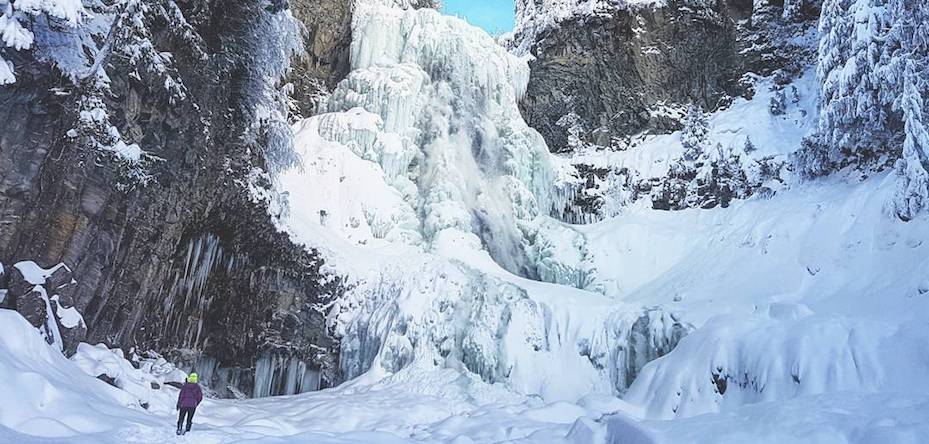 Located in the centre of Callahan Valley, this undulating snowshoe trail will lead you to one of the most breathtaking frozen waterfalls in British Columbia. As you descend the somewhat steep section of the trail towards Alexander Falls, the 55-metre frozen waterfall will leave you breathless. Note some steep sections of this trail may be difficult for beginners and children.
Dog-Friendly: Yes
Length: 2.5 km
Duration: 2-5 hours
Please get outside and enjoy all that Squamish has to offer but get informed before you go. 
Helpful links: