Explore Squamish - June 01, 2019
Top Family Adventures in Squamish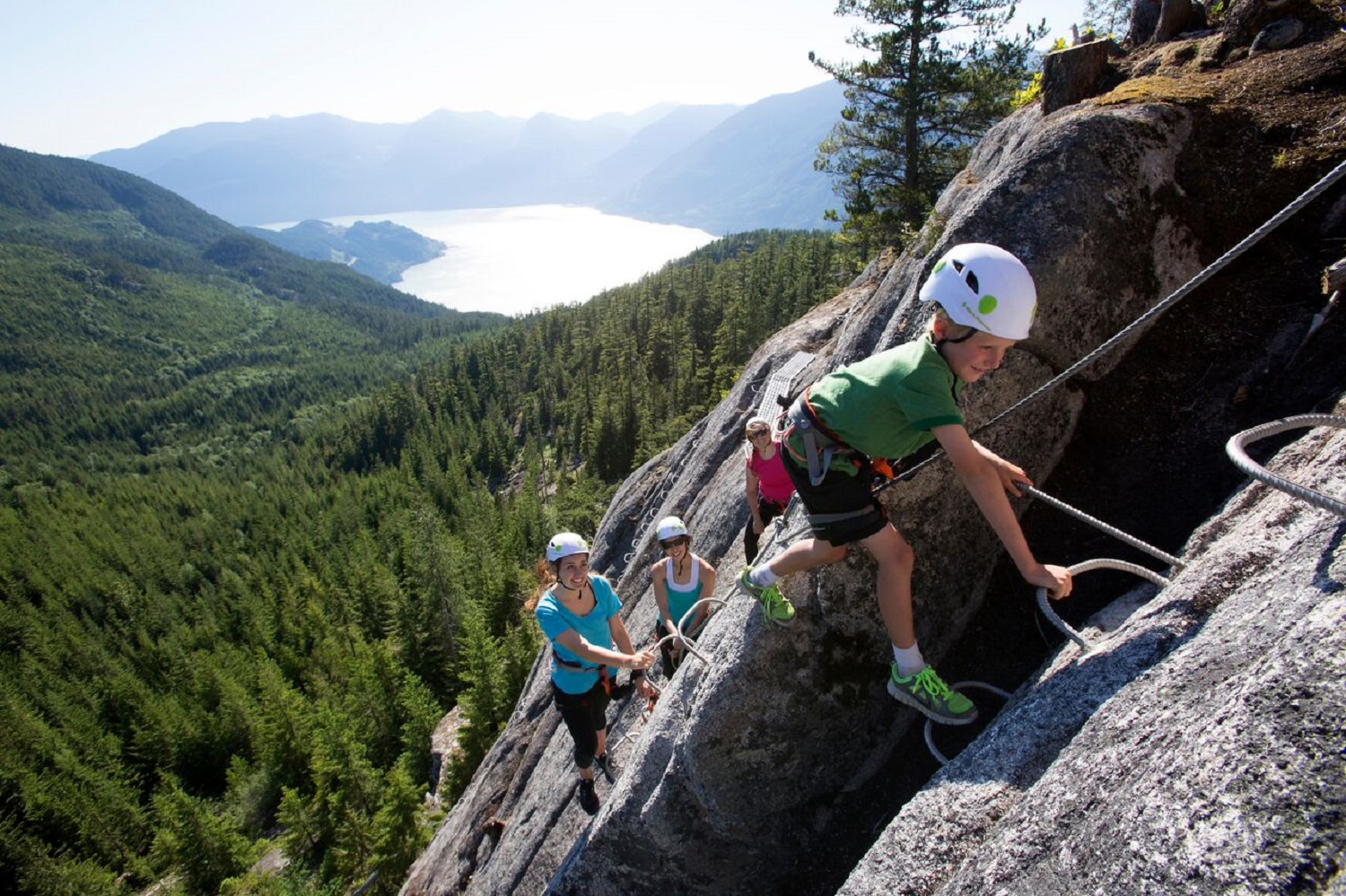 Photo: Mountain Skills Academy and Adventures
Top Family Adventures in Squamish
Summer is here and Squamish is a fantastic holiday destination to give your kids a taste of life in the great outdoors. From stroller-friendly walks to exhilarating rafting tours that will leave your kids begging for more, Squamish is the place to adventure this summer.
1. Kid-Approved Watersports
Prepare for a water fight like never before–your family against the Cheakamus River! You will get wet, perhaps even soaked as you splash down the river on a whitewater rafting trip. Kids ages 5 and up are welcome to ride the class 2-3 rapids on the Cheakamus River and kids ages 13 and up can ride the Elaho-Squamish trip featuring lively class 3-4 rapids. After you've dried off why not book a stand-up paddleboard lesson and see who in your family can stay dry the longest. 
A snapshot from a splashy day on the Cheakamus River | Photo: Squamish Rafting
2. Fun For the Whole Family Climbing
Contrary to popular belief, climbing is not just for experienced experts. Squamish has plenty of beginner options to get your whole family climbing this summer. Book a rock climbing tour with Mountain Skills Academy and take turns scaling fun single pitch routes. After your adventurous outing, why not get off the ground at Rope Runner Aerial Adventure Park where you can challenge your skills on the 50 aerial elements within the park. Walk the slackline, dangle on the monkey bars and climb across a giant spider web many meters above the ground. 
Local tip: Wander down the road from the Smoke Bluffs climbing area and Rope Runner Aerial Adventure Park for an ice cream cone at newly opened Narwhals Ice Cream. 
Have a great day rock climbing | Photo: Daniel O'Keefe, Mountain Skills Academy & Adventures
Train to become a family of ninjas at Western Canada's only dedicated ninja warrior training facility. Challenge your kids to see who can climb, balance or jump farthest. The 7,000 square foot space is loaded with obstacles and features high ceilings for fun drops into 500 sqft of airbags. The whole family is certain to have a blast playing together in this one of a kind gym. Afterwards, pop around the corner to Northyards Cider for a quick snack, kid's love the macaroni and cheese!
Local tip: Walk across the street to Airhouse Sports Academy for more family fun in their indoor trampoline facility. 
Learning to be a ninja at the Ninja Gym Squamish
4. Trail Adventures for Kids
Take a family-focused mountain bike tour with Dialed in Cycling or choose from the many kid-friendly bike trails and see why Squamish is extra fun on two wheels. Families may also enjoy a visit to the SORCA bike skills park where groms can test their skills in a safe environment. If hiking is more your speed pack a picnic and choose a trail perfect for everyone. We recommend the Four Lakes Trail for young go-getters and the trail to Shannon Falls for families with strollers in tow. View a list of kid-approved hiking trails here. 
Locals tip: Stop by Alice & Brohm after your hike or ride to cool off with a cone of delicious real fruit ice cream. 
A family guided ride with Dialed in Cycling | Photo: @harookz
5. All Ages Canadian History Lessons
Just because school is out of session doesn't mean you shouldn't brush up your history. Kids and parents alike can learn a thing or two from Squamish's interactive museums. Visit Britannia Mine Museum to pan for gold, explore an old mine tunnel and watch BOOM! the new multisensory show that takes you on a visual tour to showcase how the ore was processed during the mine's operation. Keep the fun going by heading to the West Coast Railway Heritage Park in the afternoon where you can view a replica rail town, tour historic homes and a climb aboard restored train cars to transport you back in time. Be sure to take a ride on the 3km mini-rail, for many it is the highlight of their trip!
Kid's playing in front of Squamish Station at the West Coast Railway Heritage Park
6. Family-Friendly Sightseeing
Panoramic mountain and ocean views are a hit with any kid, and the larger than life vistas above the Sea to Sky Gondola are certain to top the charts. Families of all ages will enjoy the 10-minute gondola ride to the summit. From there the sightseeing potential is endless. Choose to walk one of the many trails, climb Squamish's Via Ferrata (age 8 and up) or check out the kid's play area. After playing the day away grab a bite to eat at the Summit Lodge, dining options include BBQ, ice cream, and grab and go food with several gluten-free options. 
Locals Tip: Kid's love to explore the Alpine Alley Trail (>1km). Find a scavenger hunt card located at the trailhead and present your completed card to Guest Services for a special prize. 
Alpine Alley at the Sea to Sky Gondola | Photo: Sea to Sky Gondola
The Comforts of Home
Just because you like to play outside doesn't mean you need to rough it. Book your family into one of Squamish's family-friendly hotels where you can dip your toes into the swimming pool and focus on quality family time.  
​​The kid-approved indoor pool and waterslide at Mountain Retreat Hotel & Suites | Photo: Mountain Retreat Hotel & Suites
Where to Eat
Kid's enjoying patio season at Norman Rudy's | Photo: Tourism Squamish

Where to Get Ice Cream
Savouring a scoop of gelato at 2 Chill Gelato | Photo: 2 Chill Gelato
Camping Options