The Ultimate Squamish Winter Bucket List
Posted on: October 30, 2021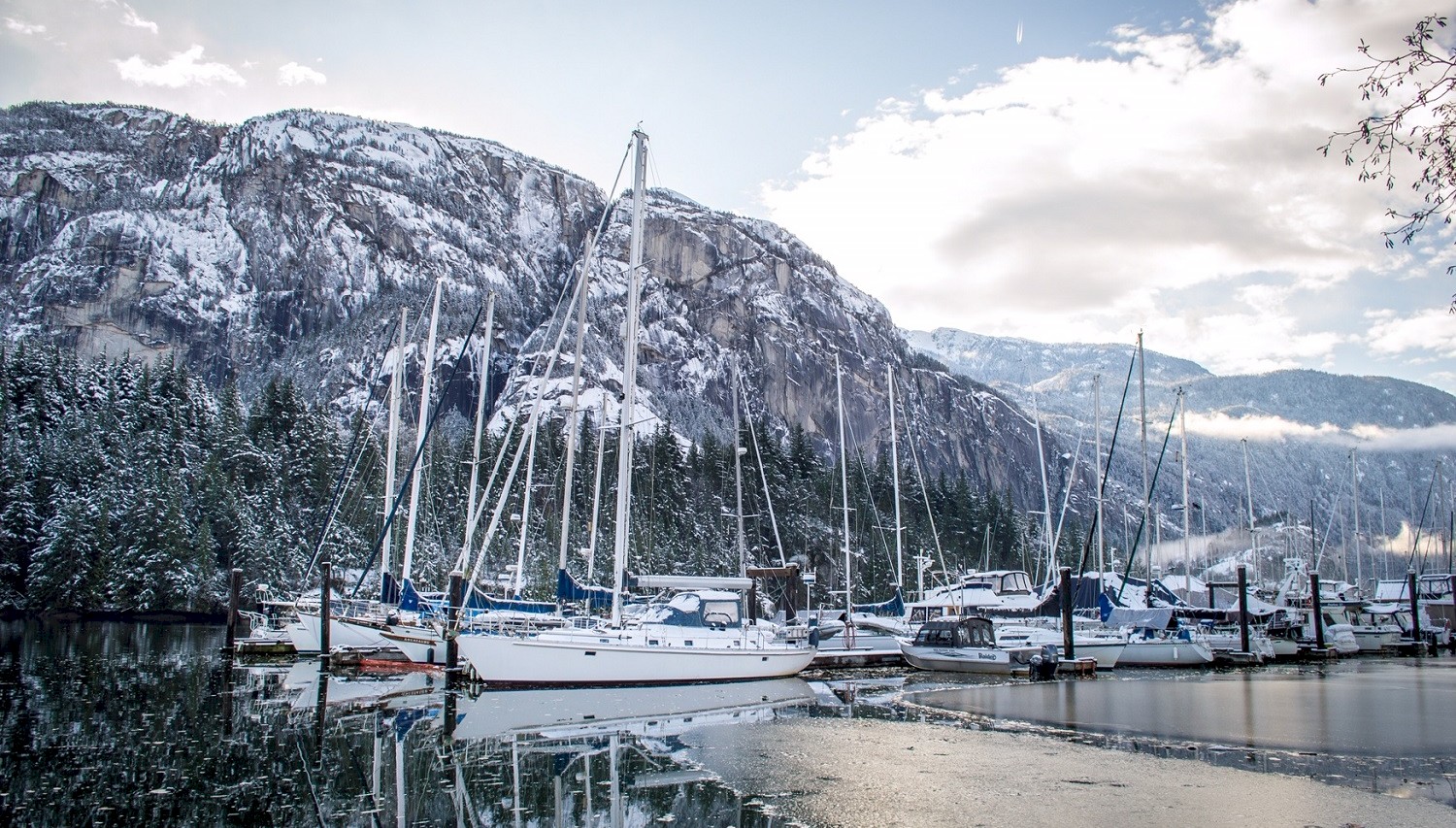 The Ultimate Squamish Winter Bucket List
Snow is starting to fall in the alpine, people are donning down jackets, and the cozy appeal of comfort food is drawing visitors into Squamish's local eateries. The season of snowballs and tobogganing is just around the corner and now is the perfect time to start planning for your upcoming snow days.
Photo: MJ Blanchet, Canadian Outback Rafting
Year-after-year an average of 1,300 eagles are counted in Squamish. The best way to view them is to embark on a guided tour where our local experts will show you the most exclusive viewing places in Squamish. Eagle tours are available on foot with Cheekye Ranch. Eagle float tours are also available to take you up close with the birds of prey from the middle of the Squamish River.
Prime eagle viewing is also available at the Eagle Run viewing shelter in Brackendale. While volunteers from the EagleWatch Interpretive Program have paused their program once again this season, there are plenty of resources available on-site and online regarding safe and ethical eagle viewing practices, the life and habits of wintering Eagles and more!
Locals tip: Remember to #exploresquamishresponsibly and maintain a safe distance from wildlife and keep your dogs on a leash. Do not disturb the eagles or their natural habitats, and take only photos and memories with you when you leave.

Photo: @westdigest
Wander where the forests are doused with snow and trade in the white noise of daily life for the blissful blank palate of snowy solitude. Snowshoe rentals are available through the Olympic Park, Escape Route and Valhalla Pure Outfitters. You can also rent snowshoes and hit the network of trails in the alpine after riding the Sea to Sky Gondola to the top.

Photo: Whistler Olympic Park
Glide, stride or skate in the stunning alpine environment of the Callaghan Valley. No experience is required to give Nordic skiing a try and rentals are available through Olympic Park for every member of your family.

Photo: Paul Bride/Sea to Sky Gondola
Give your kids the gift of a snow day and take them for a tubing adventure at the Sea to Sky Gondola. The tube park offers sliding fun for all ages and the viewing deck is a great place to watch all of the action if you are not tubing. Close your day with a cup of hot chocolate or a soup in the Summit Lodge before boarding the gondola to return to the base.
Photo: Sea to Sky Air
See the winter wonderland of Squamish from the skies and soar above snowcovered mountains, frozen lakes, and ice-cold rivers. You have yet to see Squamish until you have seen it from hundreds of feet in the air. Flight and heli-seeing tours are offered daily (weather permitting).
Heli-seeing tour providers: Blackcomb Helicopters, Black Tusk Helicopters
Flight-seeing tour providers: Sea to Sky Air
Image: Mountain Skills Academy and Adventures
Take your Sea to Sky experience to new heights as you climb Squamish's Via Ferrata or 'Iron Way'. The expert guides from Mountain Skills Academy and Adventures will lead you through beautiful old-growth forest to a stunning viewpoint high above Howe Sound. The Via Ferrata route starts where the guide clips you into the safety cable and your adventure begins! Traverse a catwalk, cross suspended bridges, and ascend glacier-worn granite slabs using the steel rungs and the fixed cable system. Finally, the route completes with a spectacular finish near the viewing deck of the Summit Lodge.
Photo: Howe Sound Inn and Brewing
After your adventurous day unwind at one of Squamish's many craft beverage makers. Kick it off at the Howe Sound Brew Pub for a hearty meal, and a delicious pint then let your taste buds guide you where to go next; beer, spirits, cider, coffee, kombucha or water kefir, its all available in Squamish. Download or pick up a Craft Tasting Trail Passport from the Squamish Adventure Centre and win a prize when you garner three or more stamps from various makers.