Squamish's Top 5 Kid-Friendly Fall Hikes
Posted on: September 1, 2023
Squamish's Top 5 Kid-Friendly Fall Hikes
Offering enchanting views at every turn, hiking in Squamish can feel like a fairytale family adventure. Let your little one's imagination run wild and create priceless moments in the great outdoors on a fun hike that everyone can enjoy. Here are five easy to moderate Squamish trails for family-friendly fall hiking experiences.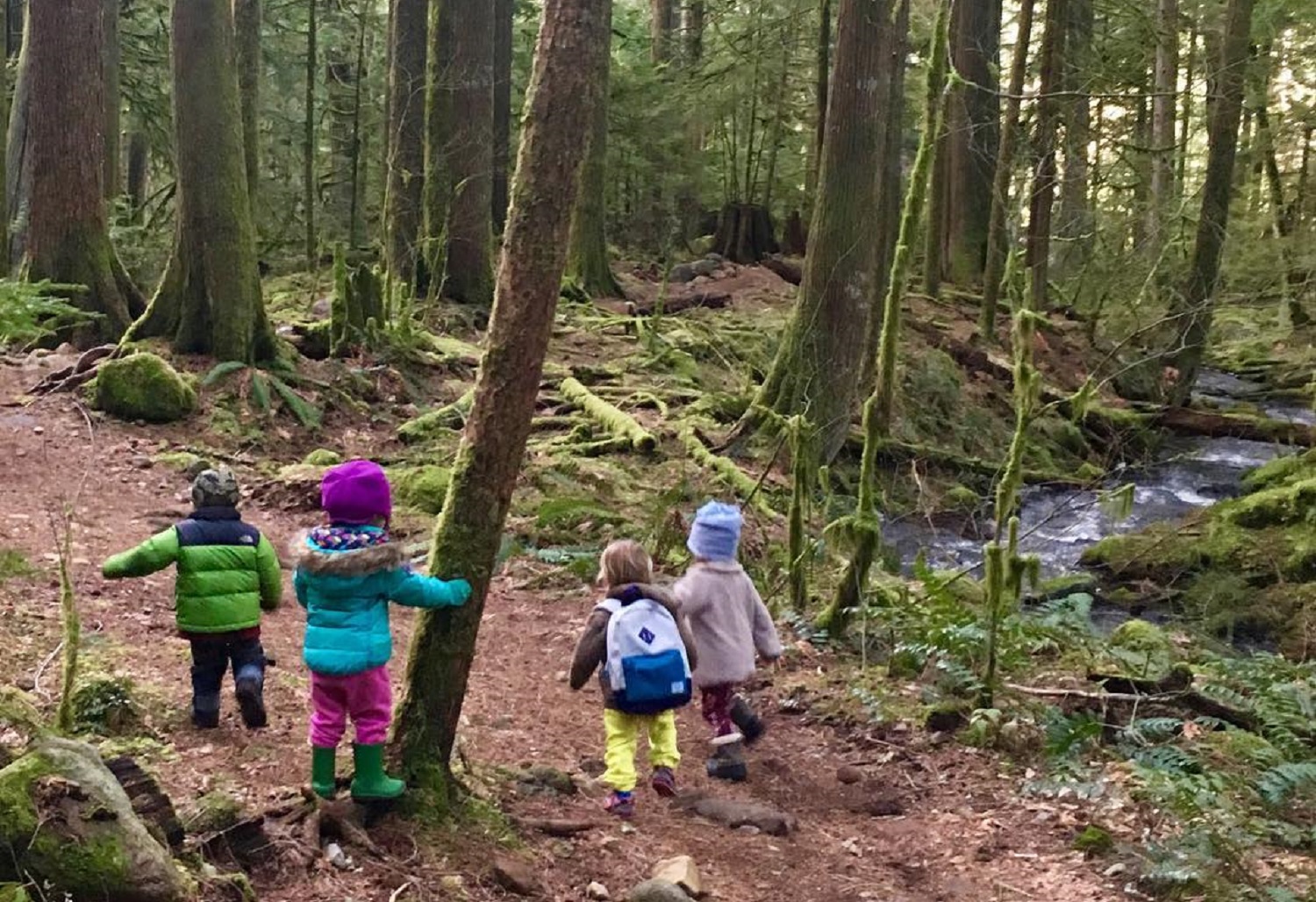 Photo: @thelittleexplorerssquamish
One of Squamish's most popular trails takes you on a tour of Alice Lake Provincial Park, and it's four freshwater lakes: Alice, Edith Stump and Fawn.
Distance: 6.5km
Difficulty: Easy
Time: 1.5 - 2.5 hours
What to look for: The playground at the end of the trail (near the main beach at Alice Lake). Also, keep your eyes peeled for plenty of birds, see how many you can count at each lake!
How to Get There: Take the Alice Lake Provincial Park exit off of the Sea to Sky Highway. Free parking is available at the Stump Lake entrance, just opposite the entrance to the park.
Photo: @geehopphoto
Smoke Bluffs Park is a short, easy hike that offers up-close views of Squamish and it's neighbour, the Stawamus Chief.
Distance: 2.3km.
Difficulty: Easy
Time: 1 - 1.5 hours
What to look for: Piles of leaves for tromping through and the Smoke Bluffs playground featuring stumps you can crawl inside and plenty of autumn sunshine.
How to Get There: Smoke Bluffs Park is accessible from the Squamish Adventure Centre located on the east side of the Sea to Sky Highway. The entrance to the park is just 500m north of the Adventure Centre on Logger's Lane.
Photo: Tourism Squamish
Hike through a forest of golden alders as you approach a rocky bluff overlooking the Paradise Valley and the snowcapped Tantalus Range. We recommend taking the Bridge Trail located at the Southern end of the parking lot. After crossing the wood bridge take a right at the junction onto High Trail. Continue straight past the next junction and pay attention for a well-marked turn off for the Tantalus View Trail.
Distance: 8km
Difficulty: Easy
Time: 2 - 3 hours
What to look for: Whimsical alder trees perfectly situated for games of hide and seek.
How to get there: From Highway 99 pass a wooden bridge on the left-hand side of the highway. The Brohm Lake turnoff is located moments after the bridge and is well marked.
Photo: D'Arcy McLeish
High water levels, misty air and lush, moody forests make BC's third tallest falls one worth exploring. The gravel trail is well maintained and stroller friendly so families and people of all abilities can access this surreal spot.
Distance: >1km
Difficulty: Easy
Time: 20 minutes
What to look for: Picnic tables scattered around the park, pack a tasty snack and munch away after your adventurous day. Kid's love scattering fallen leaves into Shannon Creek to watch them float away downstream.
How to Get There: Shannon Falls is approximately 2 km south of Squamish. The parking lot is adjacent to the Stawamus Chief lot on the east side of the Sea to Sky Highway.
Photo: @mariea11
Choose a dry day and climb up, up and up the Stawamus Chief hiking trail. Fall temperatures make this vertical grind more comfortable, and you will be rewarded with breathtaking views and fewer people on the trail. Only recommended for older children who are comfortable hiking up stairs.
Distance: 4km
Difficulty: Moderate for older children
Time: 1.5 - 3 hours
What to look for: Woodland creatures like birds and squirrels darting around the mountaintop. Remember it is okay to look, but please do not feed or touch the wildlife.
How to get there: The Stawamus Chief parking lot is located on the east side of the Sea to Sky Highway as you approach Squamish and cannot be missed.