Explore Squamish - January 24, 2023
Your Guide to the Squamish Hot Chocolate Festival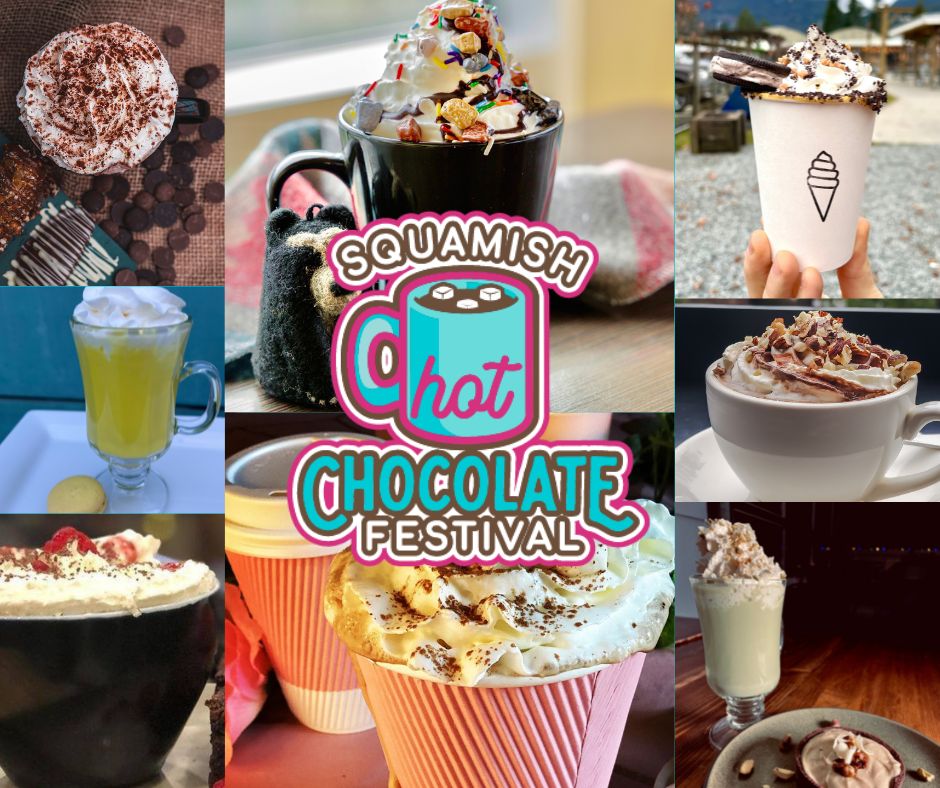 They say that chocolate is happiness that you can eat – but what about if you drink it?
From February 3rd to 20th, 2023, get ready to dive deep into the tantalizing world of delicious hot chocolate! The Squamish Hot Chocolate Festival is back for its third year and chocolate lovers throughout the lower mainland are rejoicing!
At this years festival we'll see Squamish's finest local coffee crafters create a unique hot chocolate that will tempt your taste buds and awaken your senses. New this year, there are more cafés and restaurants participating than ever before as well as creative and unusual versions of our favourite dessert drink.
Be sure to make the rounds and visit each locale, sipping and appreciating each divine hot chocolate for its presentation, flavour, creativity and overall appeal. In the end, the only judge in this devilishly decadent experiment is you. 
See All The Hot Chocolates Here!
Tips to do it right:
Make a plan
Pace it out
Share with friends
Post on social! Be sure to tag @TourismSquamish and use #SquamishHotChocolateFest
Use our new GIF! Search for 'Squamish' in GIF on Instagram and stick it to your story
Level up your chocolate intake and see what that makes you:
1-5 Hot Chocolates: Crazy for Cocoa

6-10 Hot Chocolates: Chocolate Monster

11-16 Hot Chocolates: King/Queen of the Chocolate Kingdom
You've got just 18 days to try all 21 of them! We've split them up by neighbourhood below to help get your started. 
Participating Businesses:
South Squamish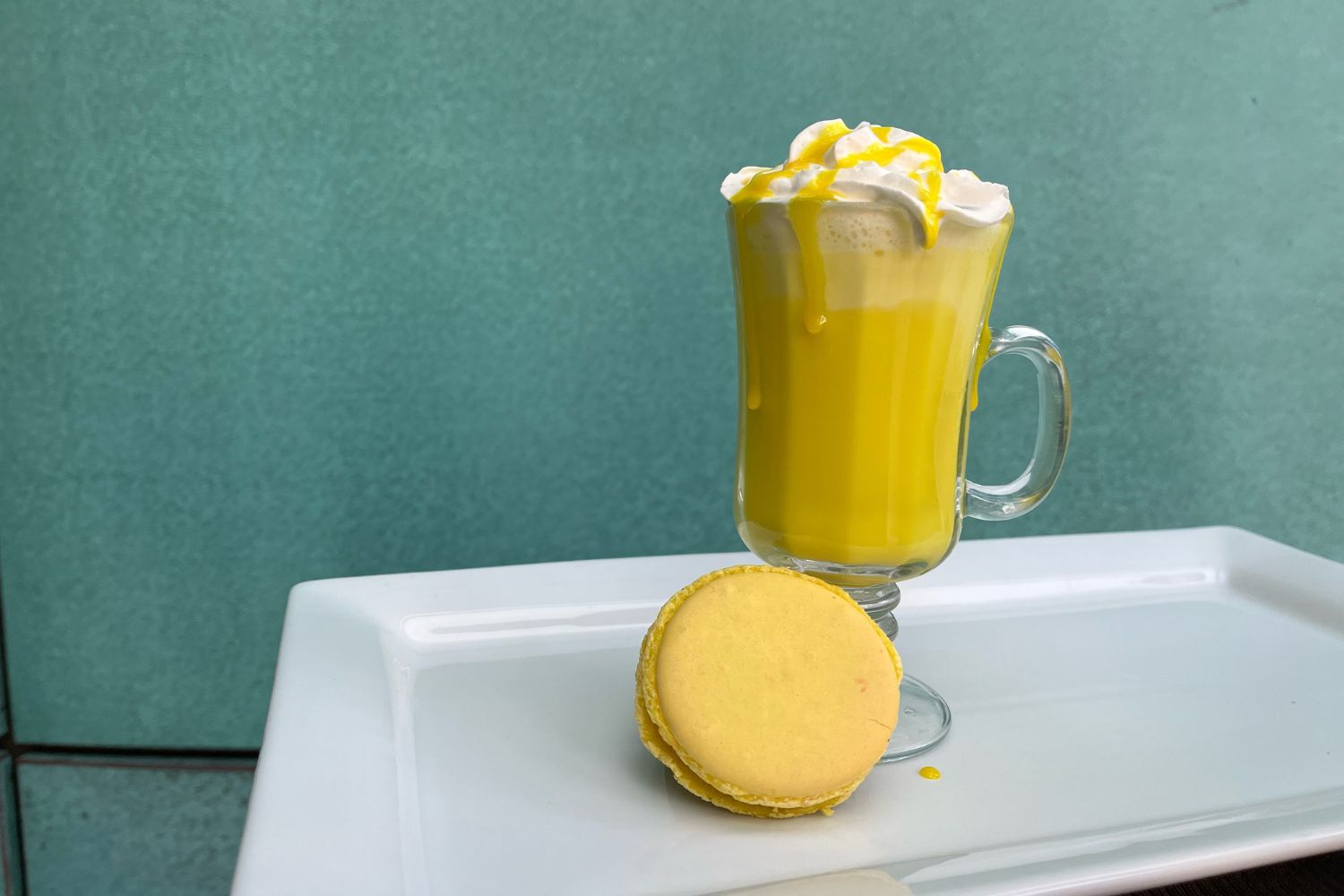 Tropical Hot Chocolate. This mango flavoured hot chocolate has got us thinking we should be on a beach somewhere. Perfectly paired with a mango macaroon,  grab one to go and admire all the celebrity signed photos on the wall or explore the Britannia Mine Museum while you're there. You won't want to share so you'll just have to tell your friends that it's "All MINE". Get it?! Because you're at the Mine! Ok, moving on...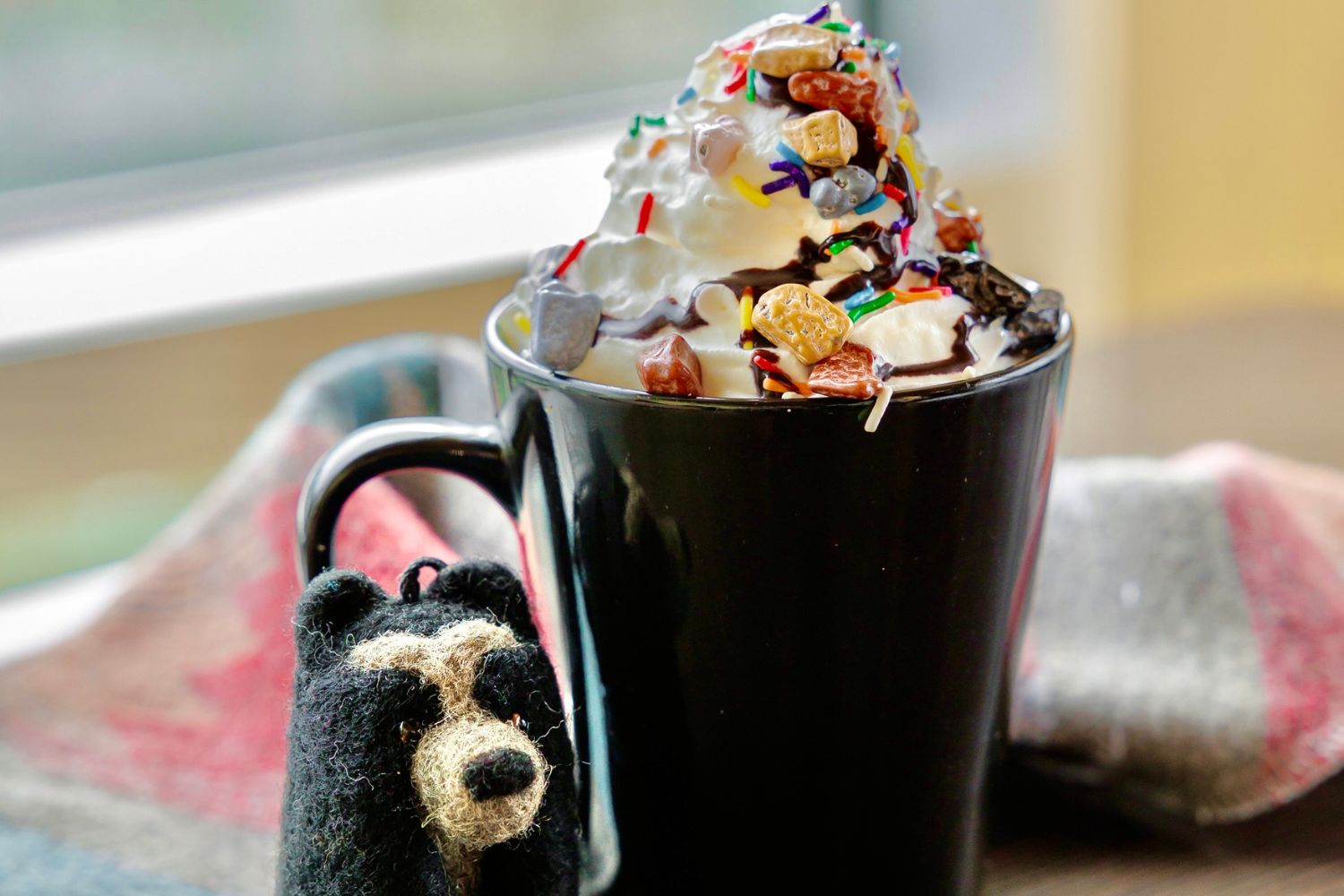 Bear Cub Hot Chocolate. We have a feeling this hot chocolate will be beary, beary good! Topped with vanilla whip cream, it's also got rainbow sprinkles, chocolate rocks with an option to add peanut butter cup chunks. Head to the top of the Sea to Sky Gondola to grab yours, then sip as you wander the trails to work off your sugar high or reward yourself after your hike - the choice is yours!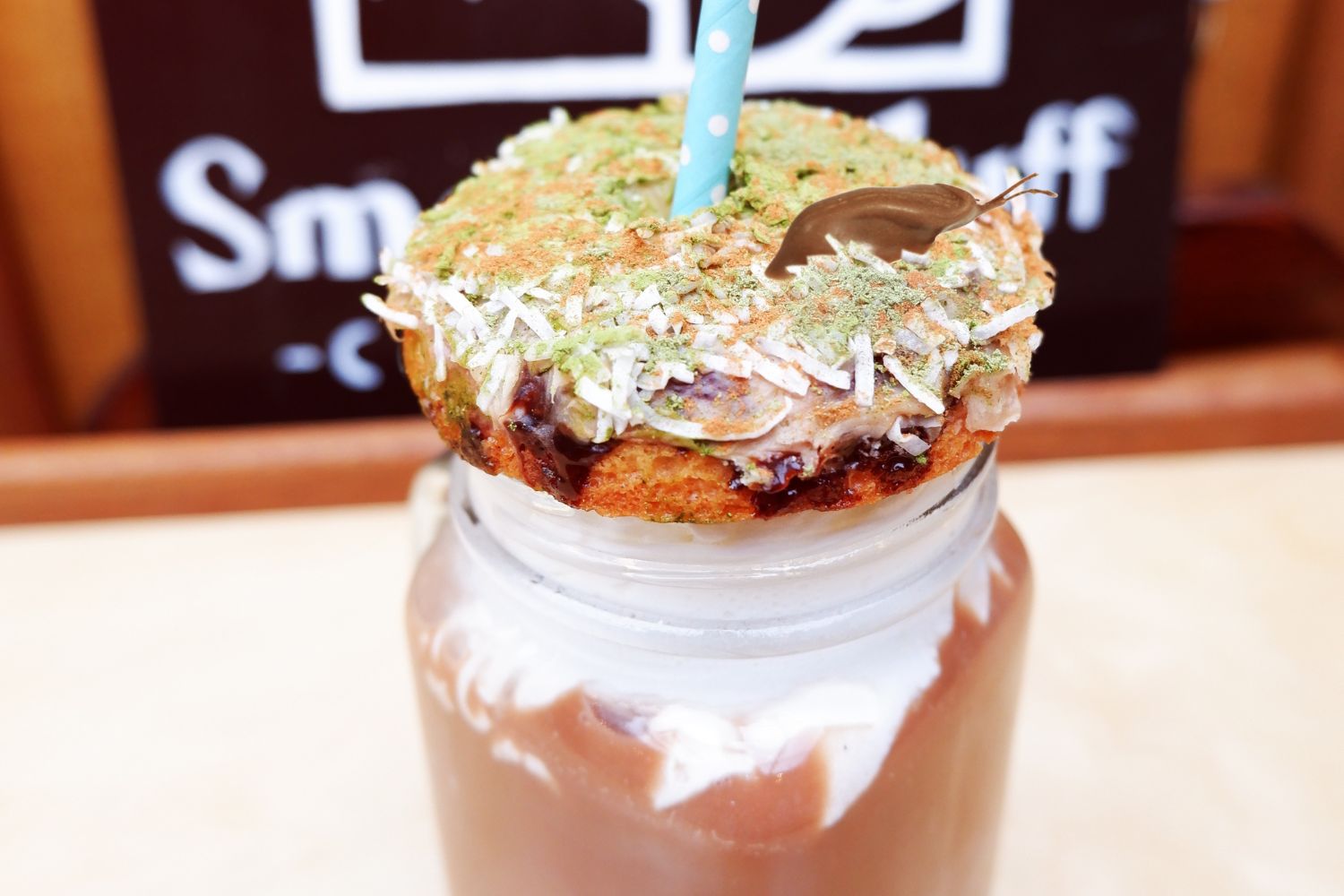 HOP Chocolate. This might be the most unusual drink we've seen at the festival so far - it's a classic milk hot chocolate paired with a cricket protein donut, glazed with matcha and coconut and a chocolate dipped cricket. Didn't you know that crickets are good for you?! Hop down to this Valleycliffe cafe for this taste adventure (cricket optional).
DOWNTOWN SQUAMISH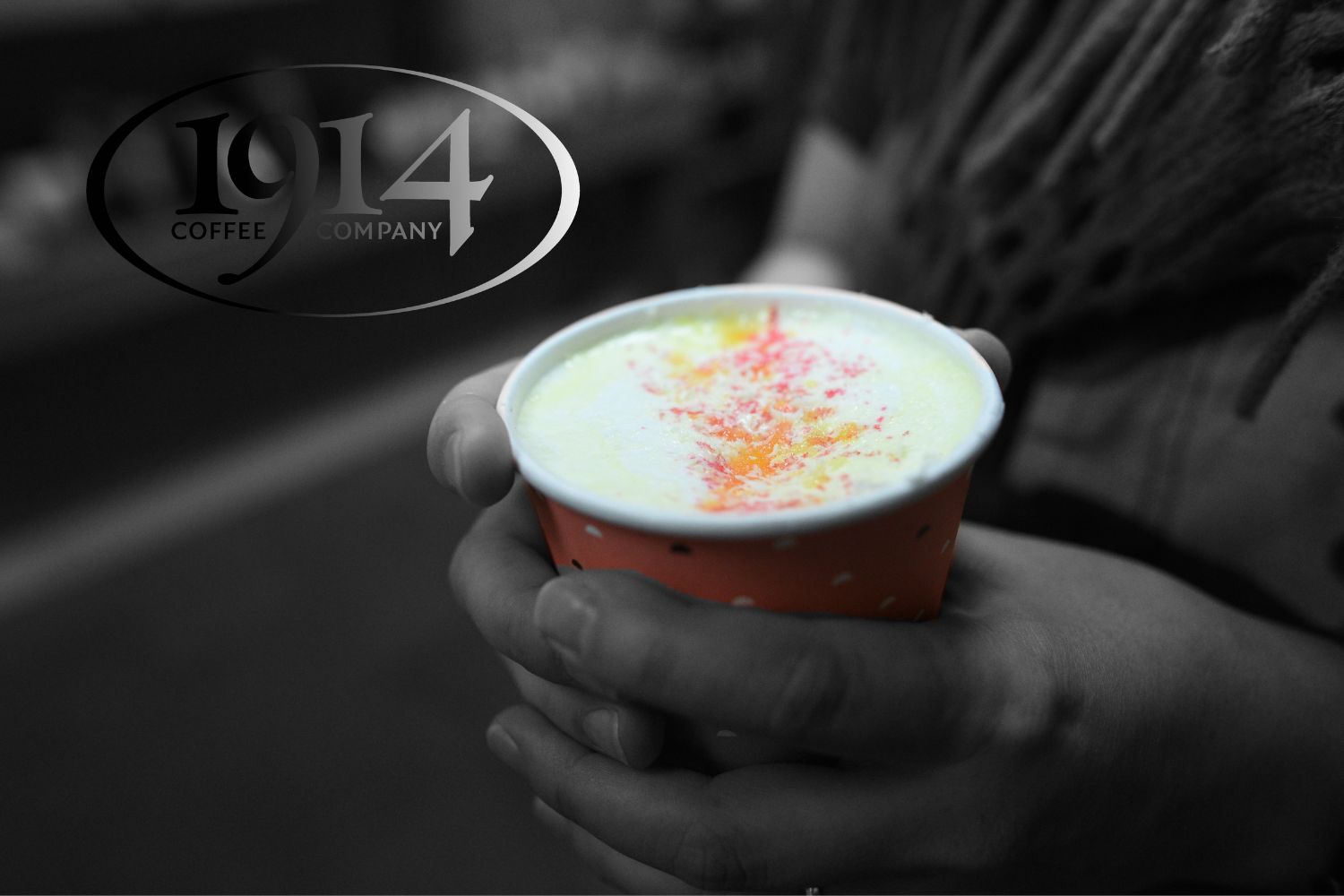 Lemon Cheesecake Hot Chocolate. A refreshing take with a touch of decadence, this hot chocolate features bright lemon notes with the creaminess of cheesecake. Paired with a dulce de leche sandwich cookie.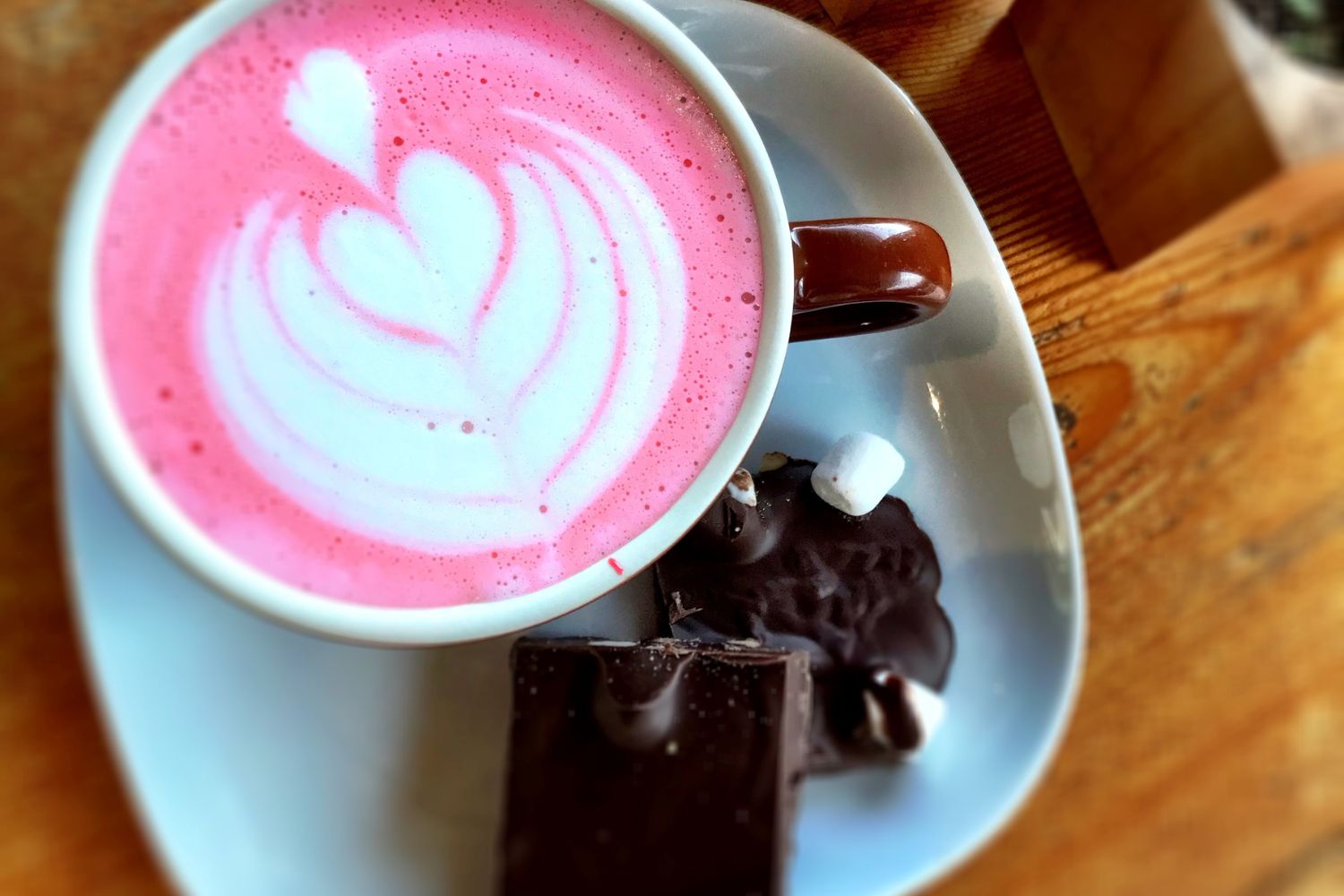 Cherry Hot Chocolate. This white hot chocolate is infused with a ch-ch-cherry bomb of flavour and as an added bonus comes with luscious piece of chocolate cherry bark. Be sure to check out all the goods over at The Squamish Store or peruse local art while you're inside the Adventure Centre.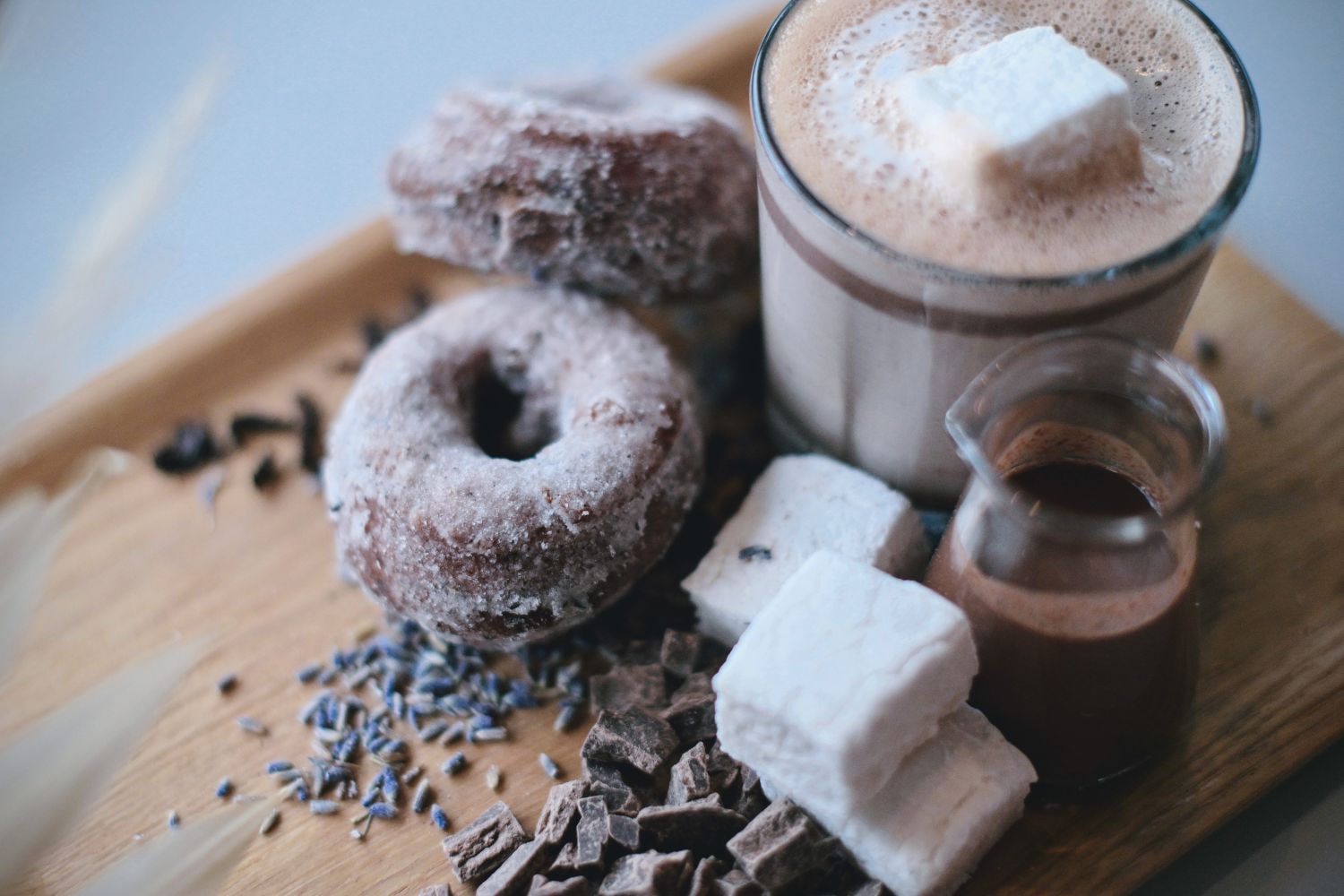 Lavendar Earl Grey Hot Chocolate. A delightfully distinctive flavour, enjoy the essences of citrus, herbacious and lightly floral notes with this Lavender Earl Grey drink. Topped with an Earl Grey marshmallow and paired with a mini lavendar earl grey cake doughnut.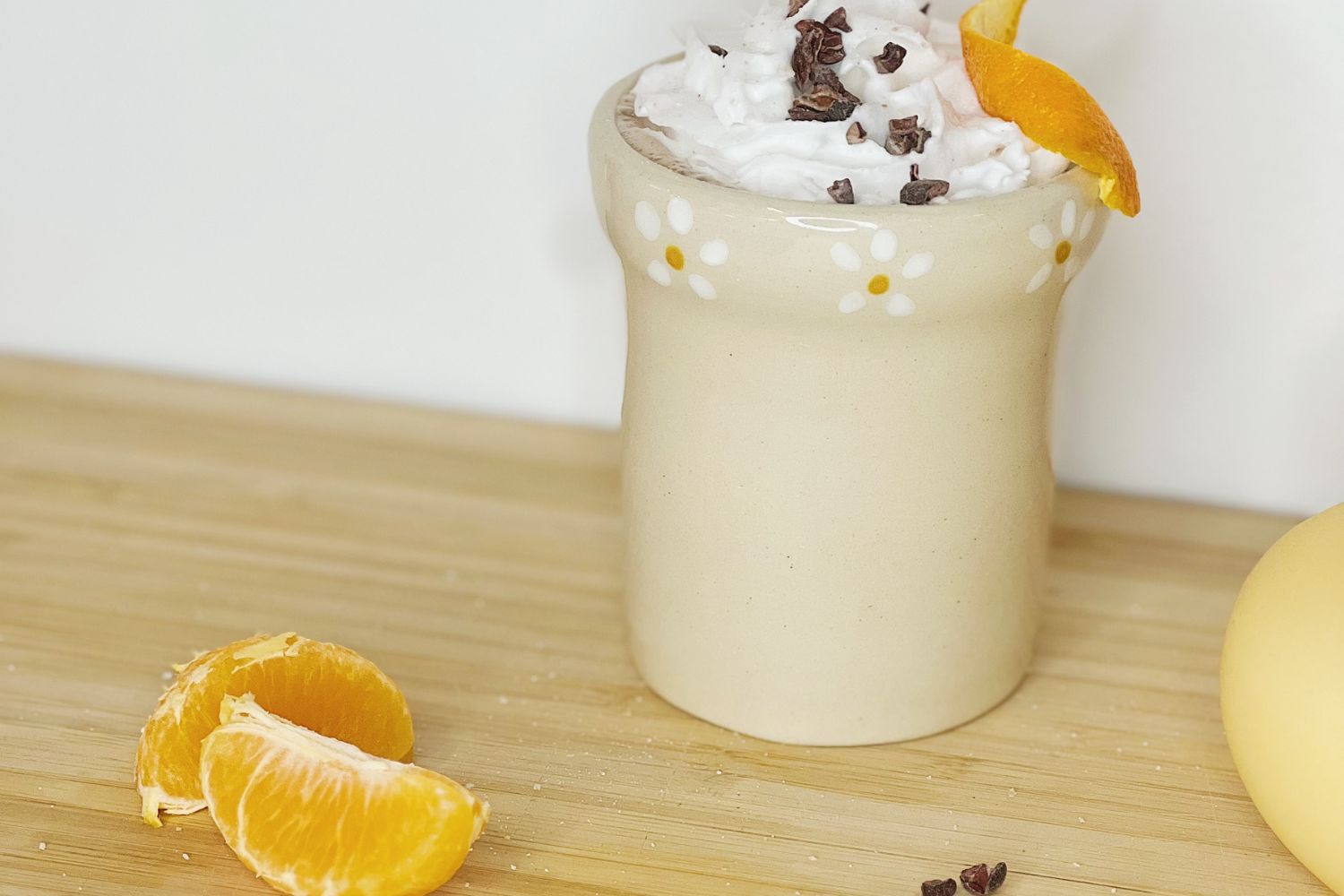 Salted Orange Hot Chocolate. We're feeling incredibly grateful to have such an amazing array of flavours at this year's festival. With no two ho-cho's the same, welcome to flavour town. Case-in-point, Grateful Gift Shop's Salted Orange Hot Chocolate. This bright bad-boy is topped with coconut whipped cream and cacao nibs and comes paired with a Orange Chocolate Vegan Shortbread.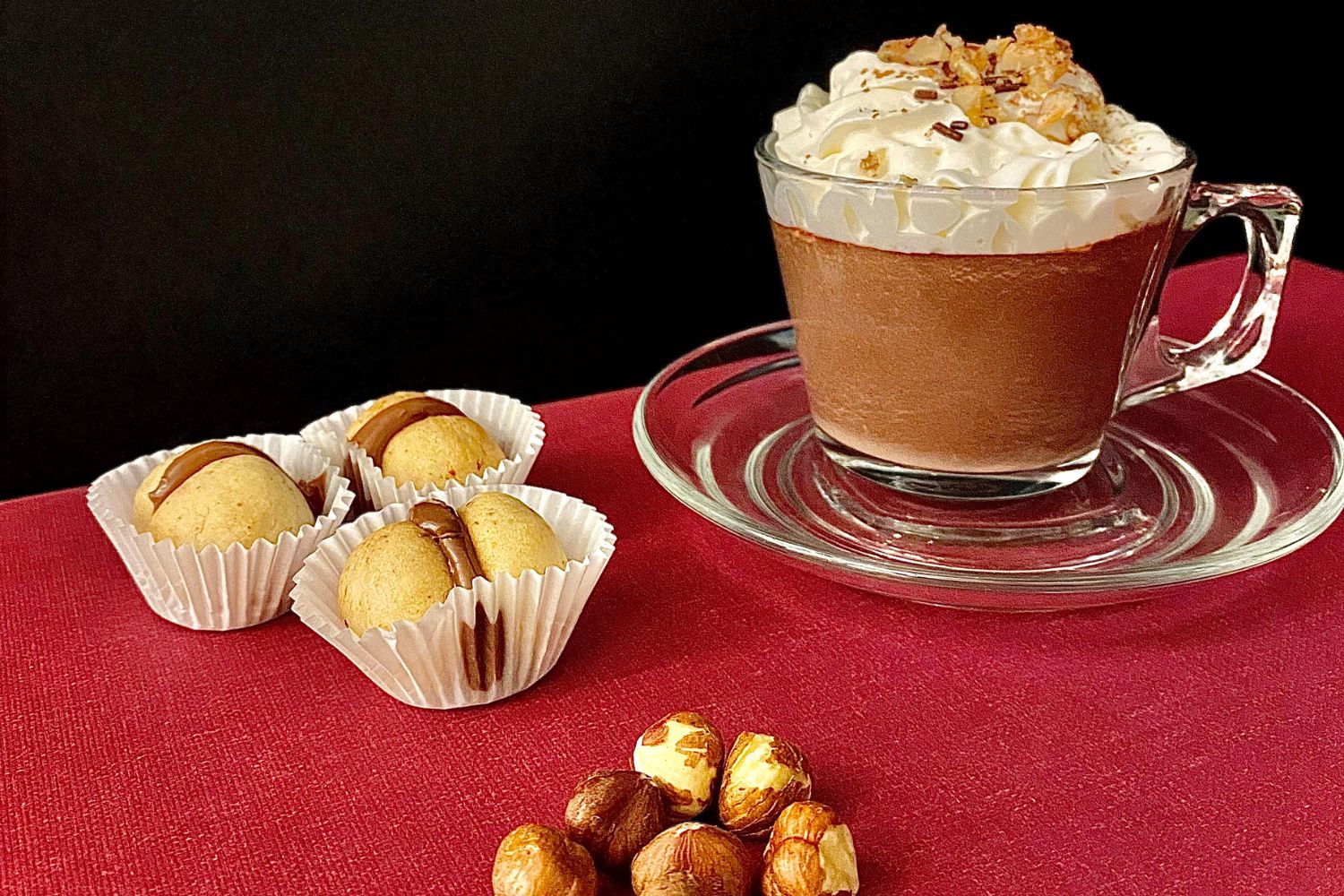 Flavour of Italia. Offering a couple variations of European inspired hot chocolates, you can choose between 'Gianduja', a thick, soft and velvety Italian hot chocolate with homemade gianduja (hazelnut cream). This one is topped with whipped cream, real chocolate sprinkles and caramelized hazelnuts and paired with 'Baci di Dama', melt-in-your-mouth hazelnut shortbread cookies held together with Nutella. You're other choice is 'Amarena',  an organic cocoa sweetened with real Amarena, the famous wild black cherries from Italy. Made with non-dairy mylk, this drink is vegan and paired with a homemade vegan and gluten free Amarena truffle. *Chef's Kiss. Delizioso!*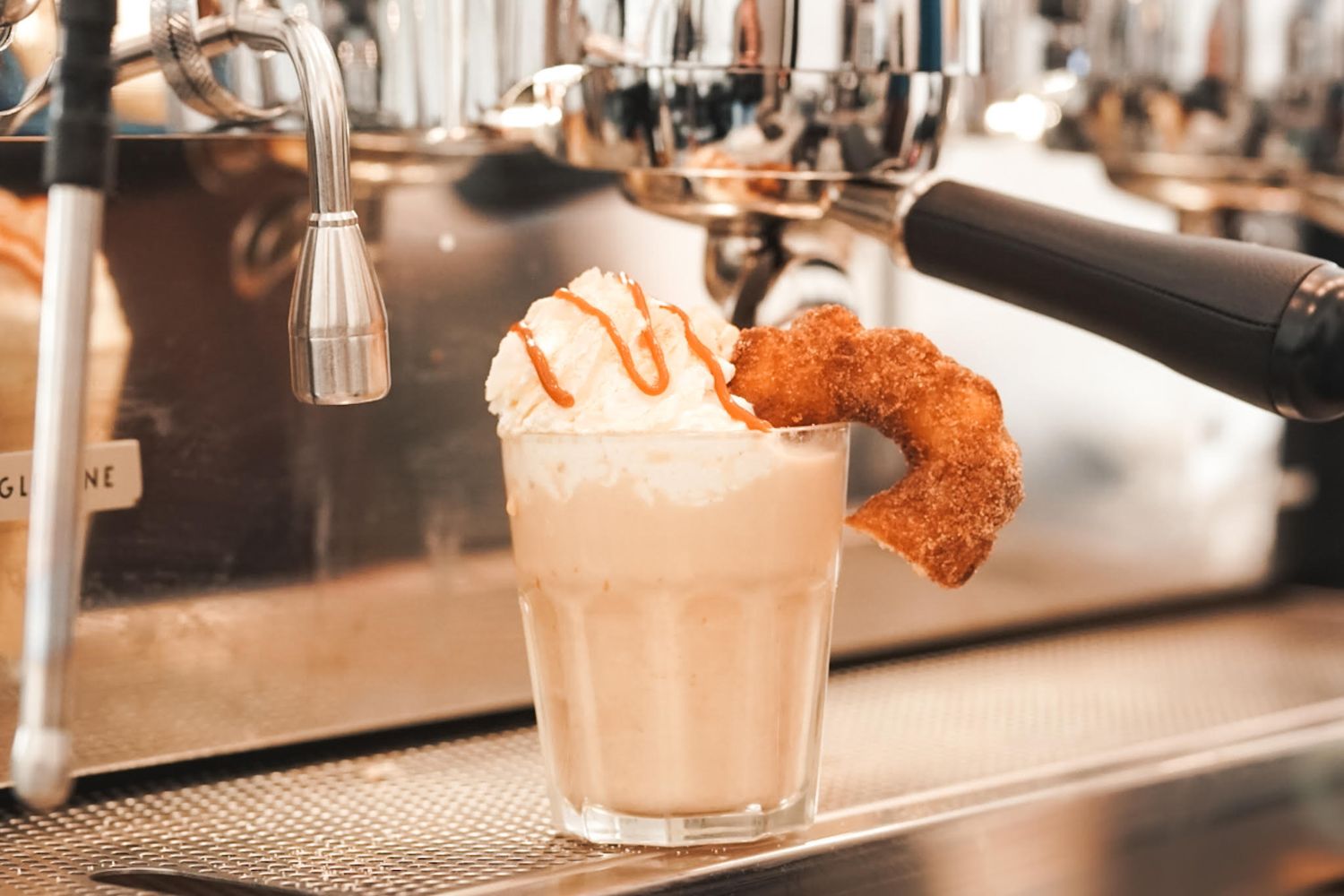 Delicious Dulche. With these divine flavours, dulche want to try this one right away? The brainchild from the same team over at the Sunflower Bakery and Cafe, this hot choc is flavoured with delicious dulche de leche and paired with a cinnamon churro donut. Muy Bueno!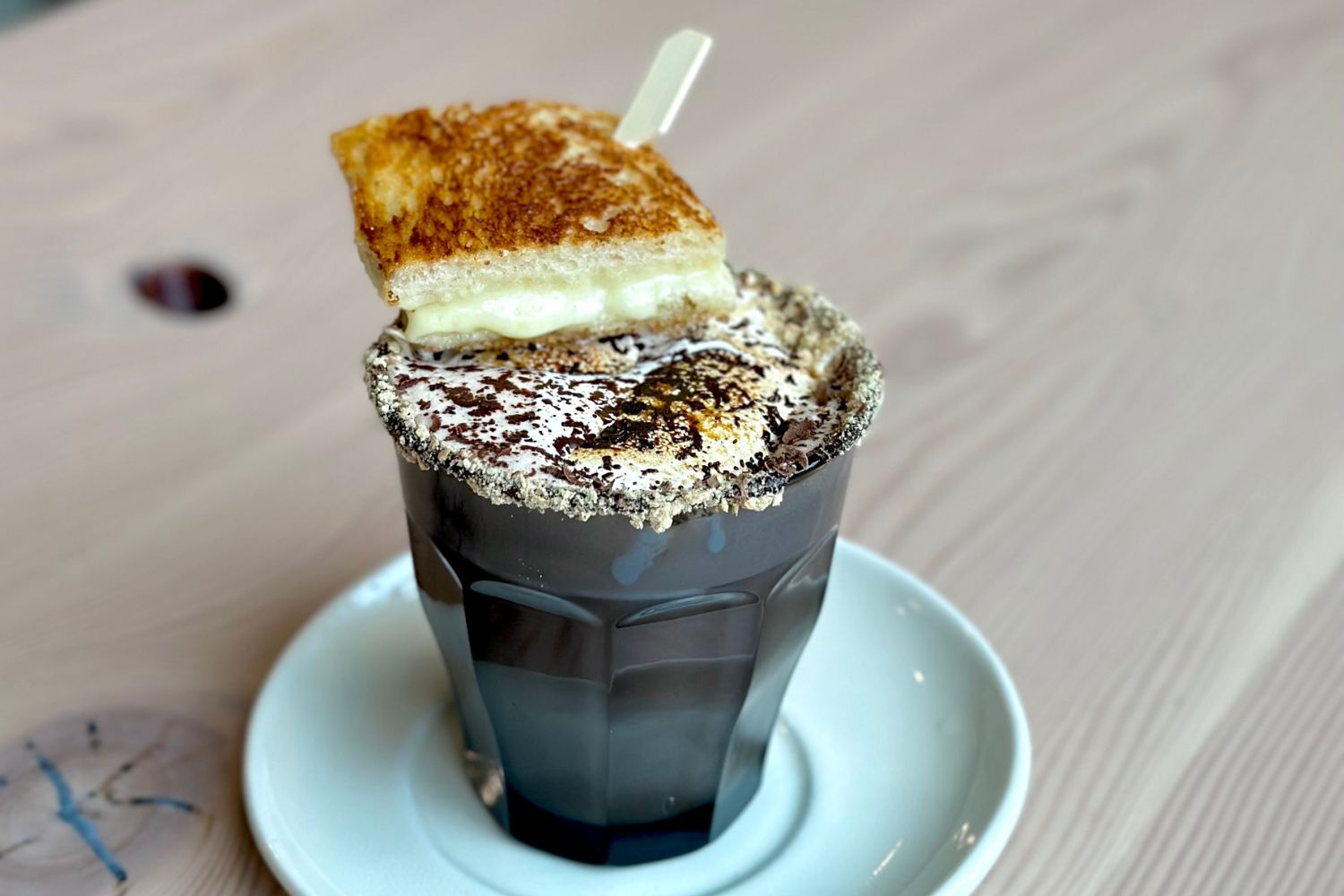 Camper's Delight Hot Chocolate. Make us miss summer, why don't you? A Swiss Hot Chocolate topped with housemade marshmallow, chocolate shavings and a graham cracker rim just like the S'mores you used to know. Served with Peak Provisions grilled cheese bite, because not all pairings need to be sweet.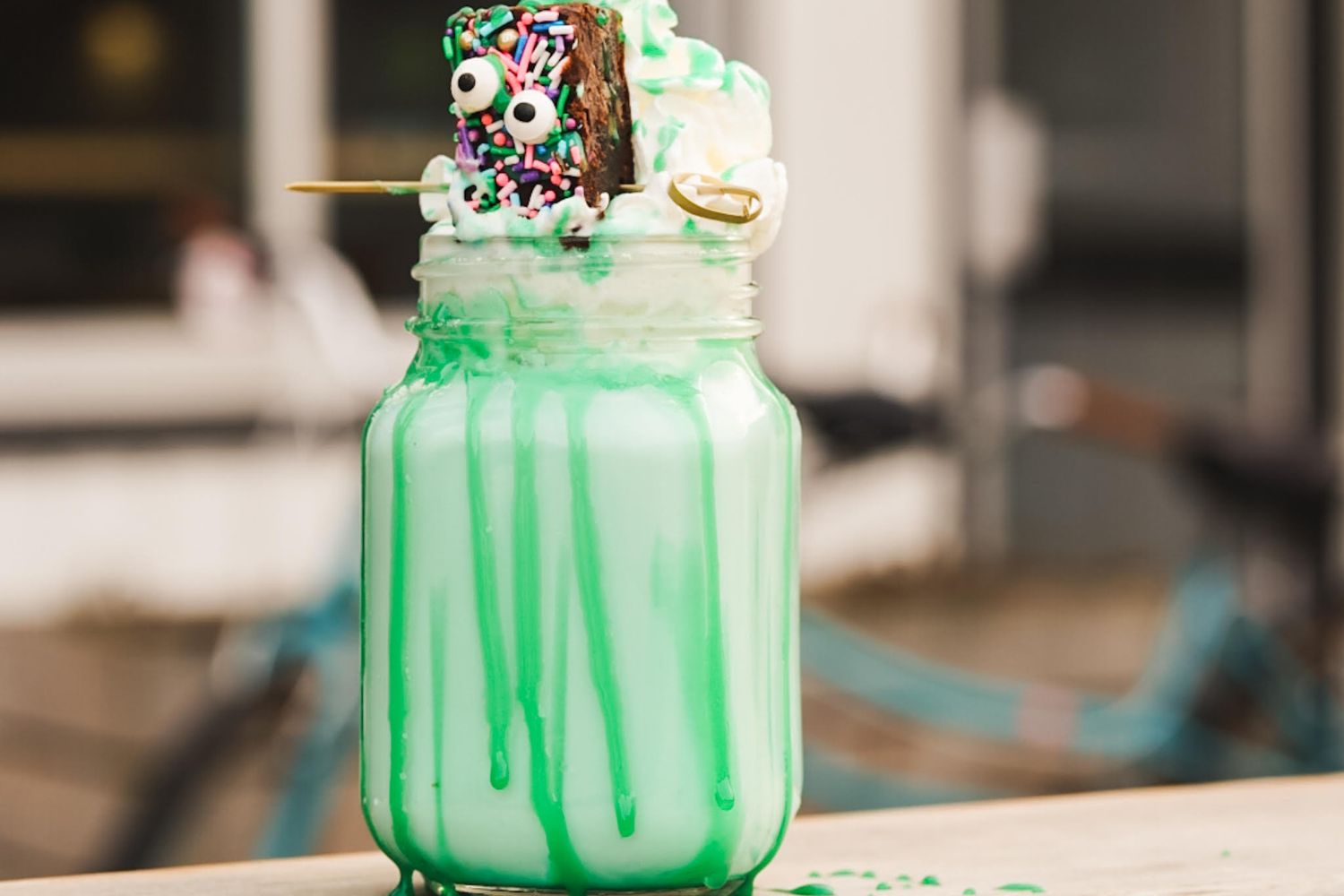 The Green Monster. All these hot chocolates are bringing out the sugar monster in us, so go ahead and Hulk out with this Minted Green Hot Chocolate served with a Sunflower Chocolate Monster Brownie.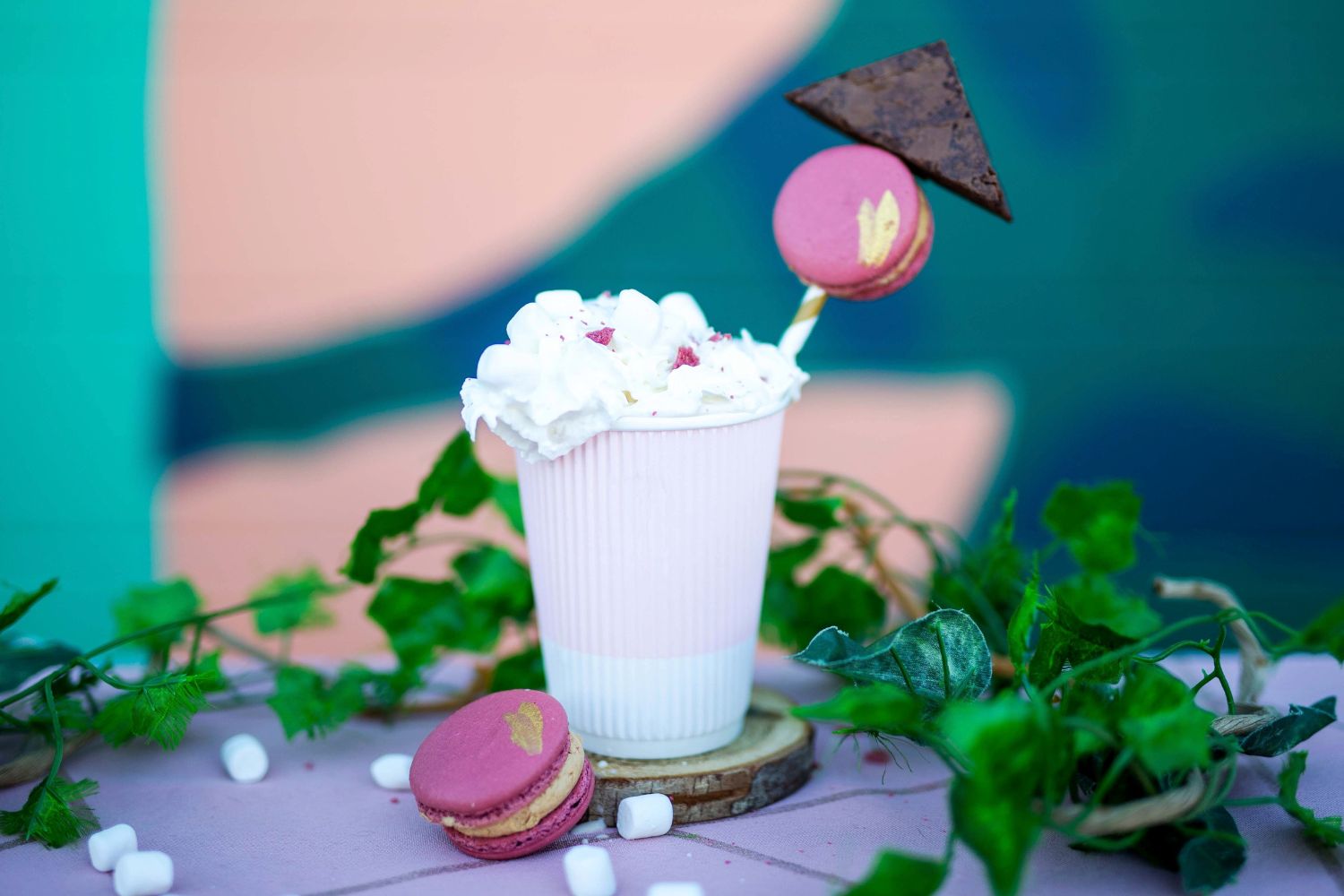 Traditional Hot Chocolate with a Twist. With only TWO dates that this delicious drink we be available, we have a feeling they will be a very busy vendor at the Squamish Farmers' Market. Available only at the market on Saturday February 5th and Saturday February 18th, this handcrafted semi sweet chocolate syrup is infused with a creamy oat milk for a silky taste. Topped with mini marshmallows, whipped cream & just a crack of salt. Enjoy it paired with a mini salted caramel brownie & pink salted caramel macaroon.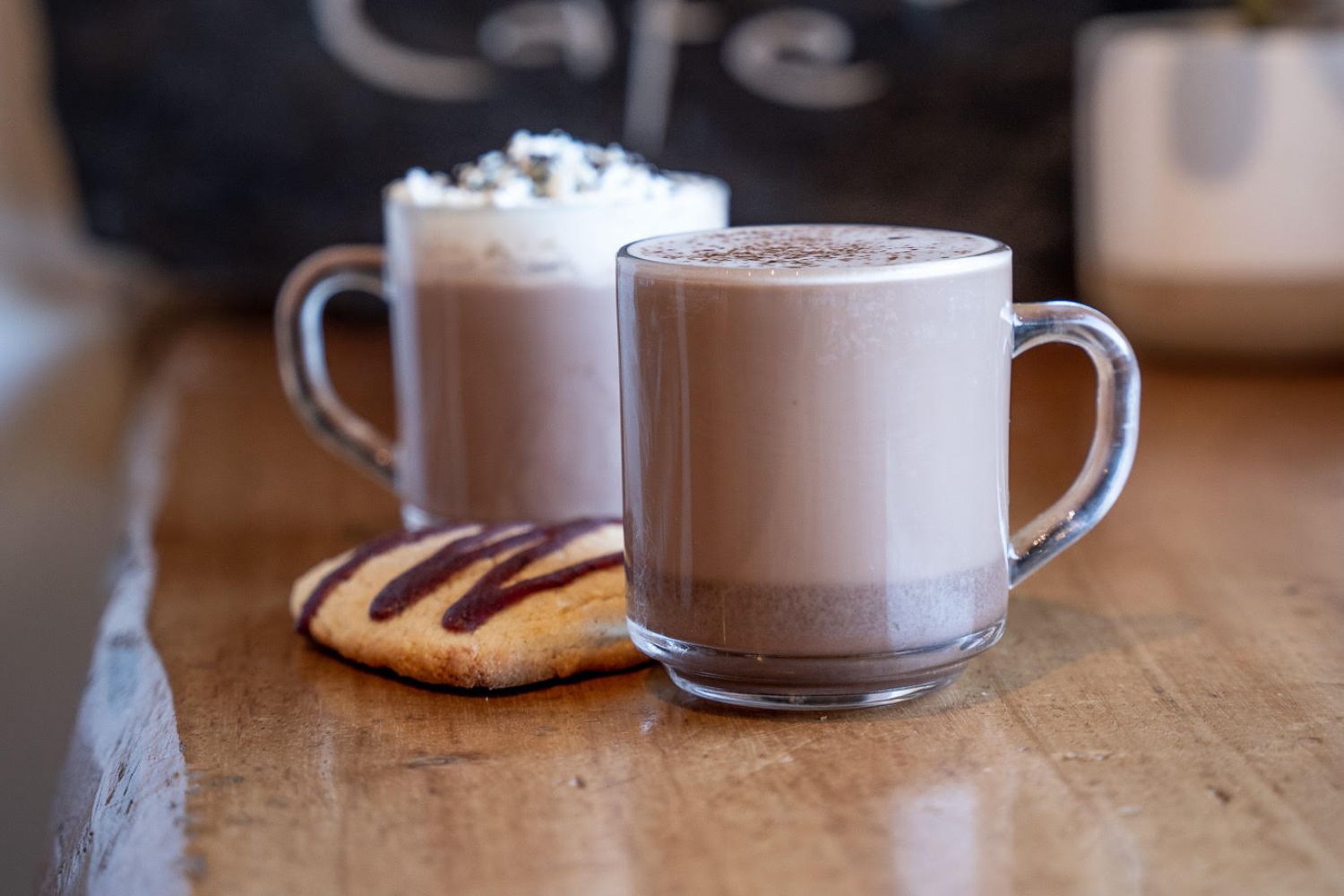 Hot Chocolate Trifecta. Just give us a hot chocolate with ALL the toppings, please. This hot chocolate featuring white chocolate chips, dark chocolate, and whipped cream with chocolate sprinkles. Teamed up with a cinnamon orange scone for your pleasure. 
Squamish Central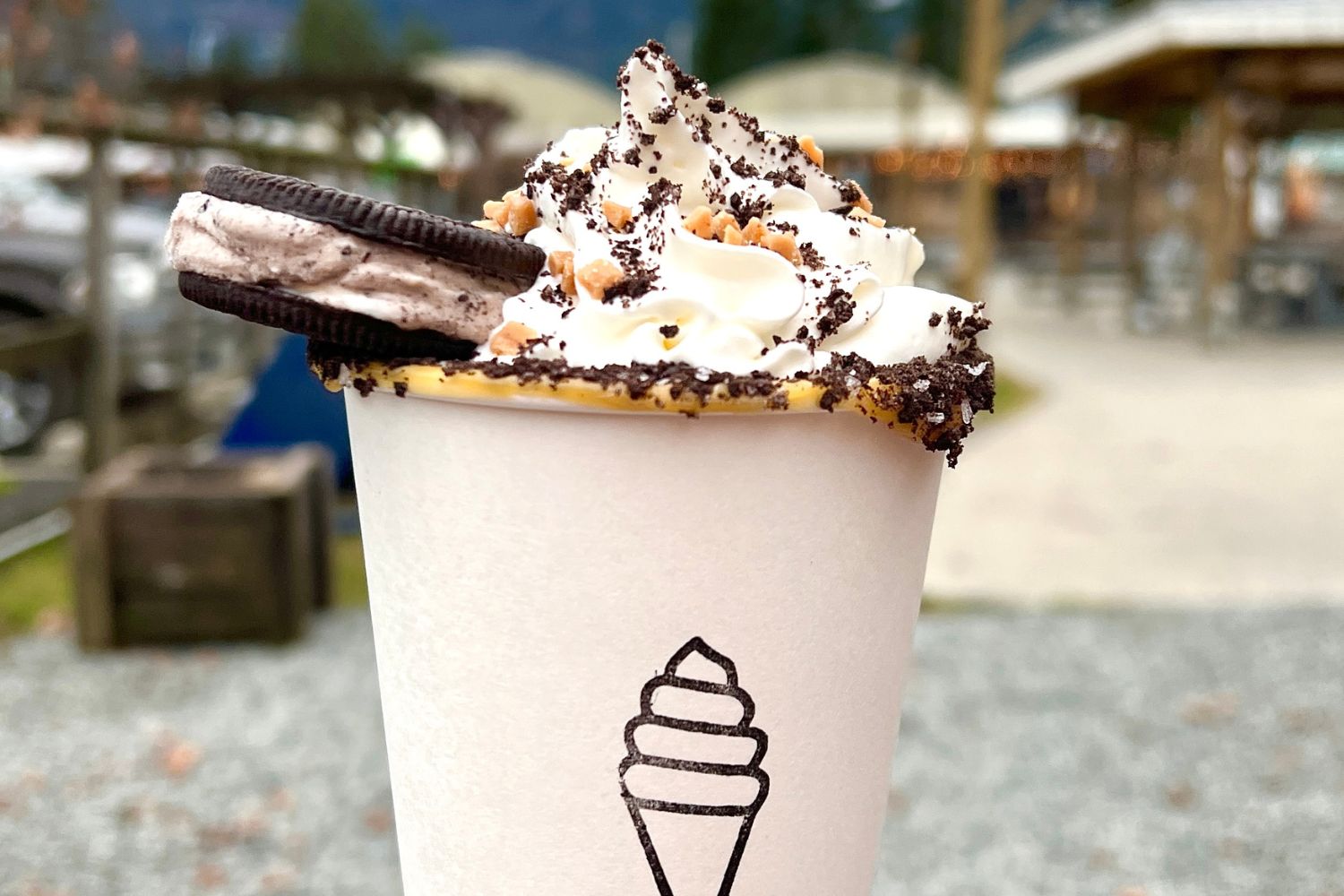 Salted Toffee Hot Chocolate. Chocolate, toffee, salt... could there be a better match?! Let's pair it with a mini Skoreo ice cream sandwich, because that will just blow everyone's mind. Available at BOTH Alice & Brohm locations this year! Visit them Downtown or in the Squamish Town Hub.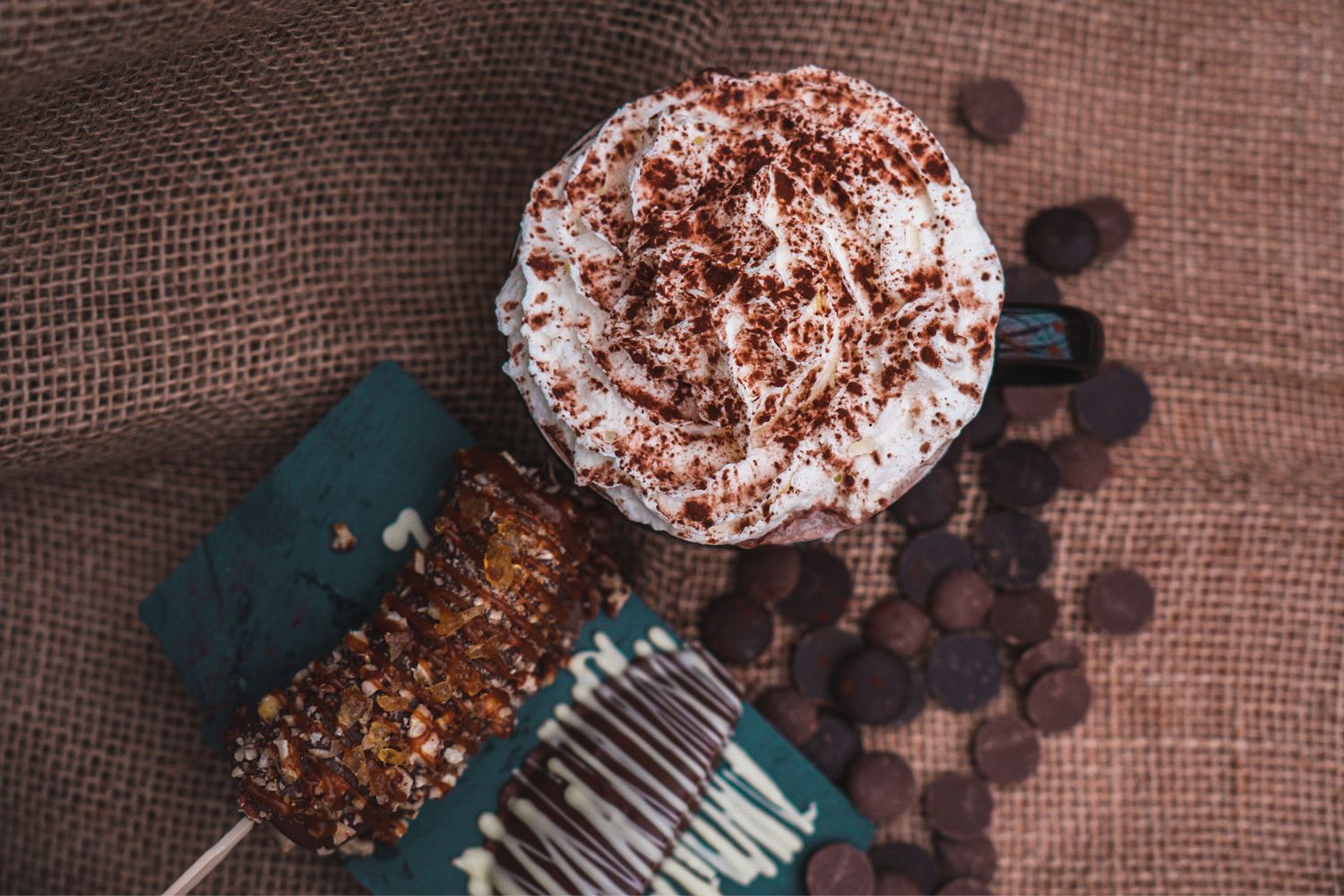 Creamy Peanut Butter Hot Chocolate. We love all the options you get with this tasty treat. Top it with your choice of cacao powder OR chocolate syrup and pair it with either a Chocolate covered Apple OR Chocolate dipped Banana. Choose between a milk chocolate dip with white chocolate drizzle OR chocolate dipped with crushed pecans, caramel drizzle and shattered caramel bits. Whew!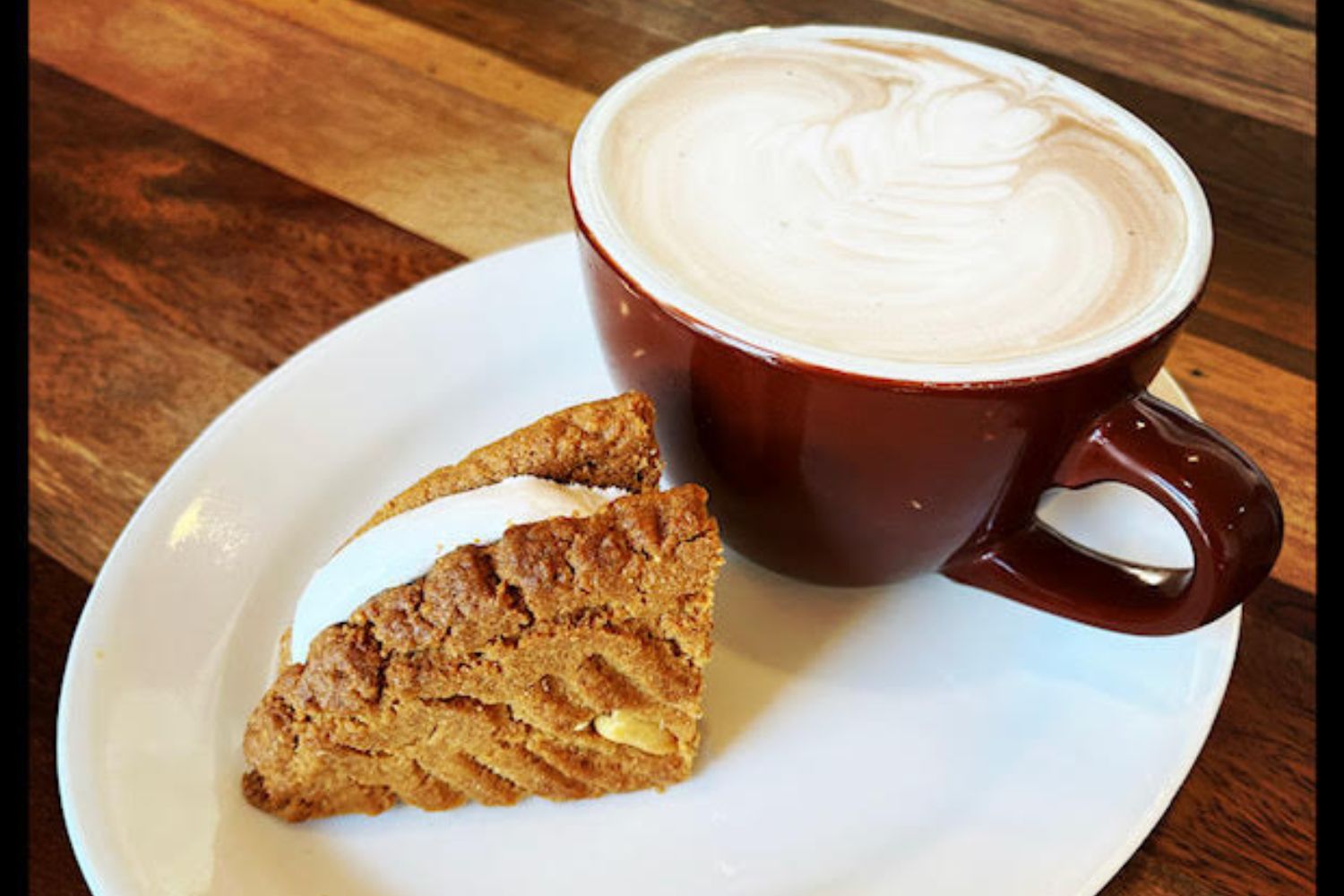 The Fluffer Nutter. Enjoy this traditional hot cocoa made with a toasted marshmallow syrup. It comes with a delightful peanut butter and marshmallow sandwich cookie that you can dip right into your drink- hot-dippity-dog this sounds delicious!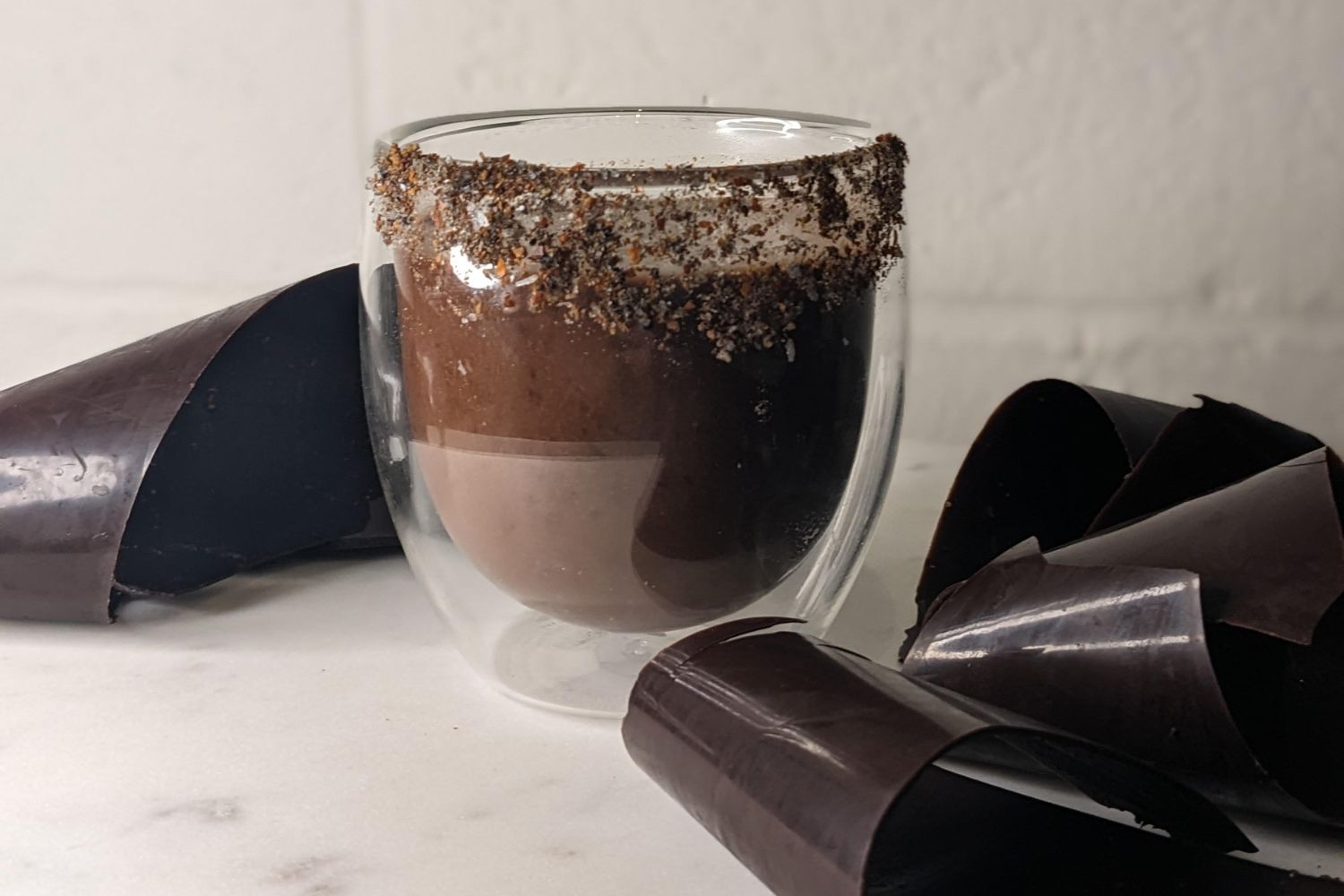 'Champurrado Aprés' Hot Chocolate Cocktail. That's right, this year we've got a hot chocolate COCKTAIL. Don't thank us, thank Raincity Distillery for dreaming up this unique adult beverage just for the festival. What is it? Well, it's a hot chocolate made with almond milk then expertly mixed with Mezcal, Aperol and Amaro. You'll want to smack your bartender with a big kiss or at least tell them how much you love them after a couple of these. 
North Squamish/Brackendale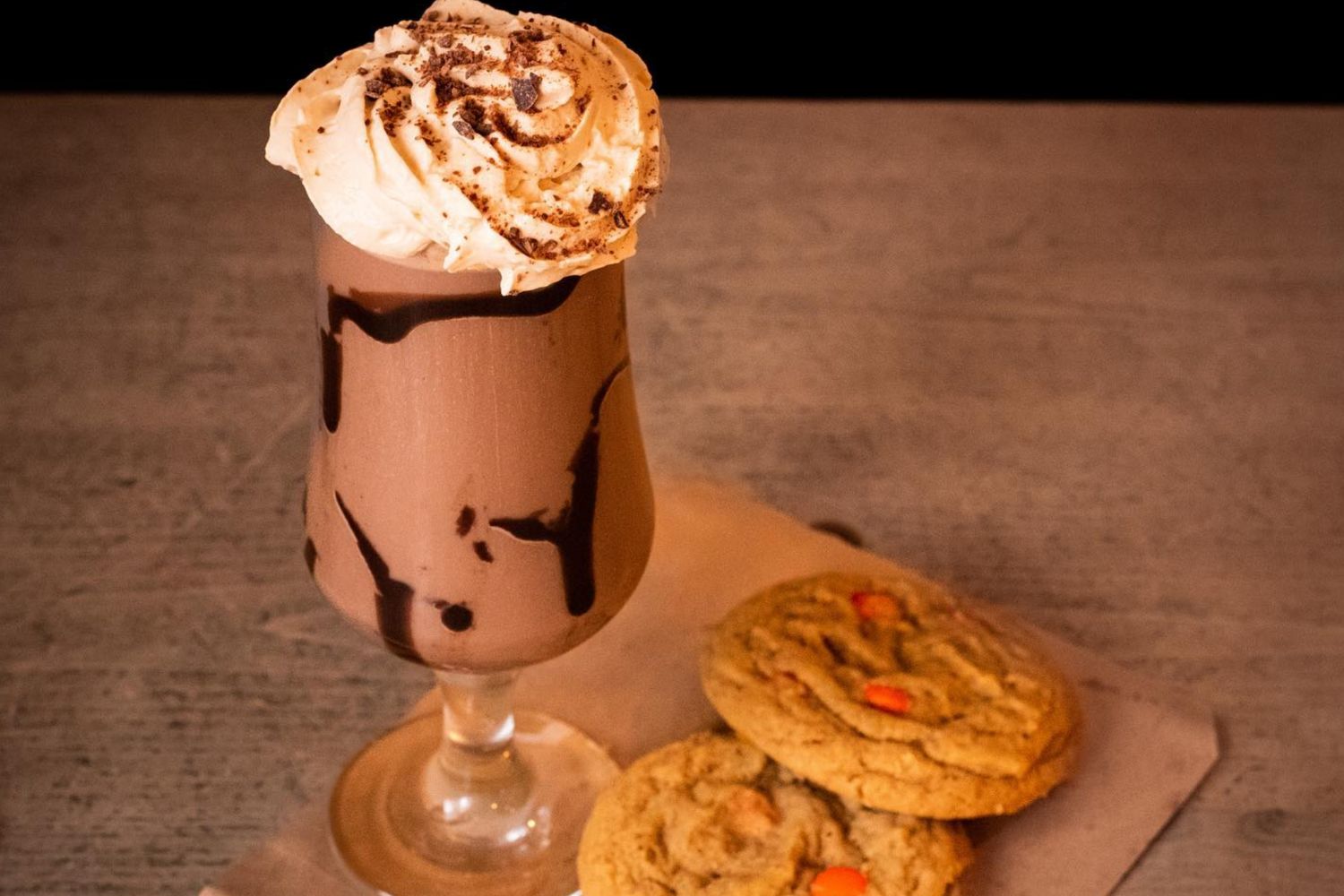 Chai Hot Chocolate. Up in Brackendale, the Bean is back-back-back again! Their Chai Hot Chocolate is adding a little earthy spice to this year's festival and features a special chai infused whip cream. Easily made vegan if you so choose, and pair it with their limited release Reese's Pieces cookie.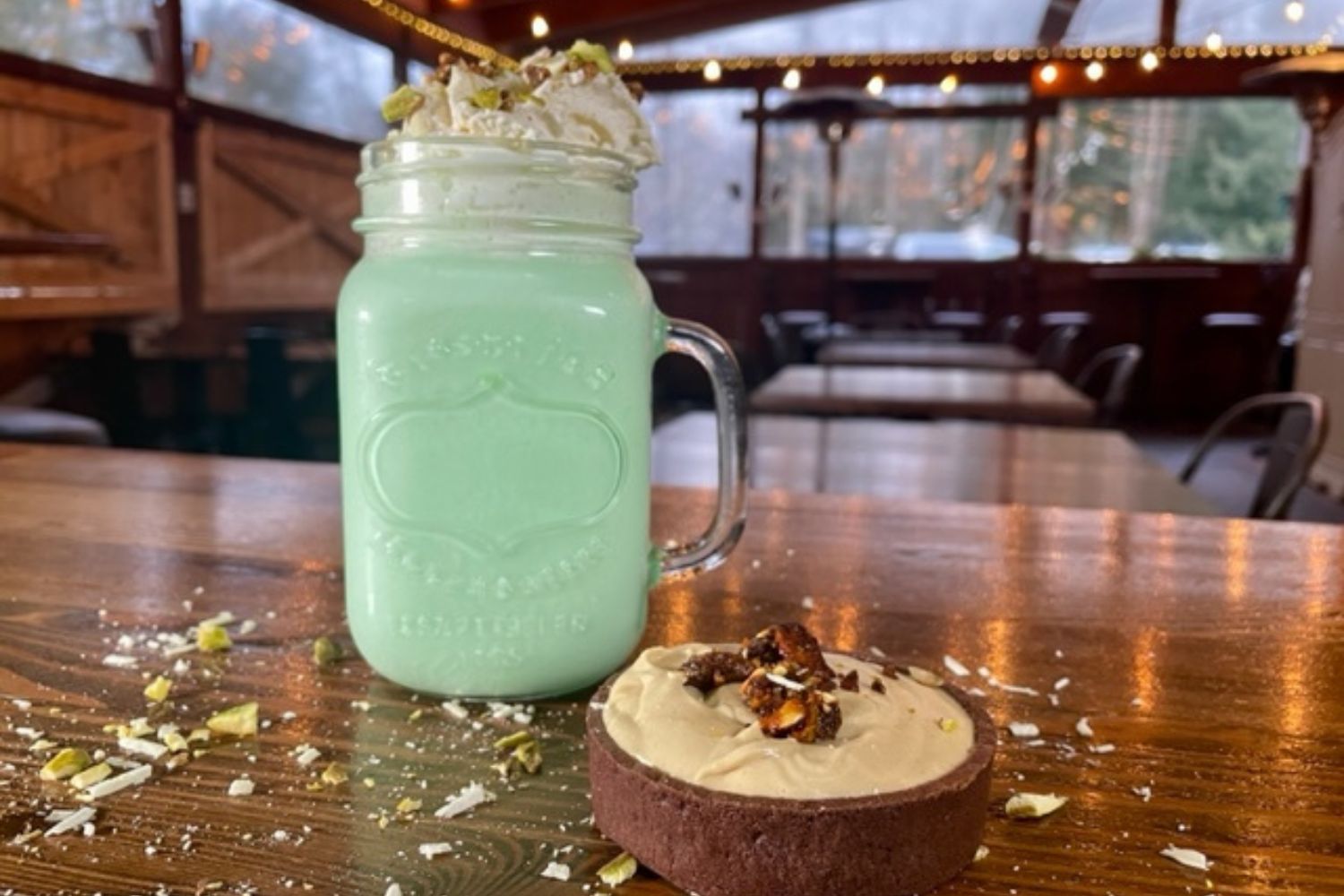 Hot White Chocolate and Candied Pistaschio. We see you Brackendale! How about ordering up a Hot White Chocolate, getting it topped with candied pistaschio crunch, then served alongside a Pistachio and Salted Caramel Tart? Three words: All The Yes.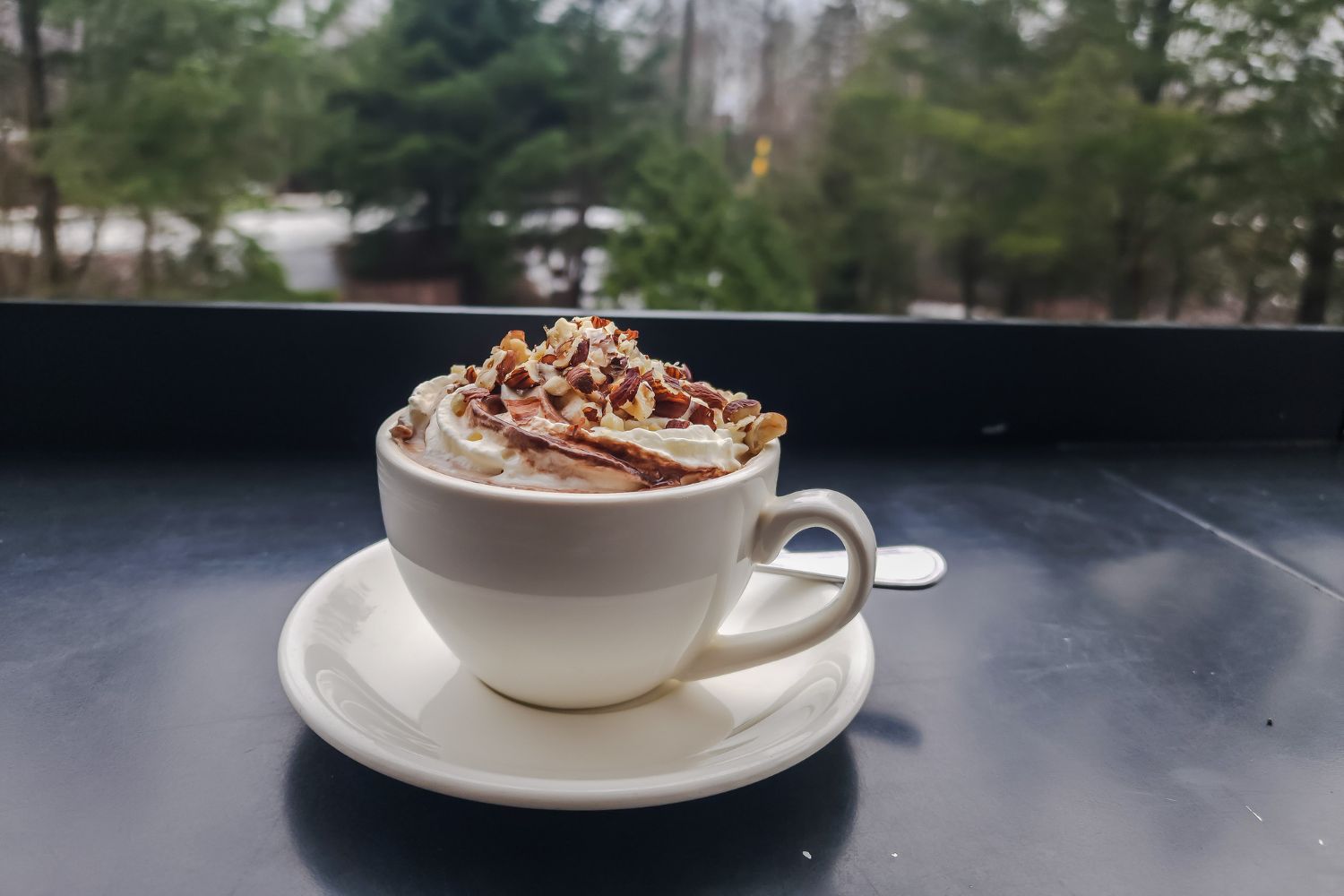 'Fergie's Rocher' Hot Chocolate. Now that your Christmas chocolate has run out, it's time to head up to Fergie's Café and snag yourself their Ferraro Rocher inspired Hot Chocolate (a 'Fergie's Rocher' if you will). This delectable drink is smothered with hazelnut-chocolate whipped cream and crushed hazelnuts. Bonus: it comes with a chocolate pavlova topped with spicy pear and dulce de leche.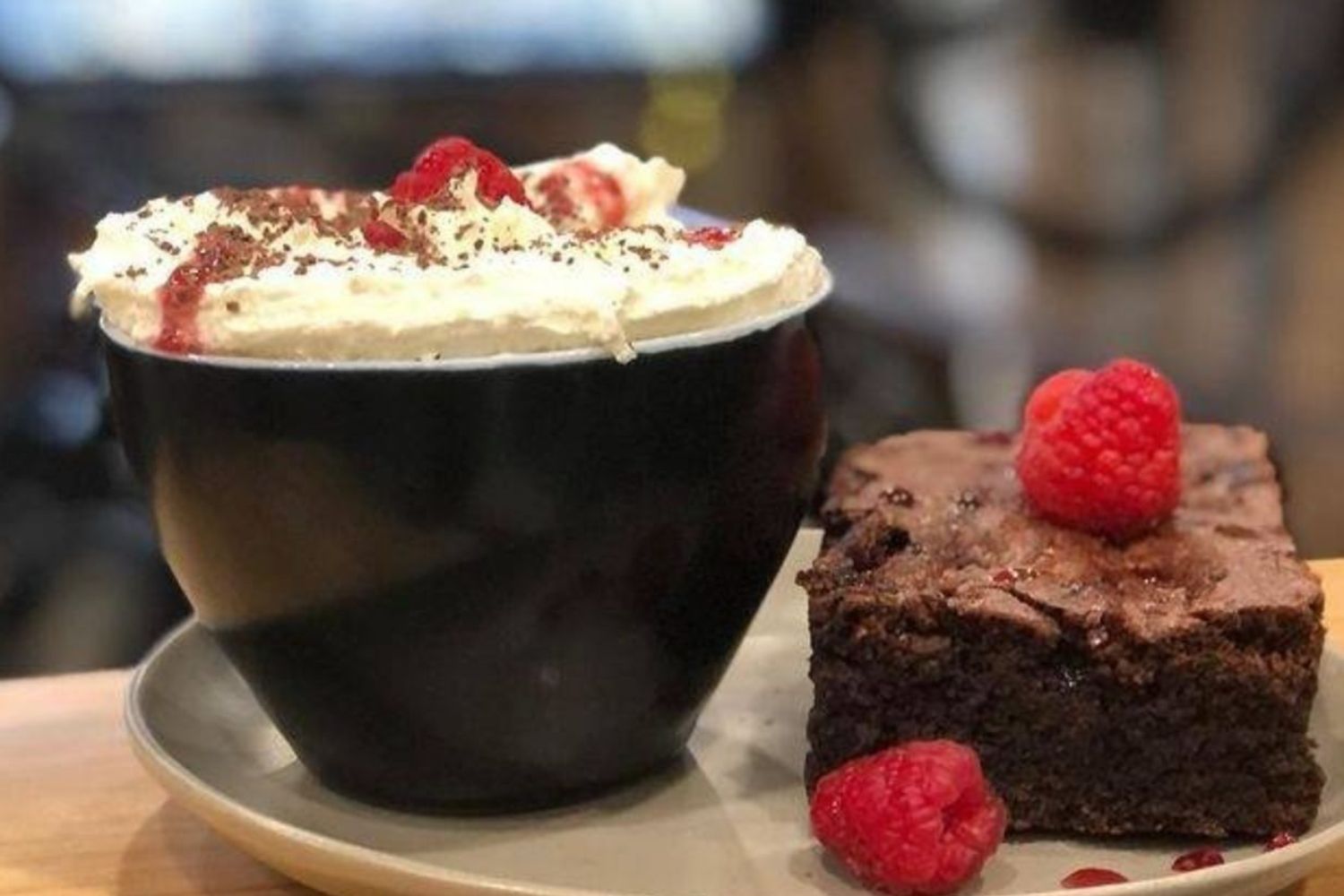 CakeWalk Hot Chocolate. This Blackforest Cake inspired hot chocolate was a fan favourite from the 2021 festival so the folks at Ridehub Café thought they'd bring it 'round for another go! Named after their favourite mountain bike trail, you can add a bomb brownie if you want to level up your Hot Chocolate Festival game.
Milky or dark, white or all the colours of the rainbow, pinnacles of whipped cream or foamed to perfection, we can't wait to taste each location's dreamy confectionary concoctions- and see all your milk moustaches!
Be sure to tag @TourismSquamish and use #ExploreSquamish and #SquamishHotChocolateFest so we can see and share your posts. NEW THIS YEAR- there's a GIF for your Instagram stories! Just search 'Squamish' and you'll find the sticker.