Explore Squamish - August 22, 2021
Craft Beverages to Sip in Squamish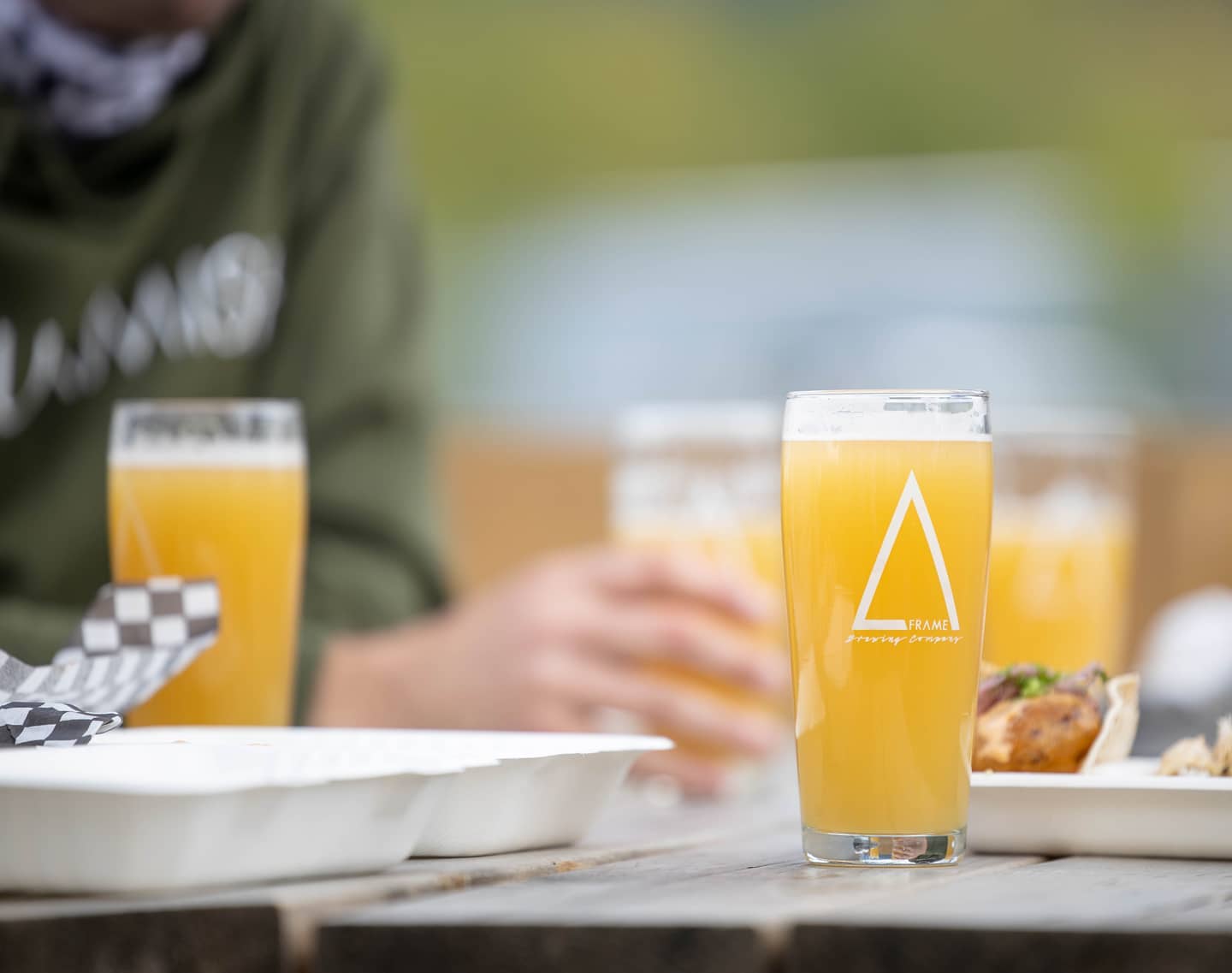 Photo: A-Frame Brewing
10 Refreshing Squamish Sips
In Squamish, craft beverages are all about small batch and traditional artisanship. This town boasts an ever-increasing list of local artisans crafting a diverse selection of seasonally-inspired beverages that you won't want to miss.
Here's a round-up of our favourite refreshers that can be found at local watering holes, patios, or savoured in your own backyard. 
1. Lake Lovely Water Blueberry Rooibos Sour, A-FRAME Brewing
Image: A-Frame Brewing
Description: Brewed with 600lbs of bubbling blueberry puree and infused with Vanilla & Peach Rooibos tea from Lucas Teas. Woody flavours, vanilla bean, caramel and juicy blueberries balance the tart sour base. An awesomely refreshing beer! 
Availability: A-FRAME Brewing Tasting Room  
2. I'll Take You To the Candy Shop, Fuzzy Peach Sour, Backcountry Brewing 
Description: Backcountry's newest beer has been 'bombed with thousands of pounds of peach puree and then conditioned on a stupid amount of fuzzy peach gummies." It's the sweet and sour fruit fix that you didn't know you needed.
Availability: In cans and on tap at Backcountry Brewing  
 Description: Crisp, dry apple cider, a shot of Goldschlager, cinnamon sugar rim, cinnamon stick, and a fresh apple slice.
Availability: On the edge of town at Cliffside Cider in downtown Squamish.  
Description: Lightly roasted single-origin coffee poured over ice and water. Counterpart Coffee is a small batch coffee roaster dedicated to roasting and serving unique and memorable coffees.
Availability: Counterpart Coffee, Zephyr Cafe and 2Chill Gelato.
 Description: Light, clean and packed with all of the flavours of summer. Made with seasonal fruits from the farmers market, white wine, Frostbites Syrup Co. Elderflower Cordial and topped with Pelligrino.
Availability: Visit the Squamish Farmers Market to shop for seasonal fruits and a bottle of Frostbites Syrup Elderflower Cordial.  
6. Blood Orange Margarita Cider, Geo Cider Co
Description: Mix one part Margarita Cider with one part Blood Orange Cider and voila! A welcome surprise.
Availability: Available in cold 6 pack cans at Geo Cider.
Description: A Northeast style IPA more focused on hop flavour than bitterness. The beer is very tropical and fruit-forward with the juicy flavours of mango, guava, stone fruit and peaches. 
Availability: On tap at Howe Sound Brewing Co, and in 6 pack cans across private liquor stores in BC.  
Description: A refreshing and sweet option for those hot summer days! Made from watermelon, lime, lemon and mint this cold-pressed juice is hydrating and a great source of electrolytes. 
Availability: Backcountry Brewing, Cloudburst Cafe and on their website. Check their Instagram to find where the juice truck will be located each day.    
Image: Spark Kombucha 
Description: Mix together 1 bottle of Ginger Berry Spark Kombucha with 1 Cup of Orange Juice, garnish with sliced orange wedges and strawberries
Availability: A-Frame Brewing, Nesters Market, The Green Moustache and Euphoria Natural Health.  
Description: The Sparking Mint Water Kefir is a fermented living probiotic drink made from water, water kefir culture, organic sugar (to feed the culture), and fresh mojito mint leaves. It makes a great cocktail or mocktail mix that's delicious, refreshing and adored by adults and kids alike.
Availability: Nesters Market, Cloudburst Cafe, Green Moustache, Kululu Cafe, Counterpart Coffee, Backcountry Brewing, Bean Around the world in Brackendale, Euphoria, and the Squamish Adventure Centre.