Explore Squamish - August 20, 2020
Squamish Bike Guide: Brackendale Zone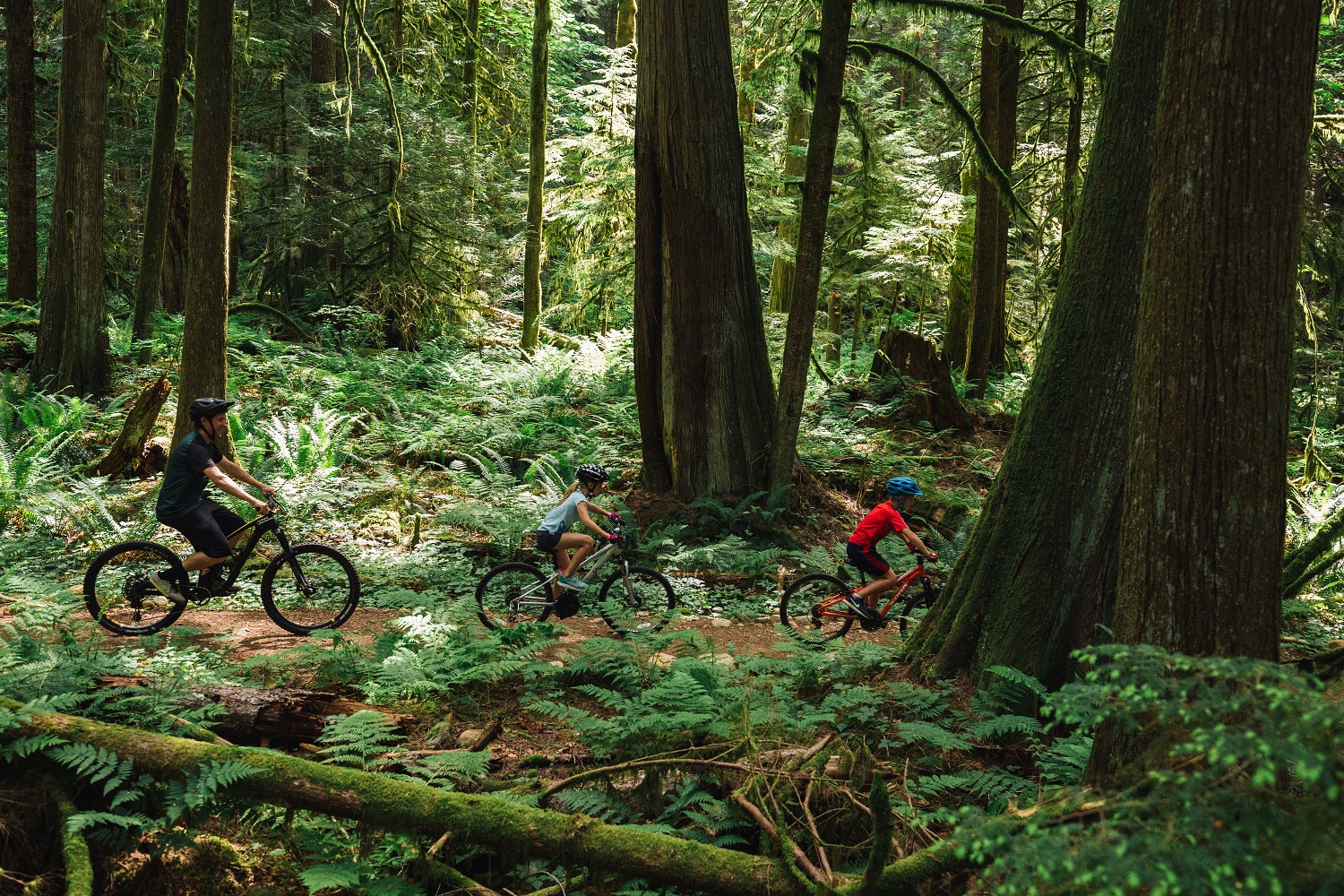 Revered for our singletrack, Squamish hits the mark for exceptional mountain bike trails. Full of loamy descents, plenty of berms, aggressive kickers, granite slabs, and so much more, our forests were fabricated with mountain bikers in mind. With five distinct areas to ride; Valleycliffe, Diamond Head, Alice Lake & Garibaldi Highlands, Brackendale and Cat & Brohm Lakes, there are hundreds of trails to explore. 
Brackendale Zone
Brackendale trails are flat and rooty with soft dirt and will make a great family day out or offer an introduction to new riders. Some trails in the network such as Wonderland and Live Wire feature low grade, flowy descents. Other trails in the network such as Grimm's Forest even feature short paved sections and make for a great XC introduction. 
Parking
Brackendale trails are easily accessed by turning left on Squamish Valley Road from Highway 99 or at the  Squamish Adventure Hub located at Don Ross Middle School at 42091 Ross Road in the lower parking lot. Please note parking at Don Ross Middle School is not permitted during regular school hours, Monday to Friday between 8:30 a.m. and 3:30 p.m. The Adventure Hub is equipped with a bike tool station and porta-potty, and bike wash.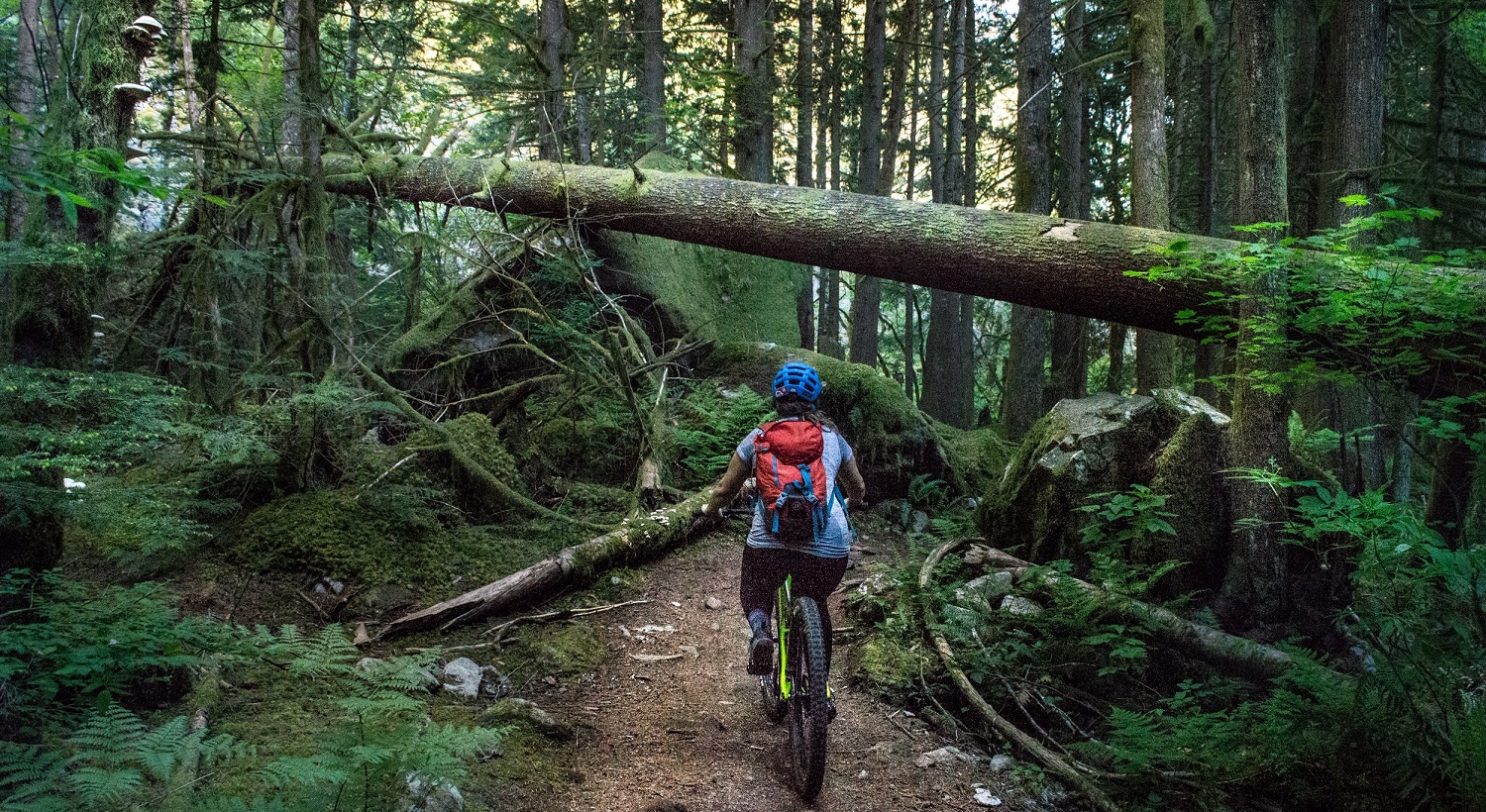 Signature Trails & Routes
Must-Do Easy Trails
Ray Peters Trail
A long, beginner loop with plenty of intermediate offshoots. A great trail to ride with kids. 
Live Wire
Access this trail from Ray Peters parallel to Squamish Valley Road. The bidirectional trail has a mellow grade and runs underneath a set of powerlines making for clear, unobstructed views towards the Tantalus Mountain Range. It is a great short cut for those looking to turn Ray Peters Trail into a smaller loop. 
Admiring the view on Live Wire. 
Sweet Judy
A quick ride through an alley of trees beside the Sea to Sky Highway. This trail can be ridden in either direction and can be linked with Live Wire or ridden on its own from Ray Peters Trail. 
Rusty Bucket
An alternative to Live Wire that offers some fun terrain to practice your bike handling skills. The nearly flat trail includes some rocks and roots perfect for a family day on two wheels. 
Road to Crackedville
The perfect warm-up trail for this zone that follows an old road to a small section of singletrack. This trail runs parallel to Ross Road and is just steps from the Don Ross Middle School Adventure Hub. 
Recommended Beginner Route
Ray Peters > Sweet Judy > Rusty Bucket > Larry's Loop > Live Wire
Must-Do Intermediate Trails
Wonderland
A perfect cross-country trail for green riders looking to advance their skills. The trail is among the most beautiful in Squamish and features small roots, rocks, and beginner-friendly features, nearly all with ride-around options.
 Practicing bike handling skills on Wonderland. 
Recommended Intermediate Route
Sweet Judy > Rusty Bucket > Wonderland
Find more trail resources on Trailforks.ca, Trailmapps.com and Ridespots.com. 
Nearby Apres
The Crabapple Cafe
Crabapple Café brings happiness through the appreciation of wholesome, delicious food. You can find it a short ride away along Government Road in Brackendale. Ride by for breakfast or lunch with a focus on traditional cuisine, vegan, gluten-free and organic food. 
Fergie's Café
A short drive up the Squamish Valley Road will take you to a once well-known fishing lodge. In modern-day, Fergie's Café is a cozy Squamish brunch spot that has charmed locals and visitors alike. Relax on the sun-drenched deck after your ride and enjoy fabulous views of the Tantalus Range while you feast on fresh, locally-sourced and house-made menu items such as pulled pork, sausages and bennies. Fergie's also has draft and bottled beer as well as cocktails. 
Earn Some Trail Karma
Countless hours of sweat, muscle and machinery go into maintaining the incredible network of single-track and multi-use trails in Squamish to ensure your rides are always too much fun! Give back to the trails by becoming a Squamish Off-Road Cycling Association (SORCA) Trail Supporter or a SORCA Member.
Downloads