Mountain Biking 101: Top Squamish Trails and More
Posted on: February 21, 2021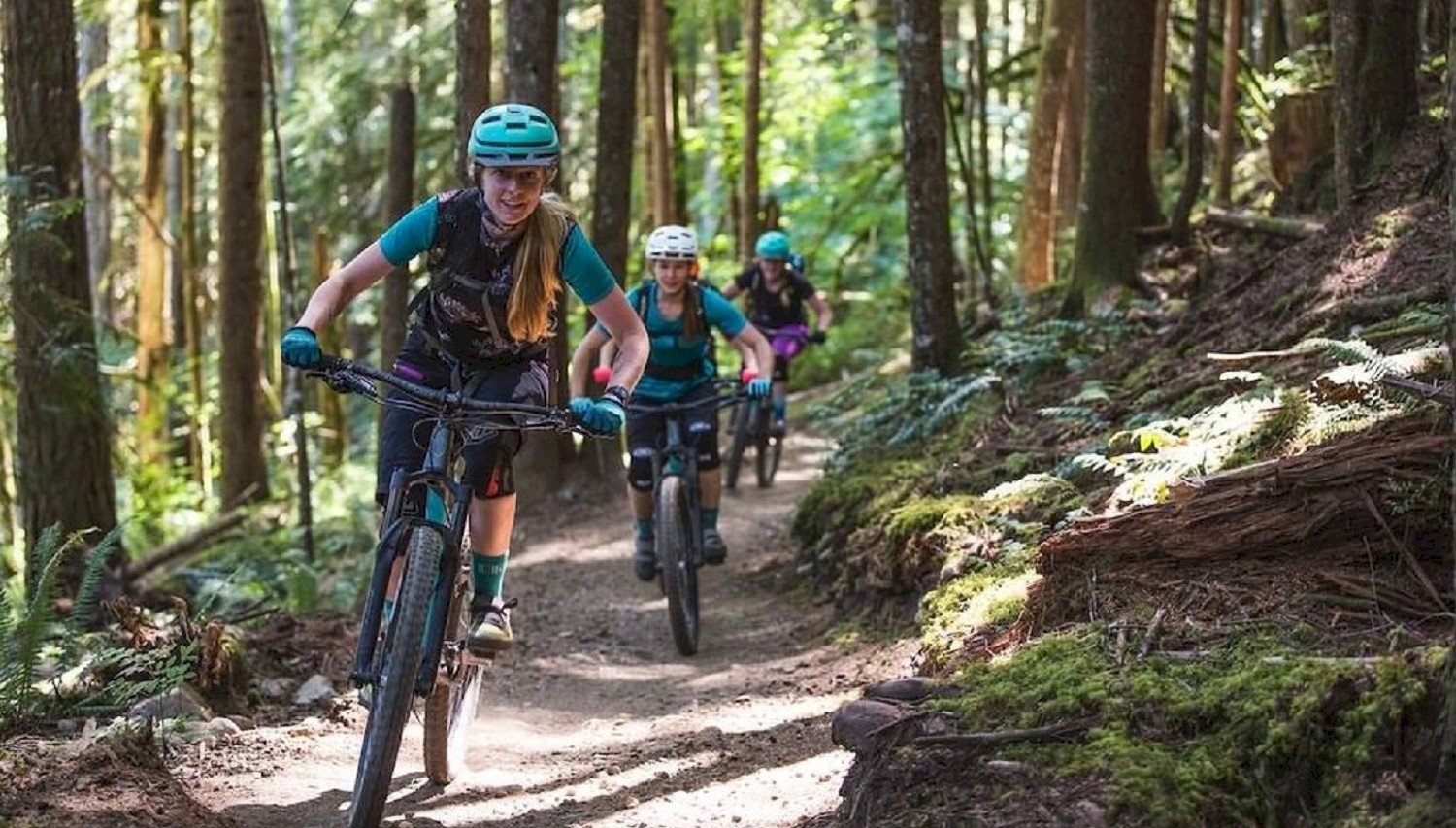 Mountain Biking 101: Top Squamish Trails and More
Squamish is a mountain town, and our trail systems are so amazing because we capitalize on that gravity. Serving up over 300 kilometres of singletrack no matter your skill level, you will not run out of satisfying terrain. Squamish has so much to offer that navigating all the burms, jumps and slabs may seem daunting. Local experts fill us in on everything you need to know to immerse yourself in Squamish riding.

Getting Started
Photo: @goose_liver_pate
Don't let flashy gear deter you: Keep their gear simple to start. Try a pair of flat-soled shoes, loose-fitting athletic clothing, a helmet, and a backpack to carry water, snacks and an extra layer. As you progress in the sport, you can invest in more refined gear.
Know how to change a flat: Be prepared, there is nothing worse than having to walk your bike out after encountering a flat or mechanical issue. Having basic bike knowledge can save you a lot of hassle.
Don't push it: Knowing your ability is essential in mountain biking. If you don't want to hit a jump, then don't push yourself. Stay within their comfort zone.
Focus on fun: The focus should always be on fun. If a segment of a trail is going to wipe the smile off of your face, you can always walk your bike or ride around the feature.
Wear your helmet: Helmets are an absolute must for mountain bikers. Investing in or renting a good one is essential. New riders may also want riding gloves and knee pads as falls tend to happen when starting out with the sport.
Don't go alone: Stay safe on the trails by riding with a partner. Riding in pairs with a first aid kit, offline map and cell phone is the best way to stay safe on the trails.
Wear high traction shoes: Wear close-toed shoes with good grip on the sole. The shoes need not be mountain bike specific but the more the tread fits into the pedals of the bike the more comfortable the riding experience will be.
Local Favourite Rides
Sara loves a good climb to start her ride, and the Alice Lake area is full of them. Her favourite is Fifty Shades of Green followed by Fifty Shades More. Two uphill only climbing trails that bring you high above Alice Lake giving you your pick of fun descent trails.
For those just starting out or trying to break into the Squamish mountain bike scene, James recommends the Brackendale trail area. Start with Ray Peters Trail to build confidence on safe single track. With so many different variations to try out James advises people to try Live Wire and Sweet Judy and if that goes well head over to Wonderland to challenge your bike handling skills!
Corey recommends the Valleycliffe area for its cross-country feel where the terrain is more varied with several short climbs and descents.
These trails are designed for beginners and experts alike. Nick explains that you can be completely new to mountain biking and roll all the features while experts can double all the rollers. This is a perfect spot to ride with friends.
This route is Mike's top pick for beginner riders. The trail is machine made with a cross country/all-mountain feel so riders can experience classic Squamish riding in a beginner setting. As the creator of an extensive trail guide, Mike has plenty of top picks for intermediate and advanced riders. All of his routes are directly downloadable onto Trailforks.
Meadow of the Grizzly to Half Nelson - Lesley's pick from Tourism Squamish
After a massive climb up to this trail, you get to enjoy yourself all the way down on a very fun and flowy trail back to where you started. Lots of berms, tight turns, and the occasional loose section will keep you on your toes. The trail offers a different experience than some of the machine built trails in Squamish. It is considered a dark blue and is recommended for more experienced riders.
Wonderland offers a fun assortment of terrain perfect for new riders. It has a good gradient, beginner-friendly, wide bridges and includes small rocky and rooty sections for learning new skills. There is a river running beside the entire trail so you can take breaks and eat a trailside lunch to break up your ride.
Ideal for beginners or for cyclists looking for a scenic, non-technical trail. Pedal beside the Mamquam River on a 3km long forested piece of easy singletrack. This trail is a great segment to link up with other trails and to commute around Squamish.

Where to Buy and Rent Gear
Having the right gear is the safe thing to do. All riders should have a helmet, gloves, knee pads, a basic tool set, spare tube, pump, energy bar, water and of course a bike. If you're missing any of these important things, riders can go to Corsa Cycles to find everything they need to get on the trails.
Rental mountain bikes are available at Blazing Saddles Adventures, Corsa Cycles, Flying Spirit Rentals, and RideHub

Tours and Lessons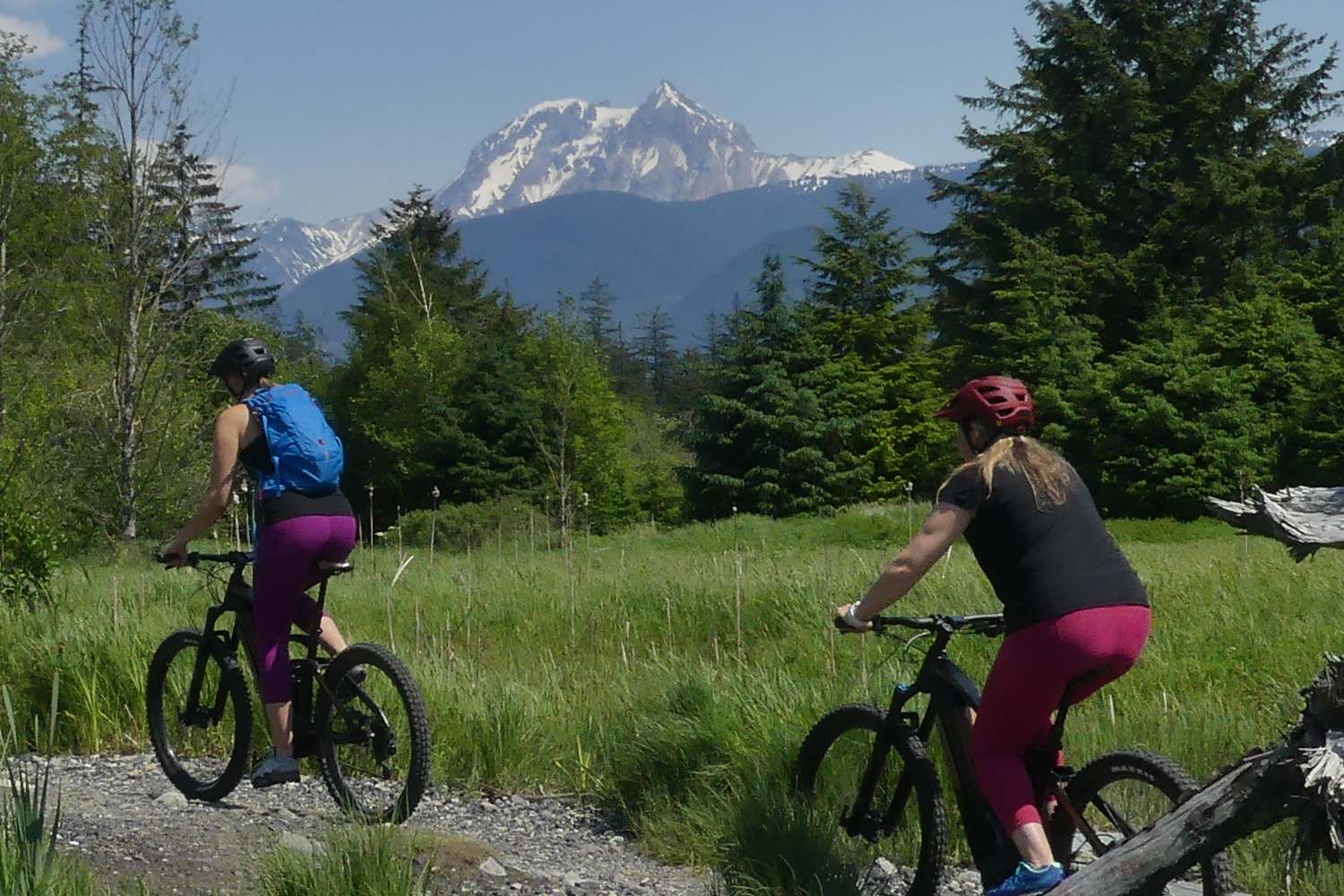 Image: Blazing Saddles Adventures
Intro to Mountain Biking - RideHub
A tour tailored for people interested in experiencing mountain biking for the first time. Learn fundamental skills while riding breathtaking trails. Everything you need will be provided, including a high-end mountain bike and helmet and well deserved après.
Start your day with a shuttle. Ride double and single track trails to Elfin Lake and back through Squamish's trail network in time for a relaxing evening. Bike rentals are available or bring your own bike!
Choose from an array of classic Squamish trails and download them directly to Trailforks. Check out the "must-do rides" and discover for yourself why Squamish is such a hot mountain biking destination
Reap the benefits of a coach taking you on a mountain bike tour through Squamish. See the sights, try the jumps or practise a specific skill, leave the trail map at home and follow your guide on a fun ride tailored to your goals and abilities.
Discover the natural beauty and diverse ecosystem of Squamish on a high-end electric mountain bike. Any level of biking ability will enjoy this beginner-friendly eco-ride which guides you through the most scenic vistas of Squamish from river to ocean.
SORCA Trail Pass
Photo: @mtb.mcb
The Squamish Off-Road Cycling Association (SORCA) is a mountain bike club with a focus on trail advocacy and building.
Visitors and frequent users alike are requested to contribute through a trail pass or membership; all funds go directly towards the maintenance and growth of Squamish's incredible mountain bike trail network. Trail passes and memberships can be purchased online as well as at Corsa Cycles. All Squamish riding tours include a donation to SORCA.