Explore Squamish - August 23, 2018
7 Kid-Friendly Hikes in Squamish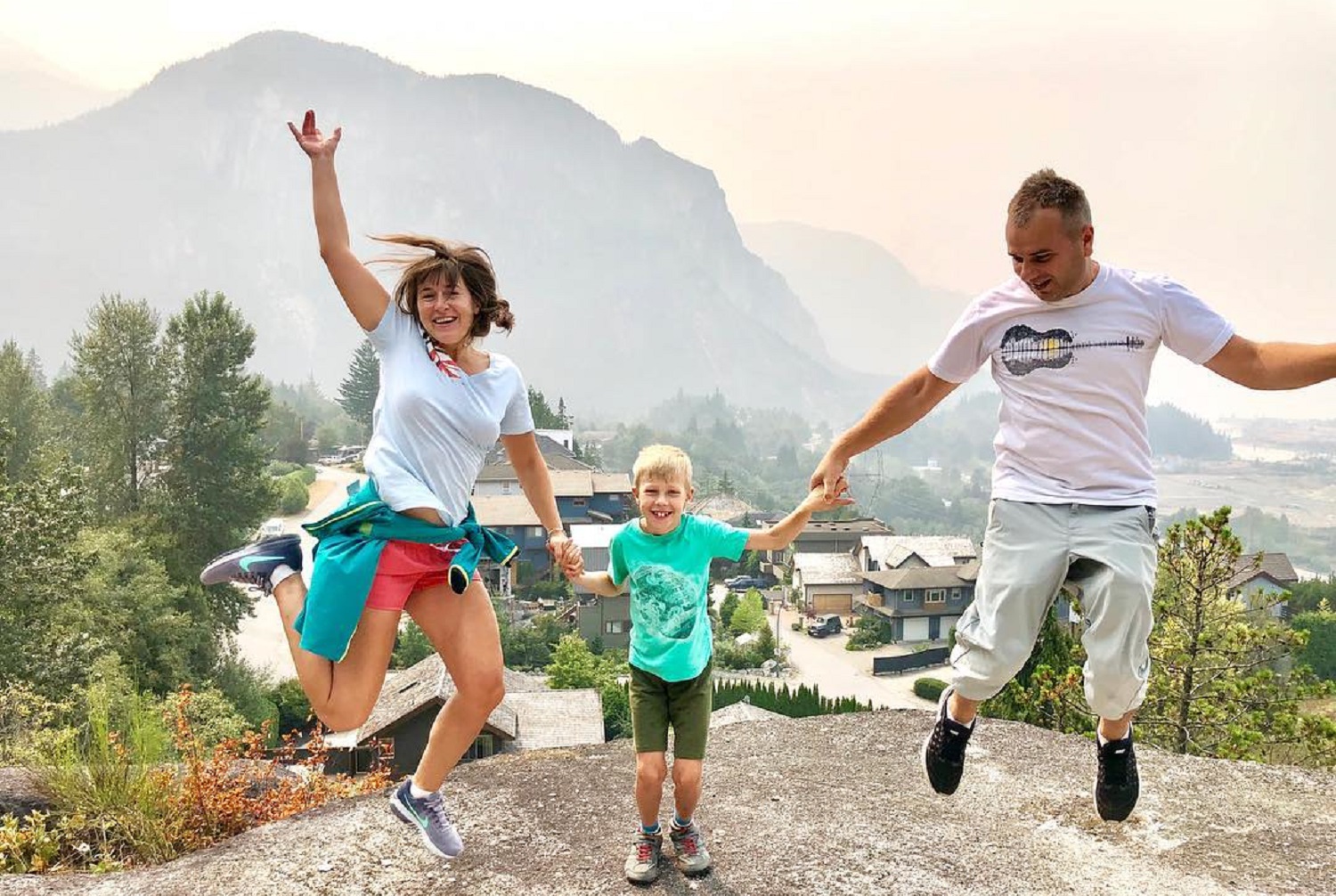 Photo: @valeri_miracleinme
7 Kid-Friendly Hikes in Squamish 
Roam through moss-covered forests hunting for butterflies, squirrels and other woodland critters. Squamish is home to plenty of shady trails suited to youngsters. Read on to discover our favourite kid-approved trails. 
Loaded with swaths of sand perfect for kids playing, the Oceanfront Trail is a 2km long loop that wanders through blackberry bushes and alcoves of trees alongside Howe Sound. Halfway along the trail, you will reach Newport Beach which features views towards Anvil Island and the Squamish Spit. If the wind is just right you can count the kite surfers playing on the water nearby. The highlight for most kids is playing on the massive chunks of driftwood lining the beach, they serve as comfortable seating areas for picnics and excellent props for imaginary pirate ships.
Local's tip: Stop by nearby Howe Sound Brewing after your walk for a well-deserved lunch on their sunny patio. 
Stroller-friendly: Yes
Length: 2 km
Duration: 1 hour
Kid's exploring the Alpine Alley Trail | Photo: Sea to Sky Gondola
Hike surrounded by sea to sky views and participate in a kid's scavenger hunt hiking experience atop the Sea to Sky Gondola. Free family tours are available at 1 pm Saturdays and Sundays, or pick up a scavenger hunt card from the trailhead and set out on your own. Once complete return your card to guest services for a special prize. This trail is a short out and back to the Garibaldi Viewpoint, from here you can turn around or connect with the Panorama Trail to make a loop back to the Gondola. Please note Alpine Alley is intended for people only, leave your pets at home. 
Stroller-friendly: Yes
Length: Less than 1 km
Duration: 30 minutes
Shannon Falls is the third highest waterfall in BC and is a spectacular sight to see. The hiking trail to its base is easy and accessible to people of all ages and abilities. From the parking lot, you will pass by a large picnic area and continue on the gravel trail beside Shannon Creek. In the summer kids can splash around the creek surrounded by some of the oldest forests in Squamish. Along the trail, there are two viewpoints to the falls about 200 metres apart. Both viewpoints are well worth the walk and make a fantastic setting for family photos! Parking can be found in the Shannon Falls parking lot adjacent to the Stawamus Chief just south of Squamish on Highway 99. On busy days additional parking can be found across the street in the Darrel Bay parking lot. 
Stroller-friendly: Yes
Length: 1 km
Duration: 5 minutes to 1 hour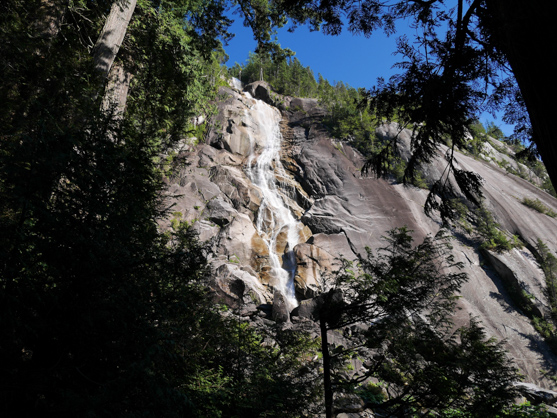 One of the best family-friendly hikes in Squamish, the Four Lakes Trail is located just north of town on Highway 99 in Alice Lake Provincial Park. This trail is a 2-3 hour loop that wanders through beautiful coastal forest to four distinct mountain lakes; Stump, Edith, Fawn and Alice. For those looking for a shorter hike, the loop around Alice Lake takes about 30 minutes and is suitable for all abilities. The park also features one of the best family campgrounds in the Sea to Sky Corridor as well as a playground and day-use picnic table seating. 
Stroller-friendly: Yes, jogging strollers only
Length: 6 km
Duration: 2-3 hours

Murrin Provincial Park is located just off Highway 99 about a ten-minute drive south of downtown Squamish. This park contains some of the best rock climbing in Squamish, and also a great hike and lake. Right at the entrance to the park is Browning Lake, there is a beautiful trail that meanders around it with picnic tables all along the west side. If your kids are a bit older and feeling adventurous, the Murrin Park Loop Trail offers a few lookouts over Howe Sound that are breathtaking.
Stroller-friendly: Lake Trail yes, Murrin Park Loop Trail no
Length: 2 km
Duration: 1-2 hours.  
Take a walk through one of Squamish's most popular rock climbing areas on a hiking trail that features views of the Stawamus Chief, Howe Sound and all of Squamish from above. There are plenty of picnic tables and benches to take breaks in the shade and to get an up-close look at rock climbers in action. About halfway down the trail is the Smoke Bluffs playground which is always a highlight for kids. The trail begins at the entrance to the park and is marked with signs.
Stroller-friendly: Yes, except for the final section which has stairs
Length: 2.3km
Duration: 1 - 1.5 hours
A short disclaimer, the Stawamus Chief is not an easy hike, but if you and your kids are active and willing to try something a little longer, it is one of the most popular hikes in British Columbia. Located next to the highway the Stawamus Chief is hard to miss. It's a 700-metre tall granite monolith overlooking the entire Squamish Valley. For climbers, the Stawamus Chief is Canada's version of El Capitan in Yosemite. But for hikers, it's as grand a prize. The hiking trail wanders up the back of the Stawamus Chief to each of the three peaks on the summit. Taking anywhere from 3 to 6 hours, the Stawamus Chief is a long hike, but if you pack a lunch, some determination and lots of water, the views on top will be remembered for a lifetime. 
Stroller-friendly: No
Length: 7 - 11km, depending on the route
Duration: 3 - 6 hours