How to Navigate Squamish Without a Car
Posted on: June 9, 2020
How to Navigate Squamish without a Car
Getting around in Squamish sans automobile is easier than most people think. And with the addition of the new South Parks bus route, many of Squamish's most noteworthy points of interest are more accessible than ever before.
Getting to Squamish

Photo: Squamish Connector
A daily shuttle that provides convenient, reliable and comfortable non-stop transportation to and from Squamish and Vancouver. Visitors can access the Squamish Connector from the Downtown Vancouver.
Pick up and drop off locations
Vancouver: Horseshoe Bay, West Vancouver, Downtown Vancouver (please call for exact locations and times)
Squamish: Sea to Sky Gondola, Squamish Adventure Centre and Britannia Beach
An airport shuttle service that will bring you directly from the Vancouver Airport to Squamish. This first-class coach line is equipped with wifi so you can take photos and Instagram photos of the beautiful Sea to Sky highway during your commute.
Pick up and drop off locations
Vancouver: YVR Airport & The Hyatt Hotel.
Squamish: Squamish Station Mall at 1170 Hunter Place
Squamish Public Transit
All of Squamish's hotels are within walking distance of one of the local bus routes. Popular points of interest along the 5 routes are outlined below. A full schedule of bus times can be viewed here.
Free bus service is available every weekend from June 16 to September 2.
Adventure Shuttles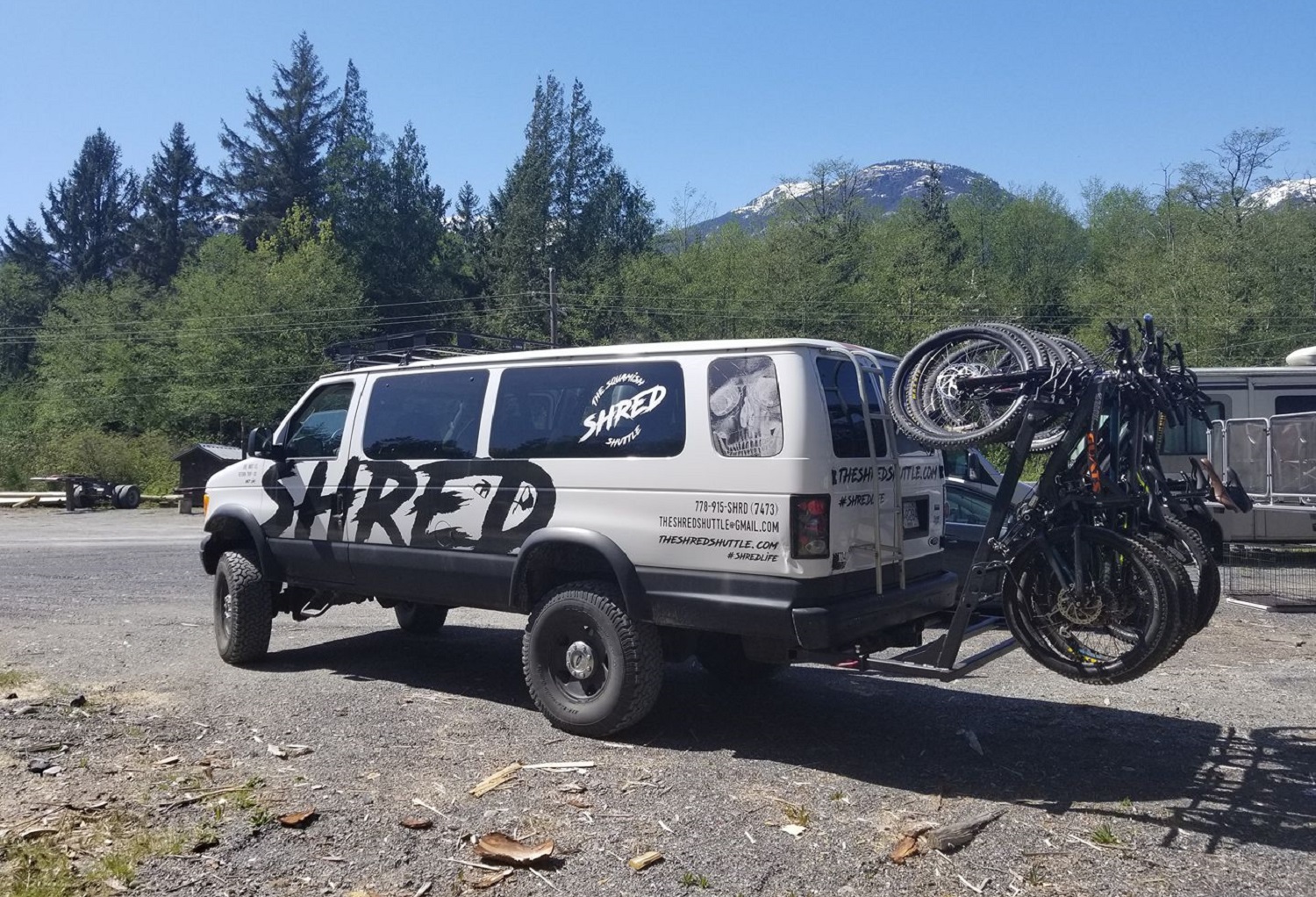 Photo: Squamish Shred Shuttle
For those seeking a slice of Squamish backcountry, there are several shuttles in town that can bring you to the doorstep of our backcountry trails.
Diamond Head Mountain Biking Area: Mountain bikers and hikers can take a shuttle to the Half Nelson parking lot or Meadow of the Grizzly above Quest University with the Squamish Shred Shuttle. From here you can ride Half Nelson or peddle or hike to Elfin Lakes.
Rubble Creek Parking Lot: Hikers can ride a shuttle from Squamish to the Rubble Creek parking lot in Garibaldi Provincial Park, from there you can hike to Garibaldi Lake, Black Tusk or Panorama Ridge. Shuttles available through the Squamish Shred Shuttle.
Whitewater Rafting: For those seeking the thrill of whitewater rafting, all tour providers include shuttle pickups within Squamish.
Other Transportation Services
Photo: Alpine North Limousine
Alpine North Limousine offers professional transportation and sightseeing tours in the Sea to Sky corridor in the cool comfort of a luxury SUV, limousine or van. Chauffeured by your own personal guide and concierge, travellers will benefit from extensive regional knowledge, insider tips and 24/7 service. Hourly and one-way rates are available.
Squamish Taxi offers competitive rates to transport you anywhere in the Sea to Sky corridor. Wheelchair accessible services are available. Call 604.567.1111 to schedule a pickup.