Explore Squamish - October 17, 2017
Halloween in Squamish is Brewing with Fun!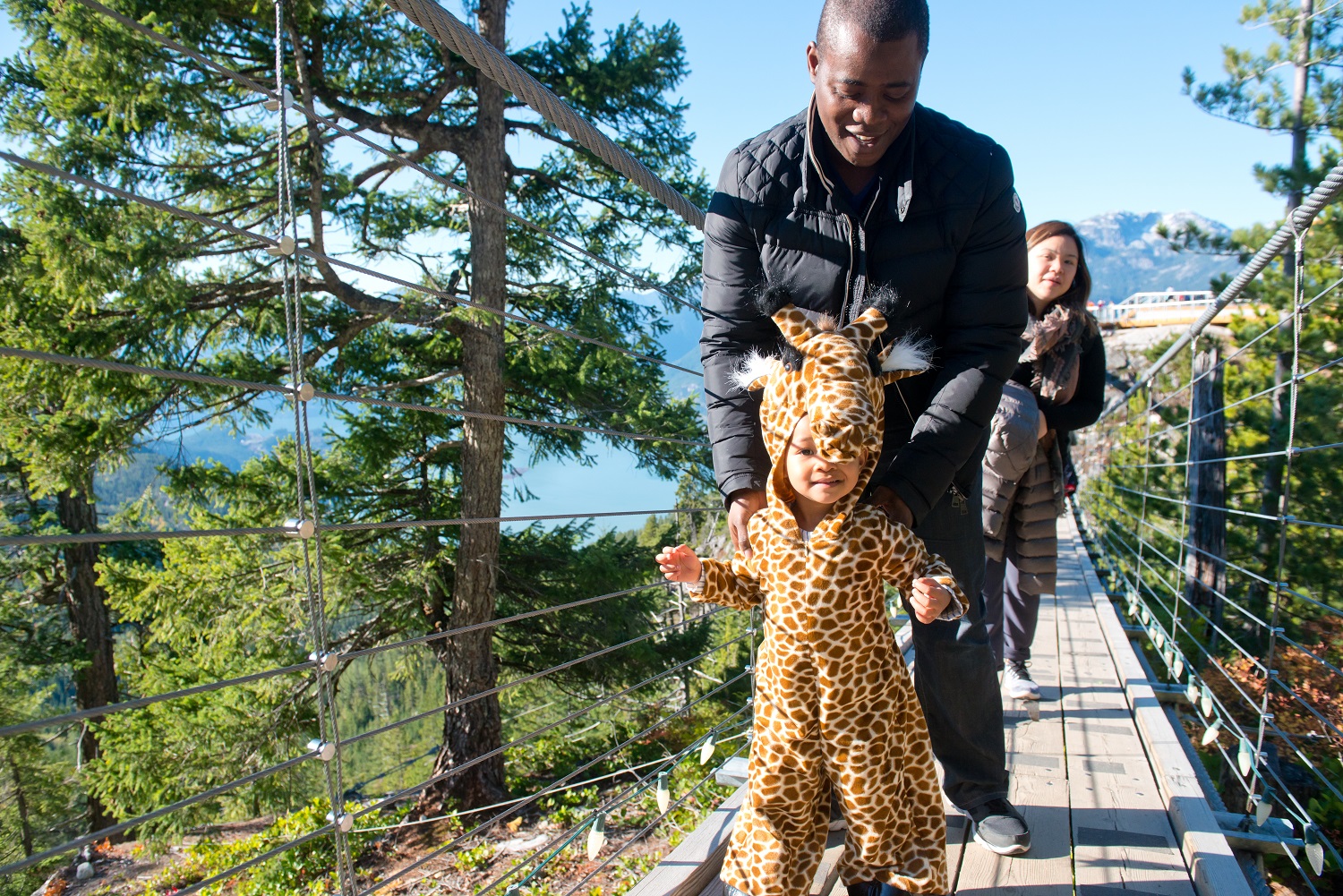 Photo: Haley Lorraine, Sea to Sky Gondola
Halloween in Squamish is Brewing with Fun!
It's the most spooktacular time of the year as Squamish prepares to get its Halloween on. Here are some of the highlights:
For the Little Ones
1. Trick or Treat at the Sea to Sky Gondola
Photo: Tara O'Grady, Sea to Sky Gondola
The Sea to Sky Gondola welcomes costume-clad trick-or-treaters of all ages for an afternoon of seasonal surprises, face-painting and Trick or Treating. Admission to the Halloween fun is free with a gondola ticket or valid Annual Pass. 
When: October 27 from 12 pm - 4 pm
Where: Sea to Sky Gondola
2. Spoo-ook-tacular Halloween Weekend at Britannia Mine Museum
Visit the Britannia Mine Museum for two weekends of Halloween fun. There will be bone-chilling underground train rides, creepy crawlies, a Witch's Illusion House and more spooky, seasonal fun for the whole family.
When: October 20 - 21 & 27 - 28 from 10 am -3 pm
Where: Britannia Mine Museum
3. Mystery of the Magic Pumpkin Patch
Photo: West Coast Railway Heritage Park
Head to the West Coast Railway Heritage Park for a day exploring the magic pumpkin patch; visit the haunted trains, search for your very own magic pumpkin and get messy at the indoor pumpkin carving station. Other treats include mini-rail rides, a food truck, craft stations and more. Admission is $10 per child, teachers and parents are free. 
When: October 27 - 30 from 11 am - 3 pm
Where: The West Coast Railway Heritage Park
4. Eat. Drink. Spook
Enjoy pumpkin carving and good eats at The Joinery. Kids meals and adult-only drinks are on special making this a night out for kids and adults alike. Call ahead to reserve your pumpkin. 
When: October 28 starting at 4 pm
Where: The Joinery
5. Halloween Pumpkin Carving at A-Frame Brewing 
All ages are welcome to this BYOP (bring your own pumpkin) party. A-Frame Brewing will take care of the tools, tunes, beers, treats and bins for the mess. Make sure you wear your Halloween costume there will be candy for kids & beer specials for adults in Halloween attire!
When: October 28 from 2:30 pm - 5 pm
Where: A-Frame Brewing
6. Tricks N Treats at a Haunted (Air)House
No Halloween is complete without a visit to a Haunted (Air)House. Stop by Airhouse Sports Academy for treats for tricks, haunted decor and costumes to die for. 
When: October 24 - 31 all day
Where: Airhouse Sports Academy
Adult Only Costume Partys
Photo: Sea to Sky Gondola
1. Halloween Party at the Howe Sound Brew Pub
Howe Sound Brewing is throwing an adult only Halloween bash, and it is the place to be. Live music by the Magic Spells starts at 10 pm, enjoy dancing, drink specials, prizes for best costume and more. While you're there be sure to taste the award-winning Pumpkineater Imperial Pumpkin Ale! No cover all night long.
When: October 27 at 9:30 pm
Where: Howe Sound Brewing
2. Halloween Costume Party at the BAG
Buy your ticket early for this spooky evening of Gypsy Jazz, Tango, Bossa and Bougie. Costumes are heartily encouraged, the more over-the-top, the better. Tickets are $20.
When: October 27 at 8 pm
Where: Brackendale Art Gallery
3. Halloween Trivia Party at Norman Rudy's
Dress up and visit Norman Rudy's on Halloween night for a special trivia night. Norman Rudy's has plenty of tricks up their sleeves so sharpen your wit and may the best group of ghouls and guys win. 
When: October 31 at 8 pm
Where: Norman Rudy's
4. AXED Amateur Horror Fest at Match Eatery
Watch local horror movies while munching on good eats and treats at Match Eatery and Public House. Prizes for the best costume are up for grabs, snacks will be provided and all proceeds go to a good cause. Tickets are $5 in advance or $10 at the door.
When: October 31 from 7 pm - 10 pm
Where: Match Eatery and Public House