Explore Squamish - March 25, 2023
Guide to Squamish Golf Courses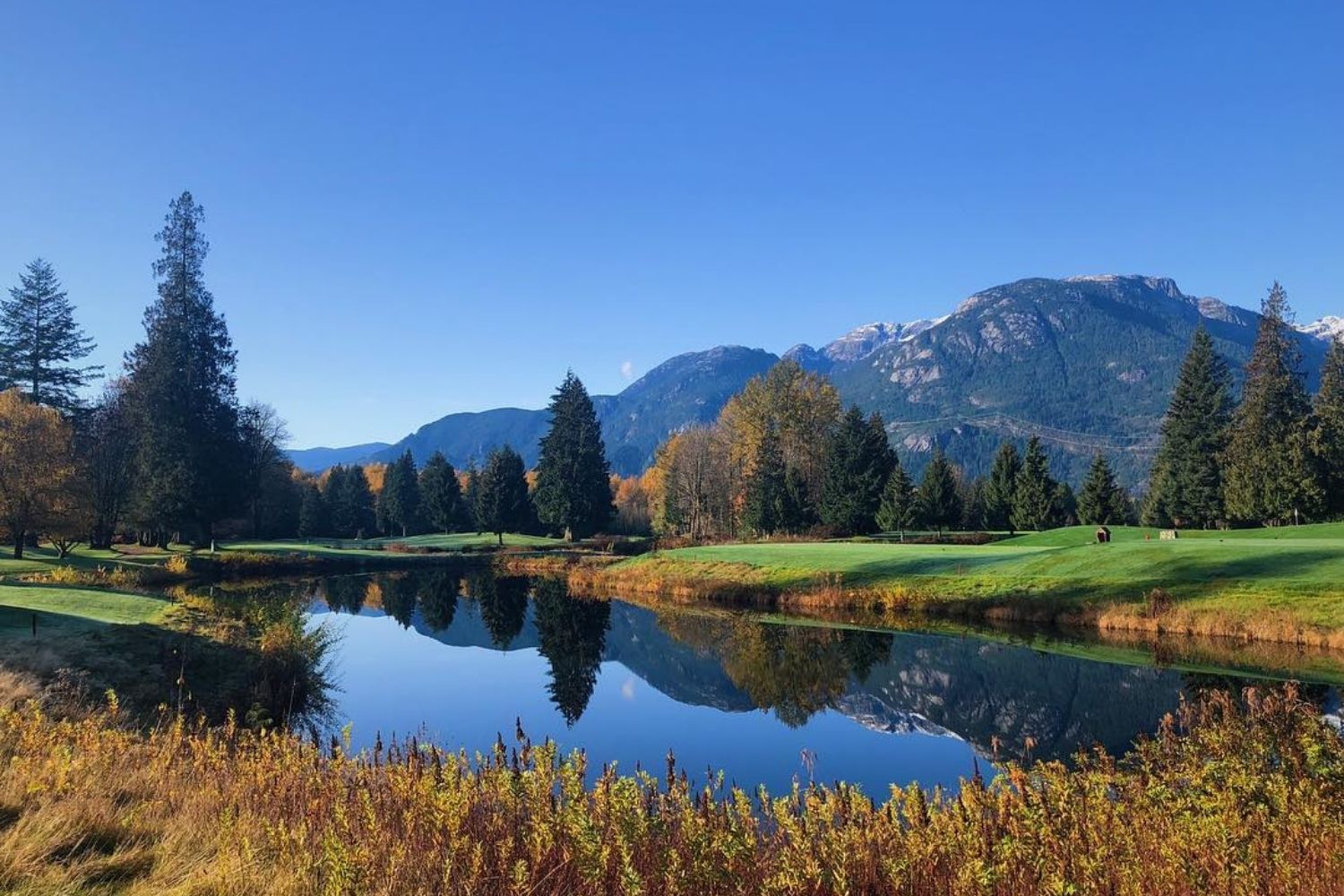 Photo: Squamish Valley Golf Course
Golf season has begun so time to dust off the ol' clubs and hit the links! Here's a breakdown for planning your next Squamish golf adventure.
Courses
Image: Furry Creek Golf Course
Located just 15 minutes south of downtown Squamish, Furry Creek is a stunning course that is known for having some of the most scenic fairways in British Columbia. Nestled in the Sea to Sky with a towering mountain on one side and sparkling Howe Sound on the other, this spot allows you to play the game in a unique ecosystem that features forced carries and layups across vast ravines, undulating greens, blind tee shots, uphill, downhill and sidehill lies.
Designed by renowned golf course architect Robert Muir Graves, Furry Creek is his sole Canadian venue. From their signature 14th hole located right on the shores of Howe Sound (you might recognize it from a famous scene in the movie Happy Gilmore) to the 7th hole placed over 300 feet above sea level, the course has twists and turns through rainforest and ravines with over 6000 yards of soul-testing golf adventure that you will never forget.
Image: Squamish Valley Golf Course
Found right in the heart of Squamish, Squamish Valley is a par 72 championship-length course. The beautifully manicured fairways wind through old-growth trees and along rumbling rivers, and the stunning mountain scenery provides the most wonderful backdrop for your day on the greens. Warm up for your game at the driving range and do a little shopping at their pro shop so you can hit the links with all the best gear.
If you want to catch a glimpse at just how beautiful this course is, check out their 'Fly Over Holes' feature on their website. From tip to tip, the course stretches out at 6463 yards and offers six sets of tees and yardages that will suit all levels of golfers.
Opening Days
Furry Creek Golf and Country Club officially opened on Saturday March 25th, 2023. Their onsite restaurant is also now open.
Squamish Valley Golf Course officially opened on Monday March 27th, 2023. The driving range, pro shop and clubhouse restaurant are also open for regular hours.
Please check their websites directly for news and updates.
Dining
Image: Squamish Valley Golf Course
The Sea to Sky Restaurant at Furry Creek is perched atop the 18th green, offering views like no other in the corridor. Dine on innovative west coast fare and hearty favourites, it's the perfect spot to après your epic golf session.
The Clubhouse at the Squamish Valley Golf Course is a long-time local 'hidden gem', the restaurant at the Clubhouuse features a scenic patio and casual menu with all your traditional favourites like burgers, clubhouse sandwiches, breakfast and more. On Friday's they are famous for their all you can eat Pasta Night, a great way to fuel up!
Other Offerings
Squamish Valley Golf Club provides private, semi-private and group lessons, pro coaching, junior golf camps, events and tournaments, and fittings. They also have a pro shop for clothing, clubs and accessories.
Furry Creek is available for groups, corporate events and weddings. Their pro shop carries the most current fashion from the world of golf.
Both of these Squamish golf courses are a fantastic experience, so if you're an avid golfer (or know someone who is) make sure a visit to Squamish is on your radar! And we haven't even mentioned the chance to see some of Squamish's endemic wildlife like eagles, black bears, elk and black tailed deer while you're playing the links. Whichever course you choose – we recommend playing both – you're sure to have a unique experience you will never forget.
Airhouse Golf Simulator
No time to visit a course or rough weather putting a damper on your golf plans? Airhouse Squamish has an indoor golf simulator that is just the ticket! Sign up for one, two or three-hour sessions or complete a golf analysis to improve your game.