Explore Squamish - July 15, 2022
Guide to Squamish Days Loggers Sports Festival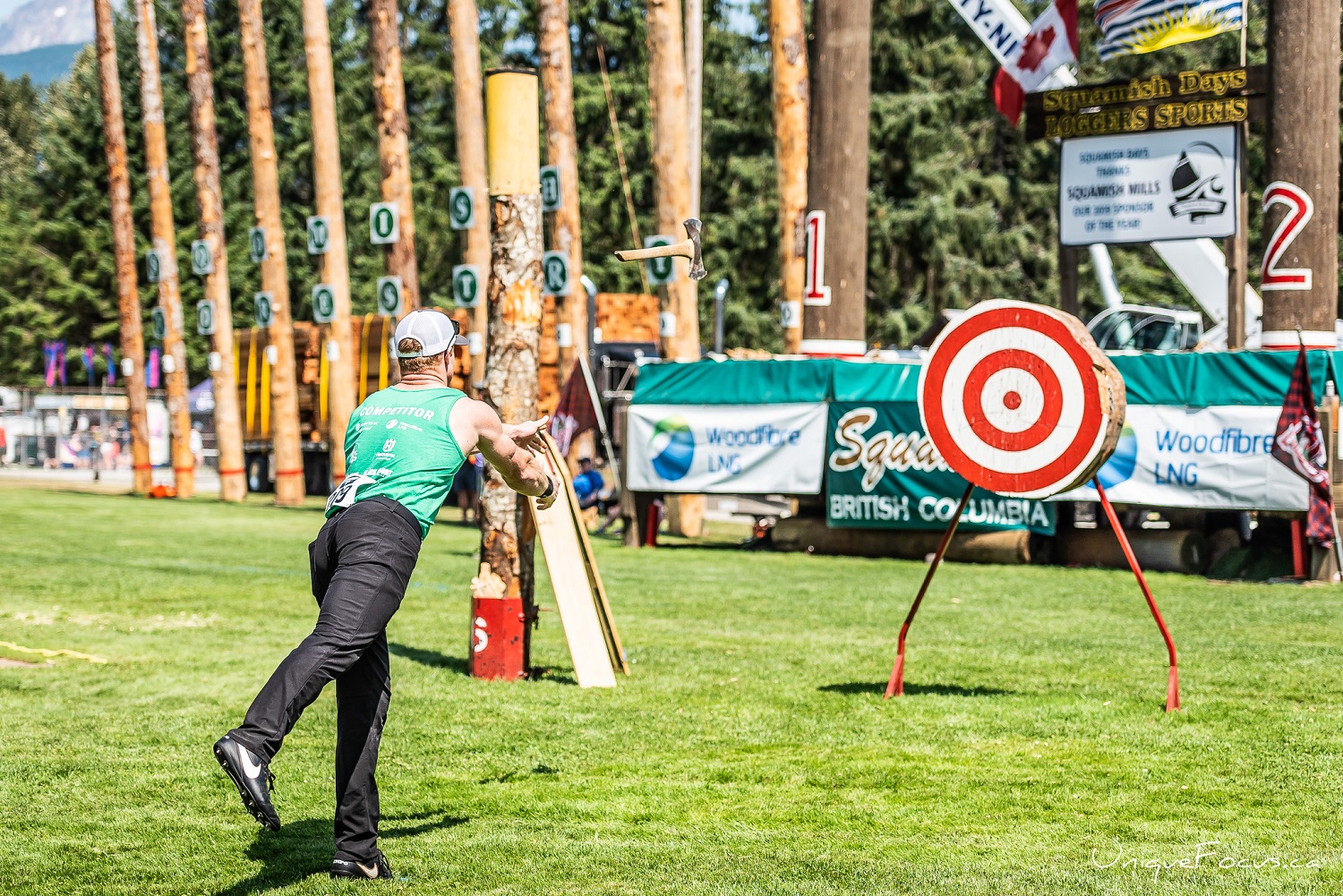 Photo: Buzz Henczel, Squamish Days Loggers Sports Show
It's an event that has been running for 65 years, a festival that brings the community of Squamish together and celebrates its rich logging history. It's the Squamish Days Loggers Festival, and it's back in full-force this summer, much to the excitement of its die-hard fans. If you've never been, be sure to read on, as this event is special and fun in oh-so-many ways.
The festival will kick off with the Kettle Boil Challenge, where teams of 2 race to build a fire and boil a can of water. The fastest team wins! Exciting, right? Follow it up with the Lumberjack Chilli Cook-Off Invitational – yum!
Day two starts with the World Championship Chair Carve, a chair carving contest unique to Squamish in which chairs of all shapes and sizes are created using chainsaws. After that, head to Downtown Squamish for the hilarious Squamish Days Bed Races, where costumed teams of five will run a 2-block course filled with obstacles and challenges with 1 team member on a bed with wheels! So wacky. 
Image: Squamish Days Loggers Sports Festival
Got kiddos? Then Saturday morning is for you! Starting at 9:30AM is the Kid's Festival, where you'll find circus performers, craft tables, story time, face painting, and all sorts of fun activities for the little ones. There's even a kid's axe throwing station if you're brave.
Starting at noon is when things heat up for the adults, with both the Novice & Intermediate Loggers Sports Show beginning. Featuring amazing competitors that will test their skills and move up the ranks to victory, the festival has plenty of big action to enjoy. You won't want to miss events like the 'Open Hot Saw', 'Choker Race' and many more. Join the crowd in cheering for logging competitors who come from all over the world to participate in what is regarded as one of the finest logging competitions on earth.
Image: Squamish Days Loggers Sports Festival
Worked up a thirst watching all the sawing action? Head over to the Beer Garden, featuring samples from local brewery Backcountry Brewing. You'll also find loads of other food and drink vendors to slate your thirst and hunger. Two words that will make almost any Squamish local drool- BEEF BUNS. The Rotary Club Beef BBQ is a fave and is the stuff that year-long cravings are made of. This year, you must pre-order your beef bun online - there will be no cash sales on site. 
ONLINE PRE-ORDER BEEF BUNS - ORDER HERE!
Lastly for Saturday, bragging rights are on the line at the Axe Throw Invitational. A fierce competition, you won't want to miss this.
The final day begins with the hearty Pancake Breakfast. Gather friends and family and enjoy pancakes, eggs, sausage and more with a proper loggers-style breakfast to fuel up for the day.
Always a family favourite is an event that is the epitome of community spirit: the Parade. With no entry fees – just exceptional enthusiasm required – local businesses strut their stuff and spread some spirit in downtown Squamish. The parade kicks off at 11AM for your viewing pleasure.
Image: Squamish Days Loggers Sports 
Following the parade, head back to the grounds for more Loggers Sports action like the World Championship of Tree Falling. It's a powerful sight you do not want to miss!
If you're still not convinced that Squamish Days is worth blocking off your calendar after reading all this, we have one thing left to say – JUST GO! It's more fun and exciting than we can possibly explain, and we guarantee it's a GREAT time. Trust us.
BUY TICKETS ONLINE FOR SATURDAY AND/OR SUNDAY COMPETITIONS
Local's tip:
On July 31st after you've had your fill of logging fun, head into Downtown Squamish and hit up the Squamish Street Market for live music, food trucks and even more fun to be had. It's a big day in Squamish so make the most of it!