Explore Squamish - July 01, 2018
Guide Me: Squamish's Most Popular Local Tours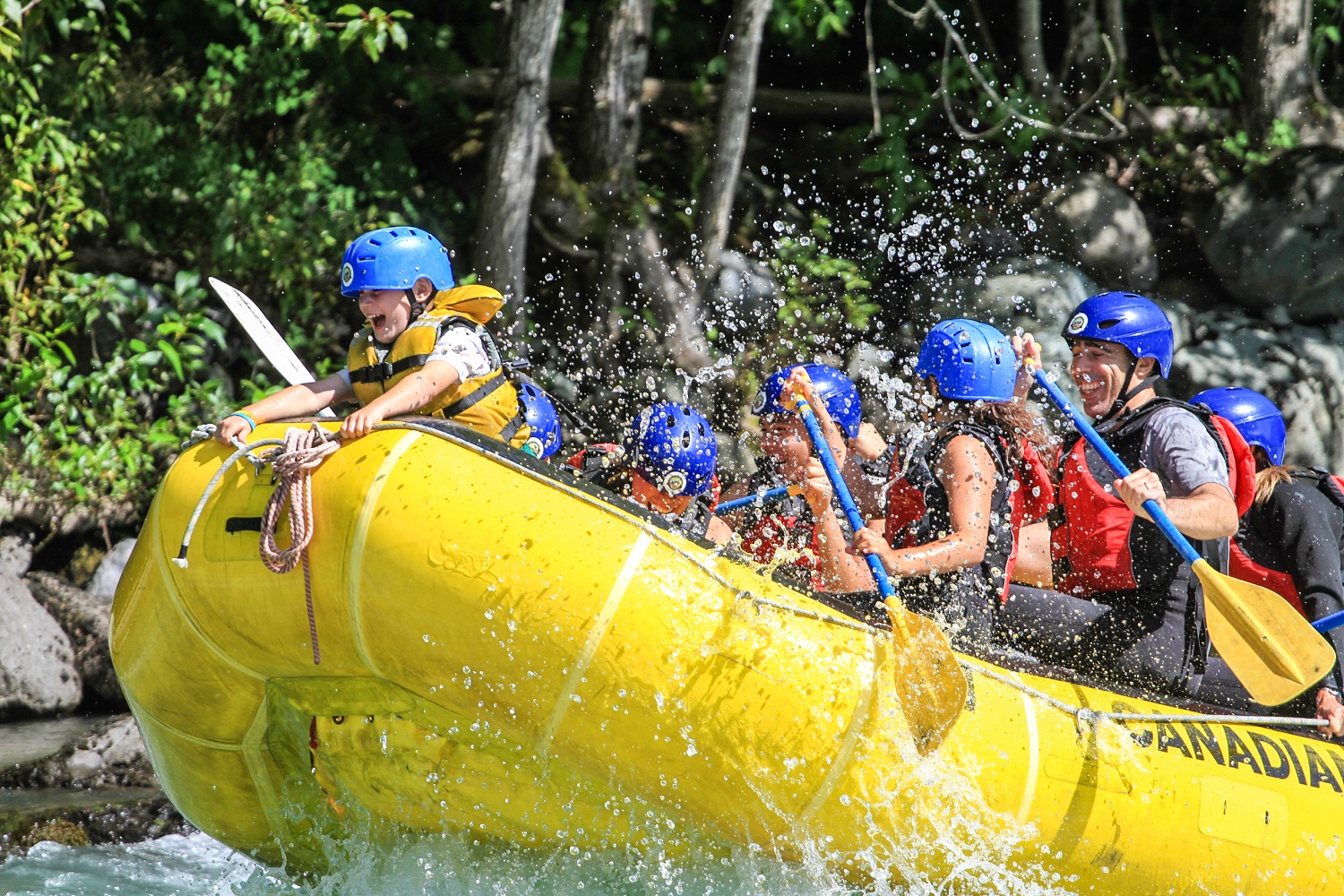 Photo: Canadian Outback Rafting
Guide Me: Squamish's Most Popular Local Tours
No time to plan? Whether you want to explore our trails, rivers or mountains, leave it to the pros to help you discover Squamish from an insider's perspective through one of these expert-led tours. 
1. Aboriginal Eco-Tours | Talking Trees Tours
Enrich your Squamish experience on a guided "Talking Trees" interpretive walk with one of the Skwxu7mesh (Squamish) Uxwumixw First Nations people.
When: Daily at 12pm and 2pm above the Sea to Sky Gondola
Company: Aboriginal and Eco Tours
2. Heli Adventure Tours
Elevate your backcountry experience without the grind of elevation gain. Reach the top of Sky Pilot with a heli-hiking excursion through Black Tusk Helicopters or be transported into the remote huts of the Tantalus Range for an afternoon picnic with Blackcomb Helicopters.
When: Available by request
Company: Black Tusk Helicopters and Blackcomb Helicopters 
3. Via Ferrata Tour
Ascend ladder-like rungs, cross exhilarating suspension bridges, and take in the scenic beauty of ocean fjords and snowy peaks all while safely attached to the rock with fixed cables. Located at the top of the Sea to Sky Gondola.
When: Available daily
Company: Mountain Skills Academy
4. Guided Rock Climbing
Climb with some of the world's most elite climbers. Let professionals show you the ropes while guiding you up some of Squamish's classic pitches. Available in full and half day formats. 
When: Available by request
Company: Canada West Mountain School, Mountain Skills Academy, Squamish Rock Guides and West Coast Wonders.
5. Stand Up Paddleboard Tour to Galileo Coffee Company
Travel on a memorable nine-kilometre paddle to Brittania Beach for a morning beverage at the Galileo Coffee Company. This guided interpretive tour gives you the opportunity to experience a marine ecosystem that is beginning to thrive after years of industrial pressure. Watch for sea lions, harbour seals, seabirds, otters and more. Your trip includes gear, a guide, shuttle and coffee.
When: Coffee Run Tours are available Saturdays by Norm Hann Expeditions and Morning Cruise and Coffee Tours are available daily by Sea to Sky Adventure Company
Companies: Norm Hann Expeditions and Sea to Sky Adventure Company
6. Guided Mountain Biking
Alpine Ride
Ride double and single track trails to Elfin Lake and back through Squamish's trail network in time for a relaxing evening. The tour includes a truck shuttle to 1000 metre vertical, local guiding and coaching, lunch and a jaw-dropping descent to the Squamish Valley on world-class single track.
When: Available late June to early September
Company: Ride BC
Sea to Sky Trail Tour
Bike from Whistler (90km) or Brandywine Falls (70km) to Squamish riding the Sea to Sky Trail. Follow your guide and explore the trail through a local's eye, the guides know all the best viewpoints! Transportation is included, and lunch and snacks can also be provided. 
When: Available daily
Company: Sea to Sky Adventure Company
Squamish Guided Ride
Leave the map at home and let industry certified Guides lead you on some of the best mountain bike trails that British Columbia has to offer. Your trip will be catered based on your ability and is available in a half or full day format.
When: Available daily
Company: RideHub
7. Whitewater Rafting
Experience the rush of the rapids by booking a guided whitewater rafting trip down one of Squamish's two main rivers. Family whitewater adventures are best spent on the calmer Class 1 and 2 rapids of the Cheakamus River whereas thrill-seekers will love the exhilarating twists and turns of the fast-flowing Elaho-Squamish River. Half and full-day tour options are available and come complete with all the gear and guidance you'll need.
When: Available daily
Companies: Canadian Outback Rafting, Squamish Rafting and Wedge Rafting
8. Fishing Tours
Fishing is meant to be relaxing, take all the worry out of your trip by letting experienced guides show you the best local spots and methods to make your day a success. On a half or full day trip you can enjoy still water trout fishing or river fly fishing for char, Pacific salmon or steelhead. And the skills you learn will come in handy for all fishing trips to come.
When: Available Daily
Companies: Trout Country Fishing Guides and Valley Fishing Guides
9. Echo Lake Hiking Tour
Take a boat across the Squamish River and follow in your guides footsteps ascending steeply beside numerous scenic waterfalls. Discover the coolest spots, each boasting some of the finest views in Squamish. 
When: Saturdays, Mondays, Wednesdays and Fridays at 8:00 am from July 1st - Aug 31st
Company: West Coast Wonders
10. Sailing 
Sail the seas of Howe Sound with this all hands on deck fully customizable sailing trip. Four-hour tours for groups of ten to twelve passengers per vessel are offered in afternoons and evenings. Depending on the occasion, choose between shared or private sailing, in either adrenaline or luxury formats. A la carte features such as dining, entertainment and water-access hiking are also available. 
When: By request
Company: Canadian Coastal
11. Flightseeing Tour 
Ever wonder where those "secret spots" are? You haven't really seen Squamish until you've seen it like this. Flightseeing tours reveal hidden lakes, peaks and ranges and breathtaking views of the Sea to Sky region from an entirely new and exciting perspective that you can only witness from above.
When: Available daily
Company: Glacier Air and Sea to Sky Air
12. 4-Hour Kiteboarding Crash Course 
Try the art of capturing the wind in this 4-hour introductory course that starts off on land and transitions to 3 hours of water time. Qualified instructors will be with you every step of the way to help you catch air and soar with the wind. 
When: Available daily
Company: Aerial Kiteboarding
13. Squamish Photo Tour
Let locals show you around and show you all the best spots to capture Squamish. On your tour, you will learn more than tips on photography. You need to know a place before you can really capture it, so each tour includes a glance at the local lore too!
When: 10 am Friday to Monday
Company: Squamish Photo Tours