Explore Squamish - May 30, 2020
Everything You Need to Know About Paddling in Squamish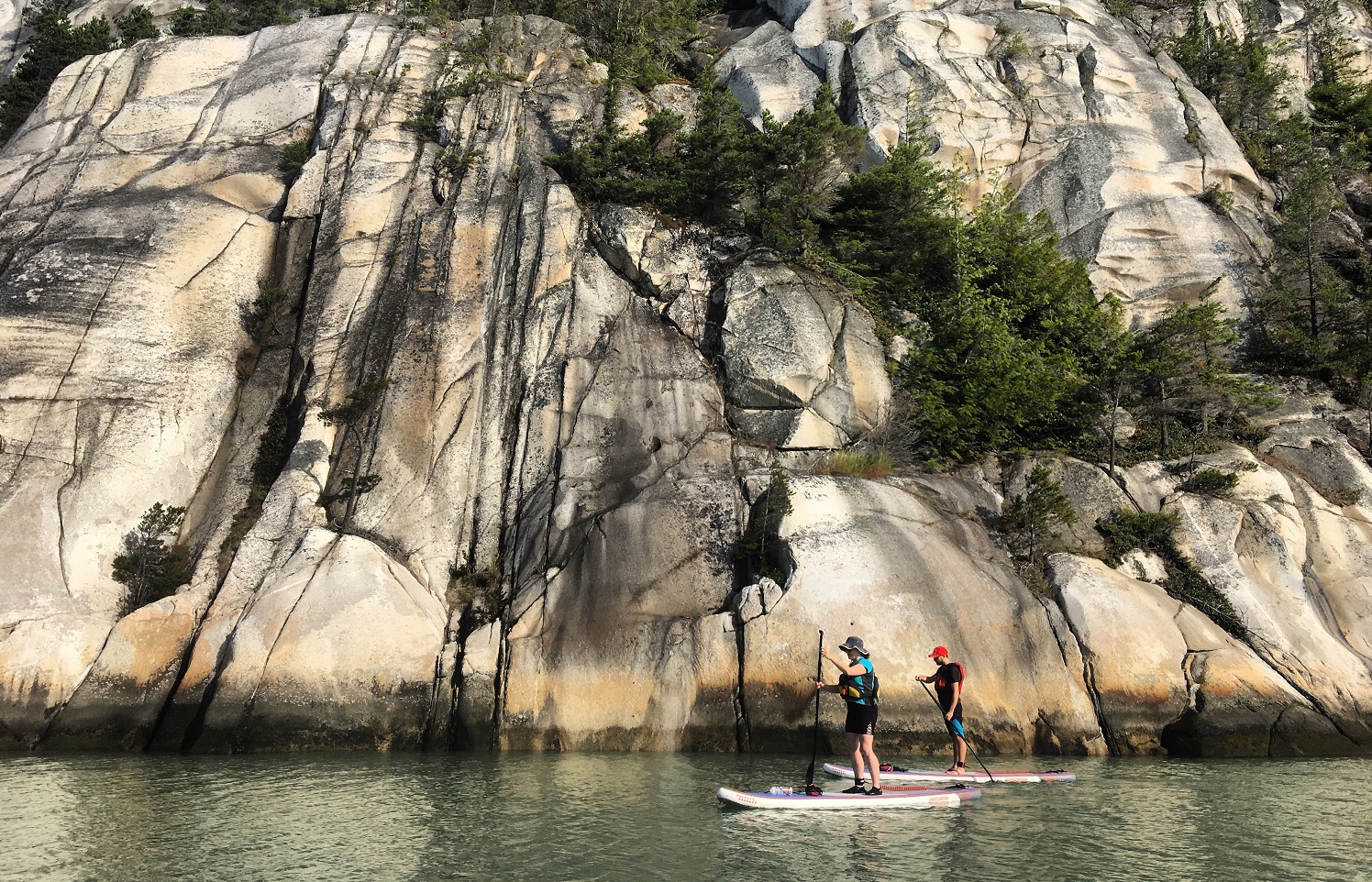 Photo: Norm Hann
Everything You Need to Know About Paddling in Squamish
Watersports are a great way to enjoy summer adventure, and paddling provides access to some exclusive water-front destinations. Boasting a well-rounded bucket-list of majestic rivers, glacier-fed lakes, a teal blue fjord, and a variety of mellow to intense whitewater, Squamish is a world-class paddling destination. To help get you started, we asked the local experts exactly what it takes to get moving on the water.
Getting Started
First things, first: Never leave shore without wearing your appropriately sized, Canadian approved PFD and other essential life-saving gear. 
Take a lesson: Norm from Norm Hann Expeditions advises all new paddlers that good instruction keeps you safe and sets a solid foundation as you progress into the more dynamic disciplines of the sport. A lesson may also be the difference between a good experience and a great one. 
Start out in a lake: Carmen from Sea to Sky Adventure Company recommends learning to paddle in a lake; the water is calmer, there are fewer obstacles and (depending on the time of year) it's often warmer if you take an unexpected plunge into the water.
Check the tides: Ocean paddlers should aim to return as the tide is coming in, letting the current do the work and carry you to shore. 
Bring snacks in a dry bag: Nina from Escape Route recommends bringing a dry bag (a waterproof bag) full of snacks and water. On a hot day, you can even attach your leash to a tree and suntan the day away savouring granola bars and good times on your board.
Find paddling partners: Tyson from Valhalla Pure encourages people new to the sport to contact the Squamish Paddling Club to find trip partners. Especially if you are paddling on the ocean, never paddle alone.
Go around dawn or dusk: The wind is calmest in the morning and the evening making paddling the perfect before or after-work activity.
Local Favourite Destinations
Brohm Lake - Nina's pick from Escape Route
An excellent spot for beginners, Brohm Lake has plenty of places to launch your kayak or SUP and offers calm waters to practice your skills. The lake is relatively warm making it a refreshing spot to soak yourself if you want to practice bailing, flipping or remounting. There are also several rope swings around giving you the option to moor your vessel and splash around in the water. 
Miner's Run (Porteau Cove to Britannia Beach) - Norm's pick from Norm Hann Expeditions
A downwind run from Porteau Cove to Britannia Beach. Norm recommends this appropriately named "miner's run" (ending near the Britannia Mine Museum) because despite being a relatively quick paddle it intersects with a variety of terrain making it a bucket list route that most people can achieve.
Squamish Estuary - Tyson's pick from Valhalla Pure Outfitters
The Squamish Estuary is a calm paddling area rampant with wildlife. Located where the river meets Howe Sound, the mixing of salt and fresh water creates salt marshes, mudflats, and tidal streams resulting in a flourishing array of biodiversity. Make sure to plan your trip for high tide to ensure there's adequate water to paddle around, please observe only and do not disturb the birds.
Howe Sound's Islands -  Carmen's pick from Sea to Sky Adventure Company
Driving beside the ocean is one thing, paddling Howe Sound's coastline is a completely different, otherworldly experience. Paddle alongside granite seacliffs, snow-capped mountains, and island-hop between lush coastal rainforest-covered islands. Tours are available by request and depart from Britannia Beach to Gambier and Anvil Island.
Where to Buy and Rent Gear
For paddlers looking to invest in gear, Squamish carries a full selection of paddling equipment making it an excellent place to shop. Both Escape Route and Valhalla Pure Outfitters stock a variety of high-quality inflatable and hard SUPs and paddles and Valhalla Pure Outfitters also carries kayaks and paddle wear. In addition to these brick and mortar options, SUP boards are also available online from local businesses Norm Hann Expeditions and Sea to Sky Adventure Company.
Rentals SUPs: Escape Route, Sea to Sky Adventure Company, Squamish Adventure Inn, Squamish Watersports and Valhalla Pure Rentals.
Rental kayaks and canoes: Sea to Sky Adventure Company, Squamish Adventure Inn, Squamish Watersports and Valhalla Pure Rentals.
Tours and Lessons
Paddle from the Squamish Estuary, underneath the towering cliffs of the Stawamus Chief and Shannon Falls, and travel on a memorable nine-kilometre paddle to Brittania Beach for a morning beverage at Britannia Mine Museum's Chatterbox Cafe.
Learn the basics of proper paddling and manoeuvring techniques in this fun introductory lesson. The course will cover a warm-up, water safety, proper standing techniques (for SUP users only) paddling techniques, turning and manoeuvring skills to combat small waves, and more!
An introduction to the incredible ocean playground here in Squamish and to the sport of standup paddleboarding. The tour covers the basics of ocean safety and teaches how to paddle and use your board effectively all while you enjoy the stunning beauty of the coastal fiord.
A downriver, point-to-point paddle starting in the lagoon-like waters of Brackendale and continuing down the Squamish River out around the Spit into the expansive Howe Sound before finishing up right downtown.