Explore Squamish - September 15, 2019
Tips to Make the Most of Eagle Season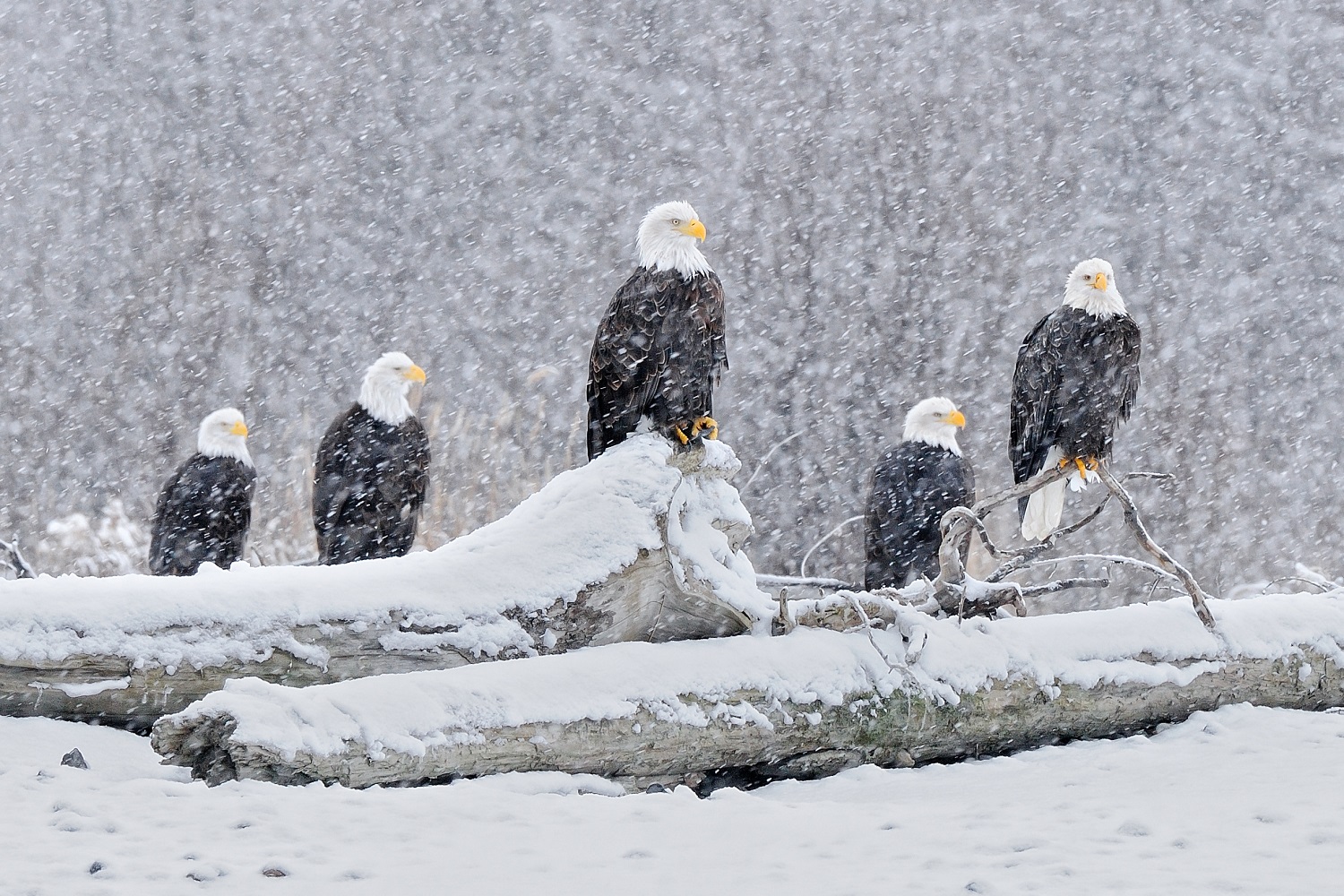 Photo: Matt Shetzer
Tips to Make the Most of Eagle Season
On January 9, 1994, a world record of 3,769 bald eagles were counted at the annual Brackendale Winter Eagle Count. Since then an average of 1,300 eagles are counted in Squamish year-after-year. Learn how you can make the most of eagle season in Squamish with these great tips. 
1. Know When to Look
Early morning: when eagles are searching for food after a long, cold night.
Mid-afternoon: (Between 2:30 and 3:30) when eagles leave their feeding areas for their roosting spots to settle in for the night.
2. Know Where to Look
Check the trees: Eagles spend most of their time roosting in tall trees. 
Visit Eagle Run Dyke: A great location for cell phone and camera photography, offering views across the river to Brackendale Eagles Provincial Park (no public access). 
Inside Information: After the world record-eagle count, Thor Froslev of the Brackendale Art Gallery and friend Len Goldsmith conceived the idea of establishing an eagle reserve in Brackendale. In October 1996, the 755 hectare Brackendale Eagle Reserve, now a Provincial Park, was approved as a protected area. 
3. Be an Ethical Eagle Observer
Ethical eagle viewing ensures the Squamish eagles come back year-after-year. Follow these viewing practices to keep eagle populations alive and well. 
Keep your distance: Do not approach an eagle you see feeding on the shore. An eagle who is forced to leave its food may not return to it, and it needs to conserve energy to survive the winter.
Do not use drones: Use binoculars or telephoto lenses to get a closer look. 
Stay on the dykes: Please do not walk on the gravel bars or private land.
Keep dogs on a leash: Do not let dogs chase wildlife.
4. Book a Guided Tour
There are plenty of ways to view the Squamish eagles, and a guided tour is the best way to maximize your sightings and explore some of Squamish's most exclusive eagle viewing locations. This season there are four different tour formats available. Choose from eagle viewing via horseback, raft, or on foot.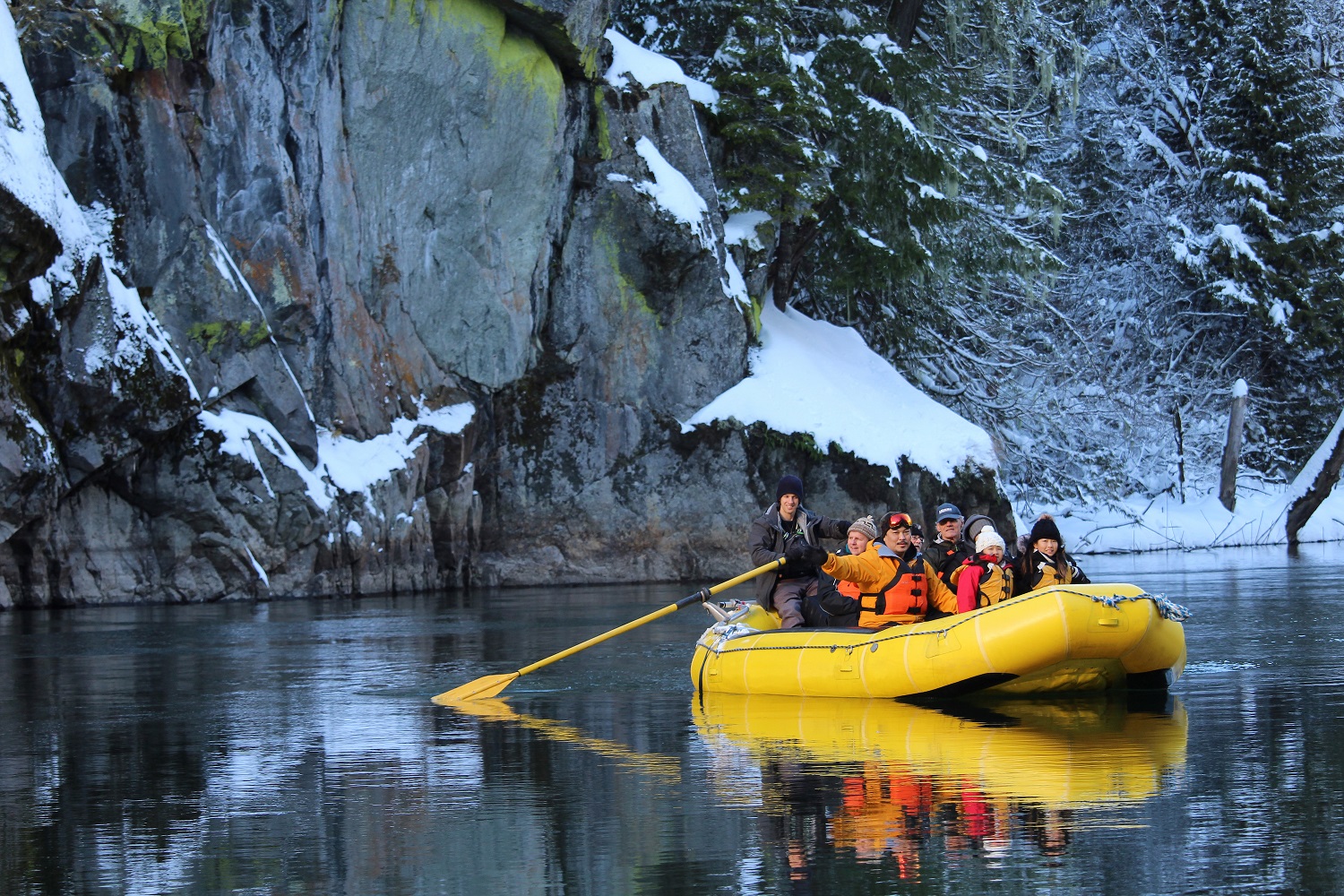 Photo: Squamish Rafting
Eagle floats are an absolute must-do during eagle season. Local rivers are calm throughout the winter so you can sit at ease, camera in hand as your guide rows downriver. Keep your eyes wide for Squamish views like the Stawamus Chief and Mount Garibaldi seen from an entirely new perspective. Along the way, learn the local lore and plenty of information about the eagle's population. At the end of the tour enjoy a warm hearty meal. 
Operators: Canadian Outback Rafting and Squamish Rafting Company. 
View the Squamish eagles from the saddle of a horse as you enjoy a riverside trail ride in one of Squamish's densest eagle habitation areas. The 1-hour ride includes plenty of breaks where you can learn about eagles and snap some photos to remember your day. 
Operator: Cheekye Ranch
Let a local guide show you around one of Squamish's most exclusive viewing locations on a walking tour to spot bald eagles in their natural habitat. Your riverside walk features incredible views of the Cheakamus River, Tantalus Mountain Range and finishes off with a warm drink by the fire. 
Operator: Mountain Skills Academy & Adventures