Explore Squamish - June 15, 2020
Everything You Need to Know to Conquer Rope Runner Aerial Adventure Park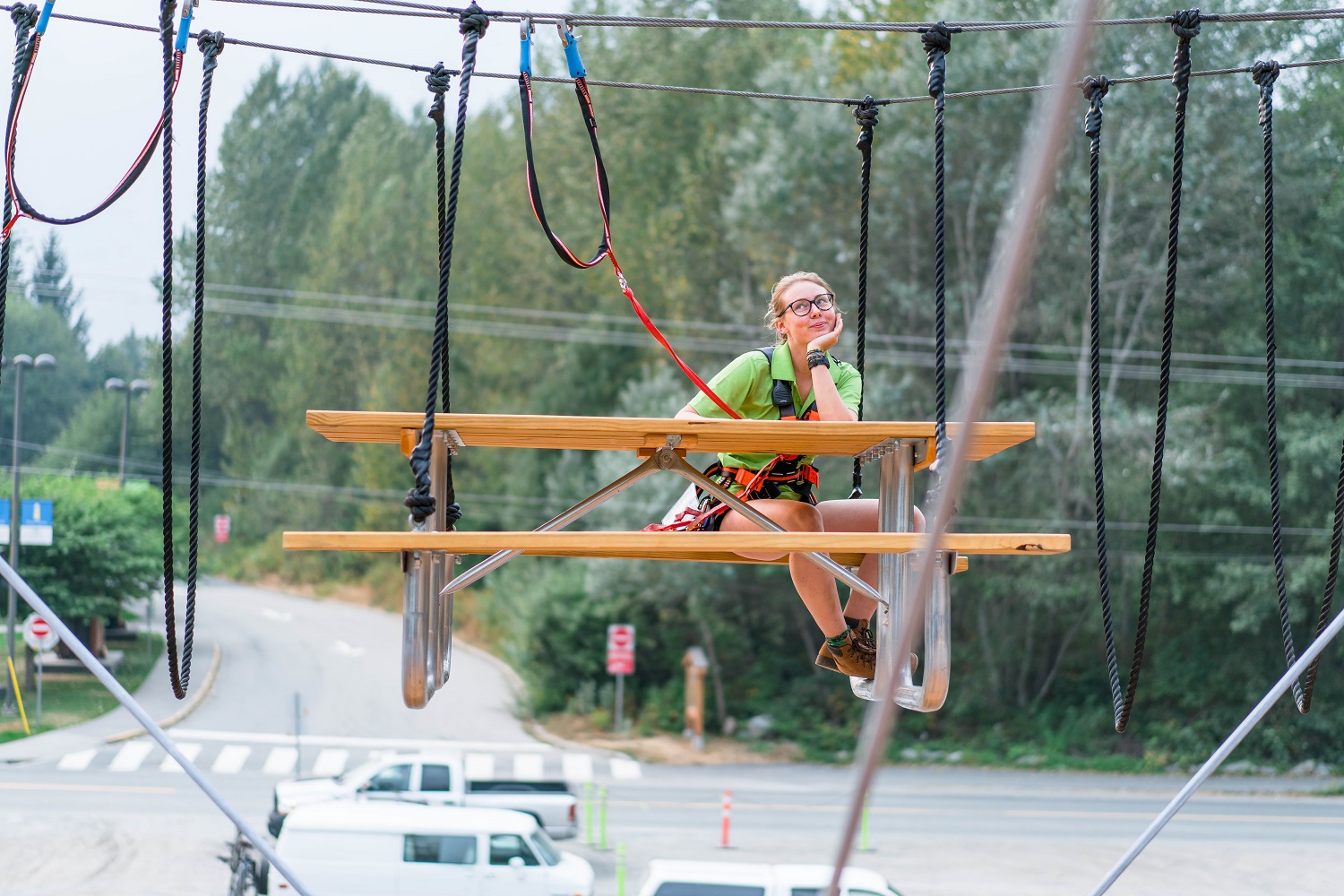 Photo: Rope Runner Aerial Adventure Park
Everything You Need to Know to Conquer Rope Runner Aerial Adventure Park
If you have visited Squamish in recent years, you may have noticed the 17-metre high structure located across the street from the Squamish Adventure Centre. Custom built for Squamish the attraction includes a mountain bike, climbing wall, snowmobile, three pairs of powder skis and so much more. Set against the backdrop of the Stawamus Chief it looks right at home in this adventure town. 
 
What is Rope Runner Aerial Adventure Park?
Photo: Rope Runner Aerial Park
Rope Runner Aerial Adventure Park is a high ropes course with 50 elements to play on. From the moment you enter the park two pieces of protection tether you to the course. After a quick safety briefing progress at your own pace and push your limits on whichever obstacles you choose. Thrill-seekers are encouraged to make for high ground and try out the park's most challenging elements. If you want to limber up your body and put your mind at ease start on level one and gradually progress through the three levels; green, blue and black. 
 
Tips for New Rope Runners
Photo: Rope Runner Aerial Park
 
Come ready to play: Each session includes two hours of rope time, arrive thirsty for adventure.
Start on greens and work your way up: Obstacles in the park are more difficult than they appear. Start small and work your way up.
Track your progress with a repeat visit: Adventure racecourses such as Ninja Warrior inspired many of the elements in the park. Keep track of your progress and come back for a refill on the fun to test your skills the second time around! 
Psych yourself up to conquer your fears: If you think you cannot complete an obstacle think again! All season long Rope Runner has seen people beam with joy after getting through a tough element. If you need a little extra encouragement ask one of the staff for some tips.
There is something for everyone: Whether you are a novice adventure junkie or an elite athlete, you will find something to challenge yourself. Ask a staff member for suggestions to suit your abilities. 
Staff Favourite Elements
Photo: Rope Runner Aerial Park
 
1) Floating Boards: Black - Emily's pick from Rope Runner 
Pictured above, the floating boards element is a test of arm strength and balance. Shuffle your hands along the edge of a wood board and watch your feet dangling 17 metres above the ground. Halfway across, transition from one board to the next while keeping steady. Be warned the boards have a habit of wobbling!
2) Zipline: Dark Blue - Staff-favourite
Zip across the park gripping tightly to BMX handlebars. Look down if you dare. 
3) Running Boards: Blue - JP's pick from Rope Runner
Inspired by the Ninja Warriors adventure course, you will feel like a ninja on this coordination intensive challenge. Two downwards slanted parallel boards act as a bridge to move you along the perimeter of the course. Take care not to misstep between the running boards; it's a long way down. JP recommends running across for maximum thrill.
4) The Ski Chair: Blue - Staff-favourite 
Walk along pairs of wobbly skis as you make your way to a retired chairlift. Climb aboard and relax in the seat soaking in the unique view of the Stawamus Chief or continue along more skis to reach the other side. 
5) The Picnic Table: Green - Fan-favourite 
A popular place to gather with friends in the middle of your rope running session. Make your way across the obstacle course by way of bridges and other elements to meet your friends at the floating picnic table. From here watch away as your fellow rope runners try new obstacles.
 

Photo: Rope Runner Aerial Park
 
Important Safety Information
Be at least 7 years old and the minimum height 124cm (49 inches) and accompanied by a paying adult
Be at least 10 years old and the minimum height 139cm (55 inches) to be by yourself in the park
Be no heavier than 120.2Kg (265Lbs)
Wear closed-toe shoes
Empty your pockets of everything including phones
Tie loose hair back