Coffee and Confections – Squamish Belly Warmers
Posted on: October 14, 2021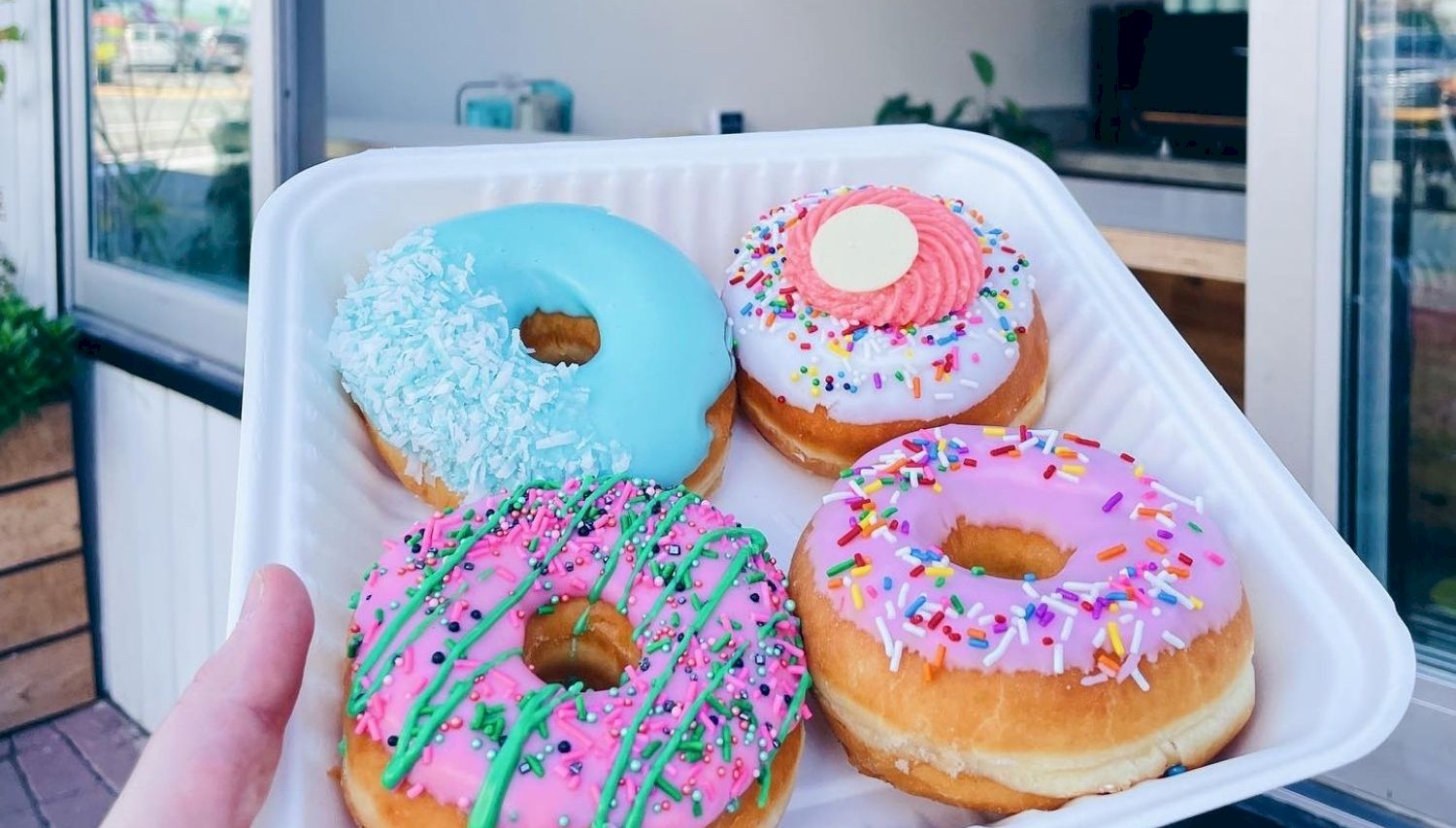 When the temperature drops outside, we start craving things to warm up our insides. And have you noticed that it just seems easier to indulge this time of year? Maybe it's because bikini season is the furthest away it'll ever be, or perhaps it's because we need something to get ourselves through the short, dark, rainy days. No matter the case, Squamish has got you covered when it comes to coffee and confections that soothe the soul.
Do'h! Nuts…. Is there anything they can't do?
Squamish is hot on the donut (doughnut?) scene. We're not just talking about your highway pitstop delicacies either. Muffins, take the back seat because it's time to buckle up for donuts.
'Homer' donuts at Sunflower Bakery & Café
Sunflower Bakery & Café toys with your nostalgic emotions AND your taste buds with their famed 'Homer' donut. Check them out for an ever-changing menu of flavours – Blueberry Cheesecake, Cookies and Cream, Lemon, Pistachio... the list of daily possibilities goes on. Be sure to visit them around any holiday – St. Patrick's Day to Halloween, Father's Day to Valentine's Day – no special day, theme or occasion is safe. You can also grab cakes, pies, sandwiches and most any baked good you can think of. Serving up Parallel 49 coffee for your caffeine fix, which is sustainably sourced craft coffee with exceptional flavour. Or refresh yourself with local drinks like Squamish Water Kefir and Spark Kombucha.
Easter confections at Fox & Oak
Over at Fox & Oak, they pride themselves on producing high-quality naturally leavened brioche doughnuts, handcrafted daily from scratch with love. Using sustainably harvested seasonal toppings, this donut menu features brioche, gluten-friendly, vegan and cake varieties. Try not to fritter the day away as you decide between traditional flavours like chocolate or apple fritter and their awesome selection of daily flavours. Get dunking with a fresh coffee as you explore coffee craft culture from their rotating roster of roasters. Try saying that ten times fast!
Baked goodies at Caffé Garibaldi
If you swing by the Adventure Centre grab a cuppa joe and do a little shopping at the Squamish Store, then sit in the spacious café and enjoy the views. Caffe Garibaldi serves up vegan treats, yummy muffins, and delicious artisan pastries alongside their divine coffee concoctions.
If you're heading north then a visit to Cloudburst Café should be on the agenda. Enjoy the cozy atmosphere as you sip a comforting beverage. Plenty of raw, vegan and vegetarian options here as well as decadent treats to satisfy your sweet tooth.
At the other end of town, you can visit the Chatterbox Café in Britannia Beach. Located at the Britannia Mine Museum, they are serving up hot coffee and goodies beside images of grinning celebrities that have visited the establishment over the years. Is there anything better noshing on a cookie while David Duchovny, Daniel Radcliffe and other celebs flash a charming smile at you? We think not. It doesn't get much sweeter than that.