Squamish Bike Guide: Alice Lake & Garibaldi Highlands Zone
Posted on: August 20, 2020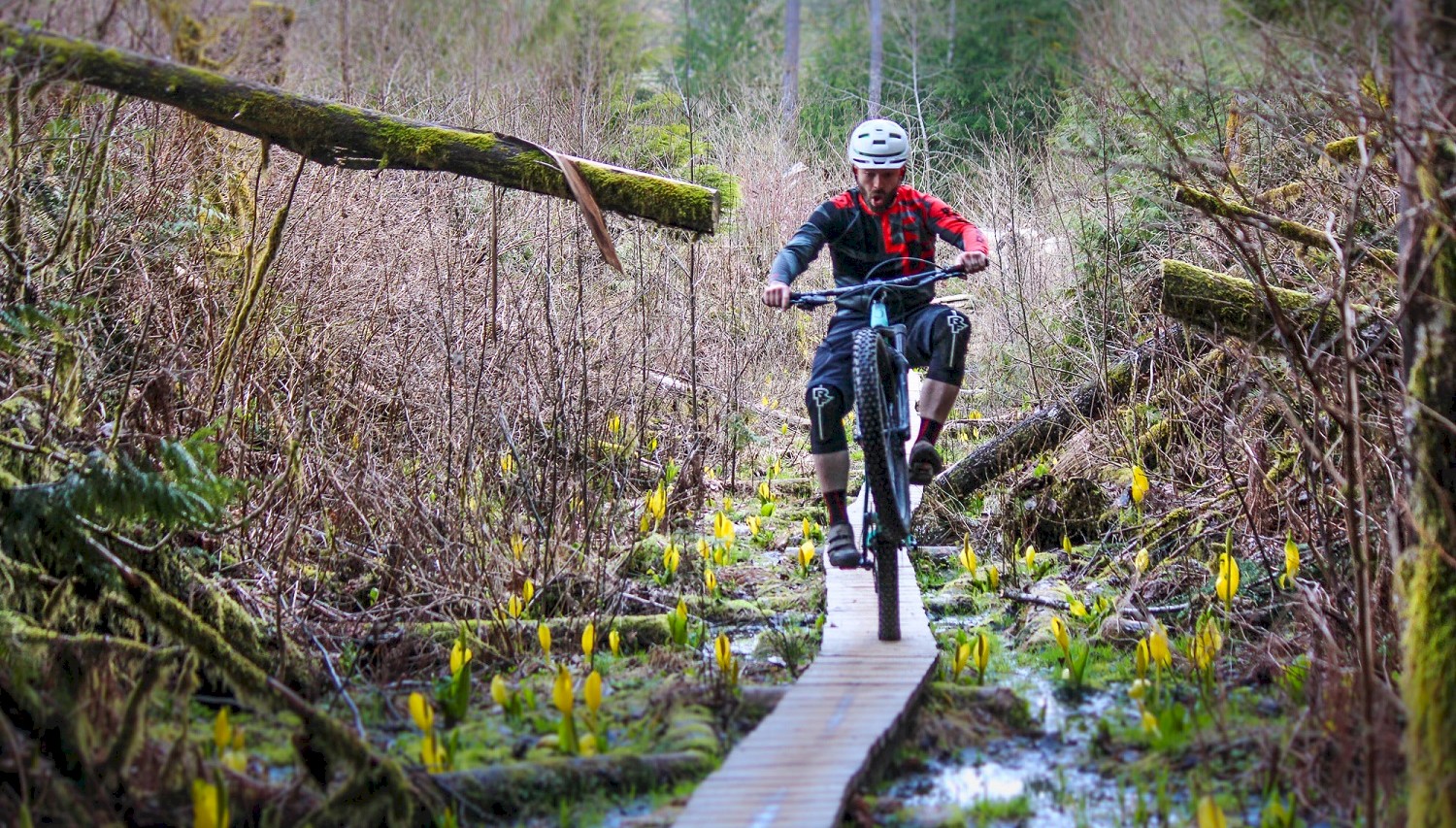 Revered for our singletrack, Squamish hits the mark for exceptional mountain bike trails. Full of loamy descents, plenty of berms, aggressive kickers, granite slabs, and so much more, our forests were fabricated with mountain bikers in mind. With four distinct areas to ride; Valleycliffe, Diamond Head, Alice Lake & Garibaldi Highlands and Brackendale & Cat Lake there are hundreds of trails to explore.
Alice Lake and Garibaldi Highlands Zone
This zone is located between Alice Lake Provincial Park and the Garibaldi Highlands subdivision. There are loads of trails ranging from beginner to expert. The majority of trails are hand built and combine technical cross-country riding with some flow sections. There are three main arteries to access the trails here: Jack's Trail, Mashiter Trail and 50 Shades of Green (off Jacks).
Parking
Parking is available at Alice Lake Provincial Park or Garibaldi Highlands Elementary School (not during school hours). Please respect the local residents and neighbourhoods and park in designated areas.
Riding through the trails | Photo: @jeanspencer
Signature Trails & Routes
Must Do Beginner Trails
Rob's Corners
Enter via Mashiter Trail and don't be afraid to carry your speed, the mellow grade and frequent berms will keep you from squeezing your breaks on what is sure to be a favourite descent of the day.
Cliff's Corners
Link with Rob's Corners or enter via Mashiter Trail and prepare for a machine built cruise down an exciting string of berms. Along the way lookout at the Sky Pilot Range and enjoy the Squamish sunshine. This trail dries fast and is rarely in poor condition to ride.
Recommeded Beginner Route
Jack's Trail – 50 Shades of Green – Bob McIntosh Memorial– Dead End Loop – Rock 'n Roll – Rob's Corners – Cliff's Corners – Mashiter trail
Recommeded Beginner / Intermediate Route
Mashiter Trail– Man Boobs – Edith Lake Access – Mike's Loop – Of Mice and Men – Leave of Absence – Mashiter Trail – Rollercoaster - Lumberjacks
Must Do Intermediate Trails
Tracks from Hell
A relatively flat, multi-directional trail that runs between Edith Lake and Mashiter Trail. Be prepared for rooty sections and a skinny boardwalk over swampy terrain. The trail earns it's intermediate rank on the boardwalk, it's not overly difficult, but you certainly do not want to fall into the water below!
Rollercoaster
Start with a taste of Squamish's best singletrack before a quick climb that spits you out onto a machine built, bumpy masterpiece. A true Squamish must ride.
Guide Felix, Annie and Chris of RideHub on RollerCoaster | Photo: RideHub
Man Boobs
A flowy slice of heaven between Bob McIntosh Memorial and Mashiter Trail. The singletrack winds downhill through the trees seldom passing over roots or rocks. A machine-built feeling on a hand made trail.
Leave of Absence
A singletrack cross country trail slicing through Squamish's lush green forests. The route passes over granite slabs, spicy wooden features and plenty of rollers. A fun ride to do with friends.
Recommended Intermediate Route
Mashiter Trail – Tracks from Hell – Mike's loop – 50 Shades of Green Part 2 – Of Mice and Men – Leave of Absence – Mashiter – Rollercoaster – Lumberjacks
Recommended Intermediate / Advanced Route
Mashiter Trail – Tracks from Hell – Mike's loop – 50 Shades of Green Part 2 – Of Mice and Men – Rupert – Mashiter trail – Rollercoaster
Must Do Advanced Trails
Rupert
A cheeky trail with ride-around options marked by plastic chickens. Plenty of wood and granite features make for a beautiful ride graded as a "soft black." Perfect for intermediate riders looking to test their skills.
Entrails
A trail that includes all the guts of Squamish riding; granite slabs, tight trees, technical cross country, braided root lines, and so much more. The entire trail is photo-friendly and makes for a pleasant place to ride laps.
Credit Line
One of the most popular trails in the Alice Lake area with a mix of downhill and technical climbing. The trail includes some rock rollers and off-camber lines and finishes on flowy, gradual terrain. It also includes a spectacular viewpoint at the halfway point–a must see!
Enjoying the viewpoint on Credit Line | Photo: @lauren.gregg
Recommended Advanced Routes
1. Jacks Trail – Debeck's Grind – Rigs in Zen – Crouching Squirrel Hidden Monkey
2. Mashiter trail – Tracks from Hell – Mike Loop – Credit Line – Jack's Trail – 50 Shades of Green – Mikes Loop – Entrails – Boney Elbows – Dirks Diggler
Find more trail resources on Trailforks.ca, Trailmapps.com and Ridespots.com.
Nearby Apres
Crabapple Cafe
Located a few minutes drive away from both Jack's Trail and the parking lot at Alice Lake Provincial Park, the Crabapple Cafe is the destination from early morning riders. Open daily from breakfast to lunch the farm to table menu is full of revitalizing fresh eats to get you back on the trails.

Pepe's Chophouse + Seafood
Sit, sip and socialize just a few minutes from Jack's where you can enjoy a sophisticated post-ride meal featuring steaks, seafood and craft cocktails. Open for dinner daily with extended brunch and lunch hours Friday and Saturday. Closed Sundays.

Voted one of BC's best mobile eateries by British Columbia Magazine, The Locavore Bar + Grill is a Squamish favourite serving up fresh foods with all the fixings. Their menu also includes plenty of tasty vegetarian options. Permanently located at the Squamish Town Hub, you can bike to this fab lunch spot from Jack's in under 15 minutes.

Norman Rudy's
Located just a few minutes bike ride away from Jack's Trail, you can park your bike next to your table on the sunny patio and choose from a selection of west coast cuisine paired with delicious Squamish-made craft beverages. Groms will enjoy the crowd-pleasing kid's menu, and the avocado fries are a hit for all ages.
Post ride tacos at Norman Rudy's | Photo: Norman Rudy's
Earn Some Trail Karma
Countless hours of sweat, muscle and machinery go into maintaining the incredible network of single-track and multi-use trails in Squamish to ensure your rides are always too much fun! Give back to the trails by becoming a Squamish Off-Road Cycling Association (SORCA) Trail Supporter or a SORCA Member.
Downloads