Explore Squamish - March 10, 2023
Welcoming Back the Spring Bespoke Market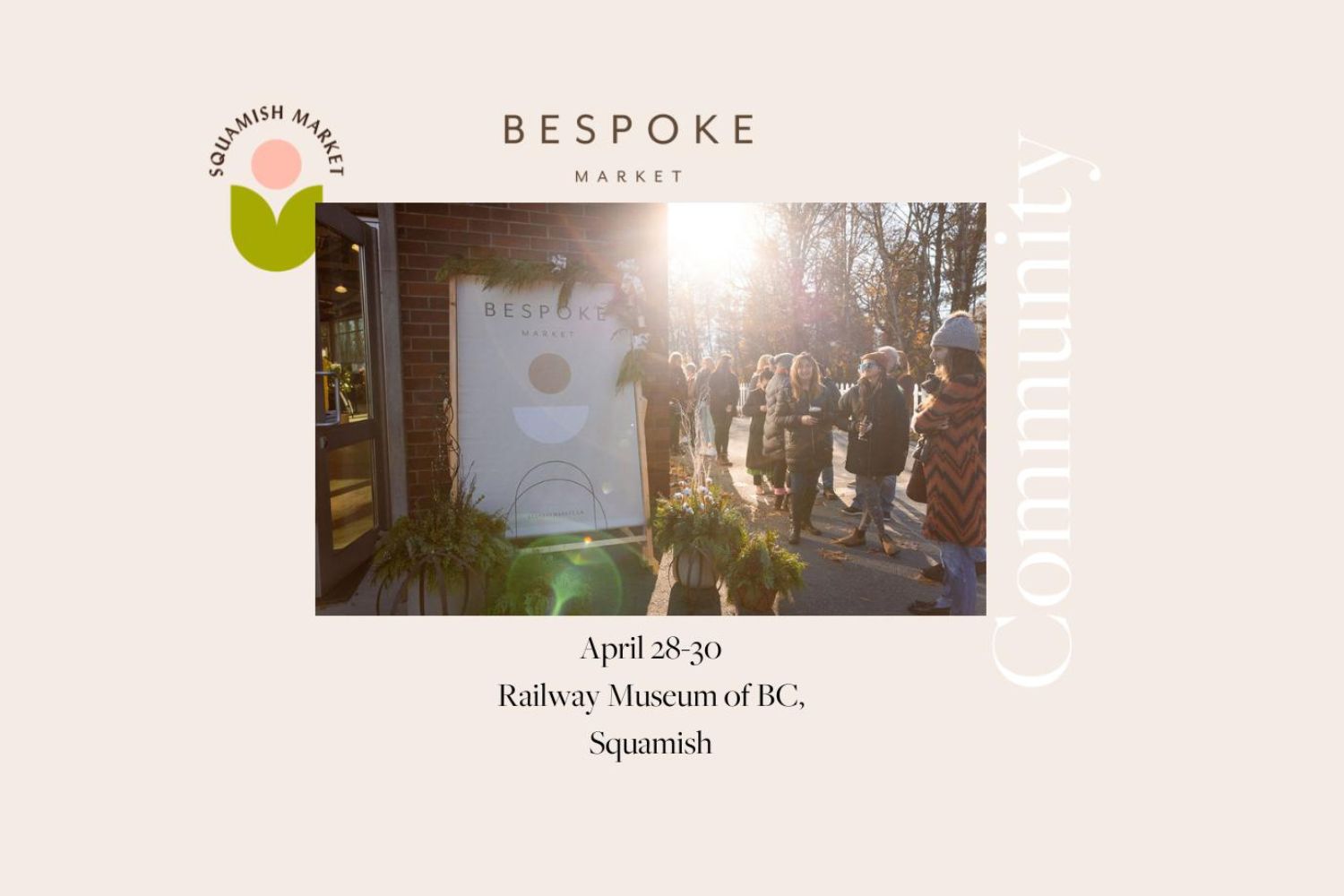 Spring Shopping Vibes at Bespoke Market
Squamish's much-loved Bespoke Market is returning this April 28th through the 30th for three days of shopping a wonderfully curated selection of unique handmade goods. Here you'll find vendor tables filled with amazing items such as ceramics, art, slow fashion, one-of-a-kind jewelry, vintage, and artisan foods and beverages.
This market attracts mindful shoppers who share the commitment to consume locally and support the economy. A vision from longtime Squamish event producer Shannon Lorenz, she hopes Bespoke Market will bring a fresh creative energy and deepened community vibe to Squamish and beyond.
Image: Bepsoke Market / Tara O'Grady Photography
Here's what you should know if you're planning to attend the Bespoke Fall Market - and we highly recommend that you do, this market is the perfect opportunity to knock many (if not all) the people off your holiday shopping list!
The Details:
You'll find Bespoke Market in Squamish at the Railway Museum of British Columbia starting on Friday April 28th through Sunday April 30th, 2023.  Check their website for first looks, information and weekend passes. Tickets are $5 at the door (cash only) or you can purchase discounted weekend passes online in advance (ticket link coming soon). Children under 12 are free.
The Friday market kicks off at 4PM for early entry VIP shopping until 5pm, then opens to the public at 5PM until 9PM. Saturday and Sunday market days are open 10AM-4PM. The vendor lineup remains the same on all days, but if you want your pick of the goods, your best bet is to get there early.
There will be over 75 creative businesses represented, many of whom are based in the Sea to Sky. Support our local creators by shopping the market for artists from Squamish, Whistler, and Pemberton. You'll also find talented creators from all over British Columbia present for a refreshing look at their unique products.
LIST OF VENDORS COMING SOON!
There will be food trucks will be set up during the event featuring plenty of delicious eats and treats. PLUS, there may even be yummy samples inside the market from participating artisan food vendors. 
The team from Bespoke Market is also planning some fun activities, making it a fun-filled day for you and everyone in your family.
To make the most of the market, we recommend wearing a comfortable outfit and coming prepared: bring reusable shopping bags, some cash and your payment cards of choice. Vendors will accept payment by credit or debit cards but there is ATM is also available on site if needed.
Image: Bespoke Market / Tara O'Grady Photography
What else you should know:
Be sure to follow Bespoke Market on social media, as the Market Host invites you behind the scenes of her market building process and shares her journey.
The Railway Museum is an accessible venue and there are parking spots available close to the venue if needed - please ask parking attendants if you have any special requests related to accessibility. The aisles are between 7-8 feet wide.
Vendors will accept payment by credit or debit cards.
ATM on site if needed.
Visit bespokemarket.ca for full event details.