Explore Squamish - April 03, 2022
Your Guide to the Bespoke Market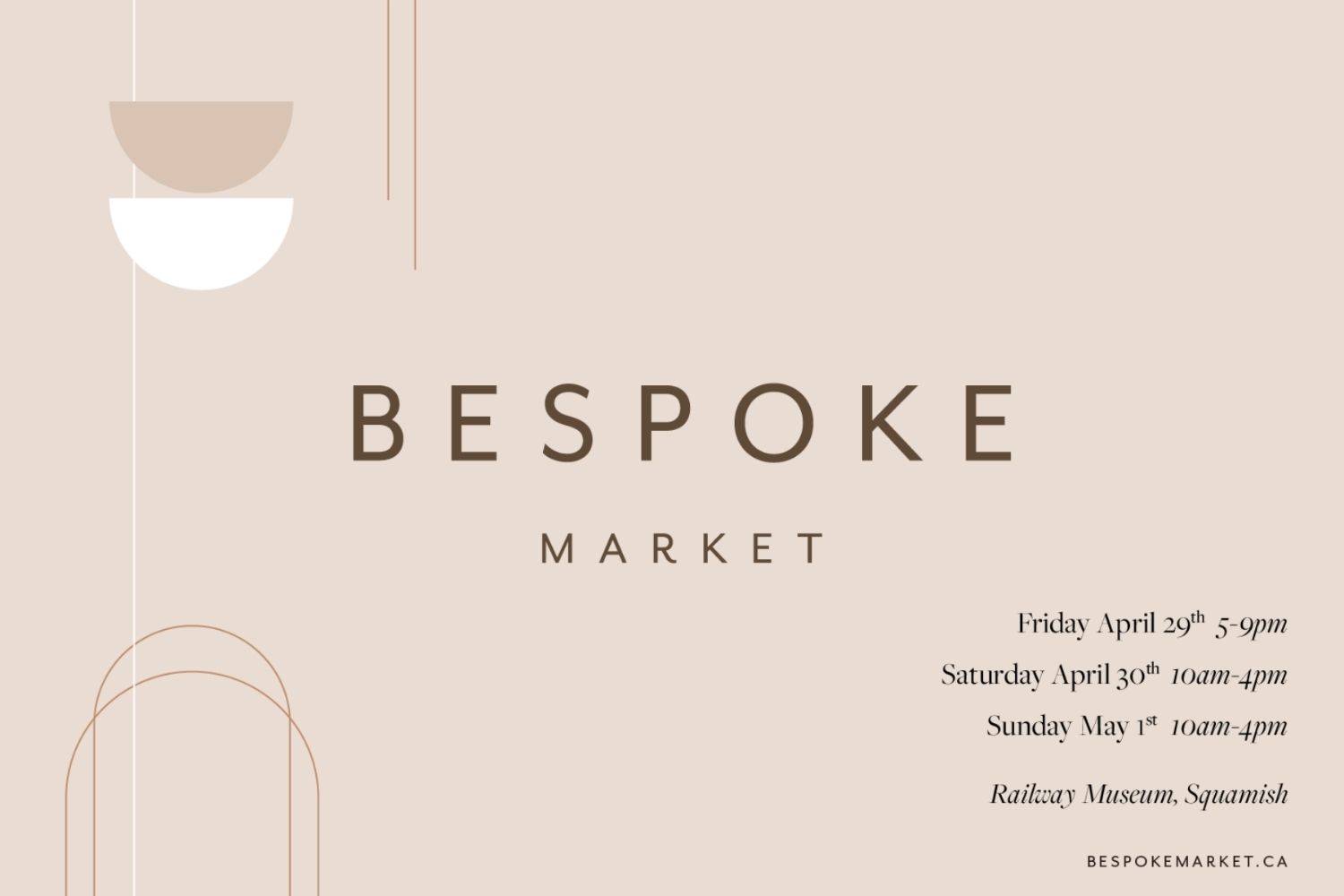 Your Guide to the Bespoke Market
Coming up from April 30th through to May 1st, BC's newest market, Bespoke Market, will make its debut. This three day market attracts mindful shoppers who share the commitment to consume locally and support the economy.
A vision from longtime Squamish event producer Shannon Lorenz, she hopes Bespoke Market will bring a fresh creative energy and deepened community vibe to Squamish and beyond.
Here's what you should know if you're planning to attend the Bespoke Spring Market: 
What you'll find: 
A huge selection of unique handmade goods and traditional items such as ceramics, clothing, vintage, jewelry, paper products and artisan food and beverages. There will be over 70 creative businesses represented, many of whom are based in the Sea to Sky.
What you'll taste: 
In addition to sampling the items from participating artisan food vendors ranging from vegan pudding to artisanal salts and baked goods, food trucks will be set up during the event featuring plenty of delicious eats and treats.
What to bring: 
Comfortable shoes, a reusable shopping back and some cash. Most vendors will accept payment by credit card. An ATM is also available on site.
When to go: 
Market hours are Friday, April 29th from 4PM to 9PM,  Saturday, April 30th and Sunday May 1st from 10AM to 4PM. The vendor lineup remains the same on all days, but if you want your pick of the goods, your best bet is to get there early.
Where to go:
You'll find Bespoke Market in Squamish at the Railway Museum of British Columbia.
How to get tickets:
EARLY BIRD All Weekend Pass *includes admission all weekend from Friday through Sunday - $12.00
EARLY BIRD - Saturday + Sunday *includes admission for Saturday and Sunday - $7.00
Cash at door will be available for single day tickets for $5.00
What else:
Be sure to follow Bespoke Market on social media, as the Market Host invites you behind the scenes of her market building process and shares her journey.
There is currently no mandate for mask requirements. Everyone's choices will be respected. Masks will be onsite for you if you choose to wear one.
Currently there are no mandates for proof of vaccination for entry or to be a vendor at the event
Event capacity will be monitored at all times by the onsite event team
Hand sanitizing stations will be onsite and extra measures are in place for the high contact areas
Please respect social distancing
Visit bespokemarket.ca for full event details.
Other upcoming markets:
Summer Pop-Up: Harmony Arts Festival in West Vancouver: August 2, 3 & 4th, 2022
Winter Market: Railway Museum of BC in Squamish: Nov 11, 12 & 13th, 2022
Holiday Pop-Up: Audain Art Museum in Whistler: Dec 2 and 3rd, 2022