Explore Squamish - October 12, 2021
A Spooky Squamish Halloween
It's that spooky time of year again, what will you be doing to induce chills, thrills and load up your candy stash this Halloween?
First off, you'll want to visit the Squamish Farmers' Market on Saturday, October 16th to snag your pumpkin. Proceeds of the pumpkin sales will go directly to Squamish Search and Rescue this year. Remember, it's important to bring your pumpkins inside at night - let's prevent bears from doing their own trick-or-treating by ensuring pumpkins are out of paw's reach.
Over at the Britannia Mine Museum they've planned a bunch of activities to petrify adults and kids alike on October 23/24th and October 30/31st. Join them for an underground adventure of riddles and clues, check out the Witches' Lair and Wall of Wonders in the Bone Yard with skeletons of creatures both real and mythical! Make sure you don't miss the Spooky Skeleton Science Show or photo booth. The Terra Lab is now the Terror Lab - enter at your own risk and try your hand at assembling a real Orca skeleton. Pre-Booking highly recommended as this event sells out.
Halloween returns to the summit of the Sea to Sky Gondola on Sunday, October 24th from noon to 3PM. Costume clad trick-or-treaters of all ages are welcome for seasonal surprises along the Alpine Alley Trail at the summit of the Sea to Sky Gondola. Dress the part and give them your best Halloween scare!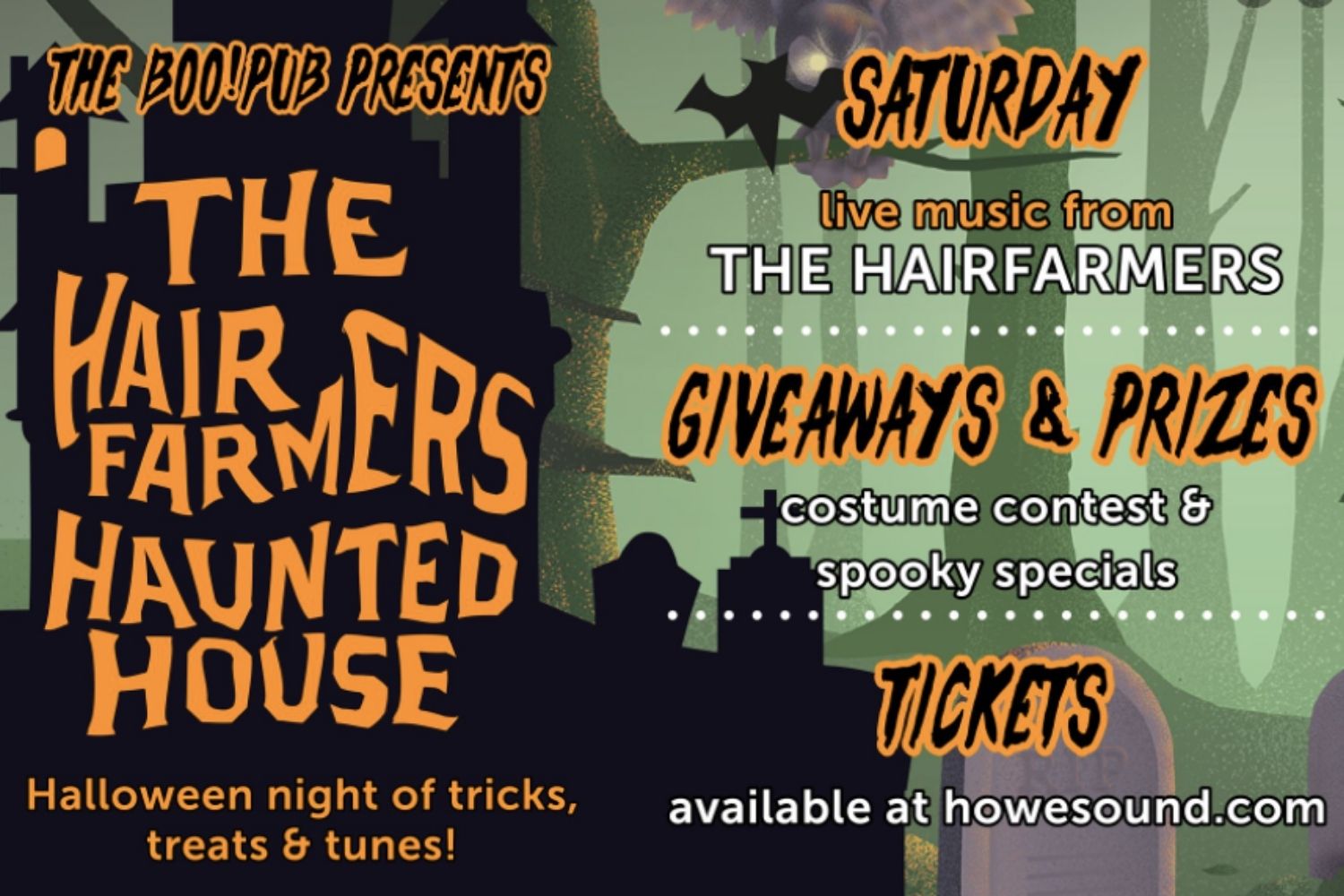 For the big kids, on Saturday October 30th you can join legendary duo The Hairfarmers at the Howe Sound Brew Pub. Costumes are encouraged, of course, but make sure it's something you can dance the night away in. Grab your tickets in advance, this event will be popular.
Adults can also head over to Norman Rudy's on Friday, October 29th for a prohibition themed Halloween shindig, complete with electro swing live music set! Dress the part and get ready to get down.
On both Friday the 29th and Saturday the 30th, head over to The Goat at the Crash Hotel for costume filled evening featuring drink specials and DJ Crippled Wheel. Prizes for best costume and lots of give aways!
Squamish neighbourhoods will surely be busy with lots of tick-or-treaters. Please remember to drive carefully, look for people on the roads, stay safe and have fun. Ding Dong! Who's there? It'll be hard to tell because everyone should be masked up – an easy thing to do on a day filled with costumes. Get creative!
Whether you're out for tricks or treats, we hope you have a spooktacular Halloween full of costumes, laughter and lots of sweet treats.