Explore Squamish - October 01, 2019
A Self Guided Fall Craft Beverage Tour Through Squamish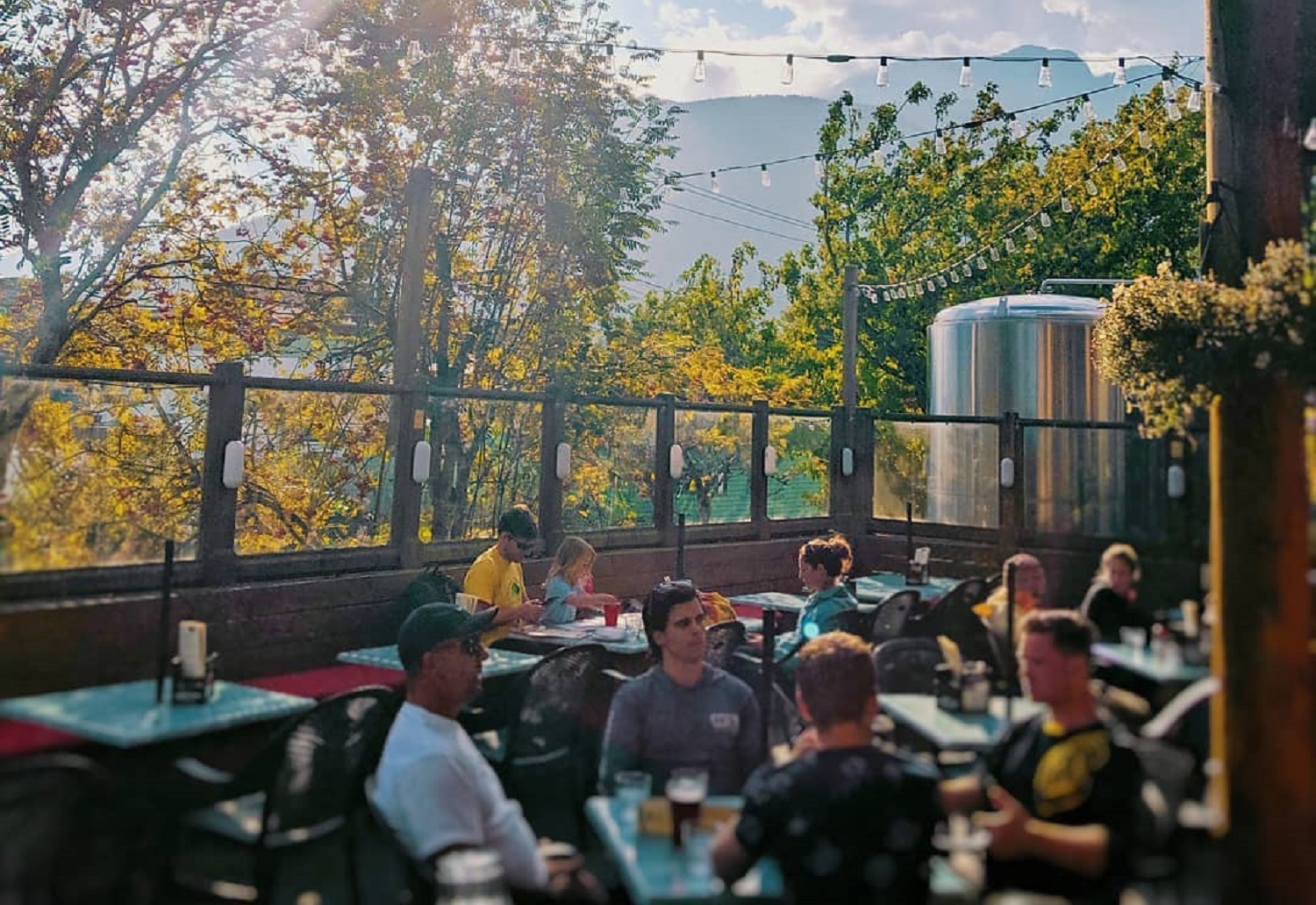 Photo: Howe Sound Brew Pub
A Self Guided Fall Craft Beverage Tour Through Squamish 
Fall is in the air and notes of cinnamon, pumpkin spice and nutmeg are popping up all over Squamish. From the long-awaited return of Howe Sound Brewing's classic Pumpkineater Imperial Pumpkin Ale to Counterpart Coffee's Swedish Latte, fall is the time to indulge with Squamish's brew-tiful craft beverages. 
Suggested Tour Itineraries
1. Whole Circuit
Sampling all 12 makers along the Squamish Craft Tasting Trail is a half-day undertaking and requires a bit of planning to do it right. We recommend starting your tour from downtown Squamish at Cliffside Cider and Howe Sound Brewing. From there, ride your bike or take taxi to A-Frame Brewing, Northyards Cider and Counterpart Coffee for a mid-tour caffeine buzz (open until 4 pm). Finish off at Backcountry Brewing and Geo Cider. Be sure to wear good walking shoes and plan a safe way back to your accommodations. 
2. Short Circuit
If time is not on your side but you still want to sample as many different sips as possible, start your tour at Geo Cider and nearby Backcountry Brewing. From Backcountry, we recommend visiting A-Frame Brewing, Counterpart Coffee or Northyards Cider for a final cheers of the day. 
3. For the Teetotaller
Those looking for an alcohol-free evening can still have a blast exploring the Squamish Craft Tasting Trail. Kick-off your evening at Backcountry Brewing, where you can order a weekly feature from Mountain Squeeze Juicery. Next, head to Counterpart Coffee for a caffeine kick or to order the latest flavours from Squamish Water Kefir. End your night at A-Frame Brewing, where you can indulge with a glass of Spark Kombucha, available on tap!
Must-Try Autumn-Inspired Beverages
1. Magic Lake English-Style Brown Porter, A-Frame Brewing
Description: With aromas of toasty malts and notes of toffee, chocolate, coffee, and caramel coming through on each sip - this beer has enough flavour to warm you up on a cold day, while still having just the right amount of lightness to keep you refreshed when the temps start to rise. ABV: 5.7% IBU 30. Availability: Available from October 2nd on tap and in cans for a limited time only at A-Frame Brewing.          
Description: Anyone will enjoy this crisp, refreshing oak barrelled Oktoberfest lager. ABV: 5%  IBU: 20. Availability: On tap and in cans for the fall season at Backcountry Brewing.        
Description: This clever cider twist on the classic Jager Bomb is a delicious pick-me-up to cure those seasonal blues. One shot of Jager dropped into your choice of Squamish-made apple cider. Guaranteed to get you on your feet.
Availability: At Cliffside Cider, or purchase a jar to mix at home.        
Description: Inspired by the Swedish coffee break tradition called "Fika," and the treats that accompany it, the Swedish Latte is flavoured with molasses, brown sugar, cardamom, cinnamon, and topped with freshly grated nutmeg. Served with a special treat on the side.
Availability: Only at Counterpart Coffee.          
Description: A delicious fall cocktail made up of bourbon, lime juice, maple syrup, soda water and frostbites Ginger Syrup. The result is a feel-good cocktail certain to impress guests and your sweet tooth.
Availability: Available at their new retail-kitchen location, the Squamish Farmer's Market (every Saturday) and Nesters Market. 
6. Mulled Navy Rum Cider, Geo Cider
Description: A warm and cozy beverage perfect for staving off the chill of the season. This semi-dry mulled cider is infused with the characters of dark rum and treacle. It has a heavy rum aroma with elements of vanilla and caramel apple. The mulling process enhances all the flavours and gives the beverage a unique warmth from the inside.
Availability: Only at the Geo Cider Tasting Room.        
7. Pumpkineater Imperial Pumpkin Ale, Howe Sound Brewing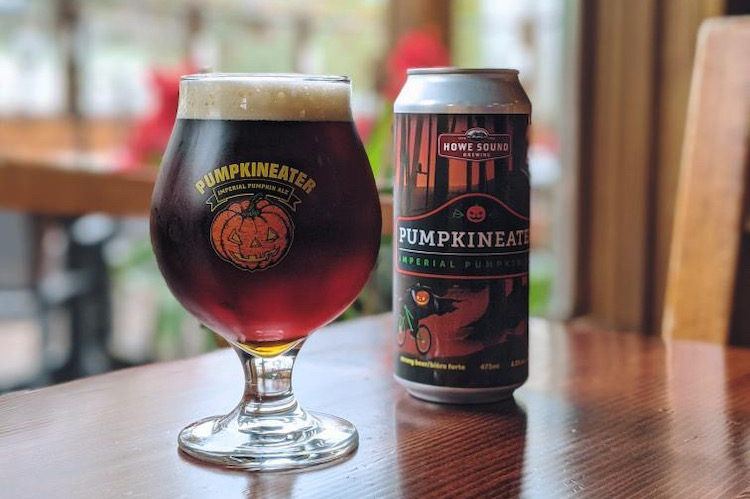 Description: Here for a very limited time, Pumpkineater Imperial Pumpkin Ale is an annual institution in Squamish. Brewed with pumpkin, nutmeg, cinnamon, ginger and cloves. At 8% ABV, the 1L bottles will fill you up. 
Availability: Available while supplies last at Howe Sound Brewing and select liquor stores across BC.
Locals tip: Howe Sound Brewing is located underneath the Howe Sound Inn, which features several rooms with views of the Stawamus Chief or the Tantalus Mountain Range.           
Description: A fan favourite cocktail made with 100% BC apples and lavender-infused gin, eucalyptus, coconut and lemon.
Availability: Only at Northyards Cider's tasting room.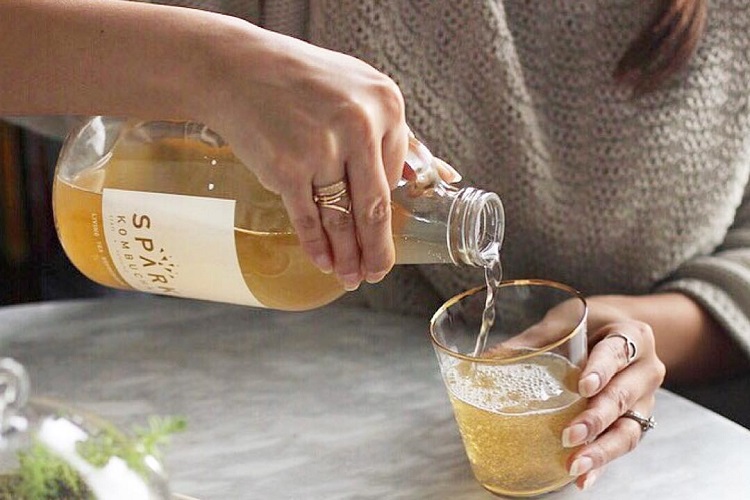 Description: Give your body the detox it needs with a growler or grab and go bottle of made-in-Squamish Kombucha. Made with filtered water, black tea, black tea, kombucha culture, cane sugar, ginger and lemon. Availability: In bottles from Nesters Market, Freen Mustache, Cloudburst Cafe, Locavore, Backcountry Brewing and more. Rotating flavours on tap exclusively at A-Frame Brewing, Nesters Market and The Green Mustache.        
Description: A fermented, living probiotic drink that is both low in sugar and deliciously sweet. Made with water kefir culture, water, fair trade organic cane sugar, and hibiscus leaves.
Availability: In bottles at Counterpart Coffee.