Explore Squamish - April 12, 2023
A Squamish Local's Guide to Patio Dining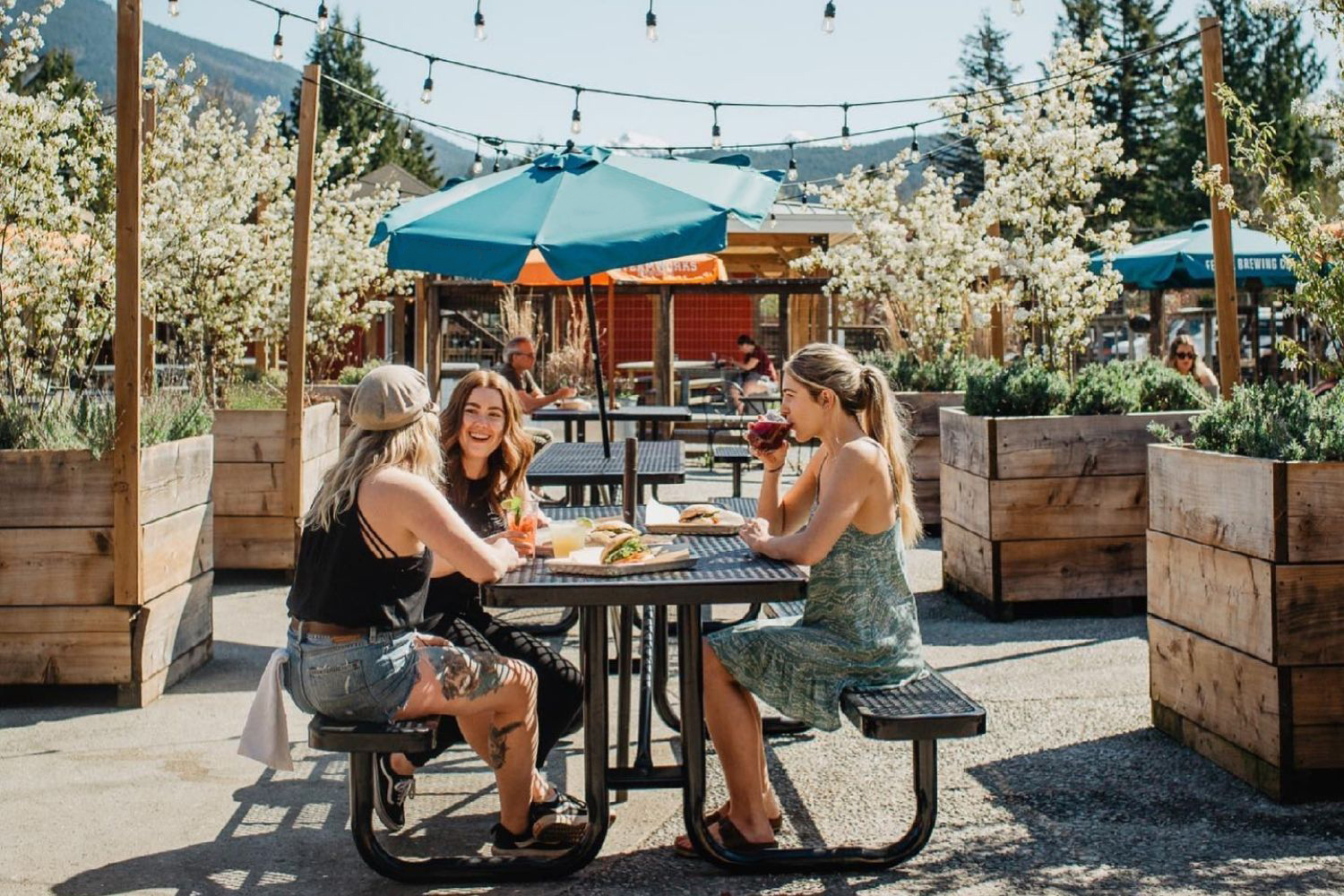 Photo: Locavore Bar & Grill
Squamish Patio Guide
Refreshing beverages and tasty bites on a patio with an amazing view is tough to beat. In Squamish, there is no shortage of awesome patios to kick back on. Check out your local's guide to dining al fresco:
Located close to mountain bike trails and the Squamish Valley Golf Course, the Locavore Bar + Grill is a convenient place to drop in and grab a wrap or sandwich and hang out after an adventurous Squamish day.
Enjoy this downtown patio with retractable awning at the Copper Coil Still and Grill, featuring vibrant Stawamus Chief views and lots of people-watching potential. Be sure to sample their beverage selection and Cajun dining creations, their jambalaya is a Squamish favourite dish!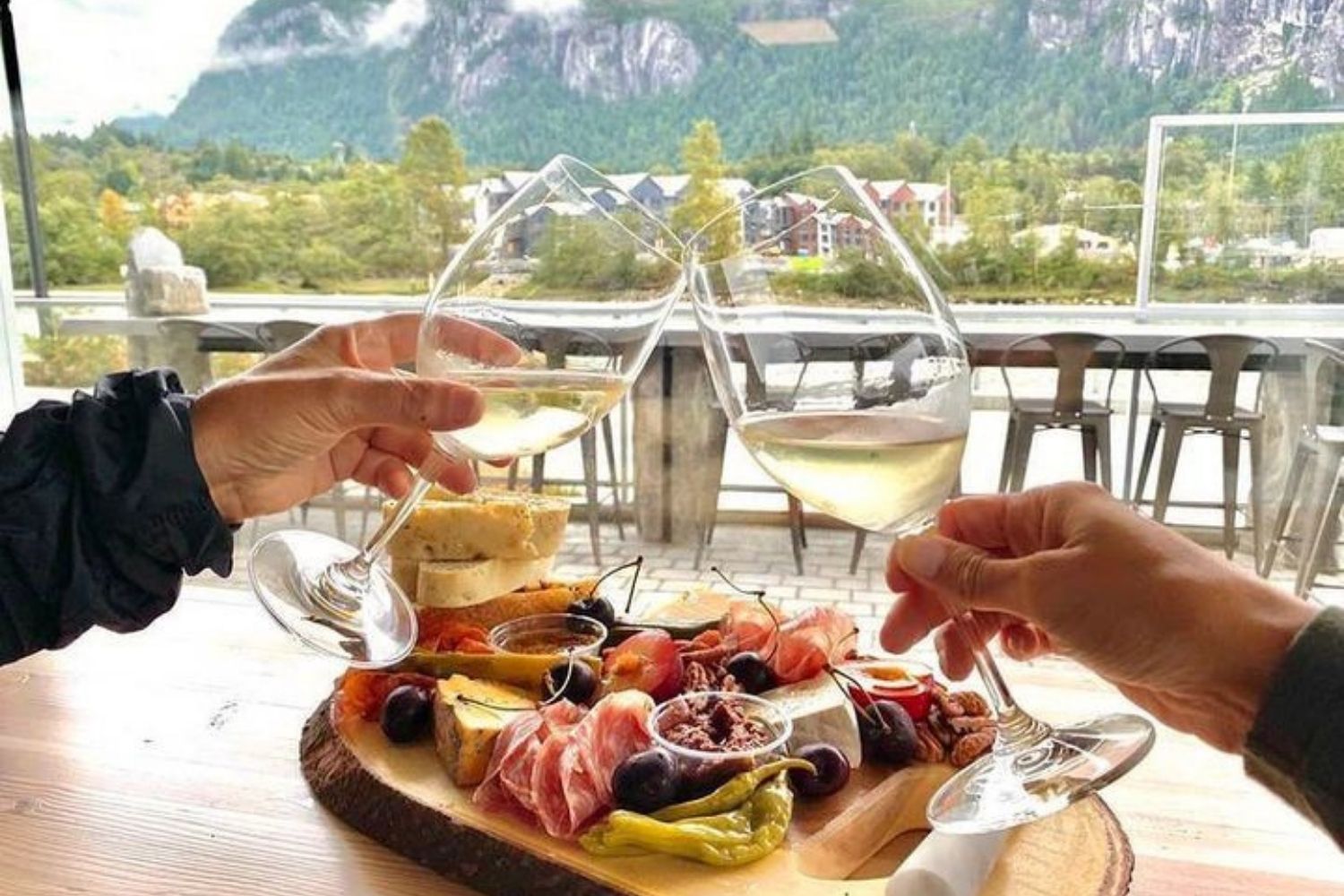 Image: Cordelia's Locket
Sit back and enjoy the view of the Stawamus Chief towering above your table as you enjoy a brew with your furry adventure buddy at Howe Sound Brewing. This partially covered, tree-shaded patio stays cool even on the hottest of days making it the ideal on a sunny summer day. They have set up a special section for patrons with pooches, with tie ups, water bowls, and treatos.
Best Patio View of the Stawamus Chief: Cordelia's Locket
Located on the Mamquam Blind Channel you'll find the lovely patio at Cordelia's Locket. Sip wine, eat charcuterie, and let the fresh ocean breezes caress your face as the Stawamus Chief stands stoically front and centre.
Finish off a round of golf or swing by for a meal surrounded by fairway views. The massive outdoor patio features an all-weather tent so you can dine outside, even on rainy days. Kids are invited to play in the grass in front of the patio as parents savour a delicious meal. Plan your visit on a Friday for all you can eat pasta.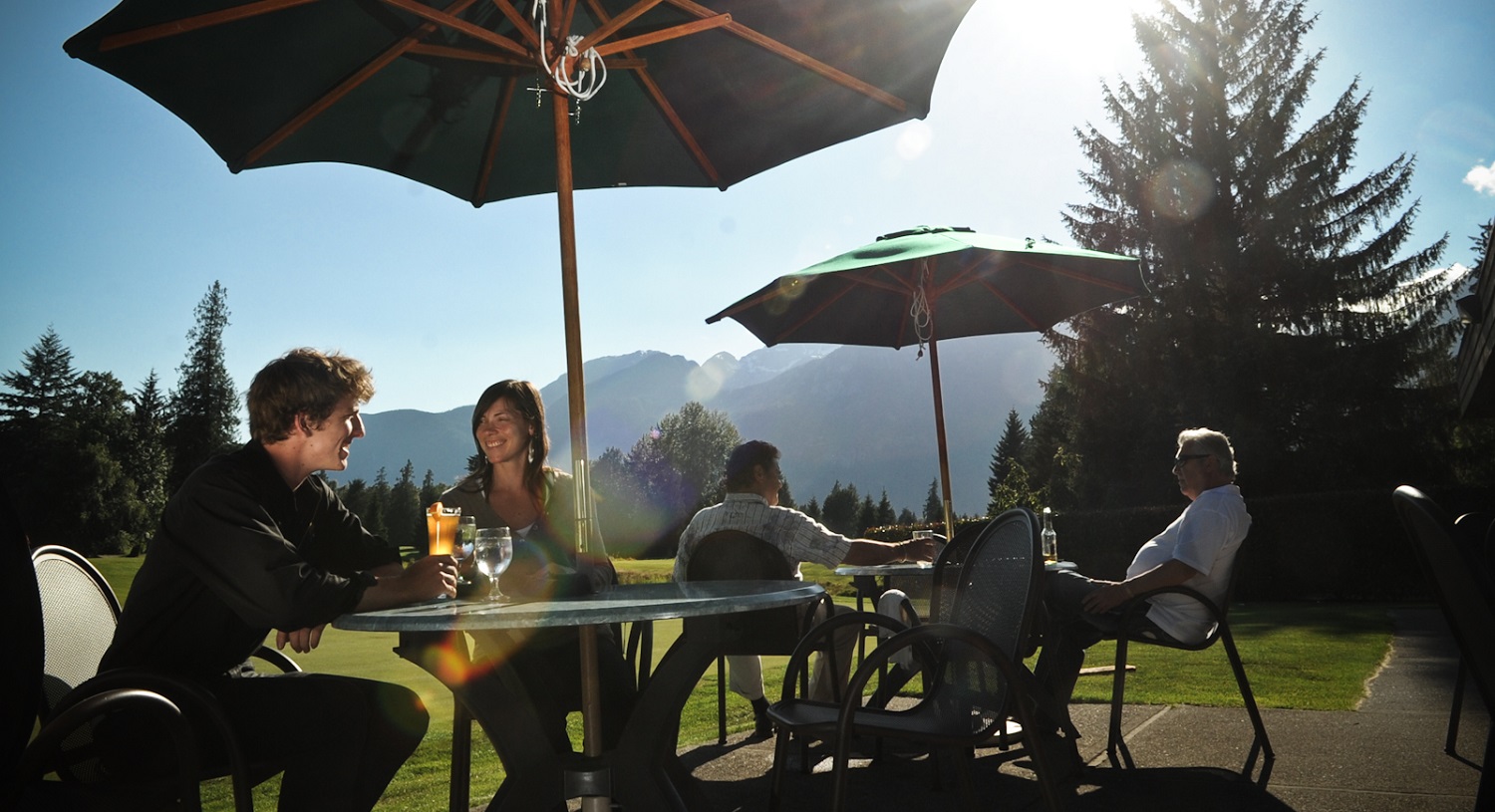 Image: Squamish Valley Golf Club
Stop by for a happy hour selection of craft cocktails and locally sourced menu features, while enjoying sunny downtown Squamish views. No matter which menu items you choose there is an emphasis on fresh, sustainable, and seasonal ingredients making the experience unique every time. 
We'd be remiss if we didn't mention the most epic patio in Squamish, located 885 metres above sea level at the top of the Sea to Sky Gondola! Sweeping views of Howe Sound, yummy food and cold drinks await you, whether you zip to the top in a gondola or do the Sea to Summit trail and earn your treats.
Perched at the confluence of the Cheakamus and Cheekye River, this once fishing lodge has been transformed into a local favourite eatery with one of the best views in Squamish. Sit on their heated, covered patio or enjoy their delicious eats on the expansive lawn.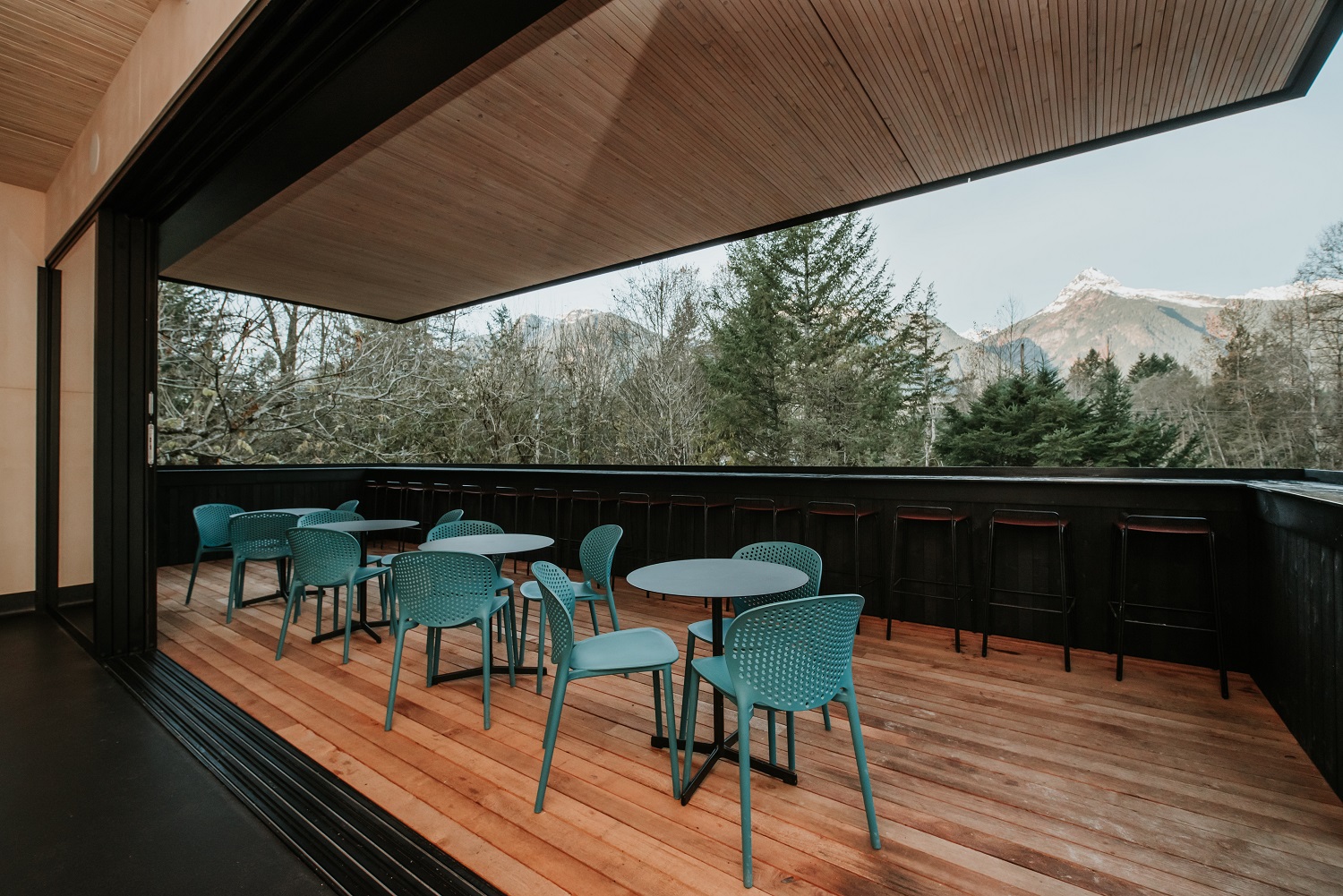 Image: Darby Magill, Fergie's Cafe98. Best Patio For Catching Rays: Saha Eatery
Best Patio for Catching Rays: Saha Eatery
Expand your palate with a delicious Lebanese meal in the Squamish sunshine, the location is perfectly placed to soak up the evening sun and has terrific alpenglow views late in the day. The location is peaceful and quiet so you can focus on quality conversation while you eat. 
Spend an evening on Pepe's, charming, candlelit patio. The cozy space boasts some of Squamish's best cocktails and the delicious restaurant is a must-visit during any stay. Seafood fans will enjoy the always fresh, Salt Spring Island Muscles or Pacific Coast Seafood Cioppino. Recommendations are recommended. 
Best Patio for Sipping A Brew: A-Frame Brewing
Stretch out your legs as you enjoy the 'cabin vibes' at this local brewery's relaxing patio. Grab a burger from the food truck as you sip on their latest brews, purchase a growler fill and drink in the mountain views.
Take in the atmosphere of downtown Squamish on Zephyr Cafe's sidewalk patio. The bar-style seating faces towards Cleveland Avenue, Squamish's main drive and you can sip coffee and you take a gander at the many one-of-a-kind shops all around you. Popular menu items include their healthy bowls and legendary Zephyr cookies.         
This sun-drenched patio in Garibaldi Highlands is a great spot to relax and enjoy a craft brew or cocktail. This spot is weather dependent, but when the sun is shining it's a great place to be!
Come for the beer, stay for the pizza, laugh at the beer names. It's always a good time at this local brewery, now with a new extended patio perfect for your end-of-day cheers after a dusty day on the trails.
In the heart of the vibrant neighbourhood of Brackendale, this quaint cafe features a quiet, sunny backyard patio just perfect for sipping mimosas. Their health-focused breakfast, brunch and lunch menu is a crowd-pleasing delight, a must-visit early afternoon treat in Squamish.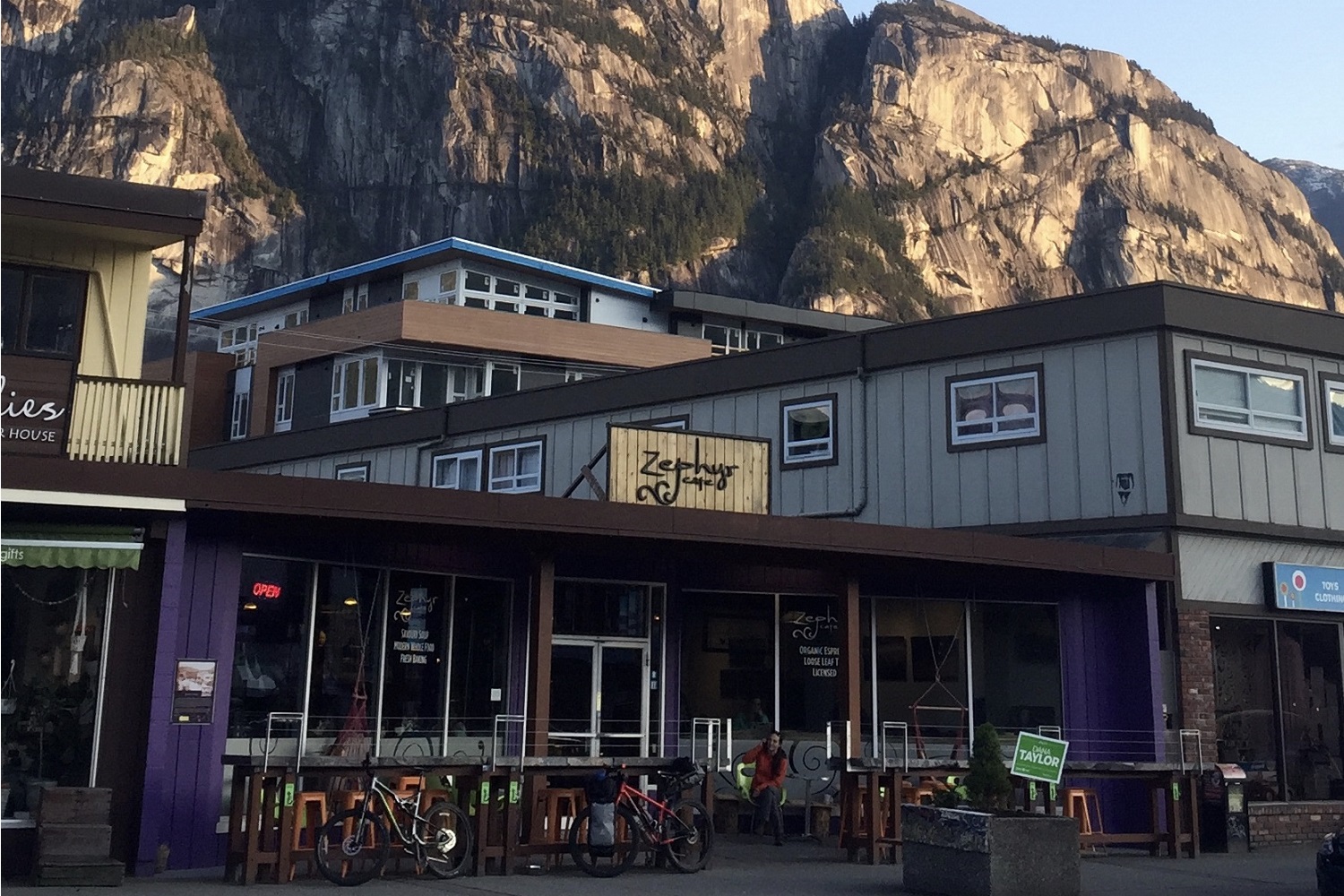 Image: @tara_explores
Located at the base of the Valleycliffe Mountain Bike Zone, this local eatery could not be any closer to the trails. The recently expanded outdoor patio sits up close and personal with the Stawamus Chief and you can spot all three summits from your table. The menu features favourite pub-style choices plus an abundance of beer on tap. 
Ride to Squamish's only bike-themed cafe and park your bike on the miniature patio. The two-table space is small but satisfying and since the cafe serves mainly grab and go food it's a quick wait to nab an outdoor table. Mingle with other cyclists and enjoy a sandwich and a coffee before heading back on the trails.
With epic views of the Stawamus Chief and a stylin' signature patio featuring comfortable table seating, warm woods and outdoor fire tables, Match Eatery & Public House has reopened just in time for patio season. Check out their spring seasonal menu and fun twists on classic cocktails.
This downtown patio is great for people watching and catching the afternoon rays. Grab a spot in the shade or step inside to cool off, they have a selection of arcade games inside that give you the perfect excuse to head indoors for a moment.
Known for their incredible scratch made items like english muffics, pastas and meats, the Lil Chef now has an intimate patio for you to enjoy it all on. Find them in Garibaldi Highlands tucked away on Tantalus Road.