Tourism Squamish
FIRE SAFETY
FIRED UP ABOUT FIRE BANS
Each summer at some point a very important fire ban comes into play. It's imperative to keep updated on current fire bans and restrictions before you light any kind of fire.
Fire bans and restrictions are in place for critical reasons and ignoring these rules endangers everything in the region from nature to people's homes and wildlife.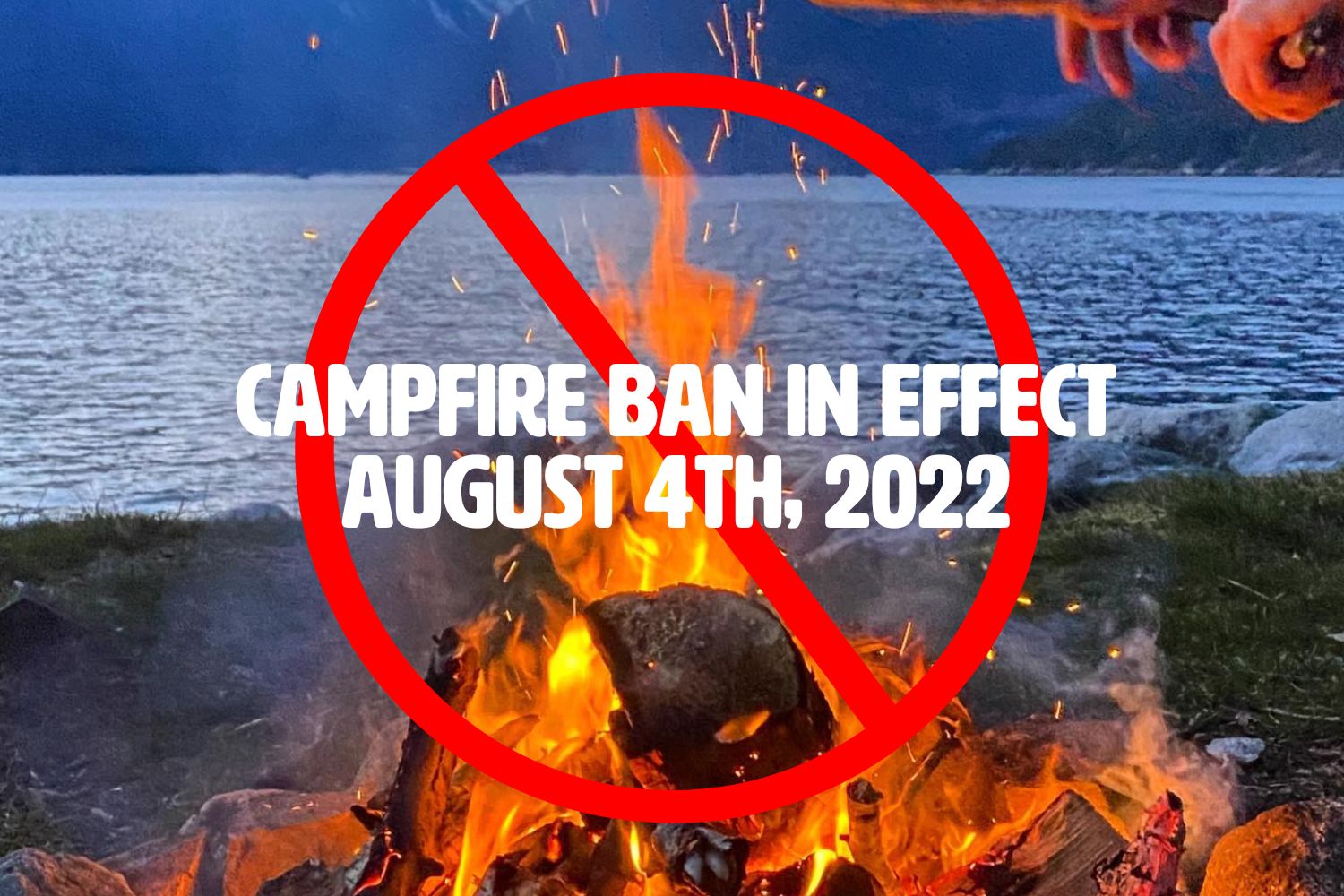 As of Thursday, August 4th, 2022 there is a campfire ban in effect for the District of Squamish. PLEASE DO NOT HAVE CAMPFIRES.
Following suit with the BC Wildfire Service campfire ban, a ban has been issued on all campfires throughout the District as of noon on Thursday, August 4, 2022. The prohibition is being enacted to help reduce wildfire risk and protect public safety. It will remain in place until October 28, 2022, or until the provincial order is rescinded.
All campfires within the District of Squamish will be prohibited and all campfire permits within the District of Squamish will be suspended until the provincial fire ban is rescinded. 
The campfire prohibition does not apply to cooking stoves that use gas, propane or briquettes, or portable campfire devices that use briquettes, liquid, or gaseous fuel, provided they are CSA or ULC approved, and the height of the flame is less than 15 centimetres.
Anyone who lights, fuels or uses an open fire when a fire prohibition is in place or fails to comply with an open fire prohibition may be issued a ticket for $1,150 or, if convicted in court, be fined up to $100,000 and/or sentenced to one year in jail. If the contravention causes or contributes to a wildfire, the person responsible may be subject to a penalty of up to $100,000 and ordered to pay all firefighting and associated costs.
To report a wildfire, call 1 800 663-5555 toll-free or *5555 on a cell phone. For the latest information on current wildfire activity, burning restrictions, road closures and air quality advisories, please visit the BC Wildfire Service website.
When it comes to fires of any kind:
Please respect fire bans and NEVER attempt to have a fire while a fire ban is on
Be up to date on all fire bans and restrictions
When having a campfire use only dry seasoned fire wood
Don't take rocks from water as the water inside waterlogged rocks can boil, causing them to explode
Never use gas or other combustible liquids to start a campfire
Do not discard lit cigarettes or matches on the ground or into vegetation. Dry vegetation can quickly spark into a fire.
Make sure your campfire is continuously supervised and controlled by a competent adult
Campfires must be no greater than 0.5 metres in height or diameter
Keep dirt and/or water nearby to extinguish the campfire
Use only battery operated equipment inside tents. NEVER use liquid-filled heaters or lanterns, matches, candles, open flames or a barbecue grill inside a tent as they can produce the deadly gas, carbon monoxide or cause a fire
Smoke from the campfires should not create a nuisance to others nearby
For emergency use, pack a fire extinguisher with your gear. Choose a multipurpose extinguisher that is large enough to put out a small fire, but not so heavy as to be difficult to handle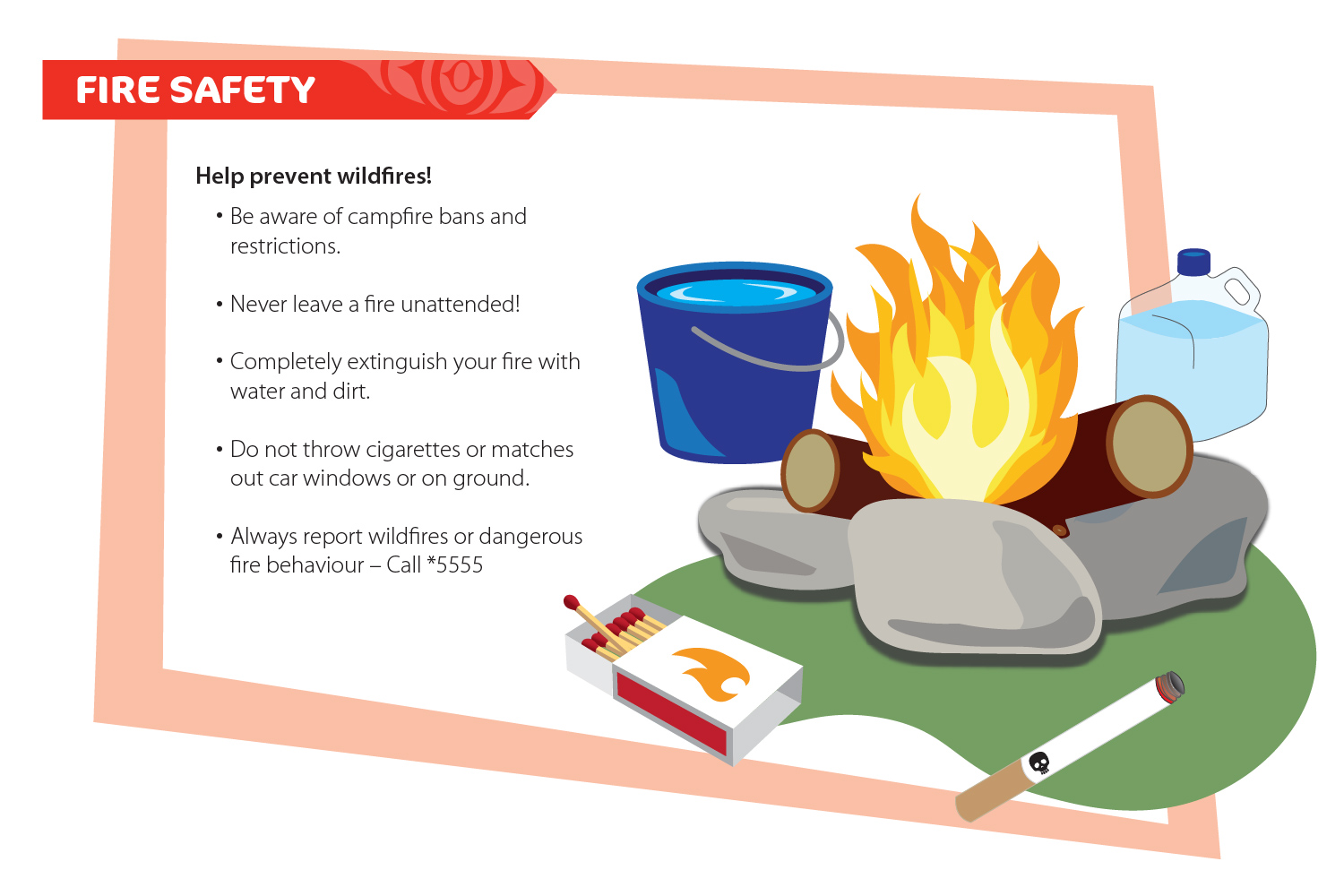 REMEMBER: Prohibitions apply to all public and private land, unless specified otherwise. Always check for restrictions and assess conditions before lighting any fire.