10 Ways to Play: Eagle Viewing
Squamish is a bird enthusiast's paradise. Home to one of North America's largest congregations of wintering bald eagles (Haliaeetus leucocephalus), these amazing raptors can be easily viewed throughout the winter at several spots around town. Prime viewing usually happens at Eagle Run dike and viewing shelter opposite the BC Easter Seals camp on Government Road, directly across the Squamish River overlooking Brackendale Eagles Provincial Park. Here you'll find an interpretive display of our eagles and the lifecycle of the chum salmon on which they feed.
The best time to see the eagles is in the morning, from October until early January and binoculars are always a great way to see the eagles even closer. 
Eagle Run dike is an accessible site: there is a ramp at the south end. In the winter months, snow on the ramp is cleared by volunteers when possible, but access to the site is more limited. The Eagle Run viewing shelter is open year-round and is designed to welcome visitors during the peak eagle-viewing period and features information from the EagleWatch Interpretive Program. 
The best way to view the eagle is through a specialized tour- that way you can learn about them as well as observe them. Eagles by Raft, Eagles by Bike and Eagles by Foot are all slow-paced and family-friendly activities. Eagle tours are a must for any nature photographer, birdwatcher or wildlife enthusiast.
Accommodation Match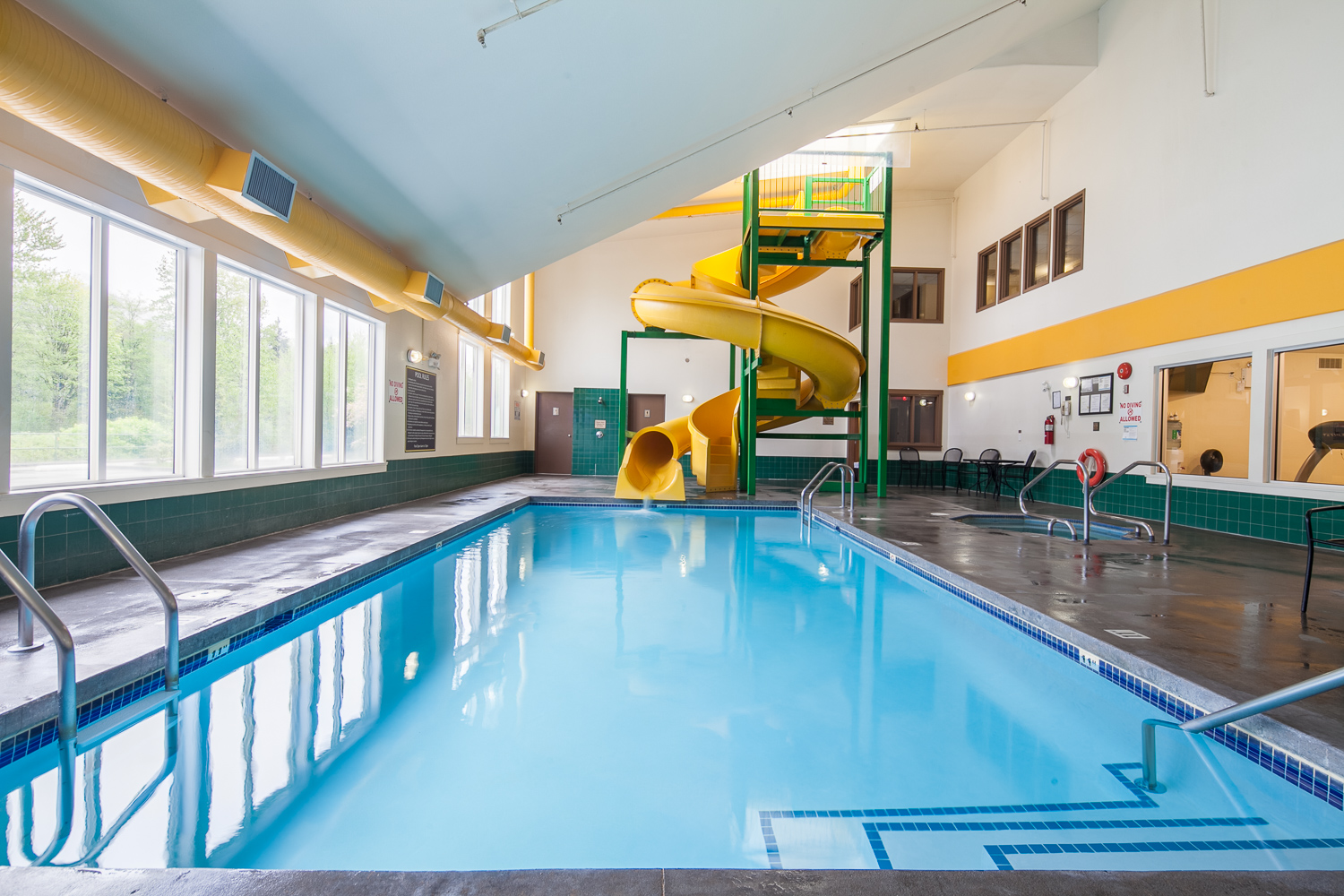 After a day out spotting eagle it's fantastic to warm up in the hot tub then jump into the cool waters of the hotel pool at Mountain Retreat Hotel & Suites. Centrally located with recently renovated deluxe rooms and onsite bar and restaurant, this hotel is all within minutes of shopping, trails and recreation.
See all of our accommodation partners here.
Dining Suggestions
Timberwolf Restaurant is located inside the Mountain Retreat Hotel and is open for breakfast, lunch and dinner. They also offer dine-in, take away or delivery and have a great kid's menu. Be sure to try their most popular menu item – pizza! Alternately, the Squamish Valley Golf Clubhouse is the perfect spot to take the family after a day of cruising the trails. With a stunning view and a wide grassy space for the kids to blow off some steam (if they have any left), they have all the kids favourites on the menu and a pleasant setting to enjoy it in.
Check out our comprehensive guide to Squamish restaurants here.