Squamish features numerous secluded campgrounds equipped for tents, full-sized RVs, and everything in between. It doesn't matter if you want to stop in during your journey, or make our authentic mountain town your destination – you'll find everything you need just off the road.

Please note, camping is not permitted on streets, public land including parks and parking lots, or on crown land including forest service roads within the District of Squamish boundaries. Dispersed #NoTrace Crown land campaign can occur outside the District of Squamish boundaries. 
For information about camping in BC Parks please check BC Park's website. 
Where to Camp
The popularity of Squamish within the #vanlife community has increased to the point where there is great concern about the group's collective environmental impact. "Wild" or "Freedom" camping has become unmanageable environmentally because of the high numbers of campers. Use the helpful calendar on this page to find available camping sites for your trip dates.
Campsite Availablity: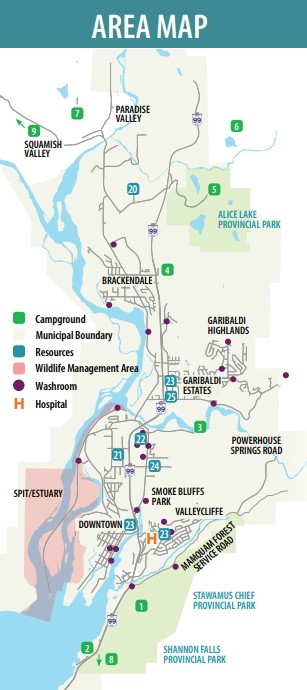 #NOTRACE CAMPING
Local fire bans restrict the use of campfires.
Check squamish.ca for the latest info.
Leaving food unsecured will attract bears and other wild animals. This is dangerous for you and puts the bears at risk once they become garbage bears. Never keep or consume food in your tent.
Garbage/recycling must always be secured and disposed of properly. See the list of resources for drop-off locations.
Ensure proper disposal of human waste and toilet paper. No one wants to encounter it while walking with kids or dogs.
Please don't pollute our waterways. Before leaving, return your site to the condition in which you found it.
Be respectful to your neighbours – we live here and take great care of our community.