Explore Squamish
Squamish Watersports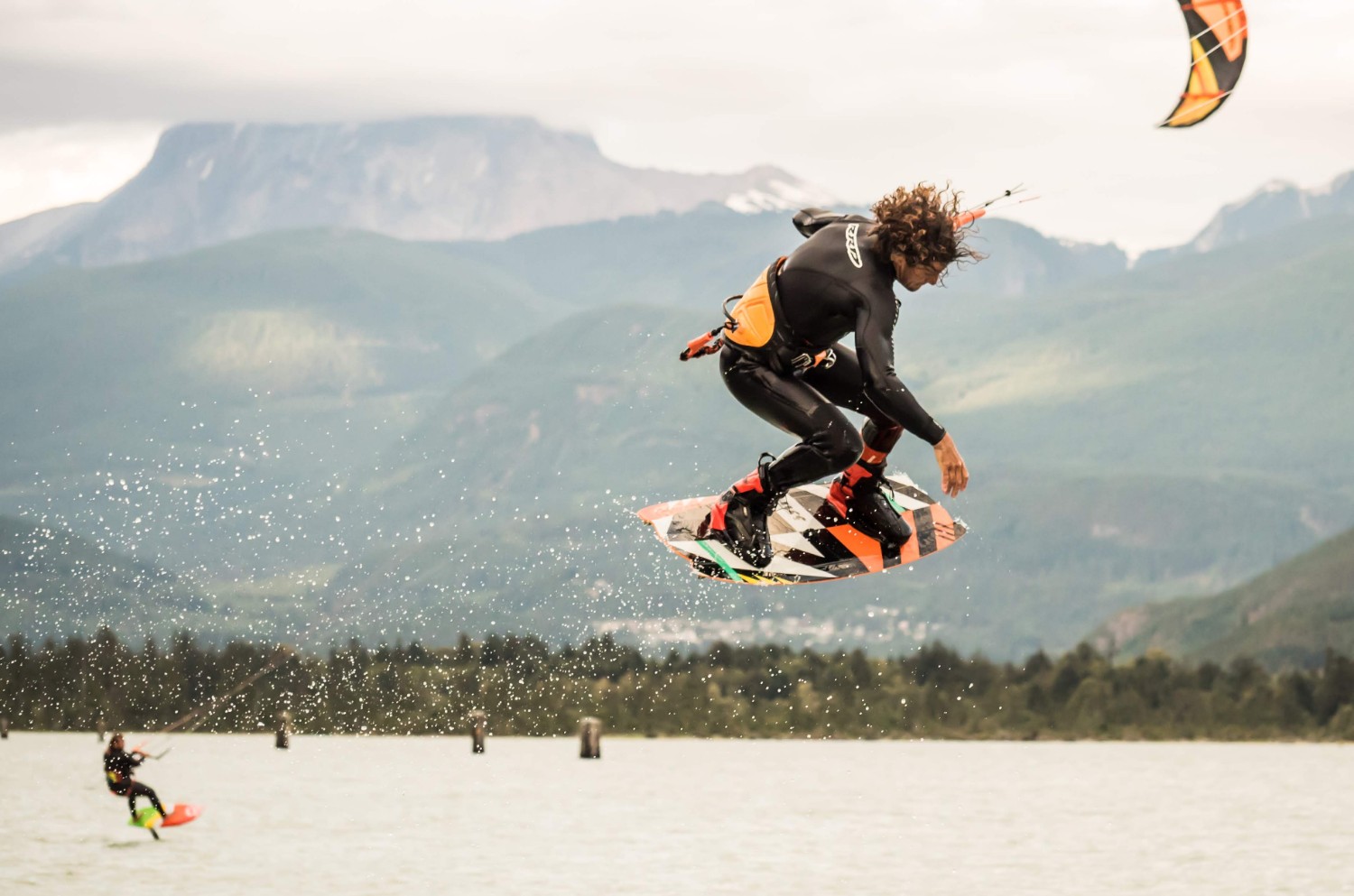 Photo: Squamish Watersports
Canada's premier kiteboarding and watersports destination
Located on the Howe Sound Fjord Squamish translates to "mother of the wind" in the Squamish First Nations language. Squamish Watersports offer top-notch lessons with world-renowned equipment to teach you the craft of capturing the wind kiteboarding. They also provide a range of other activities such as kite foiling, wakeboarding, stand-up paddle boarding, boat tours and Echo Lake hiking tours. 
Kiteboarding & Kite Foiling
Training includes a 4-hour introductory kiteboarding crash course along with private and semi-private kiteboarding lessons. Or, take advantage of the light wind days and learn to foil. Learn with the comfort of a boat in an uncrowded area away from the spit. This is a perfect opportunity to learn light with launching techniques and be able to kite every day, no matter the wind strength!
Facilities
Squamish Water Sports is a full-service school and shop located in downtown Squamish. Enjoy the jacuzzi, hot showers, changerooms, waterfront barstool area, retail shop and repair facilities at their private dock before and after your time in Howe Sound water.
Watersports Community & Off Duty Rescues
Though the Squamish Wind Sports Society is only open from May 15- September 15, there is often great wind before and after the season. Squamish Watersports offer lessons, supervision and upwind drops every day that there is wind.
They help out the kiteboarding community and make sure everyone has a good time on the water; they also provide rescues when the SWS is off duty. 
Access by boat
With the Squamish Spit now closed, opt for an upwind drop from the Squamish Water Sports downtown location. Get dropped off upwind and picked up after your session. Also, you can enjoy the hot shower and hot tub facilities once you arrive back downtown.
Stand-Up Paddleboard Tours
SUP Introduction
This course covers the basics of Stand Up Paddle Boarding from getting onto the board to advanced paddling techniques. Start with a warm-up on dry land, cover the water safety basics and how to set up your equipment. Perfect for those who have never paddled, kayaked or SUP'ed.
Howe Sound Explorer Package
A beautiful, easygoing scenic paddle down Howe Sound is perfect for the whole family. This trip starts 14km South West of Squamish and ends at the Squamish Watersports downtown location. This is a down-wind trip on the waters of Howe Sound.
Squamish Estuary Tour
A beautiful two-hour tour of the Squamish Harbour and Estuary. This tour explores the diverse surrounding waterways and ecosystems of Squamish. There is a vast abundance of different insects, animals and plants to be seen. The tours are in sheltered waters, and no experience is necessary! All equipment is included, and space is limited to 10 participants.
**Departure location depends on Tide and Wind Conditions**
The River Run
A full-day adventure through the beautiful class 2 rapids of the Squamish River starting at Sunrise. This tour starts early in the morning to enjoy calm waters. You will be transported 45 minutes North of Squamish and continue on your board down around the Spit and finish in downtown Squamish. This is a unique opportunity to paddleboard through the backwaters of Squamish. Enjoy breathtaking views of the surrounding mountains and waterfalls and see wildlife, such as the largest population of bald eagles in the world feeding on the abundant fish of the Squamish River. Basic paddling experience is necessary.
Boat Tours
Get out and experience Squamish from a new angle. Head out into Howe Sound to seal island where you will witness a whole colony of seals! Dolphins and orca whales call also be spotted in Howe Sound. Try wakeboarding in the mornings when the water is calm, or enjoy a pleasant cruise out to Shannon Falls to view the extravagant fall from below.