Explore Squamish - April 18, 2019
Biking with Kids in Squamish
Biking with Kids in Squamish
Squamish has one of the best mountain trail networks in the world. There is a lot of terrain to explore, and if you're out for a day with your little ones, it helps to know where to go. There are plenty of trails where your kids can learn, progress and have tons of fun. Here are some of our favourites:
Recommended Rides
Mamquam Salmon Spawning Channel Trails
Home of the easiest trails in Squamish. The Mamquam Salmon Spawning Channel trails have an almost flat grade and are wide enough so that almost anyone can ride them. The bonus here is there are a bunch of little singletrack offshoots that run along the actual spawning channels that are a little more challenging, but still beginner-friendly. To access you can park along Mamquam road just east of the Squamish Valley Golf Club, a large map board designates the entrance to the trails. 
Wonderland Trail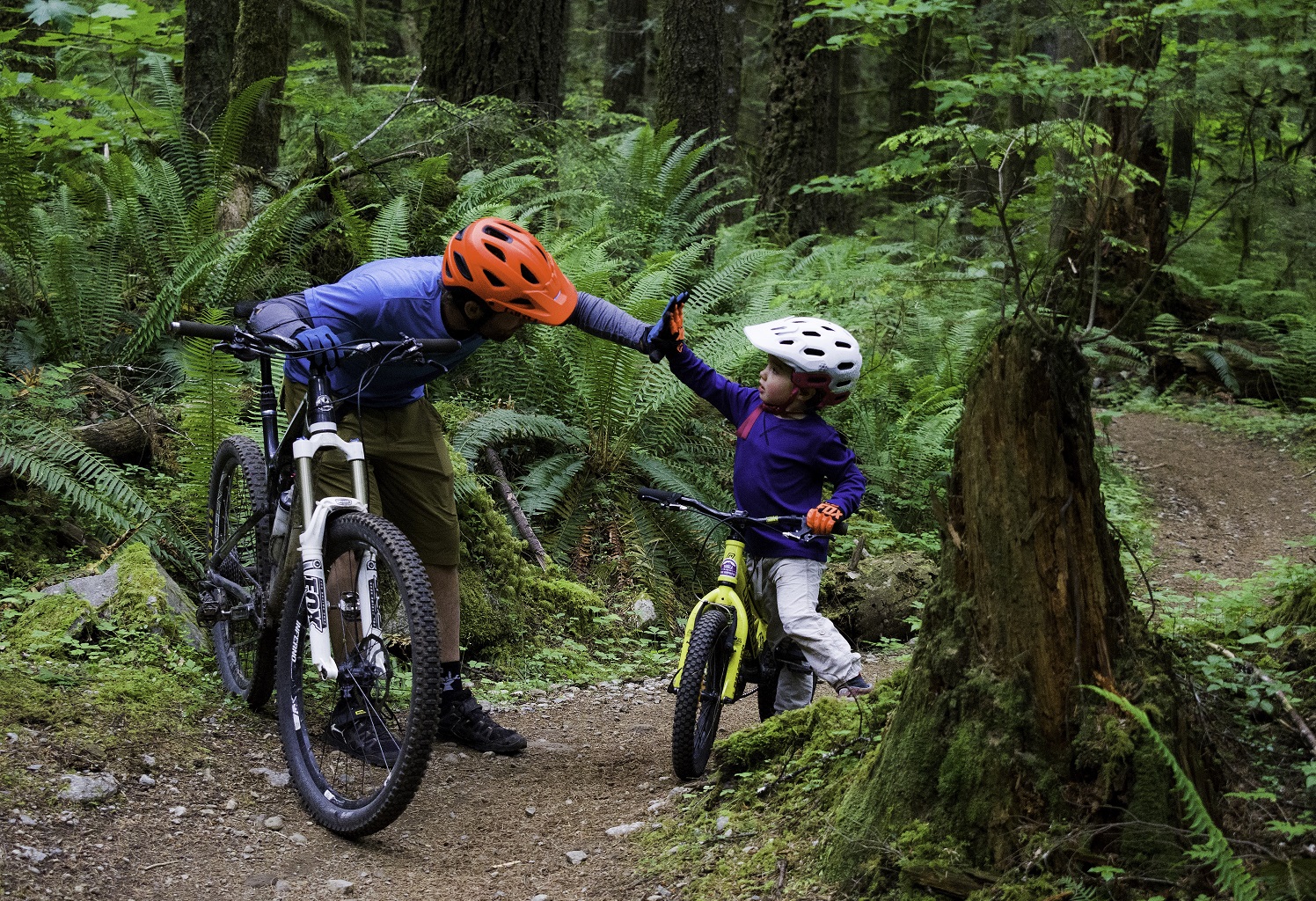 Happy high fives on Wonderland Trail | Photo: christieimages.com
Wonderland is an out and back singletrack trail that has a very mellow grade. It starts on the road into Alice Lake Provincial Park and pops out just north of the Depot Road turn off on Highway 99. This trail can be ridden in either direction and is fun for just about anyone with two wheels. On a run bike? No worries. Wonderland, especially riding North to South, is perfect for the little groms on their run bikes. The beauty of Wonderland Trail is the faster you ride it, the harder it gets. Lots of local kids have progressed on this trail from run bikes to full suspension cross country rigs and they still enjoy it. 
Located in Brackendale, these beginner to intermediate singletrack trails give a host of options for riders who want a slightly greater challenge than the Mamquam Salmon Spawning Channel trails. You can do loops, out and backs and there are even some technical features and a few options to ride woodwork. This is a good trail network to introduce kids to riding over roots. Access is best from Ross Road, near the north end or along Squamish Valley Road just west of Highway 99. 
Kids on a mountain bike tour through Squamish | Photo: @harookz, @dialedincycling
Rob's and Cliff's Corners
These two trails are great for learning to corner, riding berms and getting ready for Half Nelson. The faster you ride, the harder they get. Located just between Garibaldi Highlands and Alice Lake Provincial Park, the access is along Mashiter Trail in Garibaldi Highlands. 
Probably the most famous trail in Squamish, Half Nelson is a bike park style trail of berms, rollers and jumps. It's a bit of a pedal up to the top, but absolutely worth it. This is an intermediate trail, so every feature is rollable, which is to say your wheels don't have to leave the ground. Once your little ones are ready to ride here, we guarantee they will want to lap it all day. Access is up the Garibaldi Park Road where you can park right at the exit of the trail.
Bike Parks
The SORCA Mountain Bike Skills Park | Photo: D'Arcy McLeish
SORCA Mountain Bike Skills Park at Brennan Park
Want to sharpen your mountain bike chops in a fun and safe learning environment? The dirt features at the skills park include berms, jumps, bridges and teeter-totters that will have you playing all day long. There's ample space nearby to spread out afterwards for a family picnic.
BMX Park
Located within walking distance of the SORCA Bike Skills Park, the Squamish BMX Park is situated between Brennan Park Recreation Centre and the Squamish Municipal Campground. Kids are welcome to enjoy the park, and it is common to see a range of users from two-year-olds just learning how to balance on their bikes all the way to experts enjoying the track. 
Equipment Rentals and Tours
Rental bikes in all shapes and sizes at the Paradise Valley Campground | Photo: Tourism Squamish
Pack light and rent bikes for the whole family in Squamish. If you have never mountain biked before renting a bike is a fantastic way to get comfortable on two wheels. Bike rentals and tours for the whole family are available through the following providers:
Ages 4-7: Flying Spirit Rentals, Paradise Valley Campground (campers only), RideHub  
Ages 7+: Corsa Cycles, Paradise Valley Campground (campers only), RideHub, Sea to Sky Adventure Company
Tours: Dialed in Cycling, Ride BC, RideHub, Sea to Sky Adventure Company