3-Day Getaway For Lovebirds
Ahhh, love. Isn't love the BEST? If you're feeling smitten and looking to do a fun trip with a romantic twist, we've got some ideas for you. 
Squamish is a wonderful destination for lovers, there's something special about the mountains, rivers and forests that will enchant you. With exceptional dining, plenty to do and a cozy spot to lay your head, you won't regret choosing Squamish as a romantic retreat in Summer 2022.
DO:
From flying high and letting the stunning views grip your soul, serenely cruising Squamish's lakes, rivers and ocean, to riding majestic beasts through rich forests of green, which activity will you choose to do with your love?
Image: Andrew Doran Photography
Soar over Squamish in a plane or helicopter for a picture-perfect view of this mountain paradise. Taking a tour from above reveals hidden lakes, winding rivers and mountain views as you've never seen them before.
Helicopter Tours: Blackcomb Helicopters, Blacktusk Helicopters
Airplane Tours: Glacier Air, Sea to Sky Air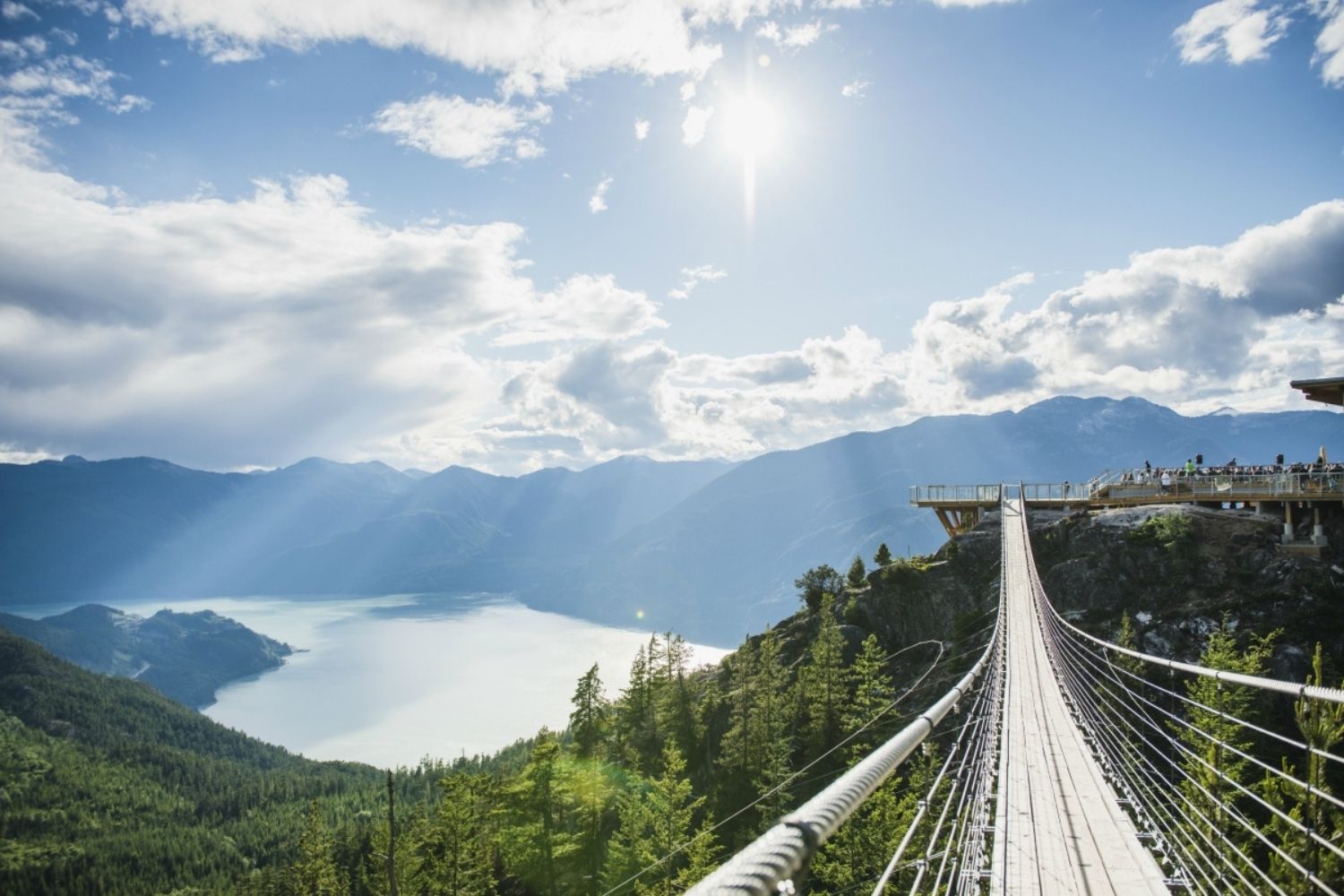 Image: Tara O'Grady
This is a Squamish attraction of epic proportions. With mesmerizing views, casual walks and incredible scenery, spending some time 885 metres above sea level with your sweetie makes for an extraordinary day.
Grab a glass of wine and a meal while you're up there to really make the most of it.

Image: @kevinrjamieson
Gliding along Squamish's waterways is a chance to savour the local beauty and enjoy a peaceful side of this crazy world with the person you care most about.
SUP Tours: Norm Hann Expeditions, Sea to Sky Adventure Company, Squamish Watersports
SUP Rentals: Escape Route, Norm Hann Expeditions, Sea to Sky Adventure Company, Squamish Adventure Inn, Valhalla Pure
Image: @awesomeinity
Riding alongside the Cheekeye River and through the Squamish Valleyon trails lined with lush rainforest is about as romantic as it gets.
Horseback Riding Tours: Cheekye Ranch
DINE:
Image: Pepe's Chophouse
It wouldn't be a trip for two without some special meals in the mix. Start the day off with a smile as you dig into a hearty brunch or a craft-brewed coffee, then grab a packed picnic or enjoy a chill patio for lunch. At dinner you can dive into a delicious meal paired with a beautiful wine. Still hungry? Cap off the day with a tasty gelato and stroll along the waterfront as you enjoy sunset views.
Breakfast/Brunch: Crabapple Café
Coffee: Galileo Coffee
Lunch: Cork & Craft Taphouse or Sky Pilot Restaurant at the Sea to Sky Gondola
Dinner:  Cordelia's Locket or Pepe's Chophouse
Dessert: Narwhal's Ice Cream
View our full list if restaurants here.
STAY:
Image: Cheekeye Ranch
Executive Suites Hotel & Resort: Tucked away in some of Squamish's most beautiful parkland, the Executive Suites Hotel and Resort provides a comfortable, mountain-influenced, condo-style getaway. 
Cheekeye Ranch Glamping Yurts: Beautiful off-grid yurts with all the comforts of home. Bordered by forest, you can stroll the grounds or grab a designated fire pit on the riverbank to enjoy.
View all of our acommodation partners here.