Explore Squamish - June 01, 2017
Camping in Squamish - Your Local Guide
Photo: Sea to Sky Parks
Squamish is a great place to camp. Whether you're with the family looking for a basecamp for holiday adventuring, keen to find a spot on a lake or the ocean or into pitching a tent in a remote mountain wilderness, the options in and around Squamish are limitless. Here are some of our faves. 
Family/RV Camping
Alice Lake Provincial Park: Located just north of Squamish off Highway 99 is Alice Lake Provincial Park. There is a large campground here, right on Alice Lake. The swimming is great, there is a good, family friendly feel and Alice Lake is a great base for all of your Squamish adventures. 
Paradise Valley Campground: Located just up the Paradise Valley Road, a short drive from Highway 99 north of Squamish this well is equipped campground along the Cheakamus River. This is a really fun place to camp, with lots of amenities and easy access to the Cheakamus, Cheekeye and Squamish Rivers as well as Brohm and Levette Lakes. 
Mountain Fun Basecamp: Close to town, just opposite Brackendale on Highway 99, this little resort is a great place that's close to all services for anyone looking to pitch a tent or park an RV. There are even cozy cabin like rooms for rent if you're feeling a little more like glamping than camping. The bonus here is it sits right in the middle of some of the best mountain biking in Squamish. 
Klahanie Campground: Located just across from Shannon Falls in Darrell Bay, Klahanie Campground has been serving campers in the Sea to Sky for over 30 years. It's a great spot to relax and is a short walk to The Chief, Shannon Falls and The Sea to Sky Gondola. The views of Howe Sound here are breathtaking and there's a cool, relaxed vibe to the place.
WhistlePunk Hollow Adventure RV Park: Located just off Highway 99 across from the community centre and 5 minutes from Downtown Squamish. This63 space RV park is built to modern standards and has a mini golf course located on site.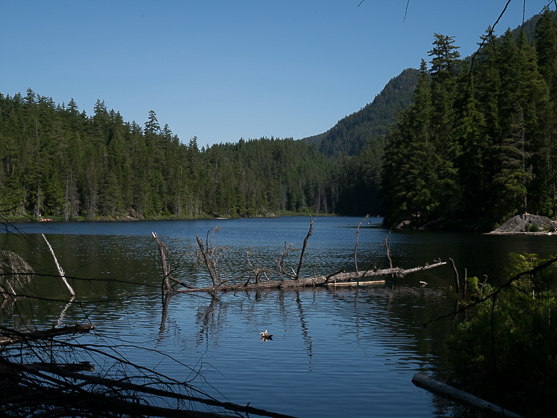 Rustic Campgrounds Close to Town
Stawamus Chief Provincial Park: The climber's favourite. Nestled in the forest below the 700 metre tall granite monolith known locally as the Stawamus Chief, this provincial park campground is the best place to camp if you're a climber. Just pitch your tent, throw your gear over your back and a short walk through the woods brings you into the heart of some of the best rock climbing in the world. 
Mamquam River Campground: Opening July 1, 2017. Mamquam River Campground will offer rustic tent sites located beside Mamquam River. There is no reservation system in place yet so it is first come first serve.  
Squamish Valley Campground: Just up the Squamish Valley road is this Campground along the Squamish River. This is a great place that has a real rustic feel  but is still relatively close to town. Come early on the weekends cause it gets busy!
Ocean Camping
Porteau Cove Provincial Park: Nothing beats pitching a tent right on the ocean. Located on the shores of Howe Sound about ten minutes south of Squamish is one of the most beautiful provincial parks in BC. It's also a marine park, so if you're into diving, bring your scuba gear. The campground here is epic, with beautiful tent sites along a peninsula that juts right into the ocean. Truly a spectacular place to wake up and it's a stone's throw from downtown Squamish. 
Remote Backcountry Camping
The options here are endless, from the various sites throughout the massive Garibaldi Provincial Park to the wild and rugged mountains in Tantalus Provincial Park, if you're keen to work for your camping spot, there is no better place in all of Southern BC to pitch a tent. 
Whatever your fancy, the camping options in and around Squamish are endless. So grab your gear and come up for a weekend where the sea meets the sky.