Tourism Squamish
Squamish ArtWalk 2017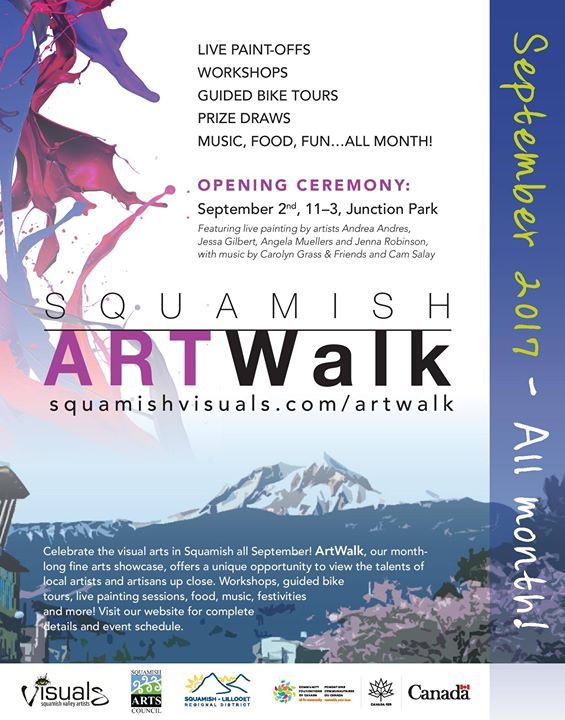 Squamish ArtWalk 2017, organized by VISUALS and supported by Squamish Arts Council (SAC) and Electoral Area D of the Squamish-Lillooet Regional District, is aiming to provide visual artists with a platform to share their talents and gifts to enrich the lives of the community members. Squamish ArtWalk is a celebration of visual art and artists in Squamish! Explore 40 galleries, businesses, and artists' studios displaying over 45 local artists' work throughout Squamish and Britannia Beach. Look for our paint splash window stickers identifying official ArtWalk venues.
​​Opening ceremony
September 2, 11am - 3pm at the Junction park
Carolyn Grass & Friends  and Cam Salay will take care of music and talented local artist Andrea Andres,  Jessa Gilbert, Angela Muellers and Jenna Robinsonwill have a Paint Off session reveling the magic of art creation. You will have an opportunity to win artworks created by these artists.
​Guided bike tours
September 9, 16 & 23, 2:30–4:30pm
For those with bikes who would like a guided experience, the Squamish Arts Council and Recreation Services present an active transportation opportunity. Join us for a ride along the featured ArtWalk venues. One of our artist members will tour you through the nuances of visual arts.Cost: $2 per person
​Must have your own bike!
NOTE: All tours depart from the Brennan Park Recreation Centre. Complimentary refreshments available. Each participant must have a safe, working bicycle. Helmets are mandatory.
Registration is required and space is limited. Register at www.squamishlive.ca.
Creative Workshops
​Explore a new art form by dropping into these free ArtWalk workshops that showcase a diverse pool of Canadian artistry:
Workshop 1: September 3, 10am–4pm. Youth at Art — Children's MugMaking with Lexi Hilderman, Children's Festival, Junction Park.
Workshop 2: September 9, 10am–5pm. Drum-making & Cedar Bark Weaving  with Tsawaysia Spakwus,  Brackendale Fall Fair.
Workshop 3: September 16, 11am–3pm. Children's Crafting with Dawna Werbeski  (for kids 5 to 12 yrs.),  Squamish Arts Council.
Workshop 4: September 30, Chinese Brush Painting, Up With Art (8 spaces only; check website for specific details). 
NOTE: Workshop spaces are limited and participation is first-come, first-served while supplies last. Additional visitors are welcome to come and view the demonstrations.
​
Full Schedule
September 02, 2017
September 03, 2017
September 04, 2017
September 05, 2017
September 06, 2017
September 07, 2017
September 08, 2017
September 09, 2017
September 10, 2017
September 11, 2017
September 12, 2017
September 13, 2017
September 14, 2017
September 15, 2017
September 16, 2017
September 17, 2017
September 18, 2017
September 19, 2017
September 20, 2017
September 21, 2017
September 22, 2017
September 23, 2017
September 24, 2017
September 25, 2017
September 26, 2017
September 27, 2017
September 28, 2017
September 29, 2017
September 30, 2017